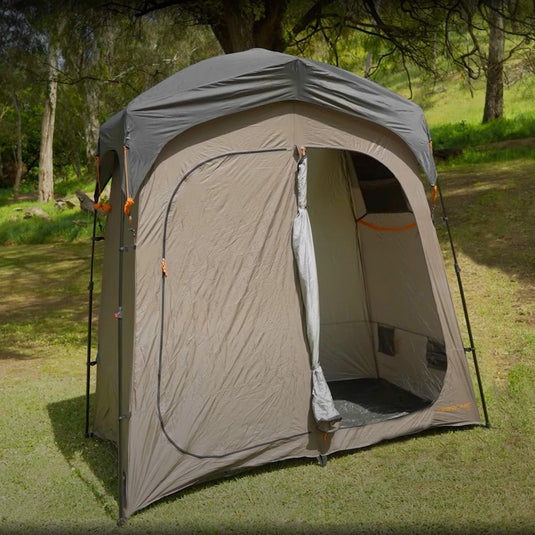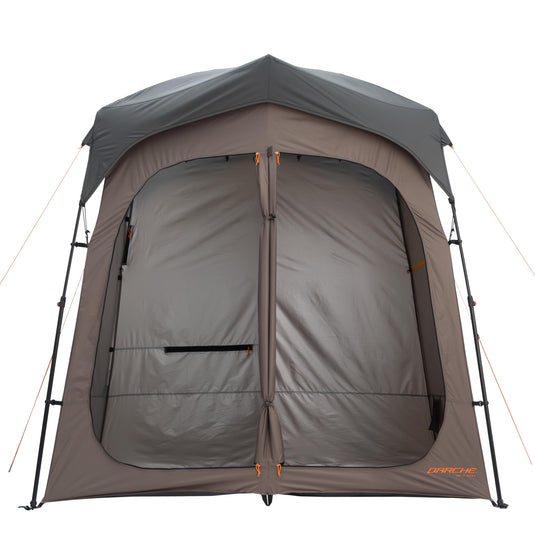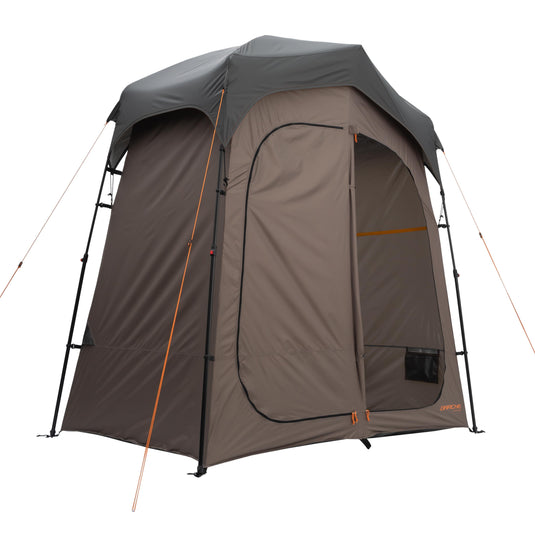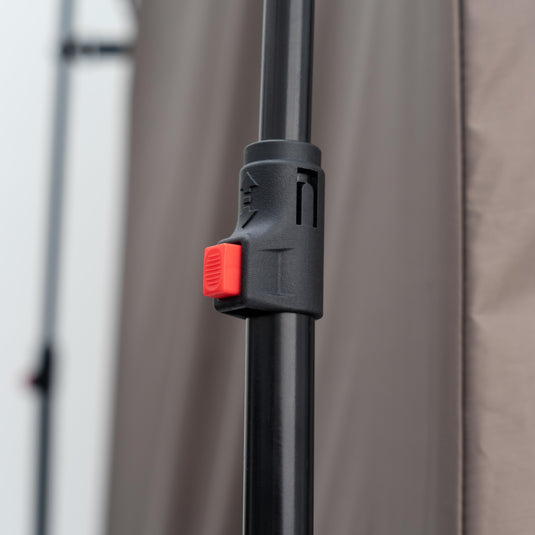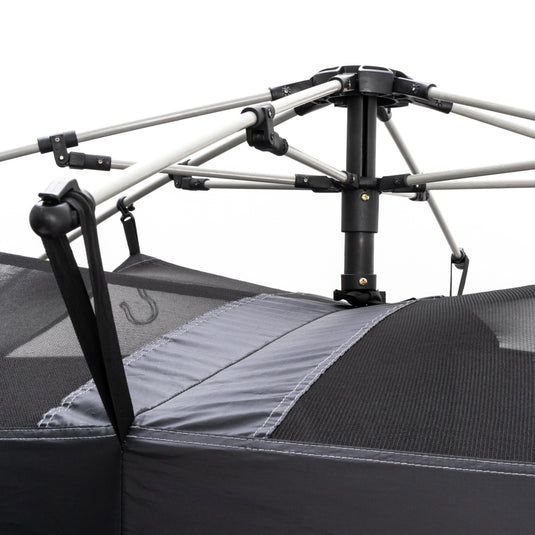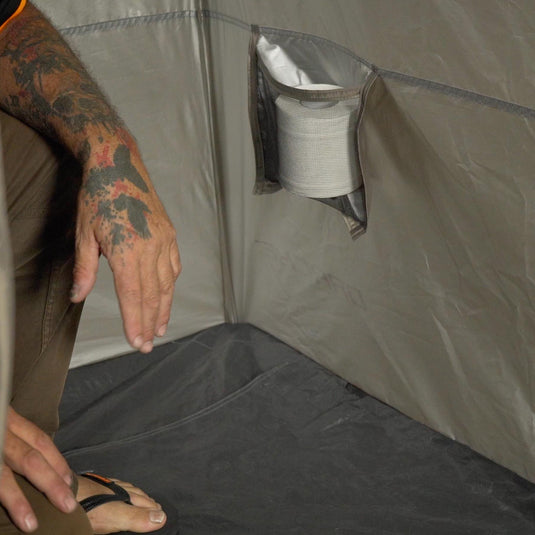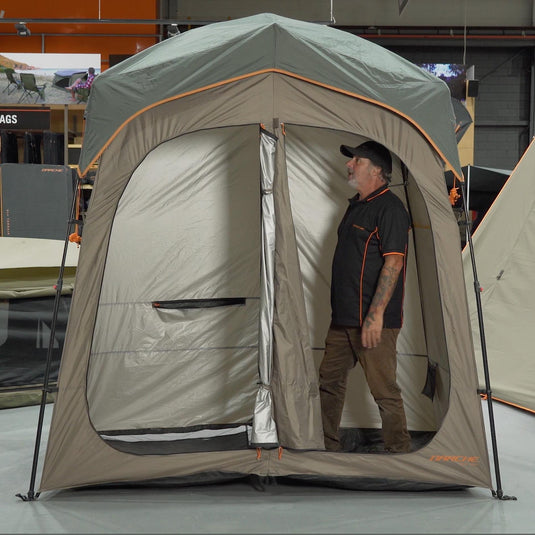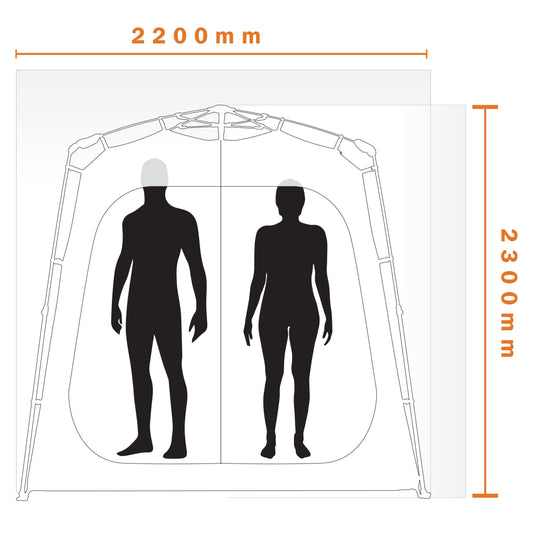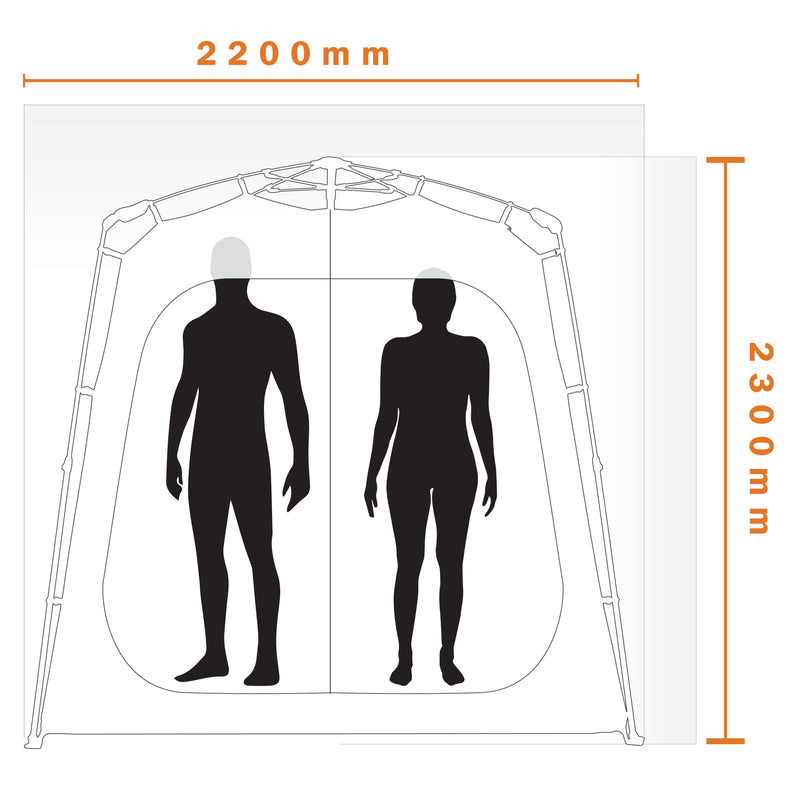 The Darche Twin Cube Shower Tent gives you a totally private bathroom setup for your next camping adventure. This multi-purpose tent has two separate cubicles - both with direct access plus an internal door to move between the cubicles from inside. You can use it as a wet and dry area for showering and changing, or as a shower and toilet set up - your own private ensuite!
The frame can hold a 20L solar shower bag, plus it has external access points for your hose or portable hot water system. The inner tent includes a mesh roof and the canopy is completely removable for maximum ventilation. There are two floor configurations including a solid floor with inbuilt mesh sides for shower drainage and a roll-back solid floor for ground access if you prefer a more natural toilet arrangement.
Specifically designed with a wider footprint, you have plenty of space to dry off and get dressed. There are also plenty of great storage caddies and organisers to hang your towels, store your toiletries and your toilet paper.
Set up and pack down is a breeze with the quick release buttons and you can pack it all away in the included carry bag for transport and storage.
All in one multi-purpose tent perfect for showering, changing or toilet cubicle setup
Fast assembly with instant frame sets up and packs down in minutes
Two convenient direct access doors to each cubicle plus internal door
Built in mesh floor for drainage (LHS Cubicle)
Roll up floor for ground access (RHS Cubicle)
Mesh roof and removable canopy for maximum ventilation
Silver coated walls provide complete privacy
Multi position towel rack and separate storage organiser
Multiple hose access points, storage caddy and hook to secure shower rose
Frame supports up to 20L solar shower
Carry bag for transport and storage
Material

190T Polyester PU

Mesh

36gsm Polyester Mesh

Floor Material

115gsm PE

Waterhead Rating

600MM

Gender

Sleeping Bag Comfort

Maximum Volume

L

Fits

Sleeping Capacity

External Dimensions

mm

Sleeping Area

mm

Packed Dimensions

mm

Rated Capacity

kg

Coverage

Internal Storage and Bedding

Valve Quantity

Internal Dimensions

mm

Suits Product

Weight

kg

Warranty
DOWNLOADS
FEATURES
All in one multi-purpose tent perfect for showering, changing or toilet cubicle setup
Fast assembly with instant frame sets up and packs down in minutes
Two convenient direct access doors to each cubicle plus internal door
Built in mesh floor for drainage (LHS Cubicle)
Roll up floor for ground access (RHS Cubicle)
Mesh roof and removable canopy for maximum ventilation
Silver coated walls provide complete privacy
Multi position towel rack and separate storage organiser
Multiple hose access points, storage caddy and hook to secure shower rose
Frame supports up to 20L solar shower
Carry bag for transport and storage
SPECIFICATIONS
Material

190T Polyester PU

Mesh

36gsm Polyester Mesh

Floor Material

115gsm PE

Waterhead Rating

600MM

Gender

Sleeping Bag Comfort

Maximum Volume

L

Fits

Sleeping Capacity

External Dimensions

mm

Sleeping Area

mm

Packed Dimensions

mm

Rated Capacity

kg

Coverage

Internal Storage and Bedding

Valve Quantity

Internal Dimensions

mm

Suits Product

Weight

kg

Warranty
DOWNLOADS