after Two Years of development it's finally here
Built For Harsh Conditions

Over 30 days of wind testing
performance tested for your peace of mind
At DARCHE, we pride ourselves on delivering top-notch products. Over the past two years we've been developing our latest 270 freestanding awning. However, you deserve certainty, so we rigorously wind-tested our awning in real conditions.  
We wanted to determine where, how and at what wind speed the awning would break, so that we could offer a trusted wind rating. This means you can protect your investment and feel confident in your equipment.
We're proud to announce that its now the only wind-tested freestanding awning on the market.
The darche testing facility
We started by sourcing a state-of-the-art Omega wind meter. Omega products are used by trusted companies such as Mcdonnell Douglas and 3M.
At our Thomastown testing facility, we captured wind data and breaking points over 30 days for our awning and freestanding awnings of other brands.
We looked at BOM's forecast and their actual daily recordings for greater Melbourne and tracked local wind speeds ourselves, including averages and max gusts. 
In particular, we chose days with a high forecast on BOM to push our gear to the limits. Afterwards, we compared both to see the difference between weather guidelines and actual local conditions.
View Test Results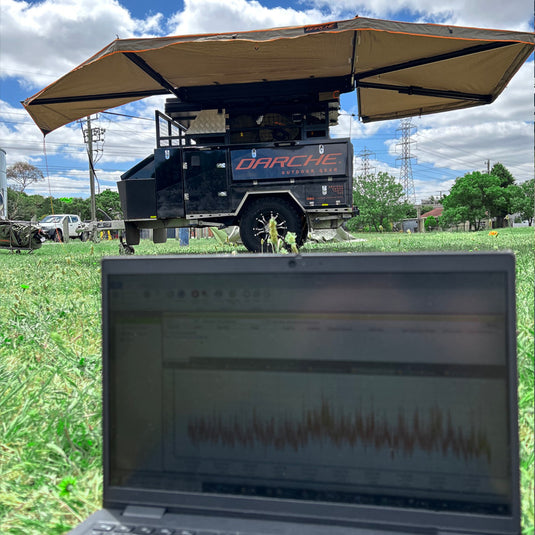 Unrivalled Performance & Unexpected Weather

Test Results
Unrivalled performance
Our 270 freestanding awning outlasted other brands, proving to be more durable.
Our awning's average freestanding breaking point was 43.5 Kph, while the competitions' was 36.5. 
With the poles and guy ropes tied down, we finally broke our awning at an impressive 91.6 kph.
The extreme wind pulled the pegs straight of the soft grass at our Thomastown test site.
With firmer ground, our 270 freestanding awning would have handled even stronger winds.
unexpected weather
Early on we found that BOM's predictions were often inaccurate, with recorded wind speeds far exceeding forecasts. 
This was highlighted on our 26th day, when the forecast was 0 - 5 kph, and we clocked gusts up to 29.3 kph.
On our 29th day, the forecasted max was 55 kph, and we recorded gusts up to 91.6 kph, a whopping 36.6 kph difference.
Over the 30 day period, 53% of days exceeded forecast predictions.
Confidence Born Through Rigorous Testing

don't risk uncertainty
Mother nature is unpredictable
Mother nature is often described as unpredictable, which our testing proves. Even on days with little forecasted wind, sudden, powerful gusts were common.
That's why we always suggest pegging down your freestanding 270 awning, regardless of weather predictions.
However, we can confidently wind rate our awning to 30km/hr freestanding, and 60km/hr pegged down. 
if your awning isn't tested, don't trust it
Our 270 freestanding awning is the only one on the market featuring a wind rating backed by science.
Next time you're in the wilderness, you'll want the confidence that only a tried and tested product can offer. 
Don't risk uncertainty - Choose the DARCHE 270 Freestanding Awning.
Shop Now