Ready to take your outdoor adventures to the next level? Whether you're camping, road tripping, or simply enjoying the great outdoors, DARCHE's range of 4wd awnings ensures optimal protection from the elements. With their easy freestanding setup and innovative design, these awnings are the perfect companions for outdoor enthusiasts.

What is a 4WD Awning?
A 4WD awning is a retractable shelter that is attached to the roof rack or side of a 4-wheel drive. These awnings are specifically designed for outdoor enthusiasts who love to explore off-road destinations. They provide protection from various elements such as rain, sun, and wind, making them an essential addition to any 4WD adventure setup.
One of the main advantages of having a 4WD awning is the additional outdoor living space it provides. This extra space can be used for cooking, dining, or simply relaxing and enjoying the scenery. It also allows for more privacy when camping in crowded areas.
How to choose a 4WD awning
When choosing a car awning, it's important to consider the level of coverage you require, and choose a size that best meets your needs. For example, the DARCHE Eclipse 270 offers more coverage than the DARCHE Eclipse 180. 
You should also consider the material and construction of the awning. Opt for high-quality materials that are durable and weather-resistant, as well as a sturdy frame that can withstand strong winds.
Think about the features you need in an awning such as adjustable legs, mosquito nets, or LED lighting. Some awnings also come with additional add-ons like walls or extensions to create even more living space.
Different styles of 4WD awnings
Learn about the different styles of awnings below:
Side awnings
Side awnings are the traditional car awnings. They offer a quick setup and pack down, and a more affordable price point than higher-end models.
They're fixed to the side of your vehicle in a water-resistant bag. To set up side awnings such as the DARCHE Eclipse Slimline, you simply unzip the bag, unroll the awning and poles, and then set the poles. It's also important to tie the awning down to avoid wind damage.
180 and 270 awnings
180 and 270 awnings offer more protection than traditional side awnings, as their design maximises coverage - Respectively providing 180 degrees and 270 degrees of coverage.
The 270 awning provides cover from the side of your vehicle, all the way around to the back. Both the 180 and 270 awnings are compatible with wall sets which create a fully sheltered campsite for total comfort.
Freestanding
Freestanding awnings are still mounted to the side of your vehicle, but they can support themselves without poles.
This creates a clutter-free campsite and makes setting up a breeze. You can also use poles and pegs for free-standing awnings in windy conditions. Our 270 Freestanding awning features a wind rating of 30 kph freestanding, making it one of the only wind-rated freestanding awnings on the market.
DARCHE range
We've got a range of 4WD awnings to suit your different needs.
ECLIPSE 180
The DARCHE 180-degree awning is perfect for those seeking a versatile and easily deployable shelter solution. With its user-friendly design, this awning provides a generous 180-degree coverage, ensuring you have ample shade and protection from the elements. It's an ideal choice for camping, picnics, or simply enjoying the great outdoors.
ECLIPSE 270
For those in need of even more coverage, the DARCHE 270-degree awning is the ultimate choice. This innovative awning offers an expansive 270-degree range, providing an exceptional outdoor living experience. With its superior build quality and rugged durability, it's built to withstand various weather conditions and is perfect for long trips or extended stays in the wilderness.
ECLIPSE SLIMLINE
If you're looking for a compact and lightweight option, the DARCHE Eclipse slimline awning is an excellent choice. This awning combines functionality and convenience, providing quick and effortless setup while maintaining a small footprint. Its versatile design allows it to fit on different vehicle types, making it suitable for a range of outdoor enthusiasts.
RETREAT ANNEX
To enhance your awning experience, we offer the Retreat Annex, a fantastic accessory that seamlessly integrates with our DARCHE awnings. The Retreat Annex expands your living space by providing an additional enclosed area, perfect for sleeping, changing, or storing your gear. It ensures privacy and convenience, allowing you to fully enjoy your outdoor retreat.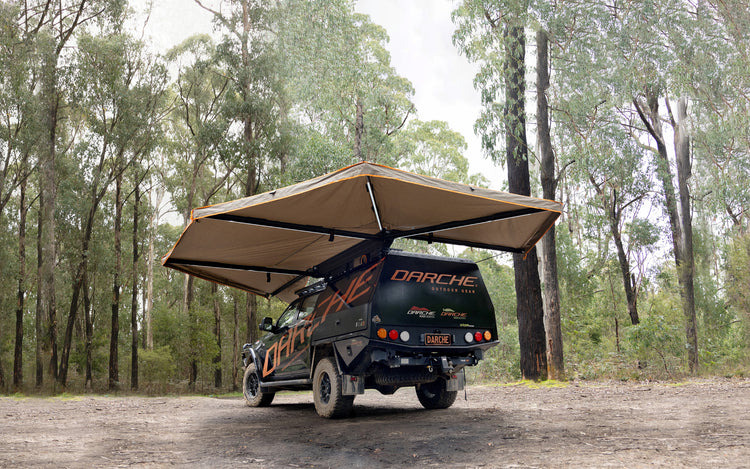 frequently asked questions
4wd awnings faq