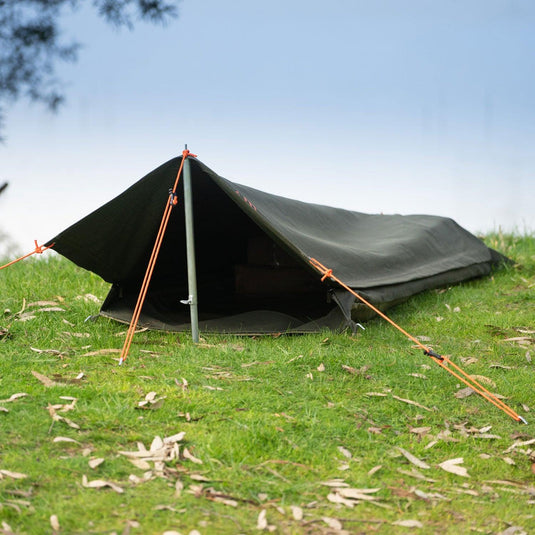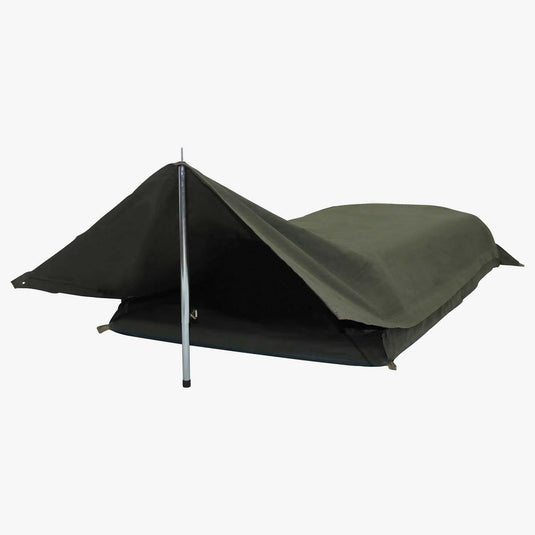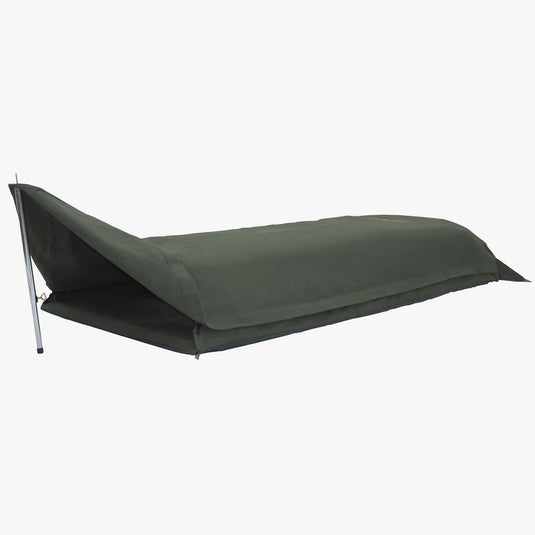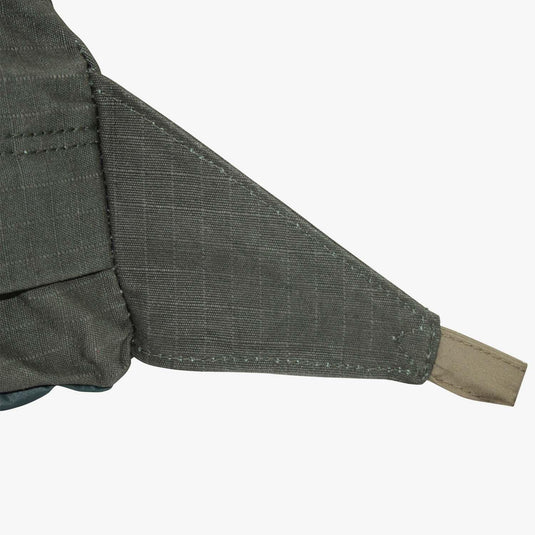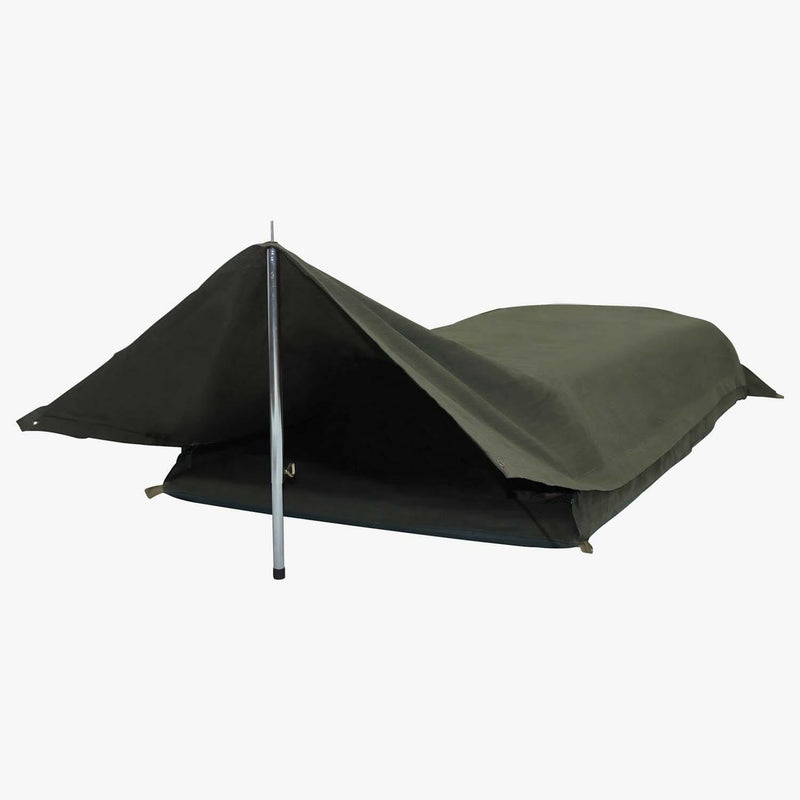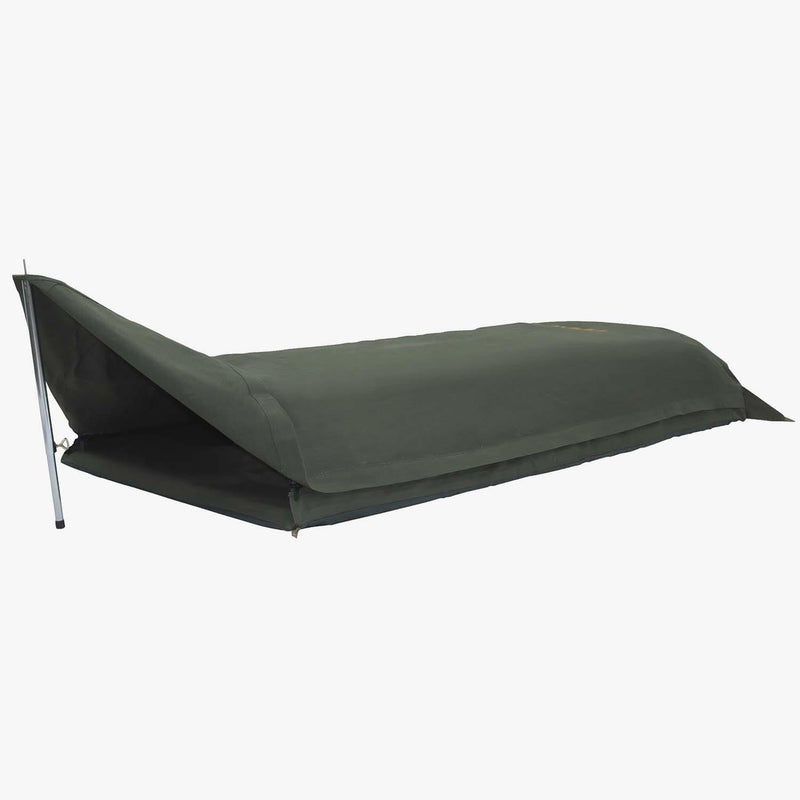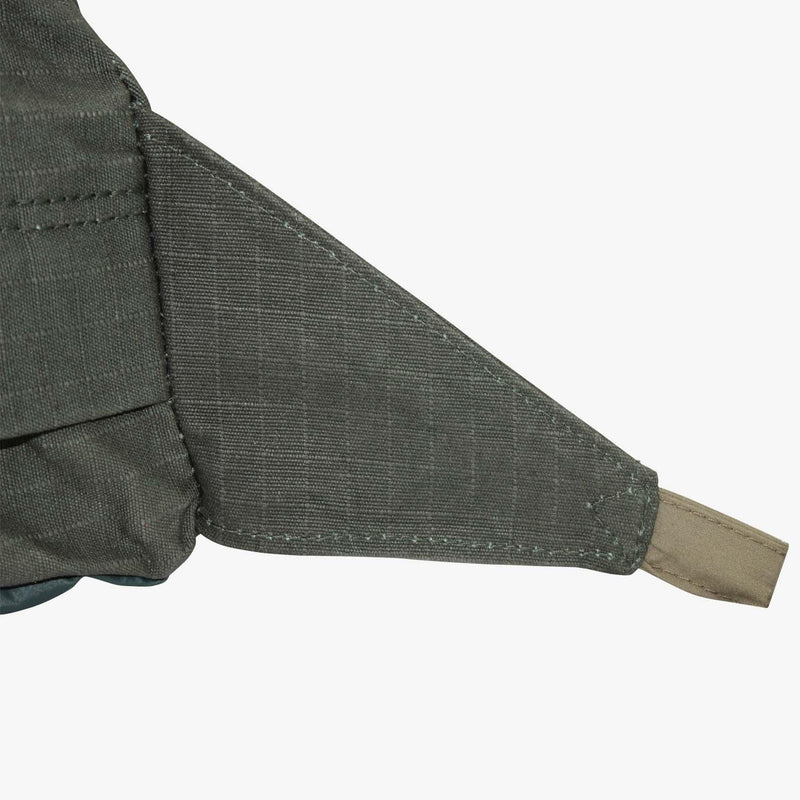 A classic envelope style swag, the Traditional swag is the original 'ready to go anywhere' rollout swag. Re-engineered for today's modern campers in our Max-Treme® range, the Traditional swag is made with DARCHE®'s premium quality wax coated 550gsm polycotton ripstop Max-Treme® canvas.  This swag is perfect for simple, no fuss camping, fishing, hunting or working on the land - a tough and practical piece of touring or work gear that will last a lifetime.
It features an official label of authenticity and unique serial number so you know you're getting a genuine, hard core DARCHE product with a lifetime warranty to back it up.  With a fully open ended head design, you'll be sleeping among the elements.
The extra large canvas head flap supported by an adjustable head pole, keeps you sheltered from the weather, while internal seam sealing and a reinforced, heavy-duty 600gsm PVC bucket floor will keep your bedding dry.  The rear supports and the two-way zips on the foot end provide ventilation to ensure minimal condensation and a more comfortable night's sleep.  This swag includes a premium quality, high-density 70mm foam mattress with a removable cover for easy care.  Pack up is simple - just roll it up, strap it down and throw it in the back ute for another day on the road.  This original workhorse is perfect for anyone living on the land.
Wax coated Max-Treme® canvas provides lifetime durability and the ultimate weather protection
Label of Authenticity with unique Serial Number
Lifetime Warranty (exclusions apply)
Large head flap entry and fully open ended head design
High-density foam mattress with removable cover
Internal seam sealing and full length welded PVC bucket floor
Includes tensioning straps and stainless steel D-rings for easy pack up
Mat Thickness

70mm High Density Foam

Material

Max-Treme 550gsm / 16oz Ripstop Polycotton Canvas

Floor Material

 600gsm PVC with Welded Corners

Pole

Galvanized Steel Telescopic Head Pole

Waterhead Rating

800mm Water Rated

Gender

Sleeping Bag Comfort

Maximum Volume

L

Fits

Sleeping Capacity

External Dimensions

mm

Sleeping Area

mm

Packed Dimensions

mm

Rated Capacity

kg

Coverage

Internal Storage and Bedding

Valve Quantity

Internal Dimensions

mm

Suits Product

Weight

kg

Warranty
FEATURES
Wax coated Max-Treme® canvas provides lifetime durability and the ultimate weather protection
Label of Authenticity with unique Serial Number
Lifetime Warranty (exclusions apply)
Large head flap entry and fully open ended head design
High-density foam mattress with removable cover
Internal seam sealing and full length welded PVC bucket floor
Includes tensioning straps and stainless steel D-rings for easy pack up
SPECIFICATIONS
Mat Thickness

70mm High Density Foam

Material

Max-Treme 550gsm / 16oz Ripstop Polycotton Canvas

Floor Material

 600gsm PVC with Welded Corners

Pole

Galvanized Steel Telescopic Head Pole

Waterhead Rating

800mm Water Rated

Gender

Sleeping Bag Comfort

Maximum Volume

L

Fits

Sleeping Capacity

External Dimensions

mm

Sleeping Area

mm

Packed Dimensions

mm

Rated Capacity

kg

Coverage

Internal Storage and Bedding

Valve Quantity

Internal Dimensions

mm

Suits Product

Weight

kg

Warranty
DIMENSIONS