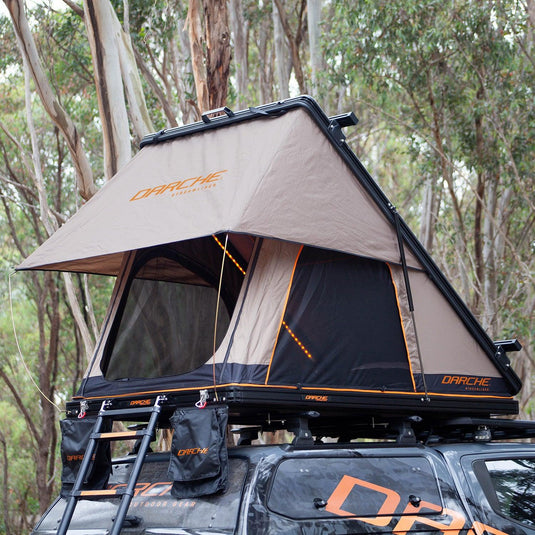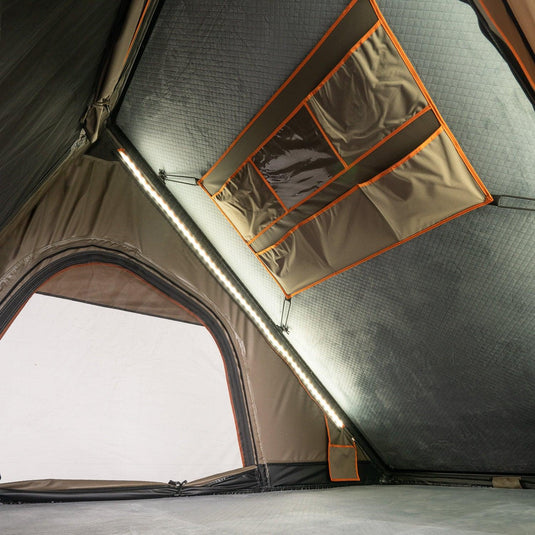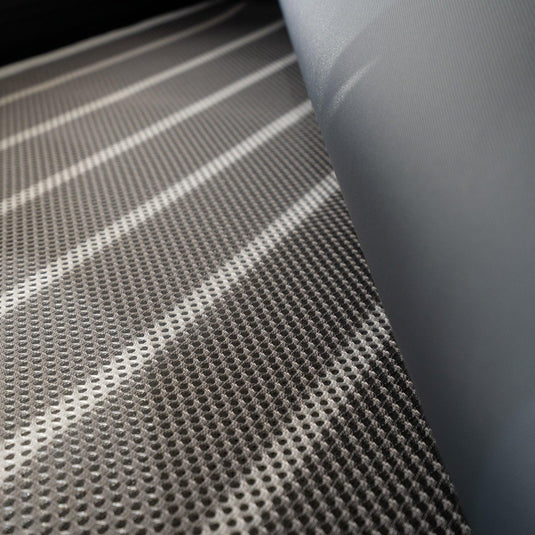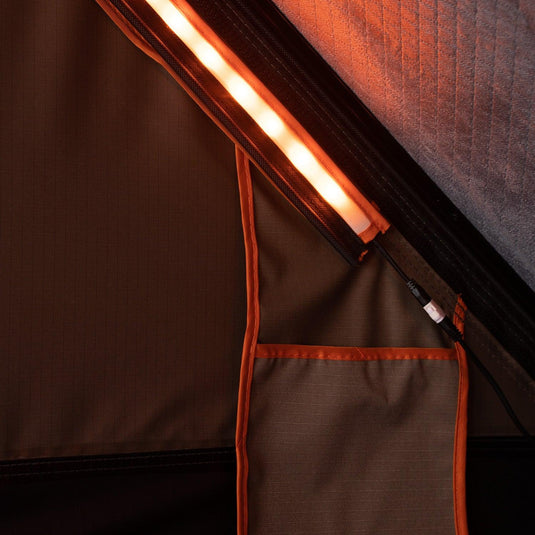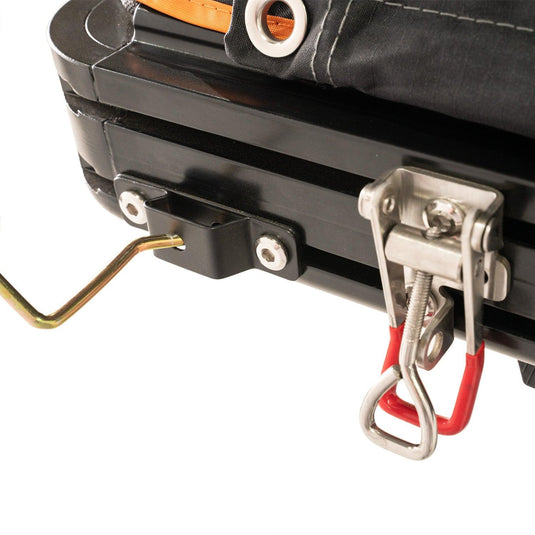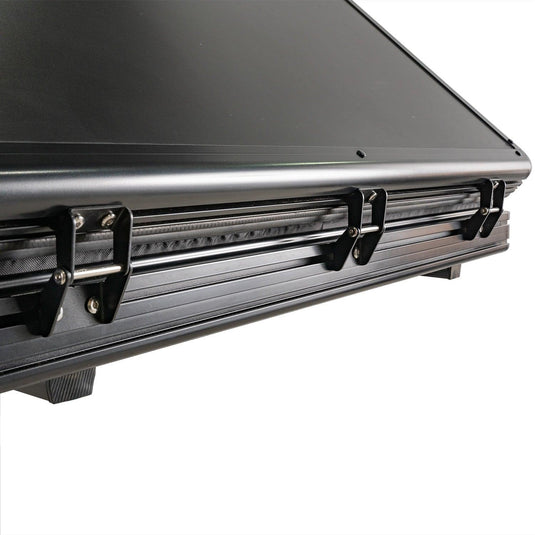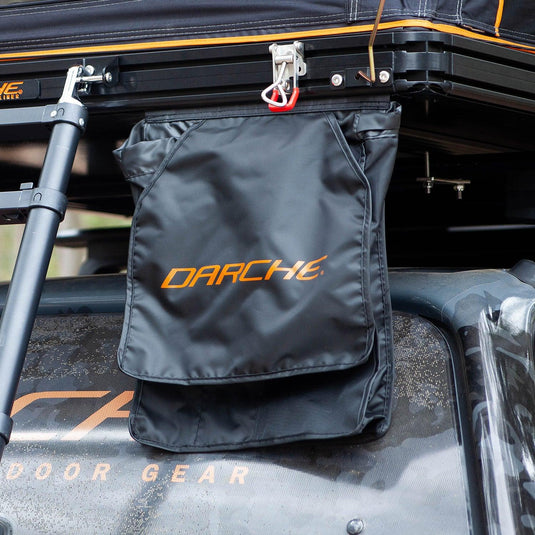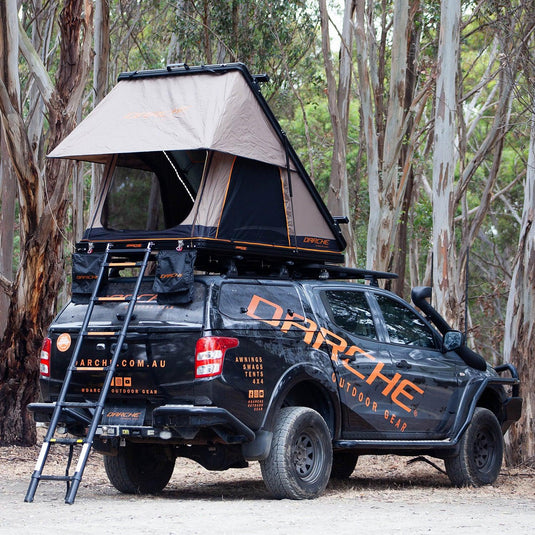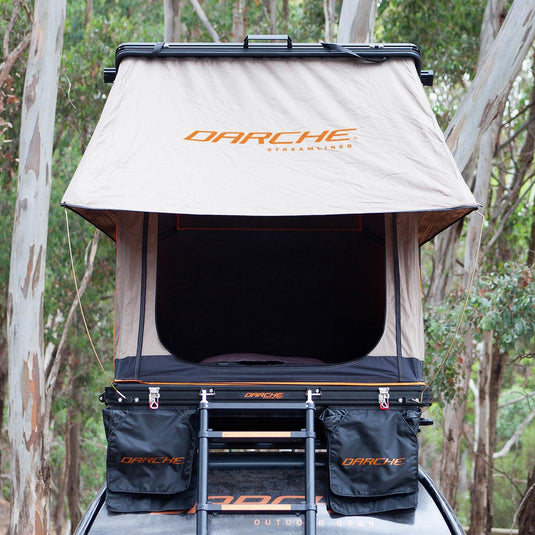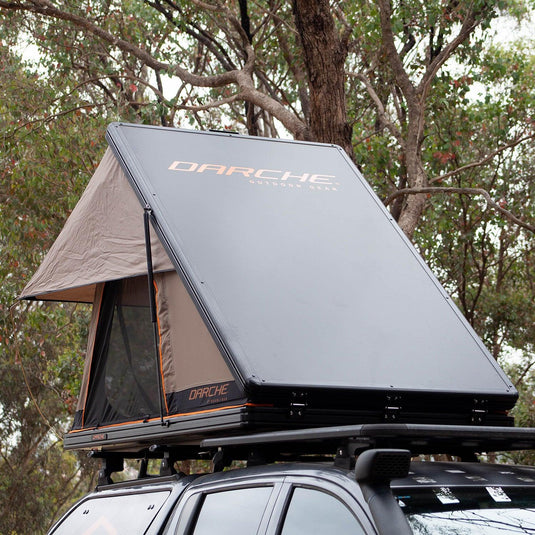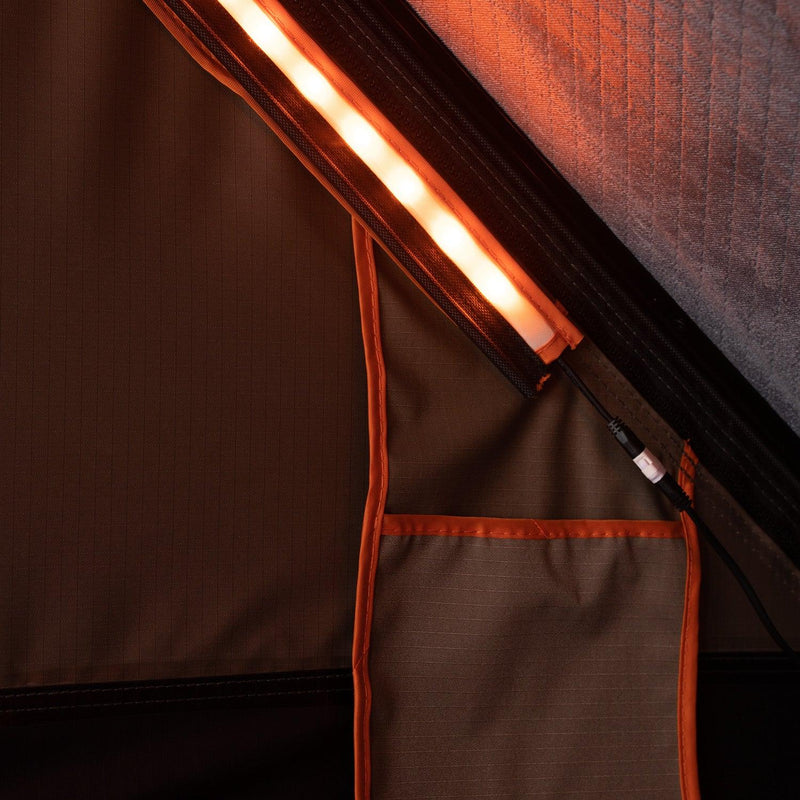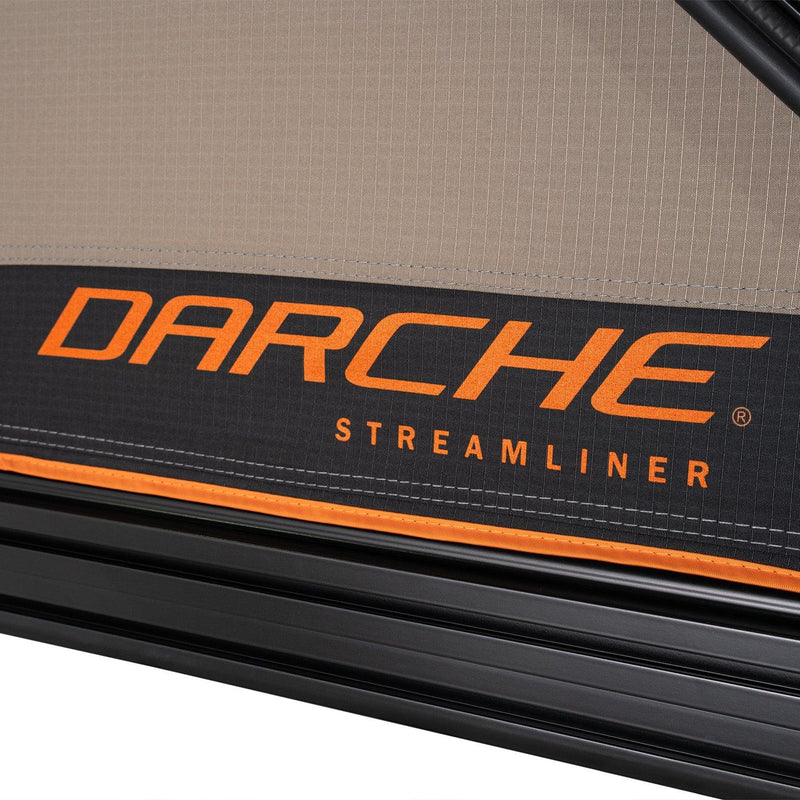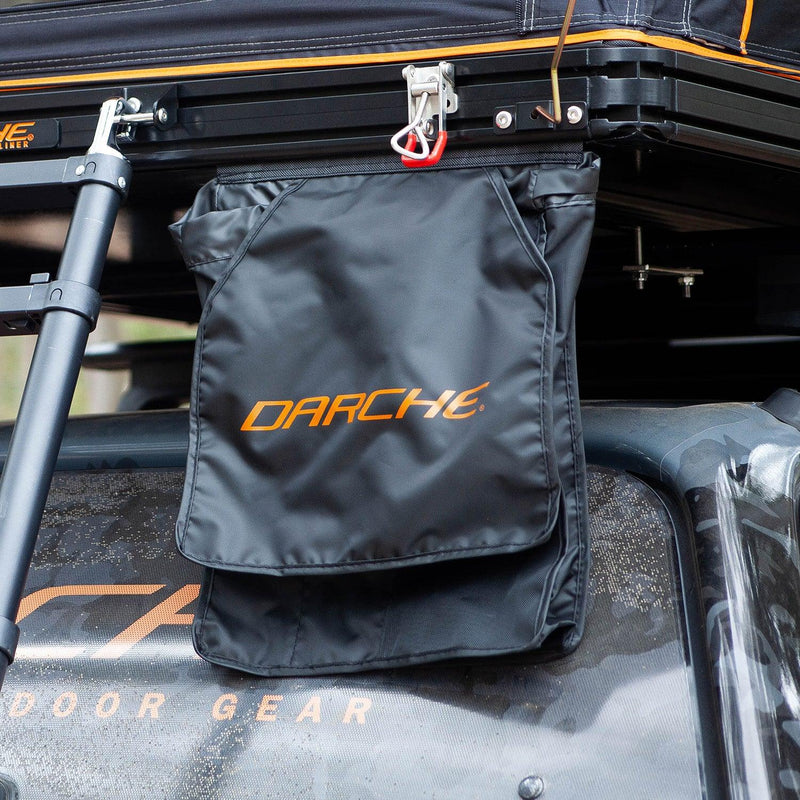 Available at BCF stores only: Click here to get your own.
Comfortable yet compact, the Streamliner 1250 Roof Top Tent is the Ridgeback's smaller sibling. Featuring the same tough aluminium design and build, but with a much lighter weight, the Streamliner is arguably the best of both worlds.
Featuring the same design and build quality as the other Ridgeback tents, the streamliner packs down to a slimmer height, almost 30% lower than the Ridgeback and 34% lower than the Ridgeback HighRize roof top tents.
Inside you'll find walls made from DARCHE tough ripstop canvas and a comfortable memory foam mattress with an included anti-condensation mat. As well as a built in LED light that can be switched between white and orange and dimmed to suit the mood. With multiple ventilation points and 3 access doors, the Streamliner can be adapted to almost any vehicle or trailer configuration.
Getting in and out is a breeze with the easily attached telescopic ladder, and the attached fly, helps keep the weather out as you're getting in or out of the tent. The included storage bags slide on just outside the entrance, meaning your shoes won't be wet and soggy or on the ground when you need to head outside. With its 3 year warranty and our supply of spare parts, this will be a tent that will look after you for a long time.
Low-profile aluminium composite clamshell design
Extremely low weight and packdown height at 69kg and 150mm
Premium quality 280gsm ripstop polycotton canvas
50mm memory foam mattress with 10mm anti-condensation mat
Internal dimmable bi-coloured USB powered LED lighting (battery not included)
German-engineered Stabilus gas struts for effortless set up and pack down
Exceptional ventilation with built-in air vents and removable fly which provides protection for three full-width entrances.
2 shoe storage bags attachable via sailtracks
Easy-action 2.3m aluminium telescopic ladder to suit most vehicle heights (max vehicle/bed base height 2.2m
Internal side and roof storage pockets to stash your gear
Heavy-duty construction including self-repairing coil zips, taped seams and reinforced stitching on all stress points
3 year warranty
Roof rails accessory kit available (sold separately)
Shell Material:

6-Series Aluminium/EPE composite

Base Material

Heavy-Duty Aluminium Honeycomb Insulation Panel

Body Material:

280gsm Ripstop Polycotton Canvas

Fly Material:

420D Polyester Oxford Ripstop

Waterhead Rating Canvas:

3000mm

Waterhead Rating Fly:

1500mm

Mattress:

50mm Memory Foam with 10mm Anti-Condensation Mat

Gender

Sleeping Bag Comfort

Maximum Volume

L

Fits

Sleeping Capacity

External Dimensions

mm

Sleeping Area

mm

Packed Dimensions

mm

Rated Capacity

kg

Coverage

Internal Storage and Bedding

Valve Quantity

Internal Dimensions

mm

Suits Product

Weight

kg

Warranty
FEATURES
Low-profile aluminium composite clamshell design
Extremely low weight and packdown height at 69kg and 150mm
Premium quality 280gsm ripstop polycotton canvas
50mm memory foam mattress with 10mm anti-condensation mat
Internal dimmable bi-coloured USB powered LED lighting (battery not included)
German-engineered Stabilus gas struts for effortless set up and pack down
Exceptional ventilation with built-in air vents and removable fly which provides protection for three full-width entrances.
2 shoe storage bags attachable via sailtracks
Easy-action 2.3m aluminium telescopic ladder to suit most vehicle heights (max vehicle/bed base height 2.2m
Internal side and roof storage pockets to stash your gear
Heavy-duty construction including self-repairing coil zips, taped seams and reinforced stitching on all stress points
3 year warranty
Roof rails accessory kit available (sold separately)
SPECIFICATIONS
Shell Material:

6-Series Aluminium/EPE composite

Base Material

Heavy-Duty Aluminium Honeycomb Insulation Panel

Body Material:

280gsm Ripstop Polycotton Canvas

Fly Material:

420D Polyester Oxford Ripstop

Waterhead Rating Canvas:

3000mm

Waterhead Rating Fly:

1500mm

Mattress:

50mm Memory Foam with 10mm Anti-Condensation Mat

Gender

Sleeping Bag Comfort

Maximum Volume

L

Fits

Sleeping Capacity

External Dimensions

mm

Sleeping Area

mm

Packed Dimensions

mm

Rated Capacity

kg

Coverage

Internal Storage and Bedding

Valve Quantity

Internal Dimensions

mm

Suits Product

Weight

kg

Warranty