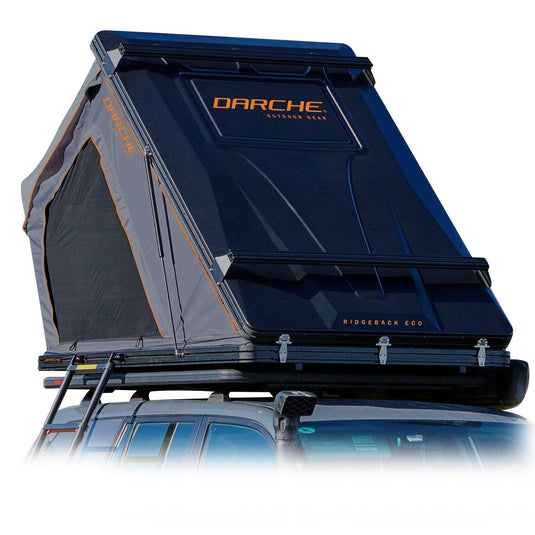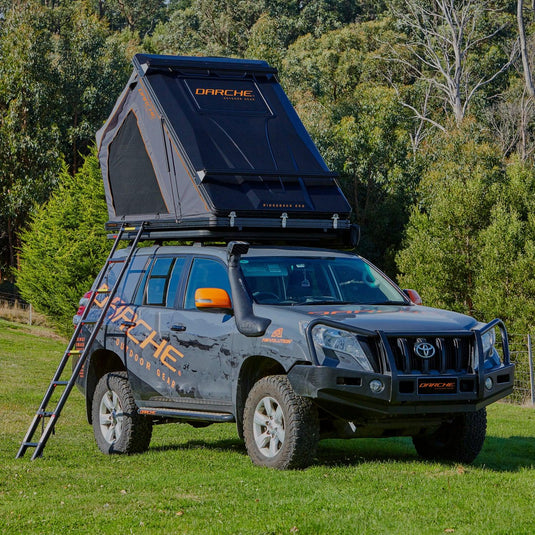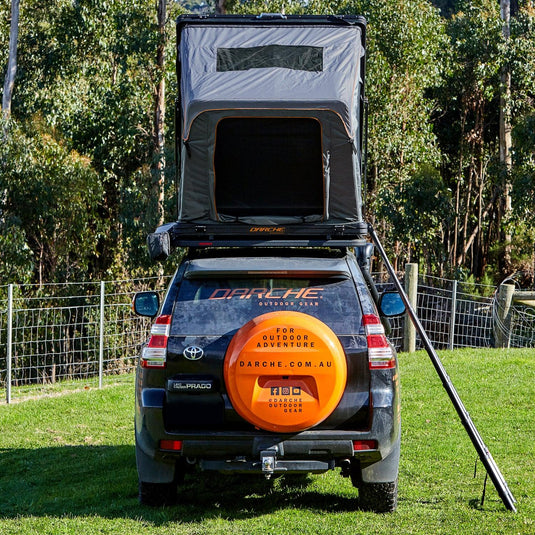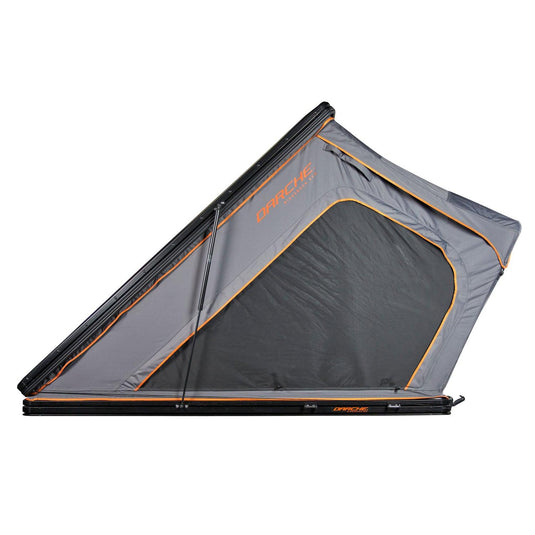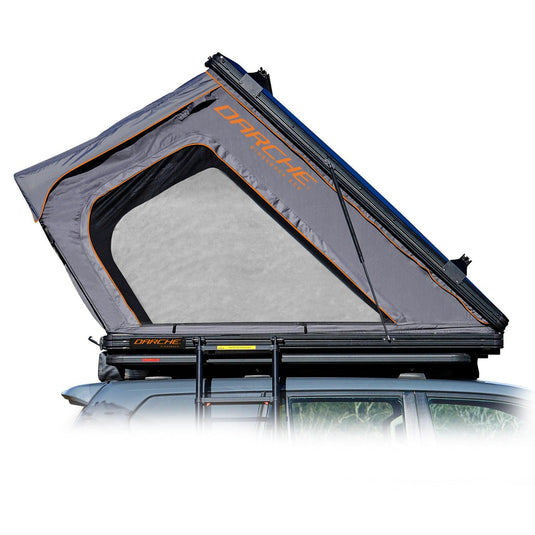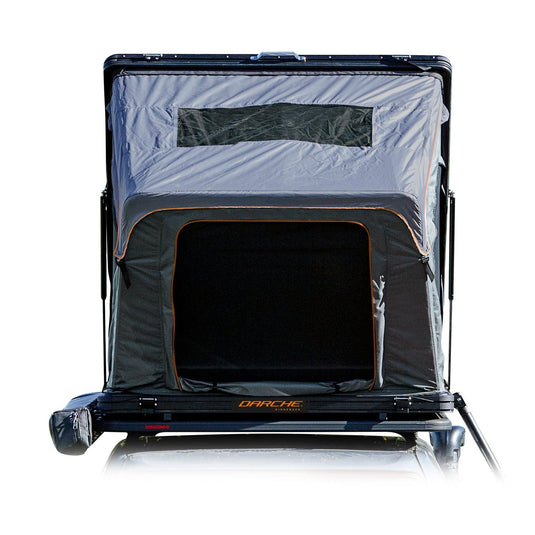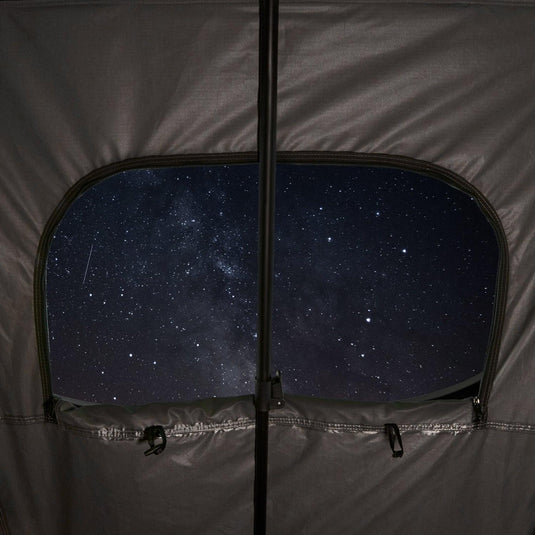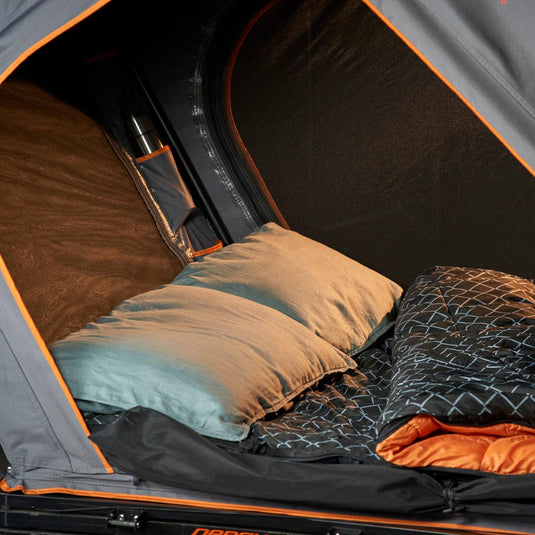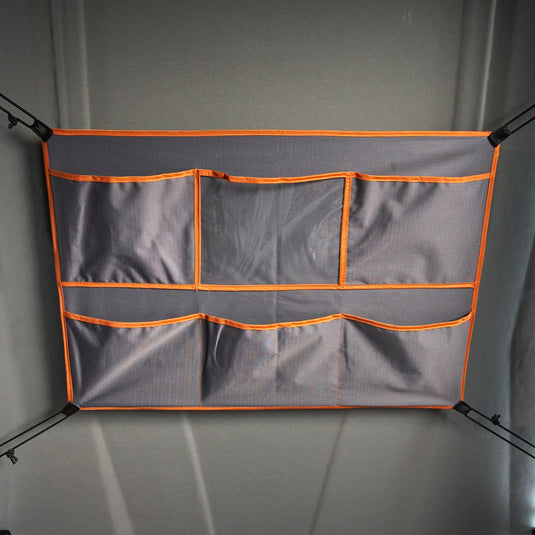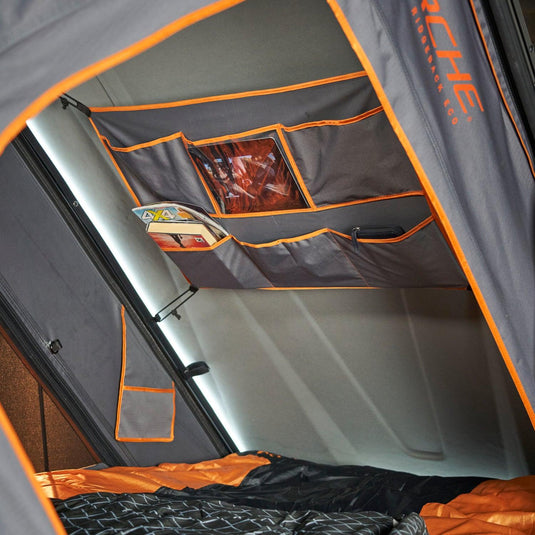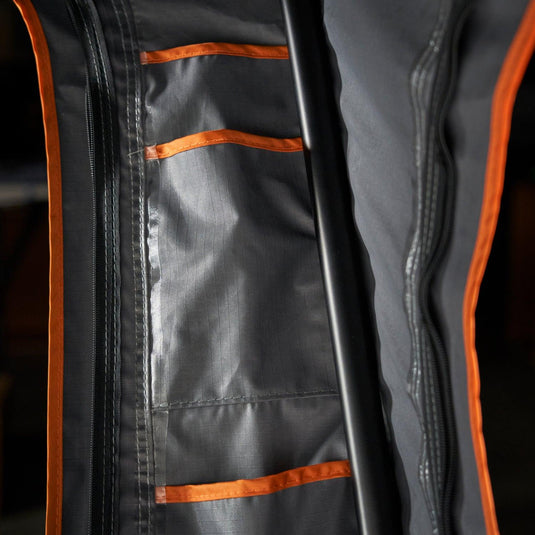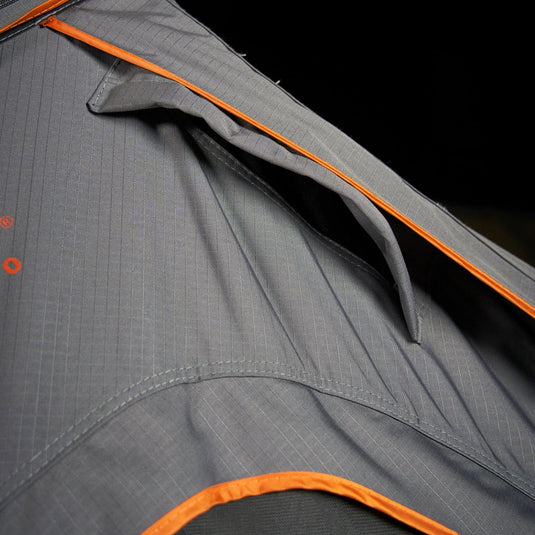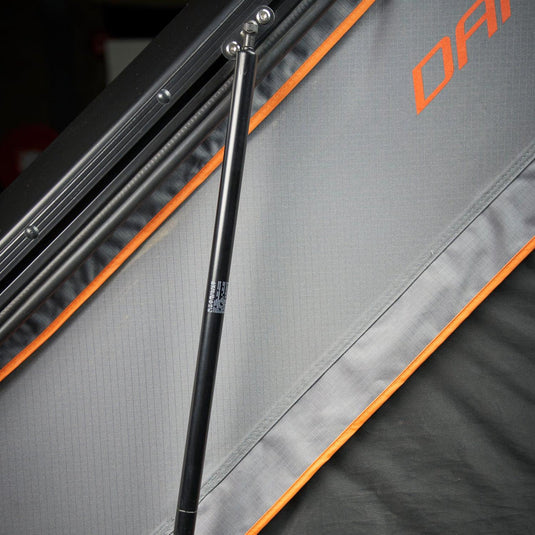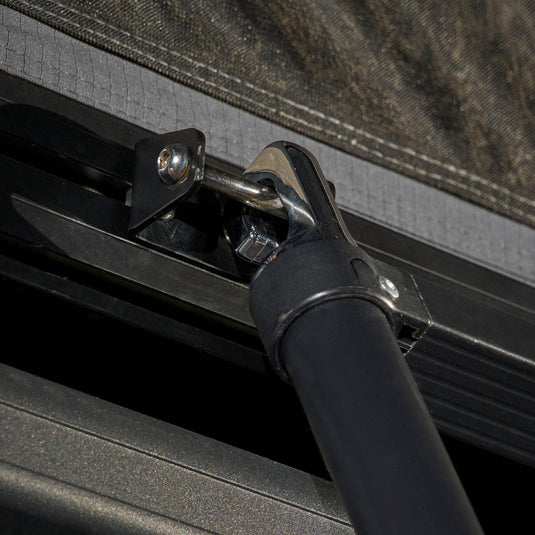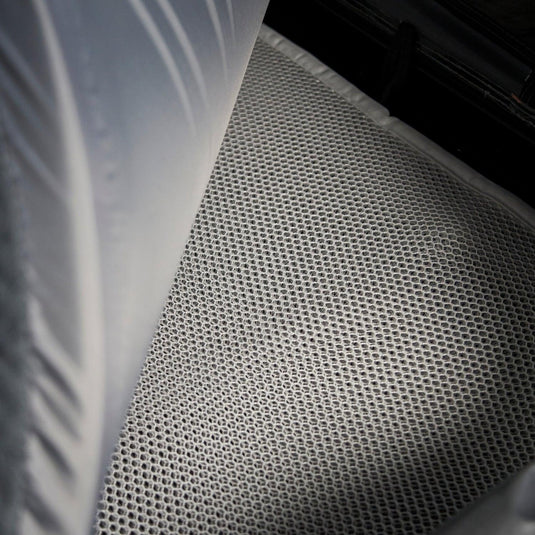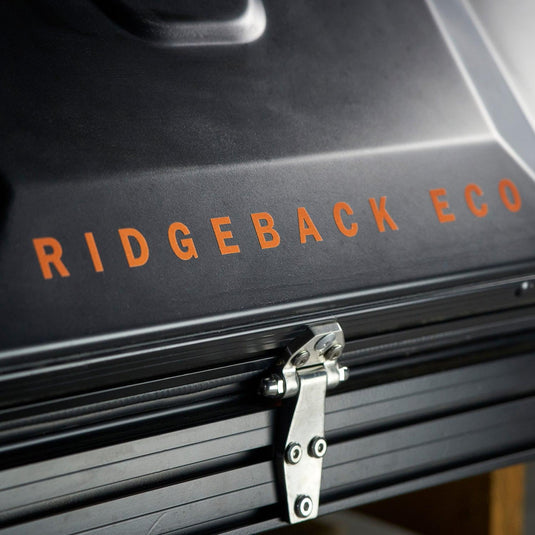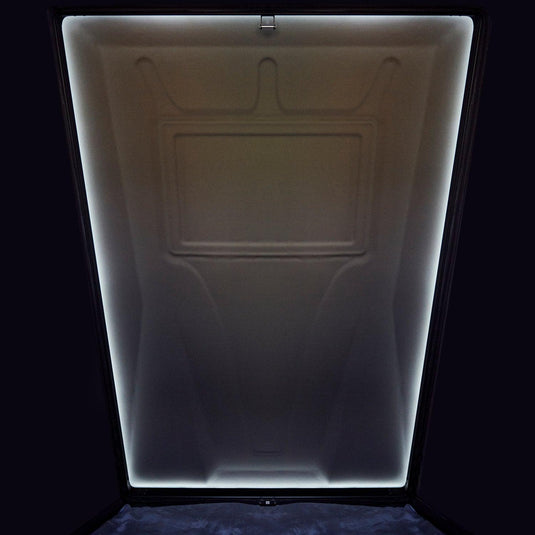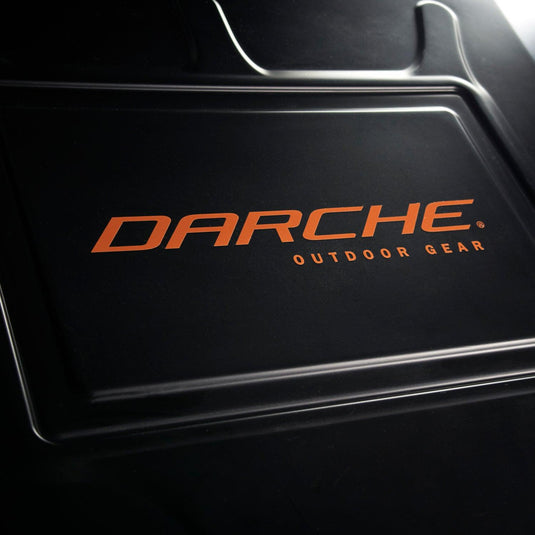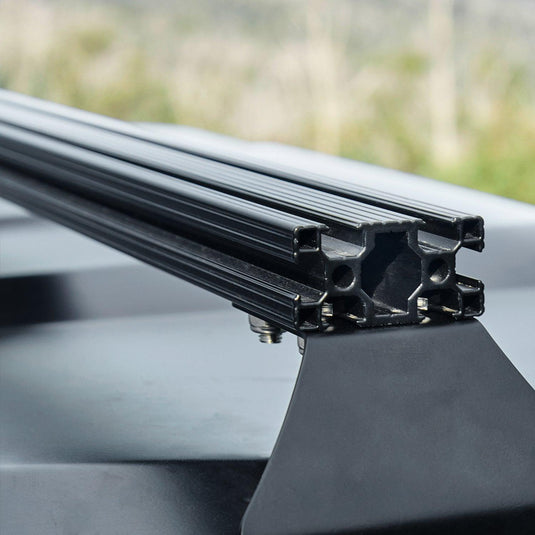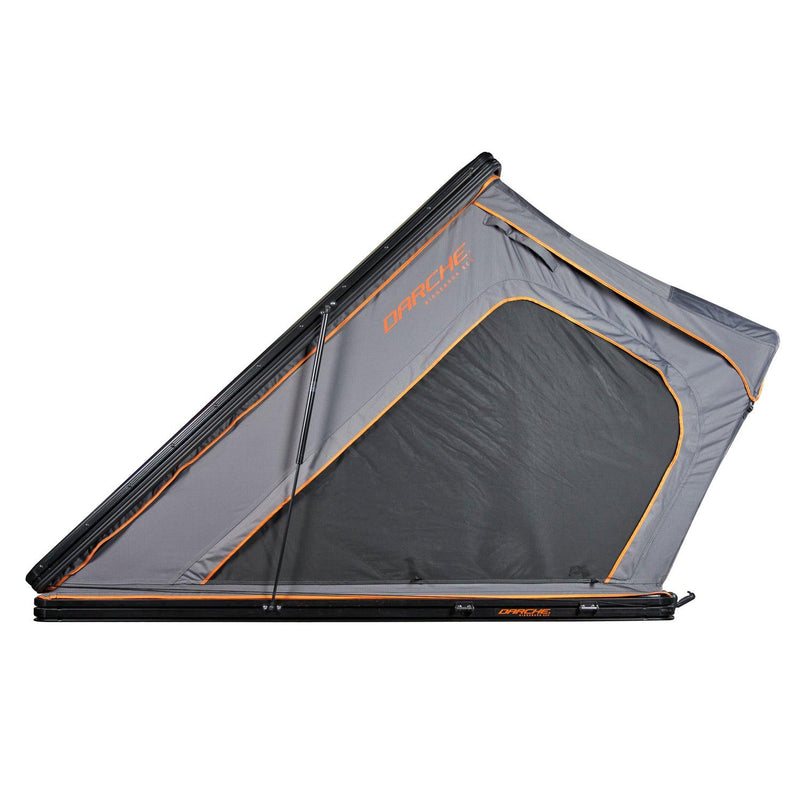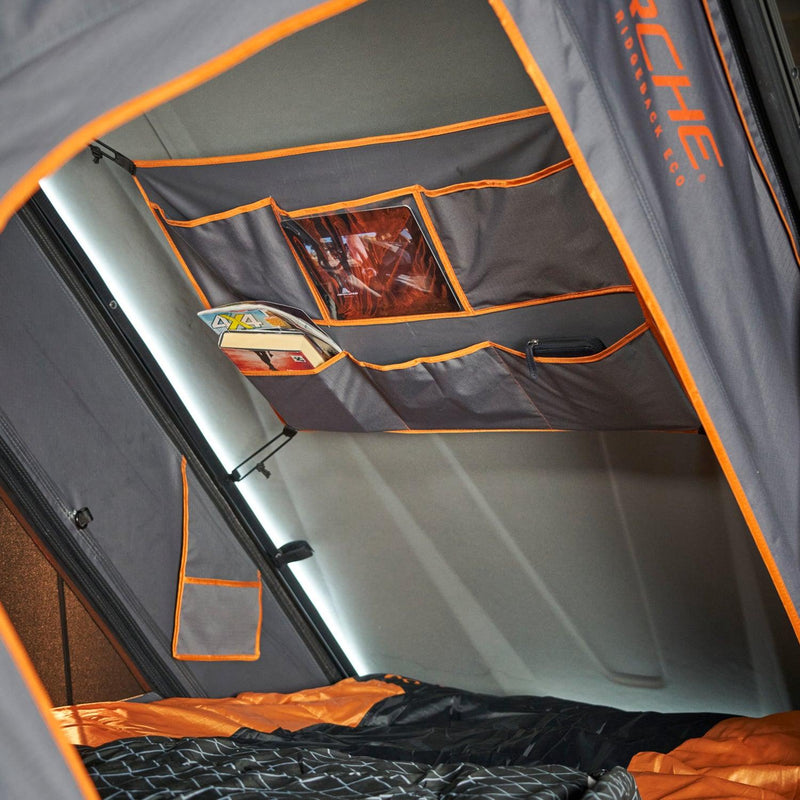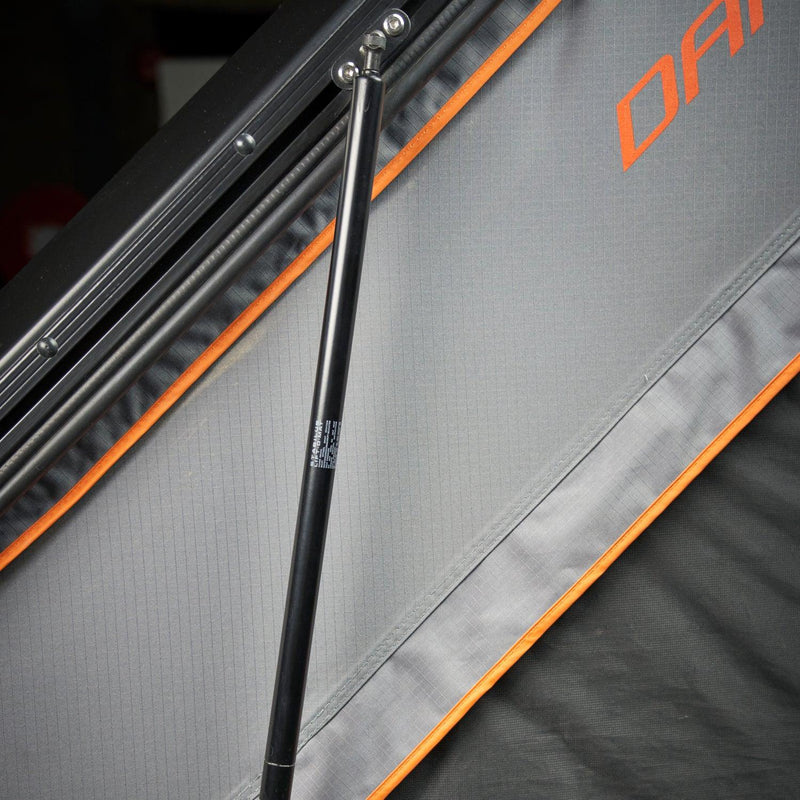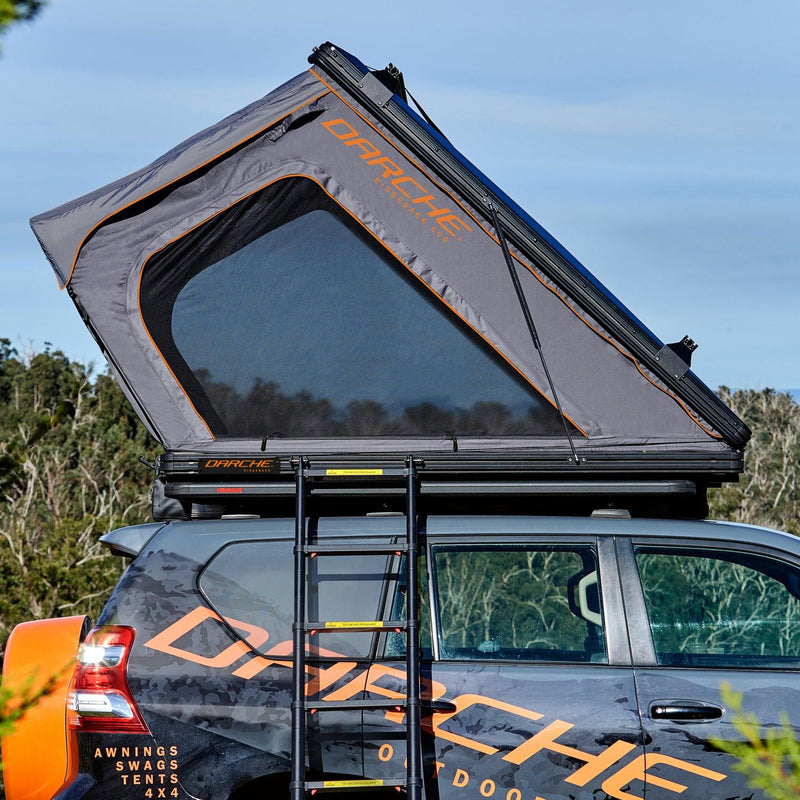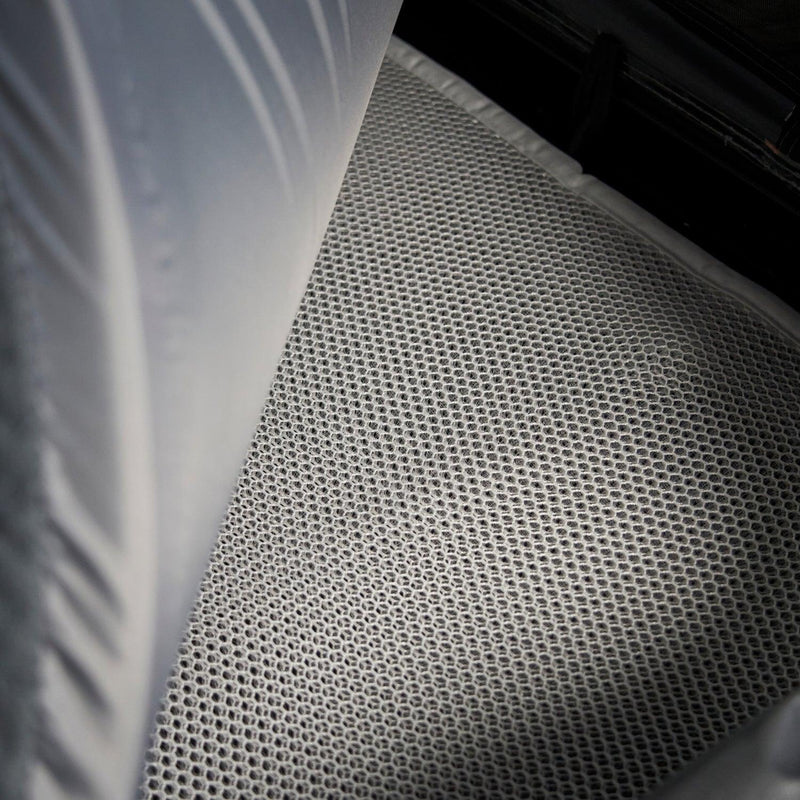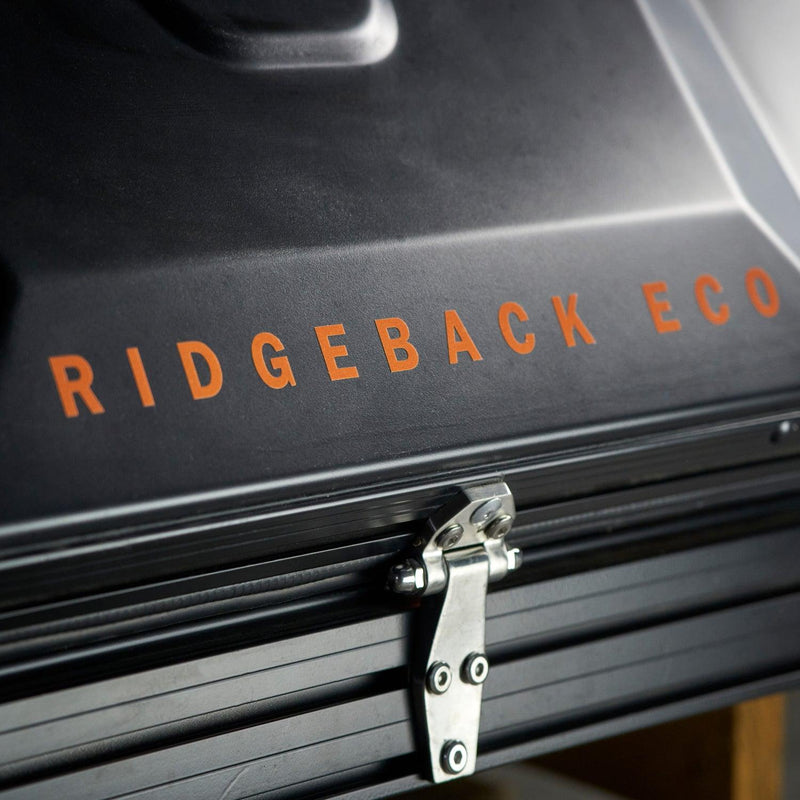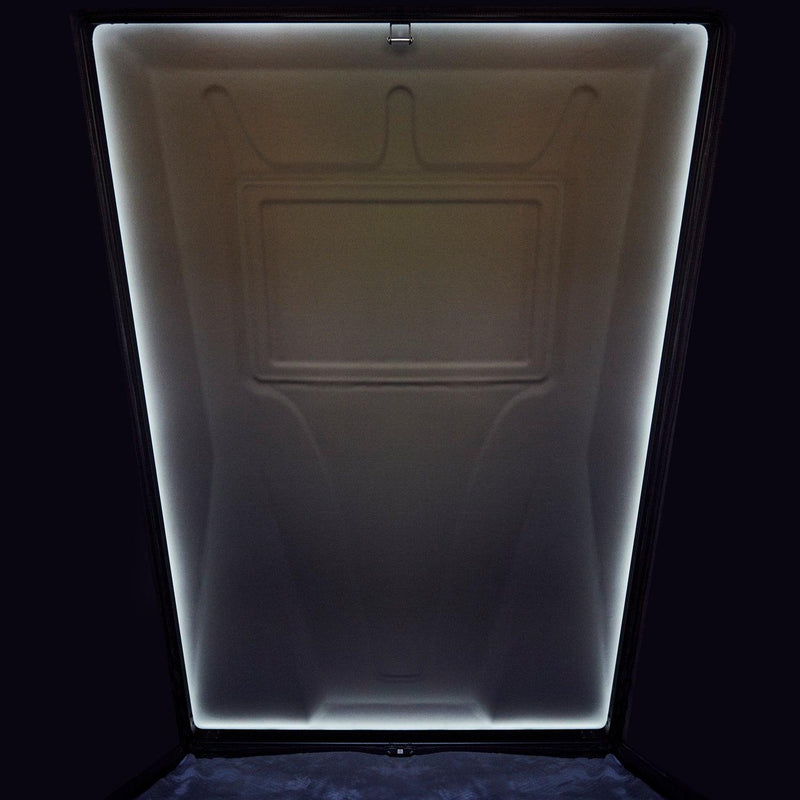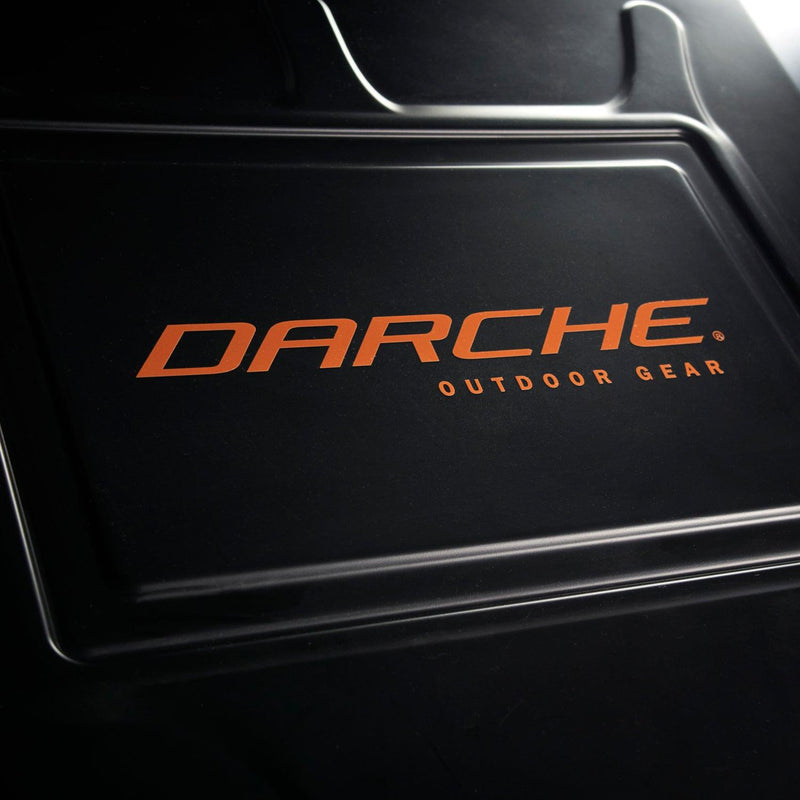 For ultimate roof top quality and comfort, look no further than the DARCHE Ridgeback series. This flagship aluminium hard shell roof top tent range delivers every bit of quality engineering and construction that you've come to expect from DARCHE - all in a stunning aluminum shell.
The Ridgeback series body tent comes in two material options - our premier ECO recycled polyester, made using recycled plastic waste and saving around 185 bottles from landfill per tent, as well as a traditional canvas body.
Ridgeback's aerodynamic design will turn heads on the road. Its unique profile and compact design reduces wind drag and overall vehicle height, perfect for lifted vehicles navigating the urban jungle between off-road adventures.
The high-spec build gives you unparalleled quality including German-engineered Stabilus struts that provide effortless set up and pack down assistance. With a flick of the latches, this simple one-person set up will have you stargazing in seconds.
The interior is full of innovation too, including a plush 55mm memory foam mattress with a removable cover and water-resistant base, plus a 10mm high rebound anti-condensation mat that will give you the most comfortable night's sleep you've ever had on the road. The interior also features internal USB powered LED lighting that has been laboratory tested to ensure compliance with all Electro Magnetic Compatibility and User Safety standards.
There is plenty of room inside to keep you cool and comfortable. The removable fly and built-in air vents reduce condensation and provide excellent airflow, even in rainy weather. There are three full size entry points and a zippered sky window that will give you plenty of ventilation as you drift off under the starry night sky.
The Ridgeback body tent is made from premium 280gsm Ripstop Recycled Polyester Oxford. This tent has an impressive 3000mm water rating, high profile automotive rubber weather seals, internal seam sealing and a removable fly that will keep you dry in extended rainy conditions With roof rails accessory kits available (sold separately), the Ridgeback delivers everything you'll ever need in a hard shell roof top tent and more. The included mounting brackets suit most commercially available flat roof rack or roof rail systems. Make sure to check the weight rating and suitability of your roof rack and vehicle with appropriate manufacturers prior to purchase. We recommend professional installation through your local 4WD centre or ask your DARCHE dealer for advice about installation.
Aerodynamic aluminium profile design and construction
Class leading interior room and natural light
Internal USB powered LED lighting (battery not included)
German-engineered Stabilus gas struts for effortless set up and pack down
Exceptional ventilation with zippered sky window, built-in air vents and three full-width doors
Fine insect mesh on all windows
Easy-action 2.3m aluminium telescopic ladder will suit most vehicle heights (max vehicle/bed base height 2.2m)
Internal side and roof storage pockets to stash your gear
All-season protection including high profile automotive rubber weather seals, taped seams, twin needle stitching and removable fly
Heavy-duty construction including self-repairing coil zips and reinforced stitching on all stress points 
UV50+ protection
Roof rails accessory kit available
Shell Material:

6-Series Aluminium

Base Material

Heavy-Duty Aluminium Honeycomb Insulation Panel

Body Material:

ecoWGAF™ - 280gsm Polyester Oxford Ripstop / 100% recycled polyester

Fly Material:

ecoWGAF™ - 140gsm Polyester Oxford Ripstop / 100% recycled polyester

Waterhead Rating Canvas:

5000mm

Waterhead Rating Fly:

3000mm

Mattress:

55mm Memory Foam with 10mm Anti-Condensation Mat

Gender

Sleeping Bag Comfort

Maximum Volume

L

Fits

Sleeping Capacity

External Dimensions

mm

Sleeping Area

mm

Packed Dimensions

mm

Rated Capacity

kg

Coverage

Internal Storage and Bedding

Valve Quantity

Internal Dimensions

mm

Suits Product

Weight

kg

Warranty
FEATURES
Aerodynamic aluminium profile design and construction
Class leading interior room and natural light
Internal USB powered LED lighting (battery not included)
German-engineered Stabilus gas struts for effortless set up and pack down
Exceptional ventilation with zippered sky window, built-in air vents and three full-width doors
Fine insect mesh on all windows
Easy-action 2.3m aluminium telescopic ladder will suit most vehicle heights (max vehicle/bed base height 2.2m)
Internal side and roof storage pockets to stash your gear
All-season protection including high profile automotive rubber weather seals, taped seams, twin needle stitching and removable fly
Heavy-duty construction including self-repairing coil zips and reinforced stitching on all stress points 
UV50+ protection
Roof rails accessory kit available
SPECIFICATIONS
Shell Material:

6-Series Aluminium

Base Material

Heavy-Duty Aluminium Honeycomb Insulation Panel

Body Material:

ecoWGAF™ - 280gsm Polyester Oxford Ripstop / 100% recycled polyester

Fly Material:

ecoWGAF™ - 140gsm Polyester Oxford Ripstop / 100% recycled polyester

Waterhead Rating Canvas:

5000mm

Waterhead Rating Fly:

3000mm

Mattress:

55mm Memory Foam with 10mm Anti-Condensation Mat

Gender

Sleeping Bag Comfort

Maximum Volume

L

Fits

Sleeping Capacity

External Dimensions

mm

Sleeping Area

mm

Packed Dimensions

mm

Rated Capacity

kg

Coverage

Internal Storage and Bedding

Valve Quantity

Internal Dimensions

mm

Suits Product

Weight

kg

Warranty