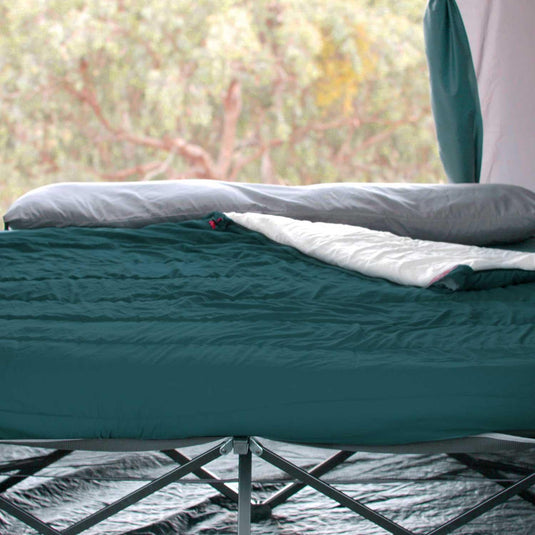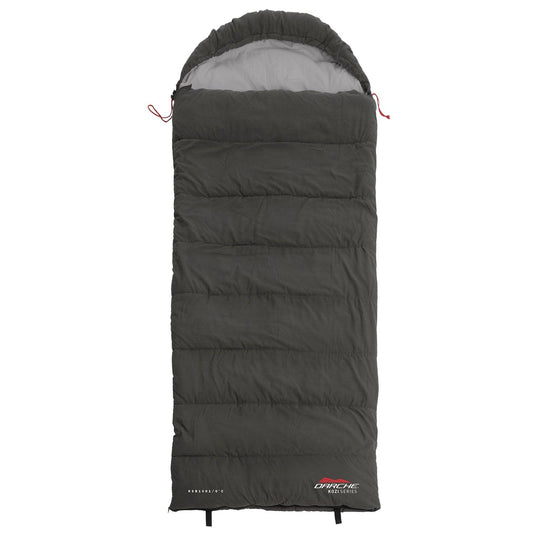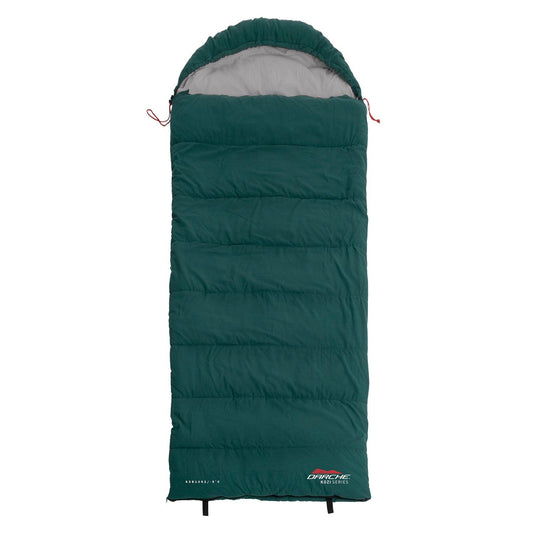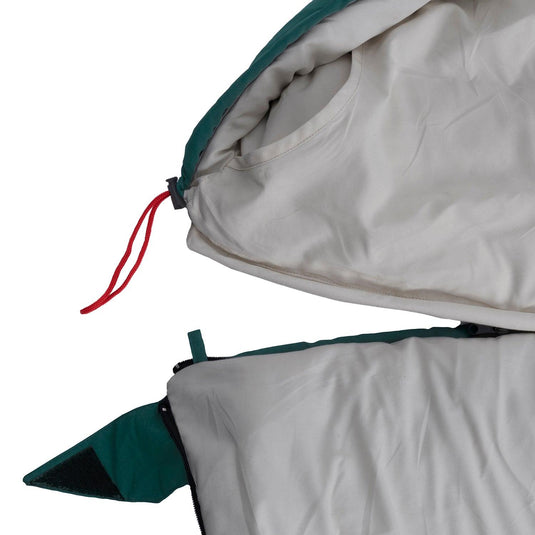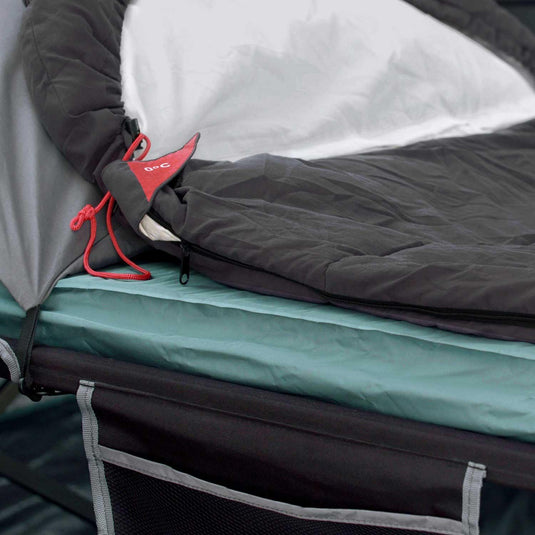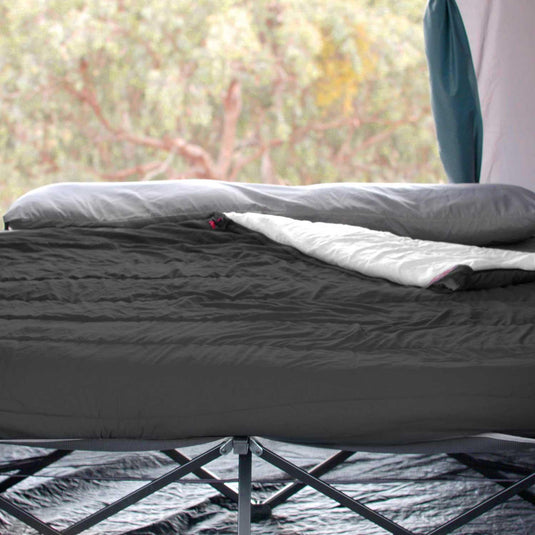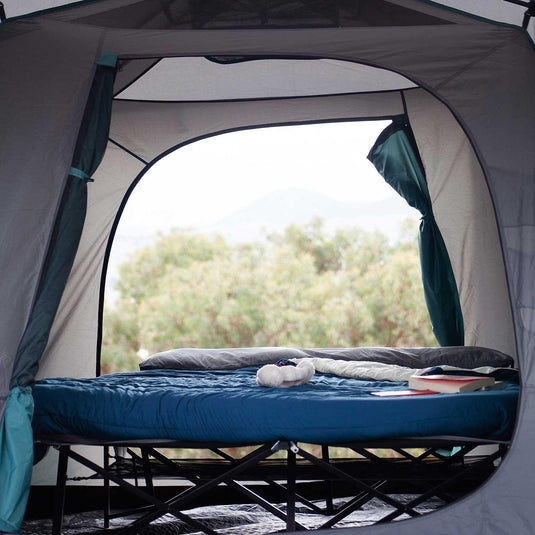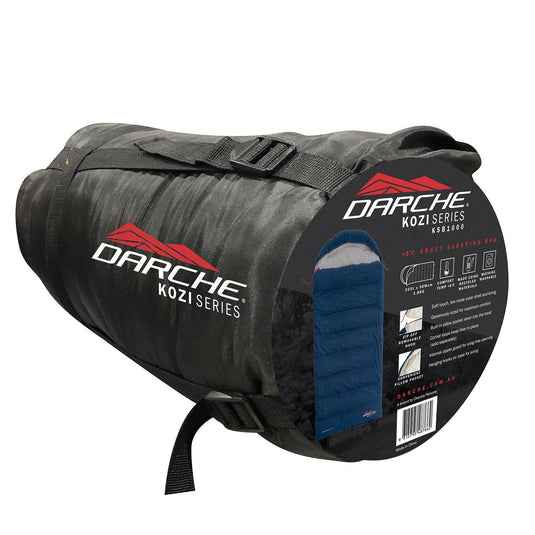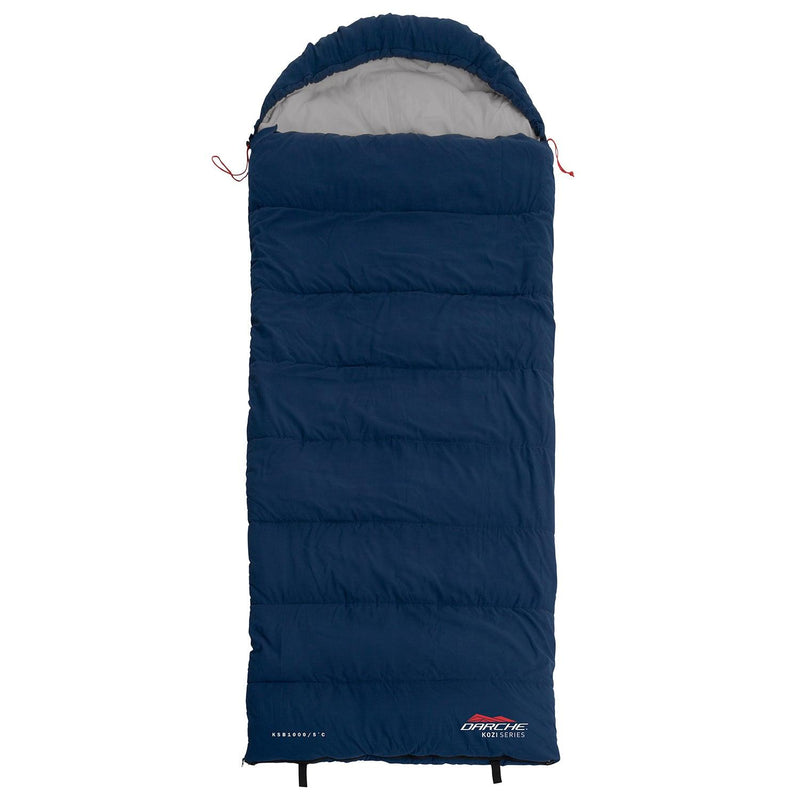 Keep warm on your next outdoor adventure with DARCHE® Kozi Series Sleeping Bags. With options for all climates (-5˚C Green, 0˚C Grey and +5˚C Blue) and channel stitching for even warmth distribution, these soft touch bags have a plush feel and are generously sized for a comfortable night's sleep.
When you need to pack light, the pillow pocket sewn into the hood lining can be stuffed with clothes or towels to make a pillow, or zip off the removable hood and convert to a camper style sleeping bag.
With hanging hooks on base for airing and machine washable materials, these bags are easy care for families who enjoy getting outdoors. For added protection, attach the antimicrobial treated Kozi Series Sleeping Bag Liner (sold separately) using the corner loops sewn into the bag to keep it in place.
For those who like to snuggle up, two bags can be zipped together to make a double bag.
Soft touch, low noise outer shell and lining
Generously sized for maximum comfort
Built-in pillow pocket sewn into the hood
Corner loops keep liner in place (liner sold separately)
Internal zipper guard for snag free opening
Hanging hooks on base for airing
Removable zip off hood converts to a camper style sleeping bag
Channel stitching for even warmth distribution
Easy care machine washable materials
Two bags can be zipped together to make a double bag
Material

182T Brushed Polyester WR

Fill Material

Hollow Fibre

Lining Material

182T Brushed Polyester

Gender

Sleeping Bag Comfort

Maximum Volume

L

Fits

Sleeping Capacity

External Dimensions

mm

Sleeping Area

mm

Packed Dimensions

mm

Rated Capacity

kg

Coverage

Internal Storage and Bedding

Valve Quantity

Internal Dimensions

mm

Suits Product

Weight

kg

Warranty
FEATURES
Soft touch, low noise outer shell and lining
Generously sized for maximum comfort
Built-in pillow pocket sewn into the hood
Corner loops keep liner in place (liner sold separately)
Internal zipper guard for snag free opening
Hanging hooks on base for airing
Removable zip off hood converts to a camper style sleeping bag
Channel stitching for even warmth distribution
Easy care machine washable materials
Two bags can be zipped together to make a double bag
SPECIFICATIONS
Material

182T Brushed Polyester WR

Fill Material

Hollow Fibre

Lining Material

182T Brushed Polyester

Gender

Sleeping Bag Comfort

Maximum Volume

L

Fits

Sleeping Capacity

External Dimensions

mm

Sleeping Area

mm

Packed Dimensions

mm

Rated Capacity

kg

Coverage

Internal Storage and Bedding

Valve Quantity

Internal Dimensions

mm

Suits Product

Weight

kg

Warranty