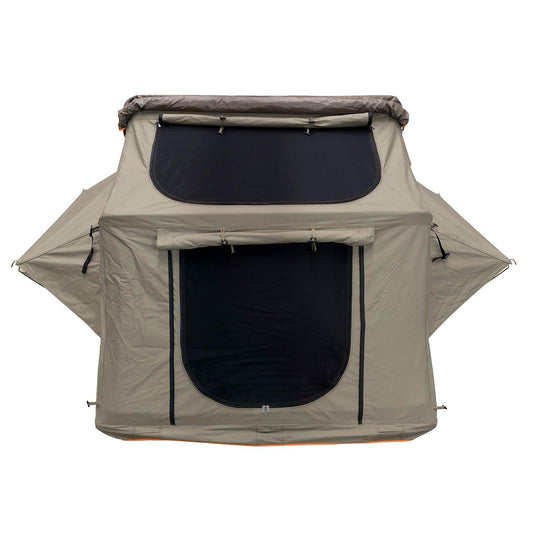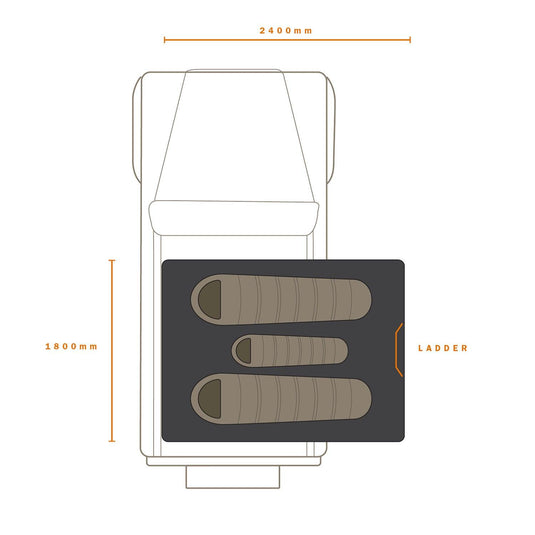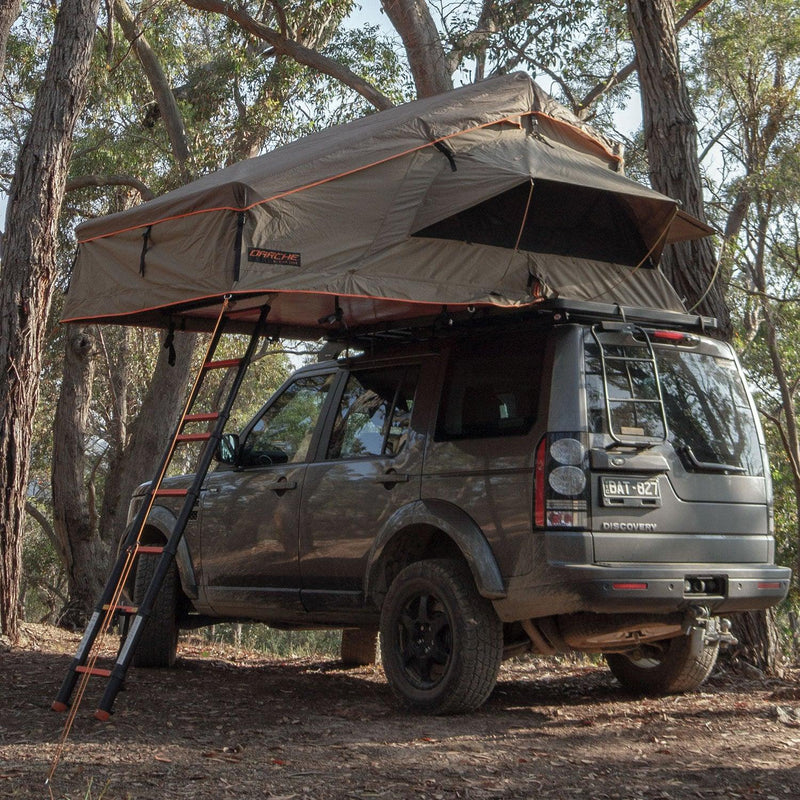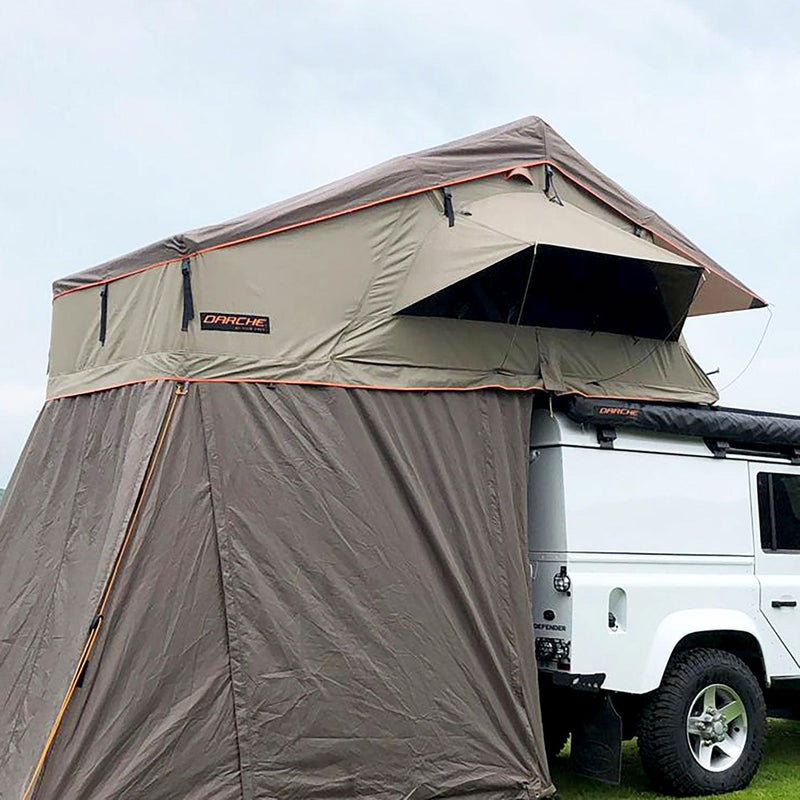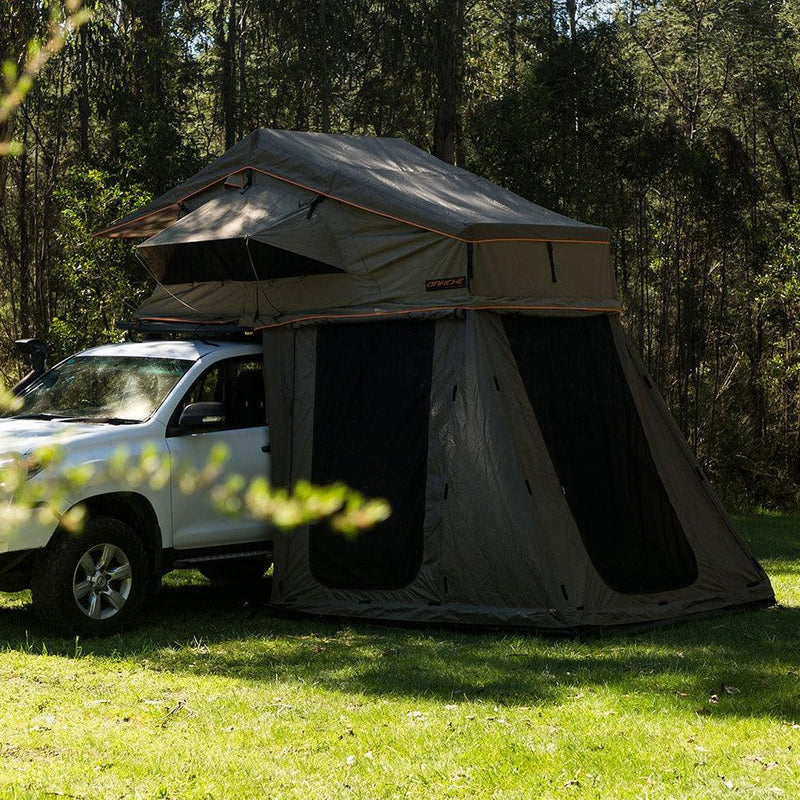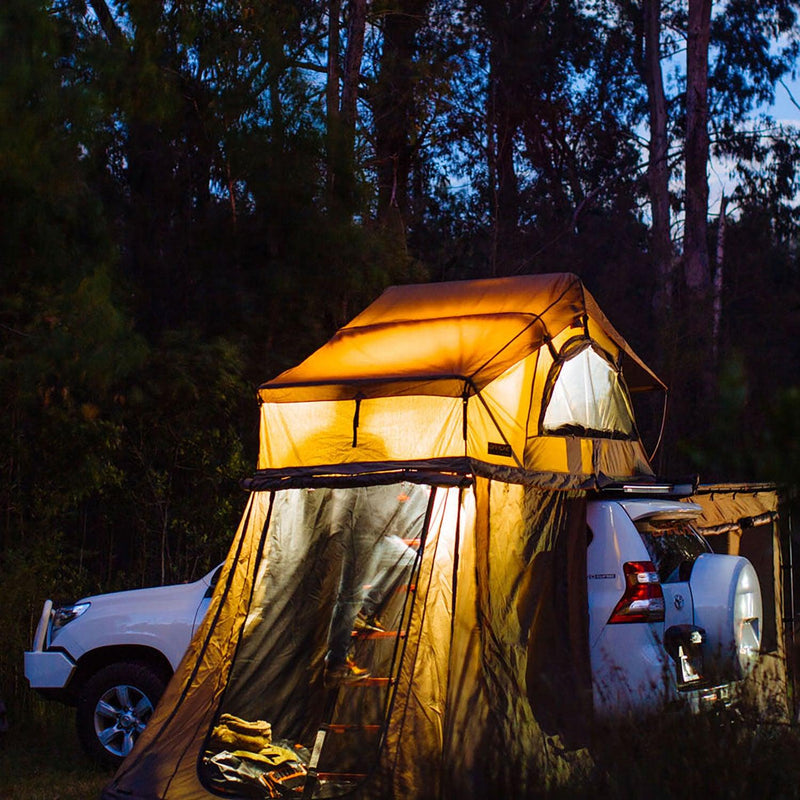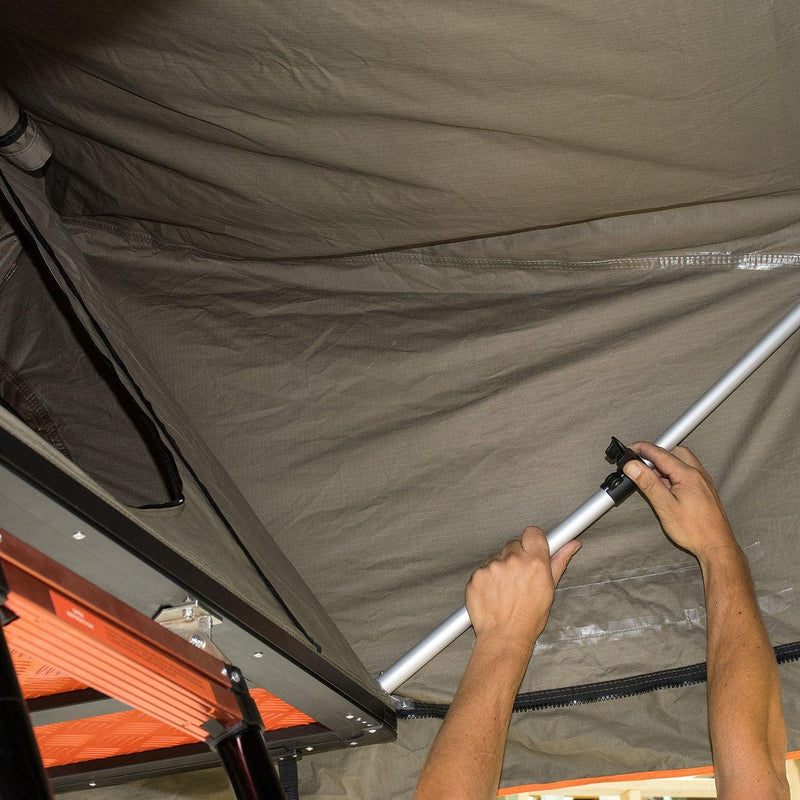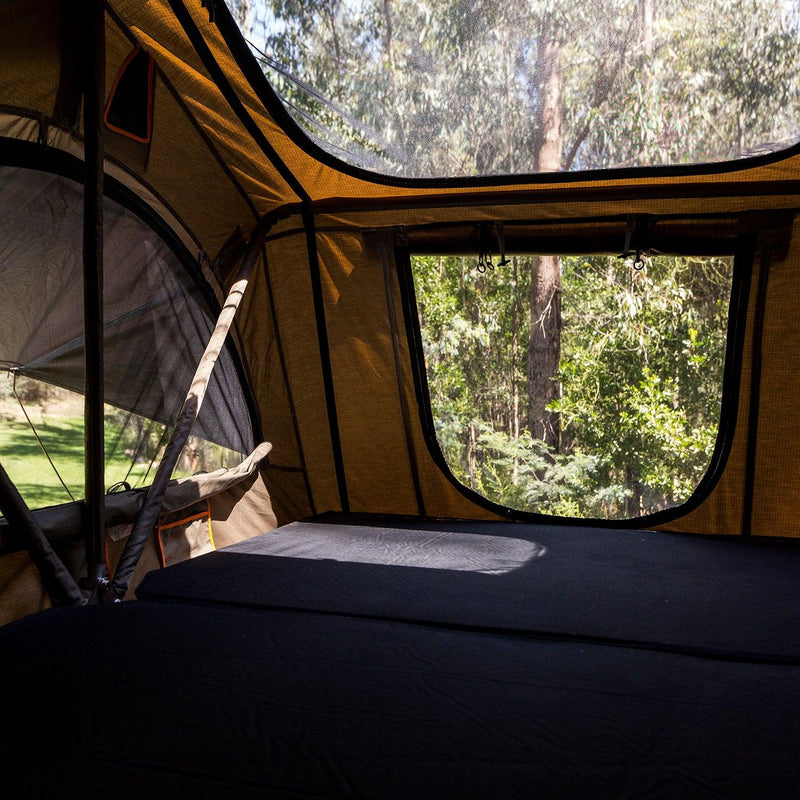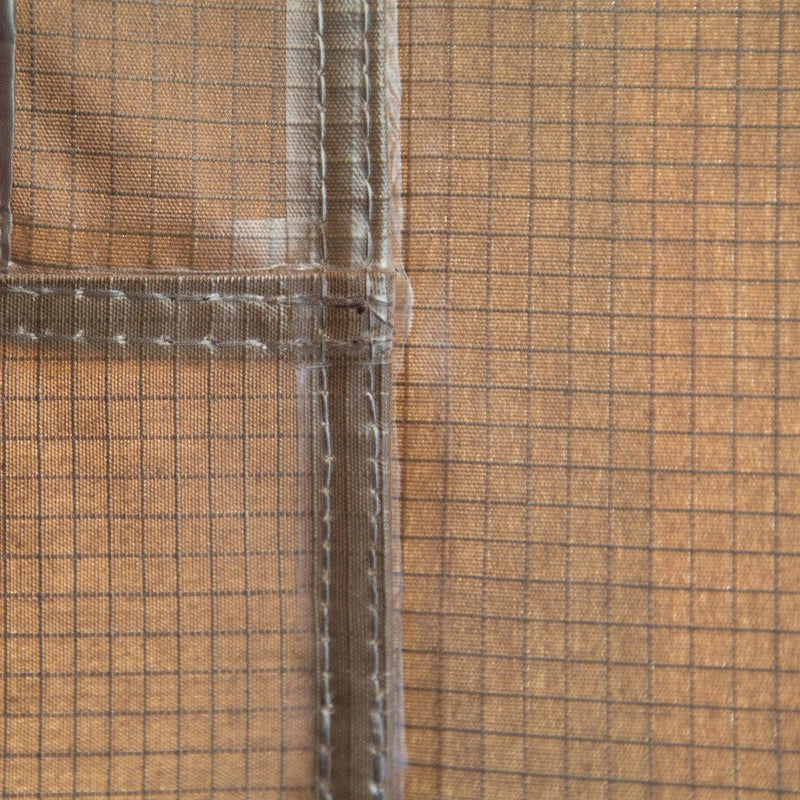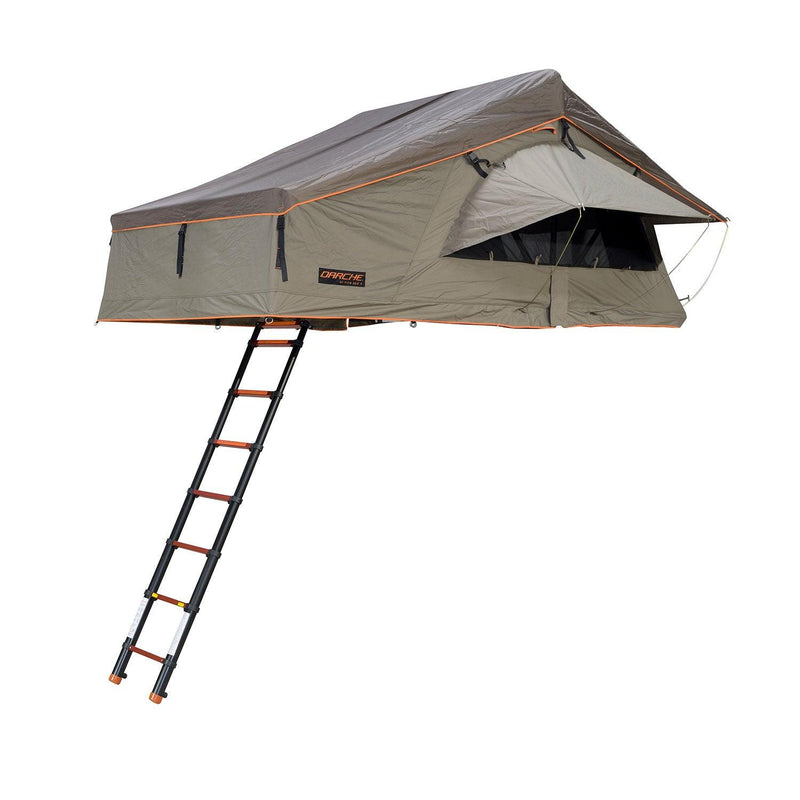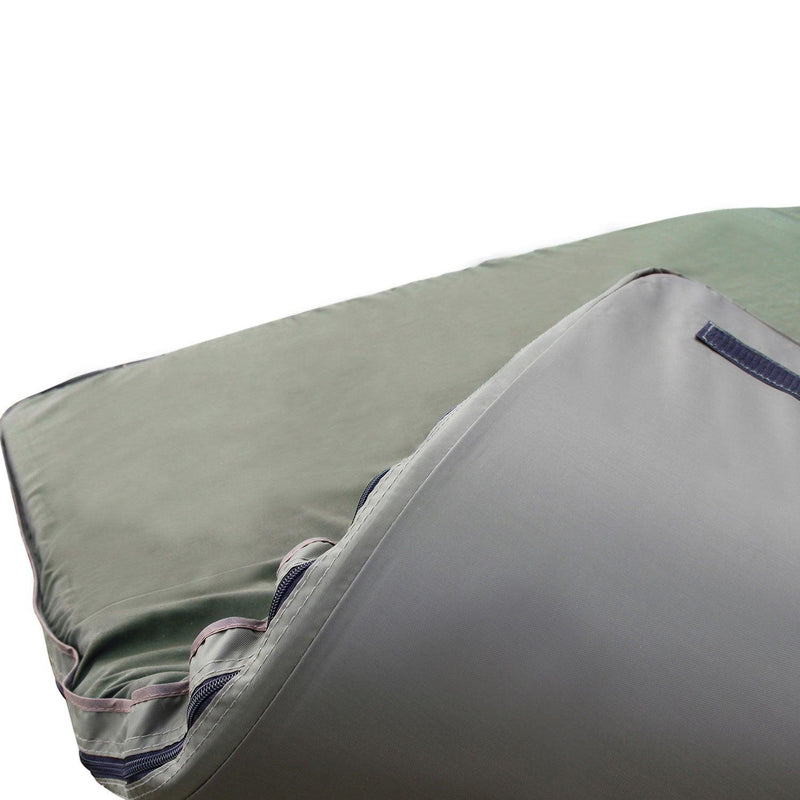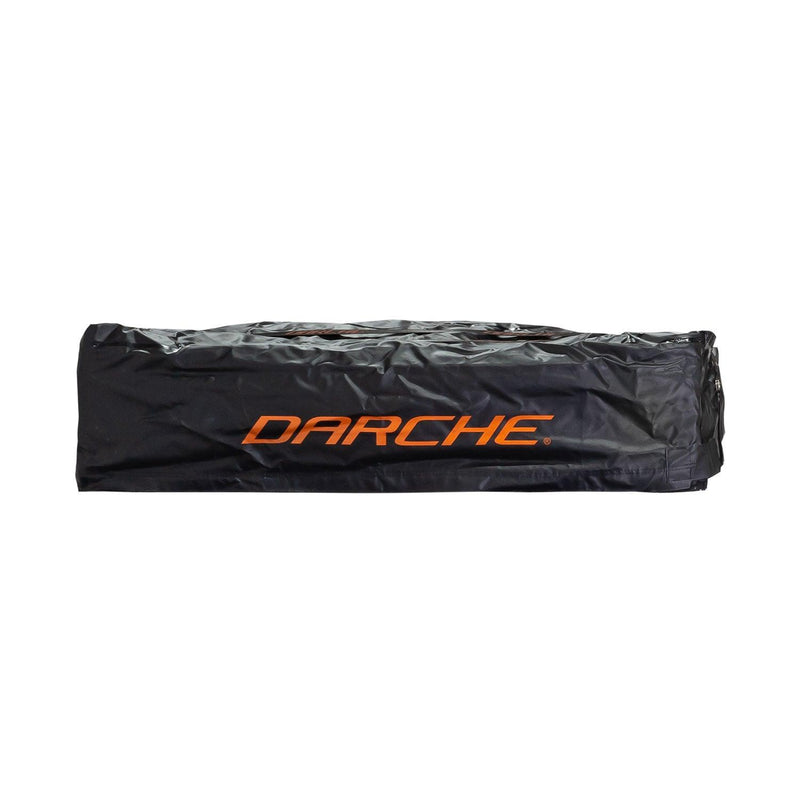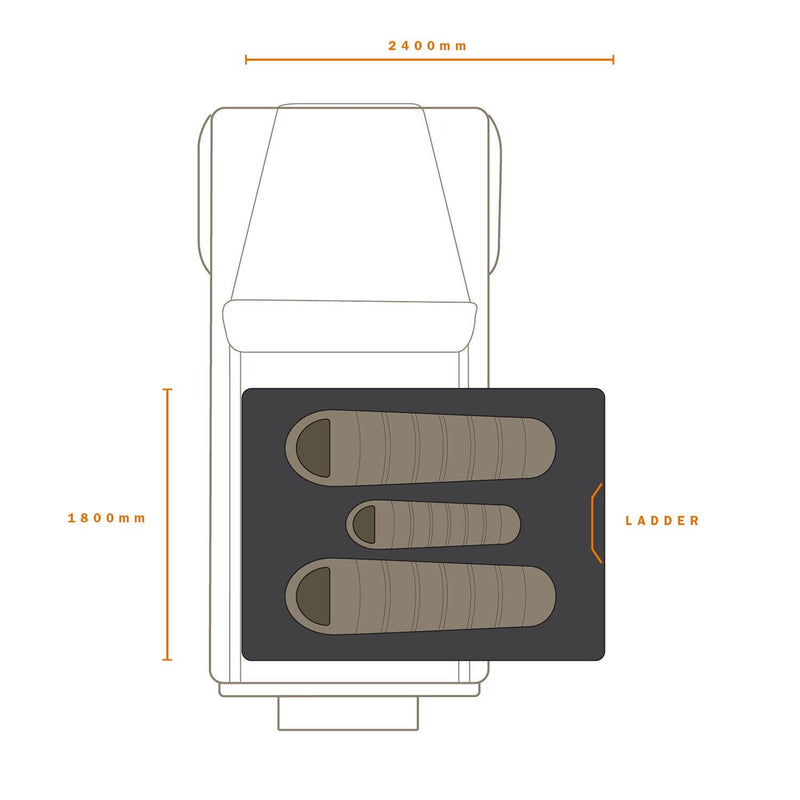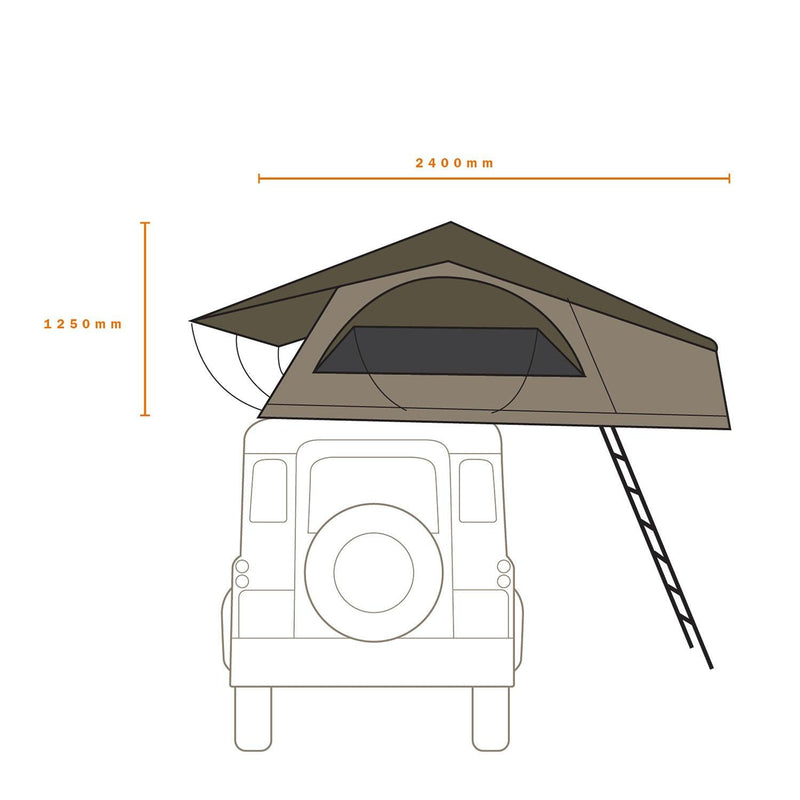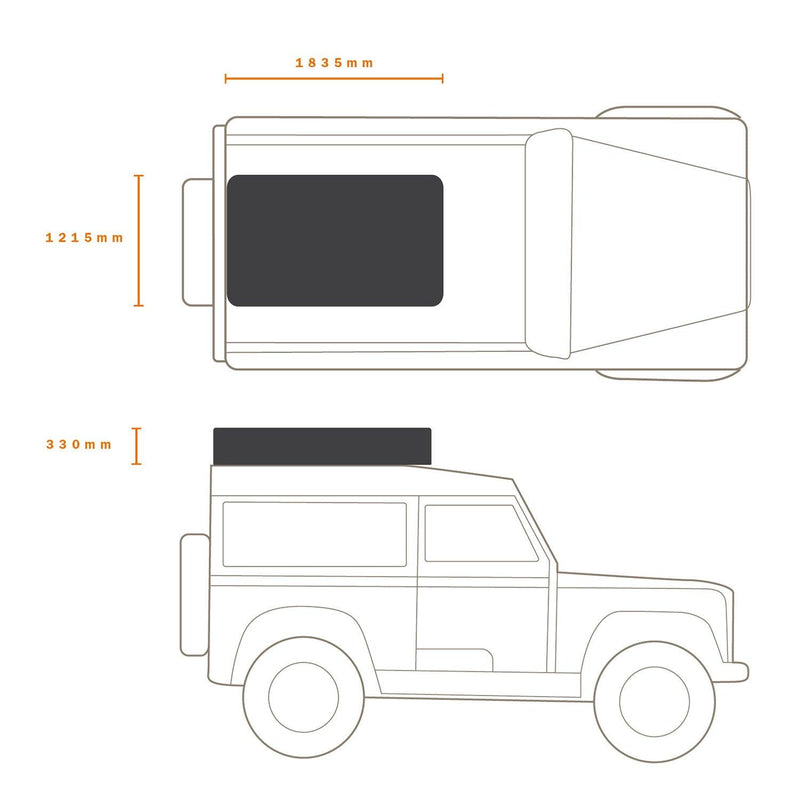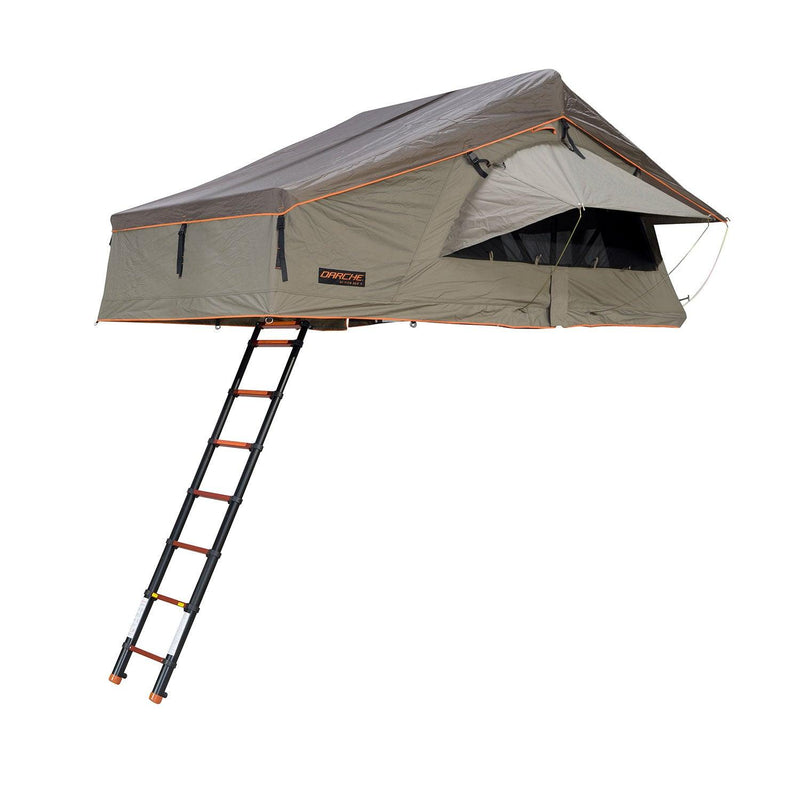 Great for small families or those who want more space in their sleeping quarters, the Hi-View 1800 is a generously sized Roof Top Tent, perfect for your next weekend escape or extended driving holiday.
This versatile workhorse will be your home away from home. Bush, beach or desert, you'll be tucked up high and safely away from the crocs and critters in minutes with the simple set up and pack down design. Just fold out your RTT, drop the telescopic ladder and the whole family can enjoy the starry night views as you drift off under the two zippered sky windows. 
Built tough for the rugged Australian landscape, the Hi-View RTT can handle whatever you can throw at it - wind, rain and the harsh Australian sun are no bother for this mighty RTT. Designed for maximum ventilation, the extra large zippered mesh windows on both sides provide exceptional airflow in warm weather without compromising on storm and sun protection. The adjustable fly and built-in air vents will see you through the rainy weather, preventing condensation and providing even more airflow, while the gusseted window awnings offer shade on sunny days. 
The Hi-View series is made from tough 260gsm ripstop polycotton canvas. This tent has an impressive PU 1500mm water rating and seam sealing that will keep you dry in extended rainy conditions, giving you great protection from the elements all year round. 
The tent includes a premium quality, family sized, high-density 65mm mattress with a water-resistant cover. There's enough room to stash your sleeping bag or doona inside, so your bed is made and waiting for you upon set up.  
The insulated baseboard is made with heavy-duty compressed aluminium. The kit also includes a fully removable, durable PVC cover for protection when you're in transit.  
The included mounting brackets suit most commercially available flat roof rack or roof rail systems. Make sure to check the weight rating and suitability of your roof rack and vehicle with appropriate manufacturers prior to purchase. We recommend professional installation through your local 4WD centre or ask your DARCHE dealer for advice about installation.
The Hi-View series is also available in 1400 and 1600 sizes. The Hi-View 2200 has been replaced by the Basecamp 2200.
Generous sleeping area
Quick set up and pack down softshell design includes built-in adjustable trigger lock canopy
Gas strut assisted for easy pack up and set down
Exceptional ventilation with zippered sky window, built-in air vents and full-width, extra large side windows
Protection from the mozzies and other bugs with fine insect mesh on all windows
Easy-action 2.3m aluminium telescopic ladder will suit most vehicle heights (max vehicle/bed base height 2.2 m)
Internal storage pockets to stash your gear
All-season protection including taped seams, twin needle stitching and removable fly
Heavy-duty construction including self-repairing coil zips and reinforced stitching on all stress points
Wind tested to withstand a constant wind speed of 80 km/h
Includes transit cover
Includes mounting kit, guy ropes, window poles, pegs and instructions
Annex available (sold separately)
Mattress

65mm High Density Foam

Body Material:

260gsm Ripstop Polycotton Canvas

Fly Material:

210D Ripstop Polyester Oxford

Transit Cover Material:

Heavy-duty 600gsm PVC with reinforced welded corners

Base Material:

Coated Heavy-Duty Compressed Alloy Base

Frame Material:

ø25mm Aluminium

Waterhead Rating Canvas:

PU 1500mm Water Rated

Waterhead Rating Fly:

PU 2000mm Water Rated

Gender

Sleeping Bag Comfort

Maximum Volume

L

Fits

Sleeping Capacity

External Dimensions

mm

Sleeping Area

mm

Packed Dimensions

mm

Rated Capacity

kg

Coverage

Internal Storage and Bedding

Valve Quantity

Internal Dimensions

mm

Suits Product

Weight

kg

Warranty
HI-VIEW 1400 OPEN DIMENSIONS
HI-VIEW 1600 OPEN DIMENSIONS
HI-VIEW 1800 OPEN DIMENSIONS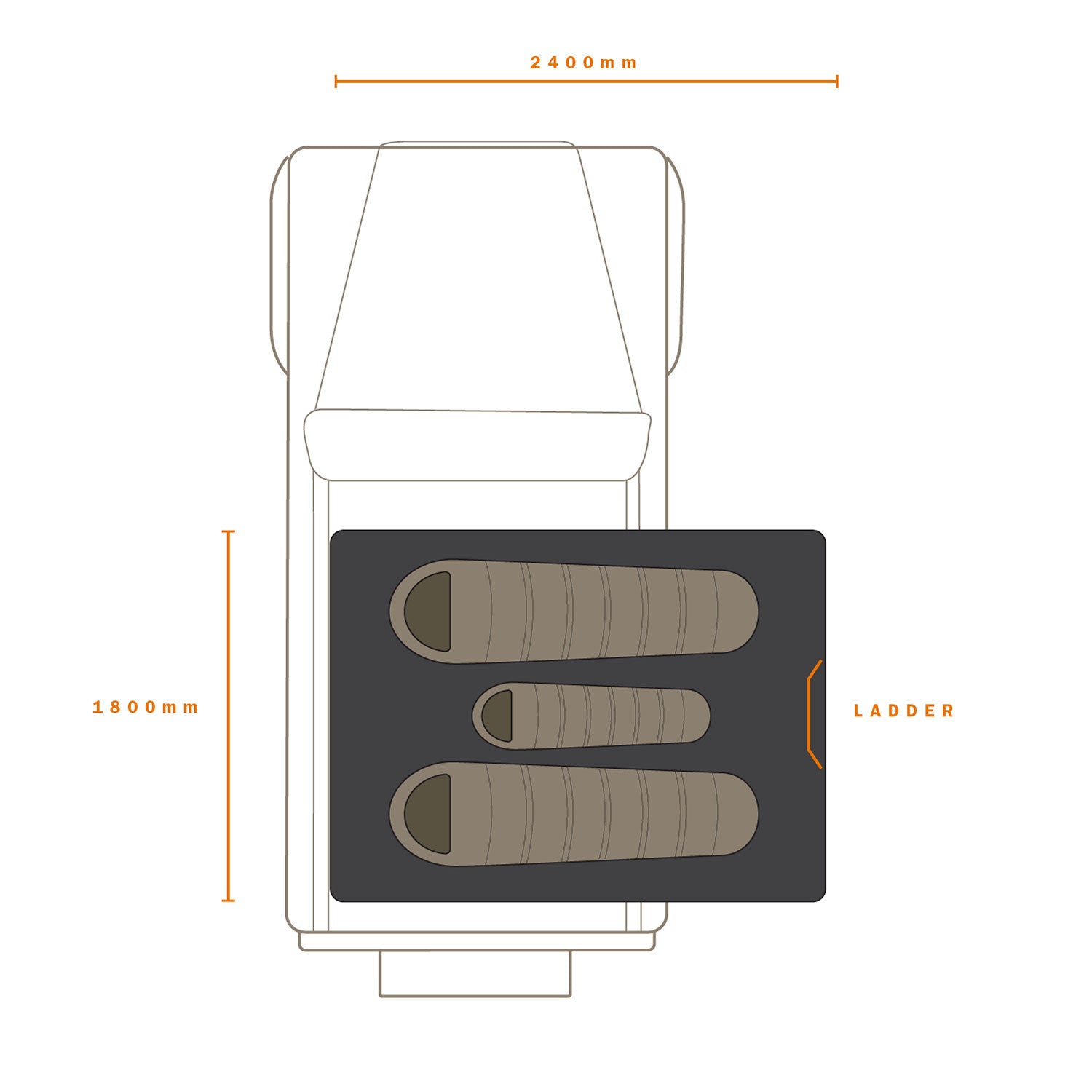 HI-VIEW 2200 OPEN DIMENSIONS
FEATURES
Generous sleeping area
Quick set up and pack down softshell design includes built-in adjustable trigger lock canopy
Gas strut assisted for easy pack up and set down
Exceptional ventilation with zippered sky window, built-in air vents and full-width, extra large side windows
Protection from the mozzies and other bugs with fine insect mesh on all windows
Easy-action 2.3m aluminium telescopic ladder will suit most vehicle heights (max vehicle/bed base height 2.2 m)
Internal storage pockets to stash your gear
All-season protection including taped seams, twin needle stitching and removable fly
Heavy-duty construction including self-repairing coil zips and reinforced stitching on all stress points
Wind tested to withstand a constant wind speed of 80 km/h
Includes transit cover
Includes mounting kit, guy ropes, window poles, pegs and instructions
Annex available (sold separately)
SPECIFICATIONS
Mattress

65mm High Density Foam

Body Material:

260gsm Ripstop Polycotton Canvas

Fly Material:

210D Ripstop Polyester Oxford

Transit Cover Material:

Heavy-duty 600gsm PVC with reinforced welded corners

Base Material:

Coated Heavy-Duty Compressed Alloy Base

Frame Material:

ø25mm Aluminium

Waterhead Rating Canvas:

PU 1500mm Water Rated

Waterhead Rating Fly:

PU 2000mm Water Rated

Gender

Sleeping Bag Comfort

Maximum Volume

L

Fits

Sleeping Capacity

External Dimensions

mm

Sleeping Area

mm

Packed Dimensions

mm

Rated Capacity

kg

Coverage

Internal Storage and Bedding

Valve Quantity

Internal Dimensions

mm

Suits Product

Weight

kg

Warranty
DIMENSIONS
HI-VIEW 1400 OPEN DIMENSIONS
HI-VIEW 1600 OPEN DIMENSIONS
HI-VIEW 1800 OPEN DIMENSIONS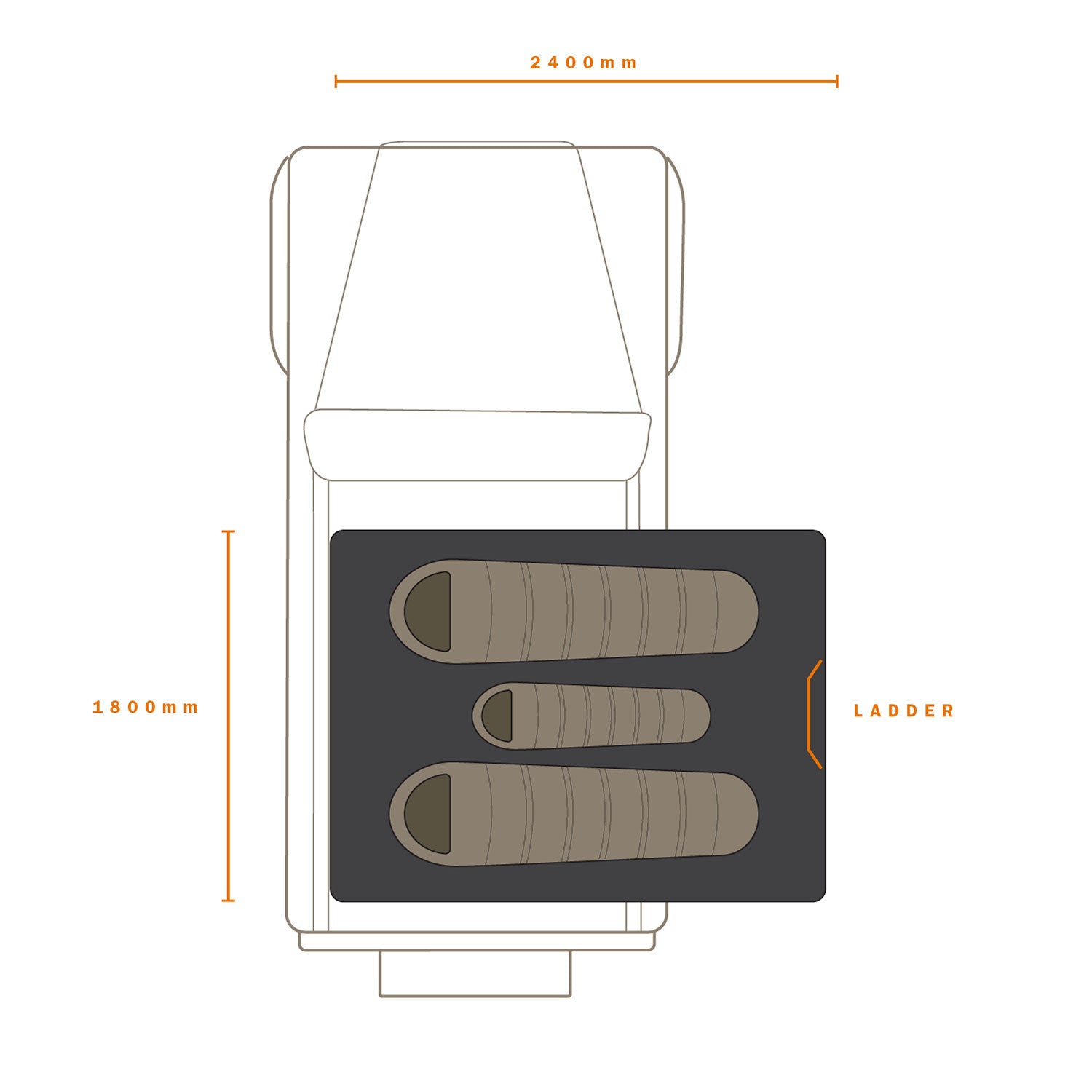 HI-VIEW 2200 OPEN DIMENSIONS