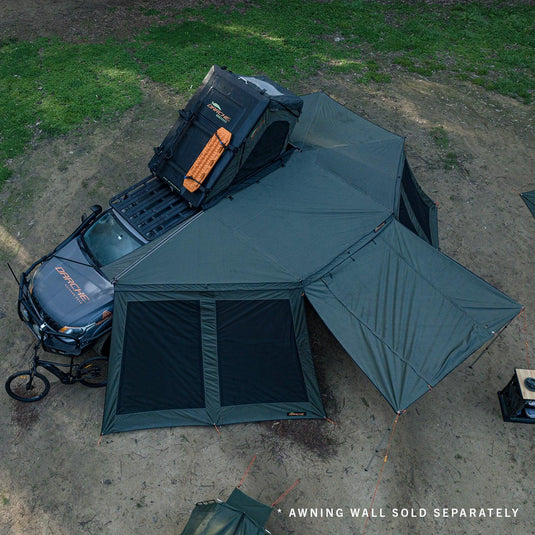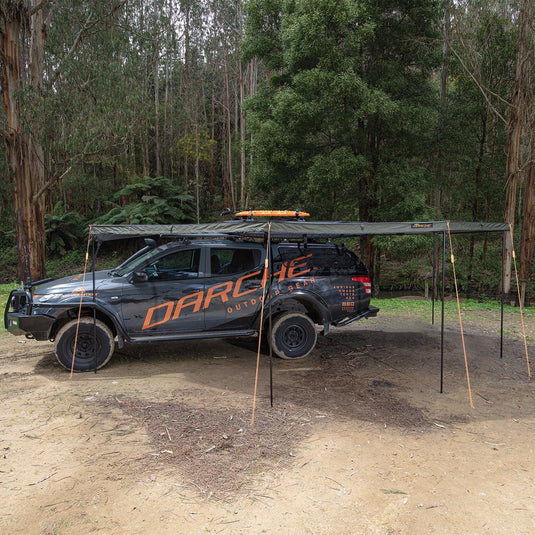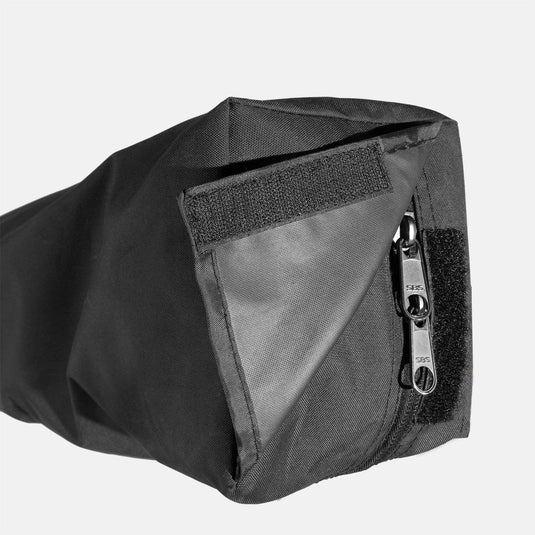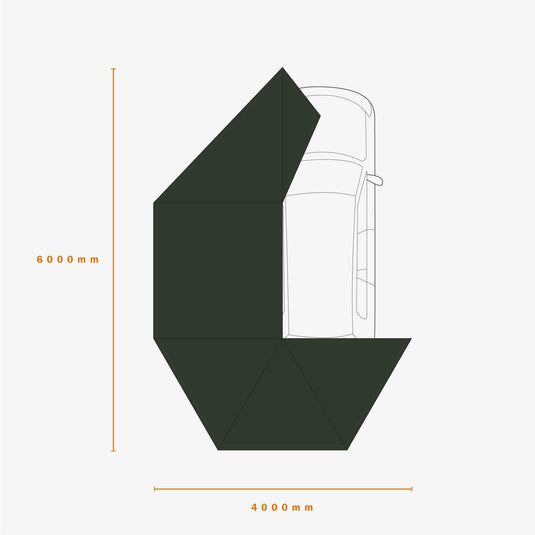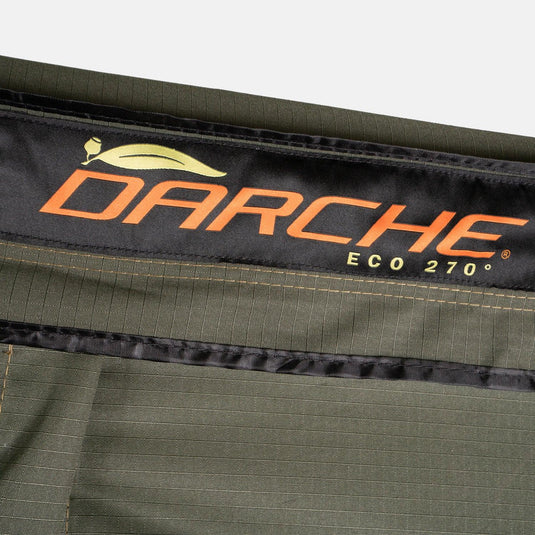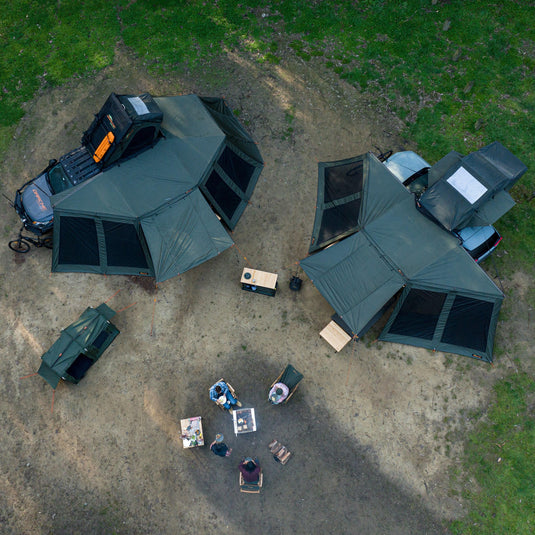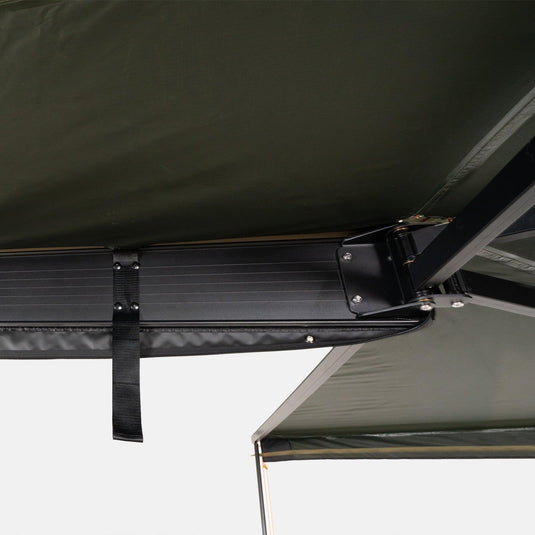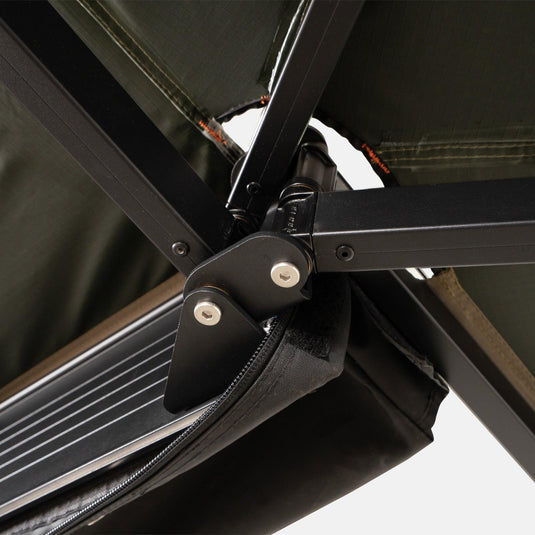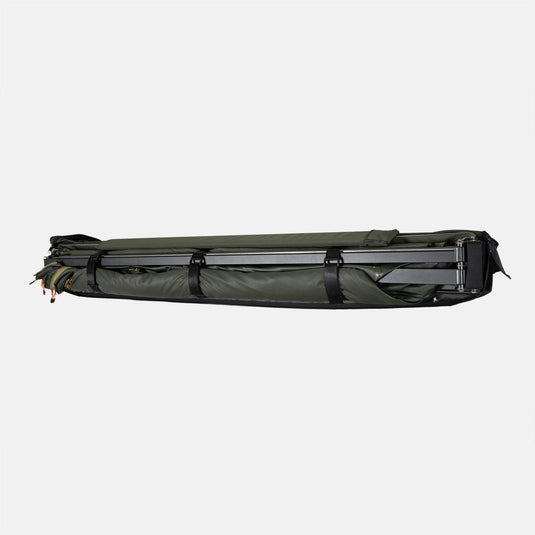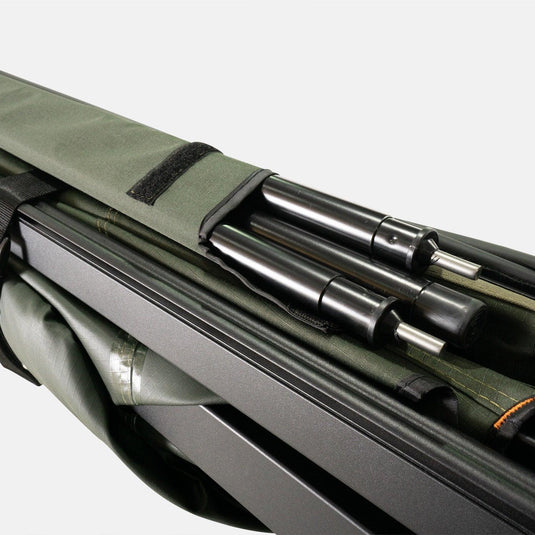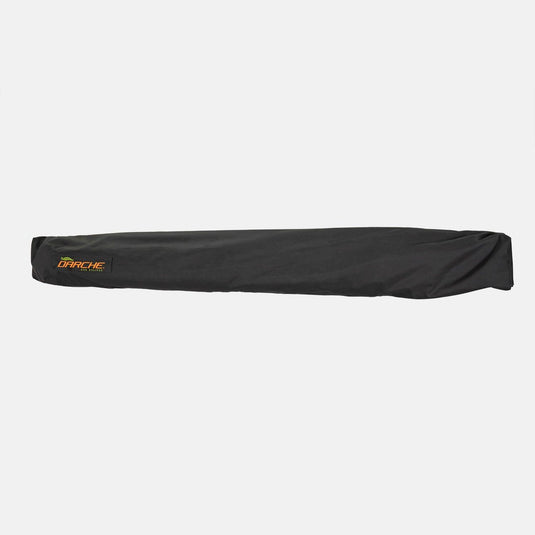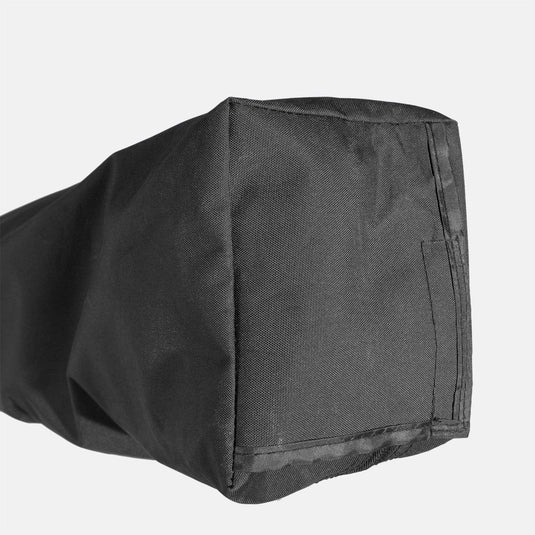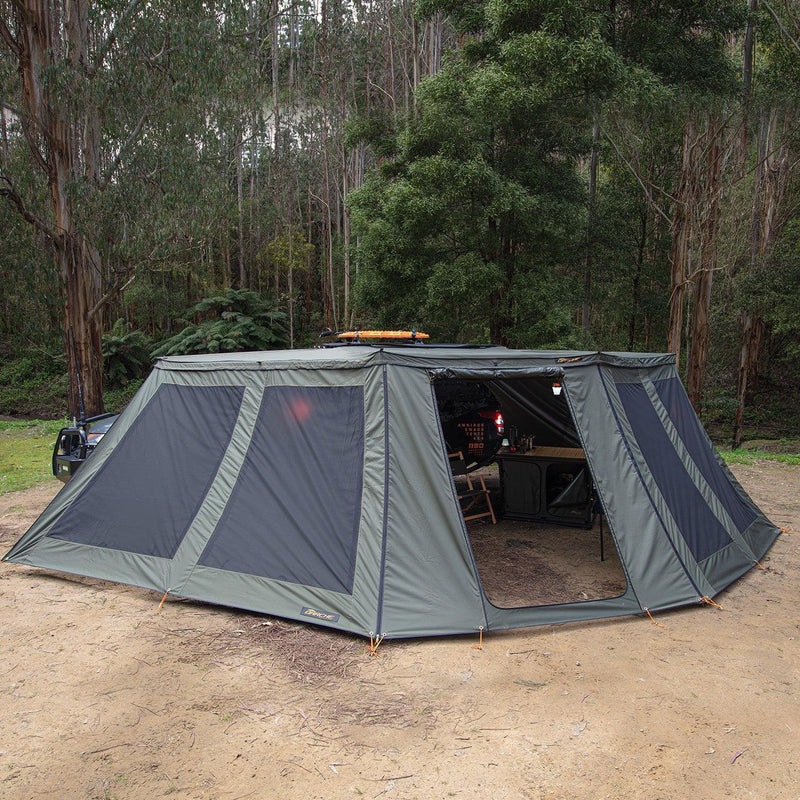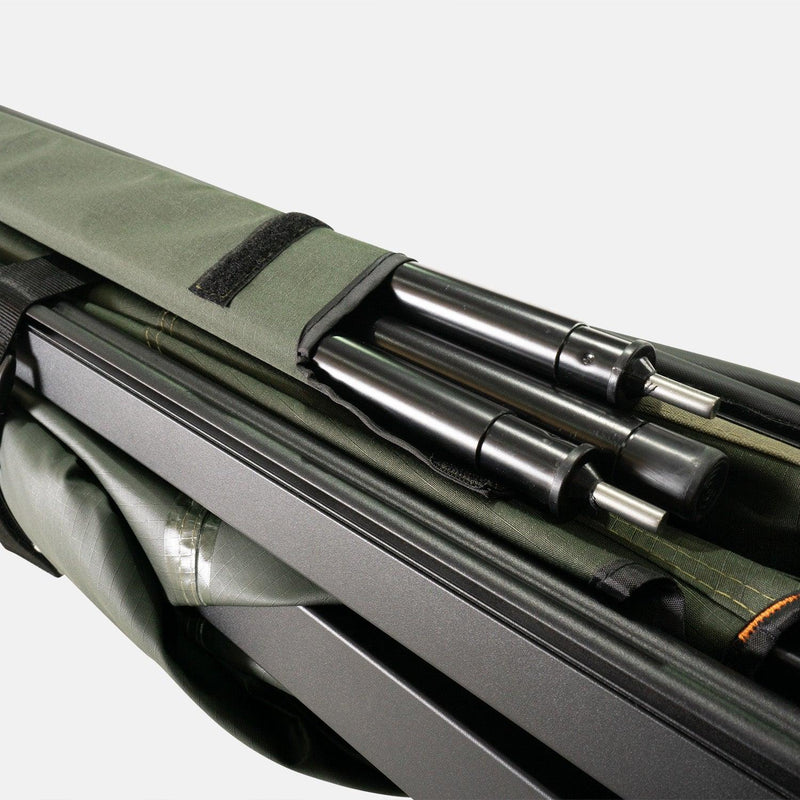 One of your favourite Darche products has become much greener with the introduction of the latest eco-friendly recycled materials in the Eco 270° Awning. The ecoWGAF™ material cleans up and delivers high performance in tear strength, abrasion resistance, colour fastness and water repellency.
The Eclipse 270° Awning brings next-level shade to your 4WD camping setup. Offering a huge 11.5m² of instant cover, it spans the full length of your vehicle, then wraps around to the rear, giving you greater cover than a straight awning. Designed for an easy one-person set up, the unit is freestanding during set up and pack down. The heavy-duty alloy swivel hinge system holds the entire kit up while you extend and tension the awning arms and release the three pivoting alloy telescopic leg poles stowed along the rafters. Attach the final leg poles and you'll be under cover in a matter of minutes.
The awning is made from ecoWGAF™ fabric (280gsm polyester oxford ripstop/100% recycled RPET). The kit also includes a removable, heavy-duty 600gsm PVC cover for protection when you're on the road.
The box-tube alloy arm system is light, strong and built to last. Currently available in left-hand side mount configuration (Australian passenger side), you can put one on the car, on the camp trailer or the shed; your options are endless. With multiple wall panels to choose from (sold separately), you can set up one as a wind and weather break or add them all for a whopping 20.5m² of shelter around your vehicle.
Note: If your awning has a fully-enclosed transit cover that wraps around the backing plate of the awning, please find the installation instruction for that cover under the "Specifications" section below.
Provides 11.5m² of cover
Freestanding set up mode allows for quick and easy one person set up/pack down
Lightweight and strong box-tube aluminium alloy rafter arms
Telescopic leg poles to handle uneven terrain
Black powder coating on backing plate, rafter arms and poles
Recycled and eco-friendly 900D fabric with extremely high tearing resistance
Nylon 66 transit cover
Includes 3 x pivoting telescopic leg poles stowed on the rafters plus 3 x additional leg poles.
Includes 3 x mounting brackets, 2 x steel-buckled tension straps, guy ropes and pegs
Suitable for most commercially available flat roof rack or steel basket set ups.
Wall set available (sold separately)
Max. Head Height

2100mm

Suits Vehicle Height

1600 to 2100mm

Mount Type

Side

Fabric Material:

ecoWGAF 280gsm polyester oxford ripstop/100% recycled polyester

Frame Material:

Lightweight Box Tube Alloy Rafters with Heavy-duty Alloy Hinge System

Transit Cover Material:

820D Nylon 66

Waterhead Rating

5000mm

Gender

Sleeping Bag Comfort

Maximum Volume

L

Fits

Sleeping Capacity

External Dimensions

mm

Sleeping Area

mm

Packed Dimensions

mm

Rated Capacity

kg

Coverage

Internal Storage and Bedding

Valve Quantity

Internal Dimensions

mm

Suits Product

Weight

kg

Warranty
FEATURES
Provides 11.5m² of cover
Freestanding set up mode allows for quick and easy one person set up/pack down
Lightweight and strong box-tube aluminium alloy rafter arms
Telescopic leg poles to handle uneven terrain
Black powder coating on backing plate, rafter arms and poles
Recycled and eco-friendly 900D fabric with extremely high tearing resistance
Nylon 66 transit cover
Includes 3 x pivoting telescopic leg poles stowed on the rafters plus 3 x additional leg poles.
Includes 3 x mounting brackets, 2 x steel-buckled tension straps, guy ropes and pegs
Suitable for most commercially available flat roof rack or steel basket set ups.
Wall set available (sold separately)
SPECIFICATIONS
Max. Head Height

2100mm

Suits Vehicle Height

1600 to 2100mm

Mount Type

Side

Fabric Material:

ecoWGAF 280gsm polyester oxford ripstop/100% recycled polyester

Frame Material:

Lightweight Box Tube Alloy Rafters with Heavy-duty Alloy Hinge System

Transit Cover Material:

820D Nylon 66

Waterhead Rating

5000mm

Gender

Sleeping Bag Comfort

Maximum Volume

L

Fits

Sleeping Capacity

External Dimensions

mm

Sleeping Area

mm

Packed Dimensions

mm

Rated Capacity

kg

Coverage

Internal Storage and Bedding

Valve Quantity

Internal Dimensions

mm

Suits Product

Weight

kg

Warranty