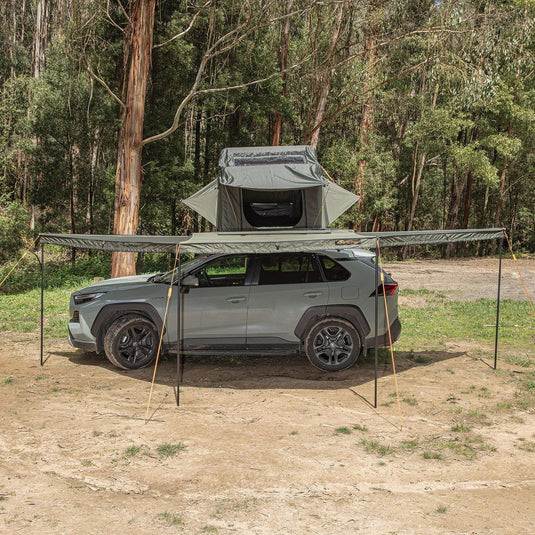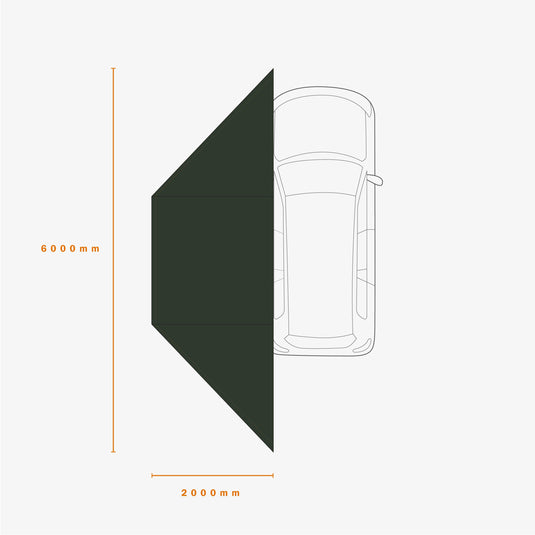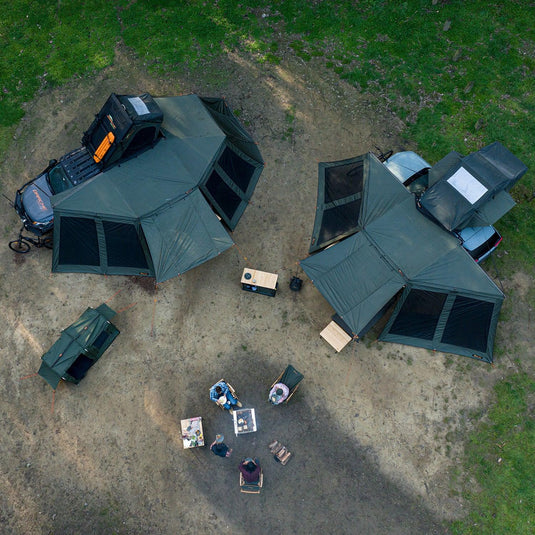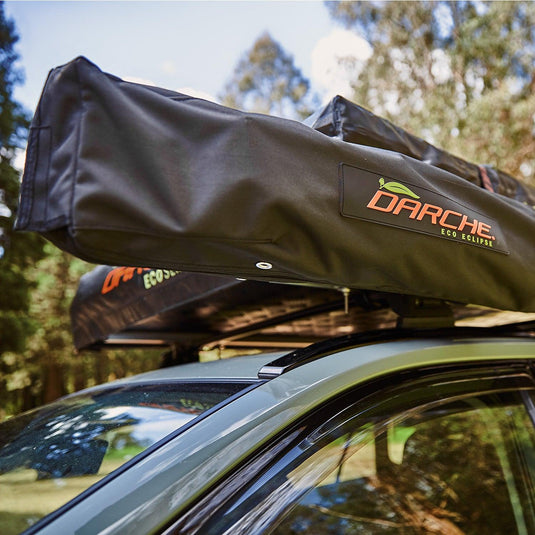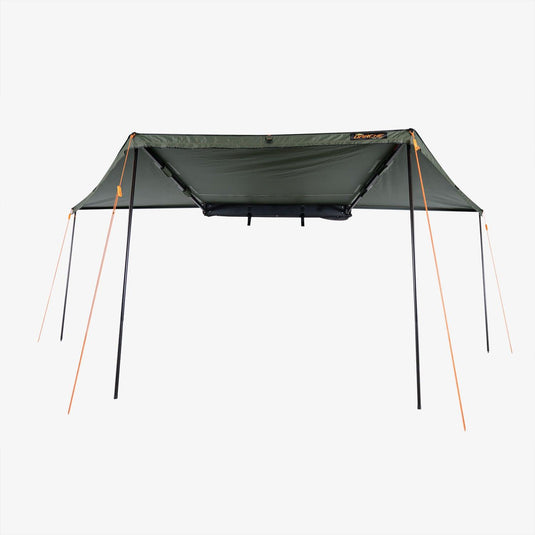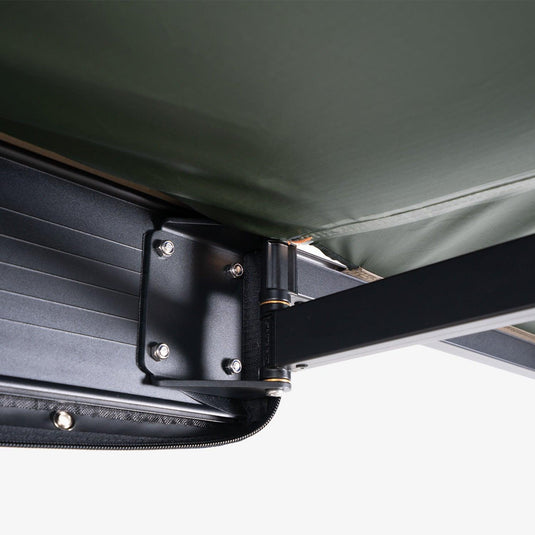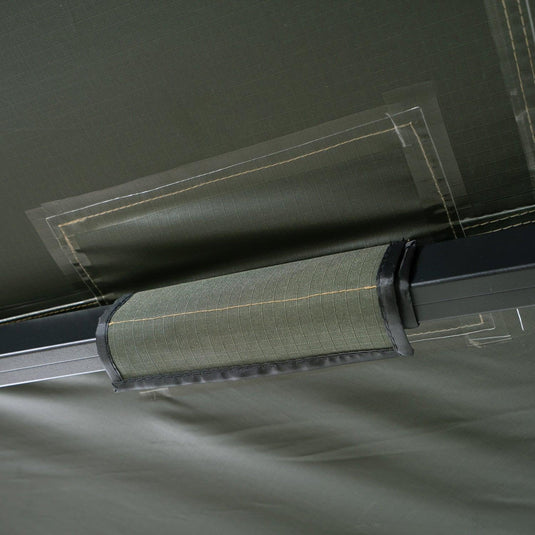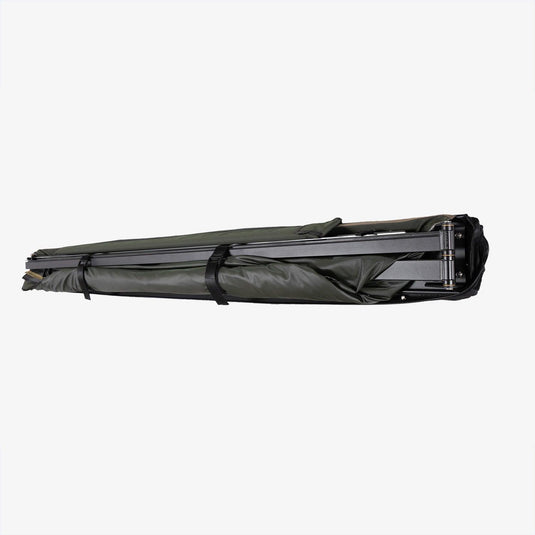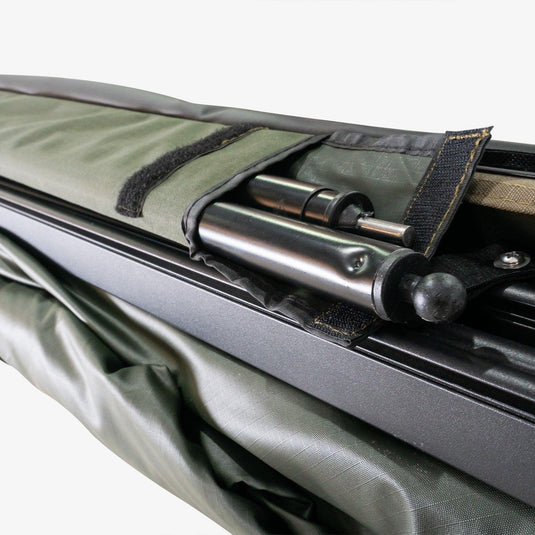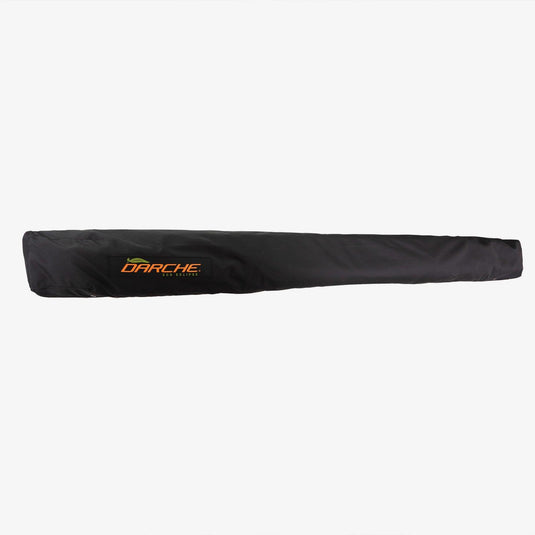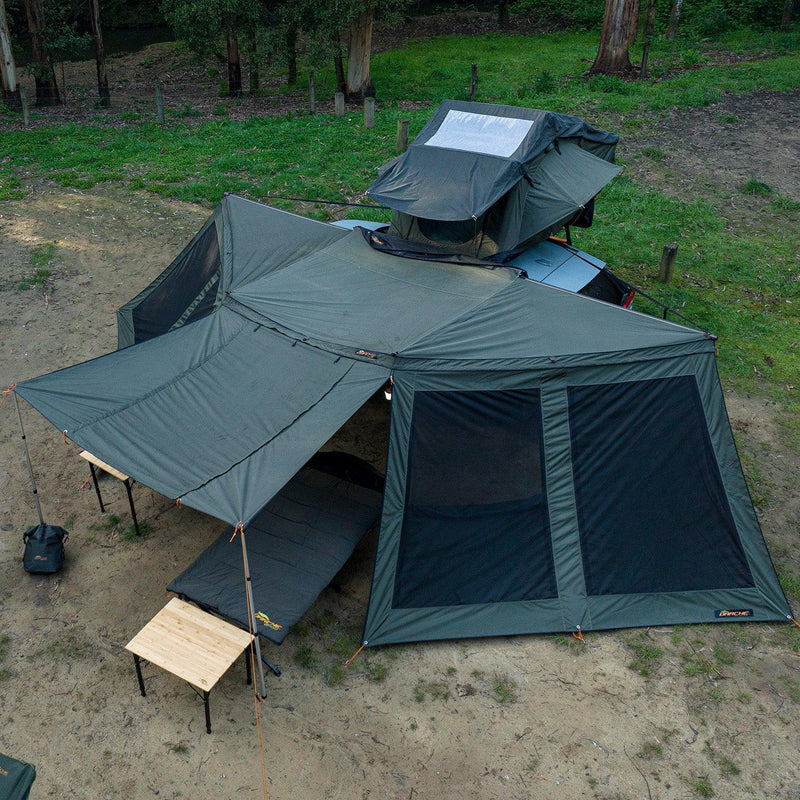 One of your favourite Darche products has become much greener with the introduction of the latest eco-friendly recycled materials in the Eco 180° Awning. The ecoWGAF™ material cleans up and delivers high performance in tear strength, abrasion resistance, colour fastness and water repellency.
The Eclipse 180° Awning brings you instant cover, wherever the road takes you. With 8.2m
²
of protection from the elements, this awning is suited to a wide range of vehicles and setups. Designed for an easy one-person set up, the unit is freestanding during set up and pack down. The heavy-duty swivel hinge system holds the entire kit up while you extend and tension the awning arms and release the two pivoting alloy telescopic leg poles stowed along the rafters. Attach the final leg poles and you'll be under cover in a matter of minutes.
Provides 8.2m² of cover
Freestanding set up mode allows for quick and easy one person set up/pack down
Lightweight and strong construction
Includes 2 x pivoting telescopic leg poles stowed on the rafters plus 2 x additional leg poles in a separate carry bag
Includes 3 x mounting brackets, 2 x steel-buckled tension straps, guy ropes and pegs
Includes transit cover
Wall kits available (sold separately)
Max. Head Height

2100mm

Suits Vehicle Height

1600 to 2100mm

Mount Type

Side

Fabric Material:

ecoWGAFTM 280gsm polyester oxford ripstop/100% recycled polyester

Frame Material:

Lightweight Box Tube Alloy Rafters with Heavy-duty Alloy Hinge System

Transit Cover Material:

820D Nylon 66

Waterhead Rating

5000mm

Gender

Sleeping Bag Comfort

Maximum Volume

L

Fits

Sleeping Capacity

External Dimensions

mm

Sleeping Area

mm

Packed Dimensions

mm

Rated Capacity

kg

Coverage

Internal Storage and Bedding

Valve Quantity

Internal Dimensions

mm

Suits Product

Weight

kg

Warranty
DOWNLOADS
FEATURES
Provides 8.2m² of cover
Freestanding set up mode allows for quick and easy one person set up/pack down
Lightweight and strong construction
Includes 2 x pivoting telescopic leg poles stowed on the rafters plus 2 x additional leg poles in a separate carry bag
Includes 3 x mounting brackets, 2 x steel-buckled tension straps, guy ropes and pegs
Includes transit cover
Wall kits available (sold separately)
SPECIFICATIONS
Max. Head Height

2100mm

Suits Vehicle Height

1600 to 2100mm

Mount Type

Side

Fabric Material:

ecoWGAFTM 280gsm polyester oxford ripstop/100% recycled polyester

Frame Material:

Lightweight Box Tube Alloy Rafters with Heavy-duty Alloy Hinge System

Transit Cover Material:

820D Nylon 66

Waterhead Rating

5000mm

Gender

Sleeping Bag Comfort

Maximum Volume

L

Fits

Sleeping Capacity

External Dimensions

mm

Sleeping Area

mm

Packed Dimensions

mm

Rated Capacity

kg

Coverage

Internal Storage and Bedding

Valve Quantity

Internal Dimensions

mm

Suits Product

Weight

kg

Warranty
DOWNLOADS