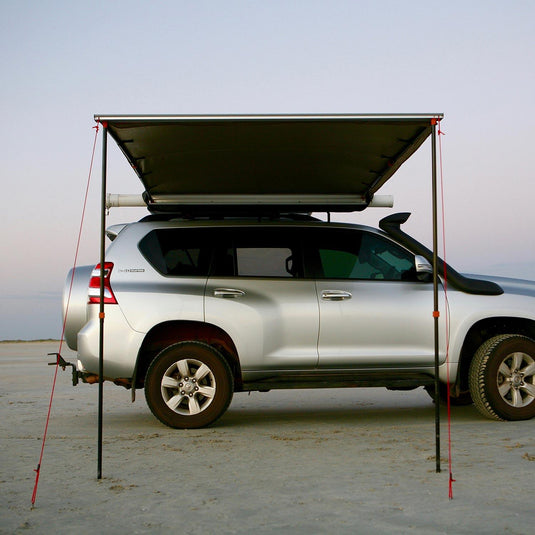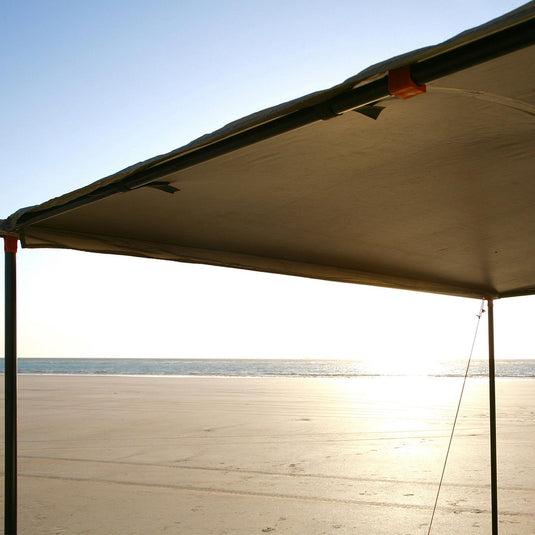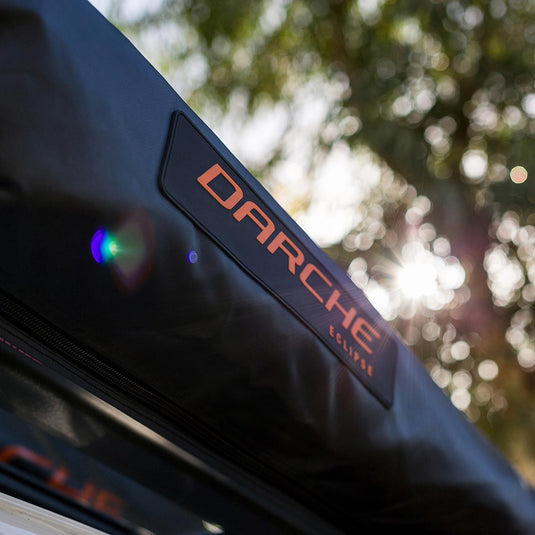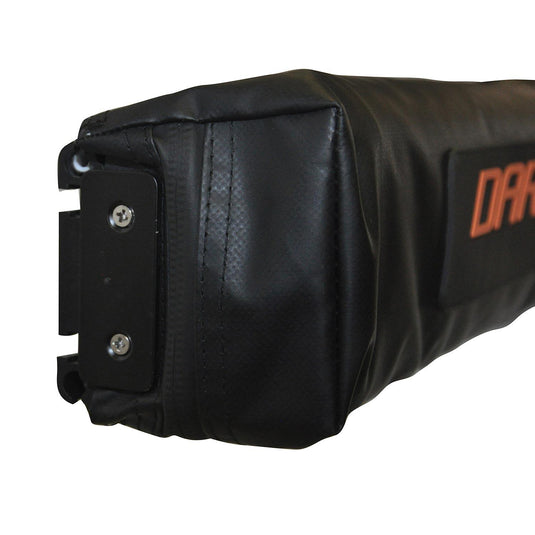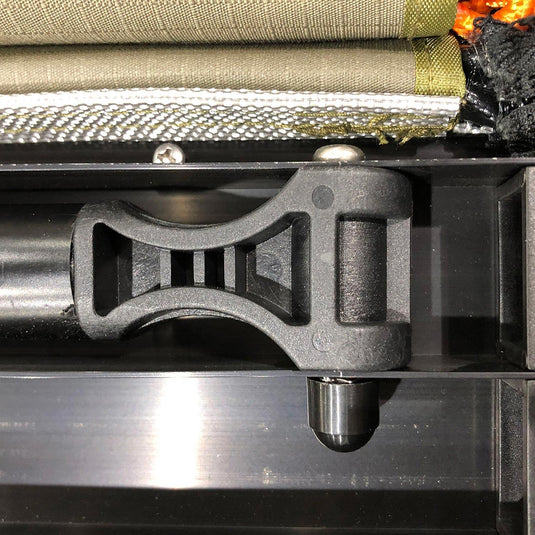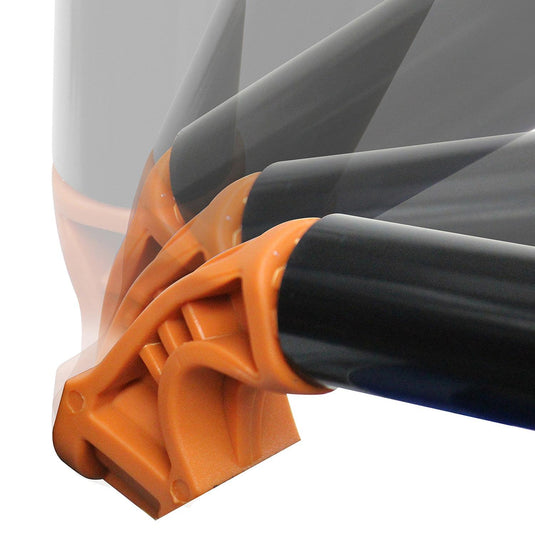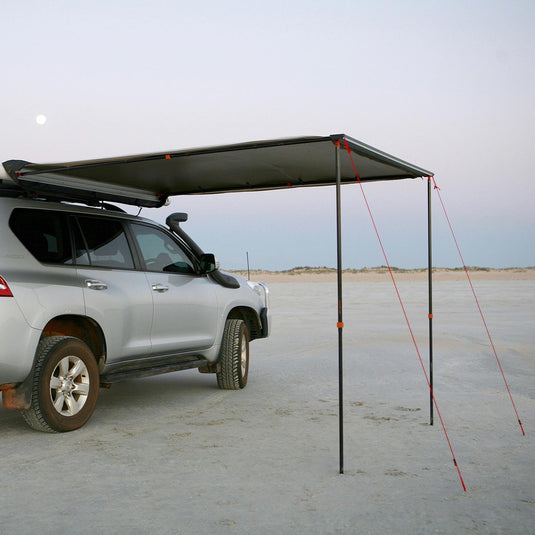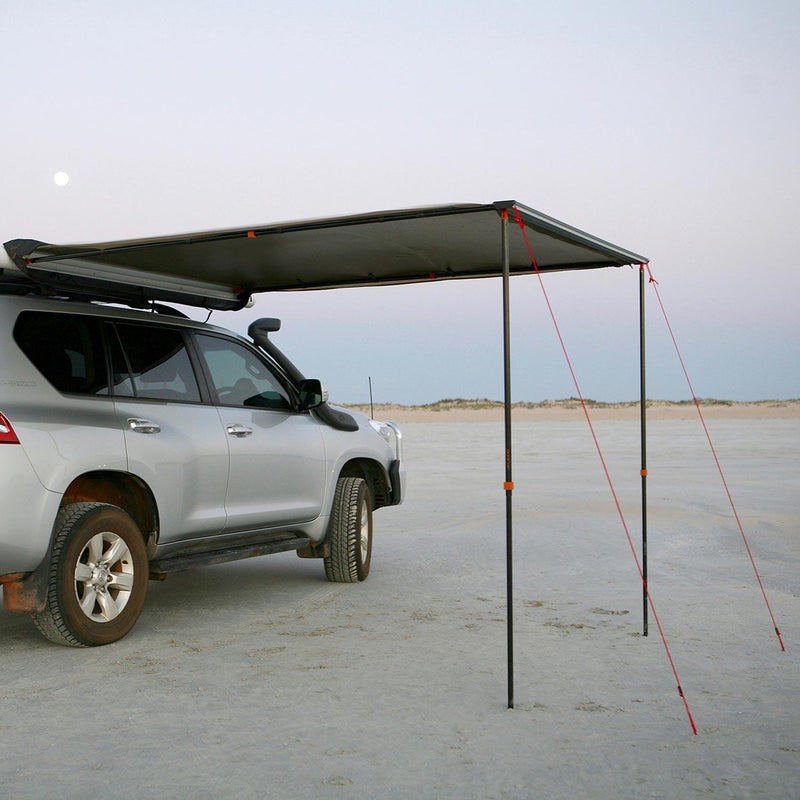 The Eclipse pull-out awning provides instant cover to any kind of camping setup. Perfect for new and seasoned campers alike, this awning is easy to integrate into your kit. The new and updated slimline profile is conveniently lightweight while also reducing the weight you'll be adding to your rig and any added wind resistance.
It's a breeze to set up - just release the aluminium poles stored away in the twin-channel rafters and use the twist lock feature to adjust to your preferred height. If you're after some extra protection from the weather, you can always add on a front or side extension wall (sold separately).
The awning is made from heavy-duty, mould-treated 320gsm ripstop polycotton canvas, blocking out direct sunlight and harmful UV rays, and has an outstanding PU 2000mm waterhead rating to keep you dry on those rainy days. The uniquely designed pivoting hinges are made to be tough and crack resistant while still providing flexibility to reduce overall component stress. The awning packs away into a heavy-duty 1000D PVC transit cover featuring a weather-resistant zip to keep out road grime and dust while you're out on the road.
NOTE: for dual-cab ute installation, install over the tray OR the body, not over both. Ensure awning is anchored with supplied guy ropes and pegs at all times when in use.
Slimline profile
Easy set up
Tough and super flexible pivoting hinges
Lightweight and strong construction
Includes 2 x mounting brackets, guy ropes, pegs and instruction manual
Includes transit cover
Wall extensions available (sold separately)
Max. Head Height

2500mm

Suits Vehicle Height

1600 to 2500mm

Mount Type

Side

Fabric Material:

320gsm Ripstop Polycotton Canvas

Frame Material:

Lightweight Box Tube Alloy Rafters with Heavy-duty Alloy Hinge System

Transit Cover Material:

Heavy-duty 1000D PVC

Waterhead Rating

1500mm

Gender

Sleeping Bag Comfort

Maximum Volume

L

Fits

Sleeping Capacity

External Dimensions

mm

Sleeping Area

mm

Packed Dimensions

mm

Rated Capacity

kg

Coverage

Internal Storage and Bedding

Valve Quantity

Internal Dimensions

mm

Suits Product

Weight

kg

Warranty
DOWNLOADS
FEATURES
Slimline profile
Easy set up
Tough and super flexible pivoting hinges
Lightweight and strong construction
Includes 2 x mounting brackets, guy ropes, pegs and instruction manual
Includes transit cover
Wall extensions available (sold separately)
SPECIFICATIONS
Max. Head Height

2500mm

Suits Vehicle Height

1600 to 2500mm

Mount Type

Side

Fabric Material:

320gsm Ripstop Polycotton Canvas

Frame Material:

Lightweight Box Tube Alloy Rafters with Heavy-duty Alloy Hinge System

Transit Cover Material:

Heavy-duty 1000D PVC

Waterhead Rating

1500mm

Gender

Sleeping Bag Comfort

Maximum Volume

L

Fits

Sleeping Capacity

External Dimensions

mm

Sleeping Area

mm

Packed Dimensions

mm

Rated Capacity

kg

Coverage

Internal Storage and Bedding

Valve Quantity

Internal Dimensions

mm

Suits Product

Weight

kg

Warranty
DOWNLOADS