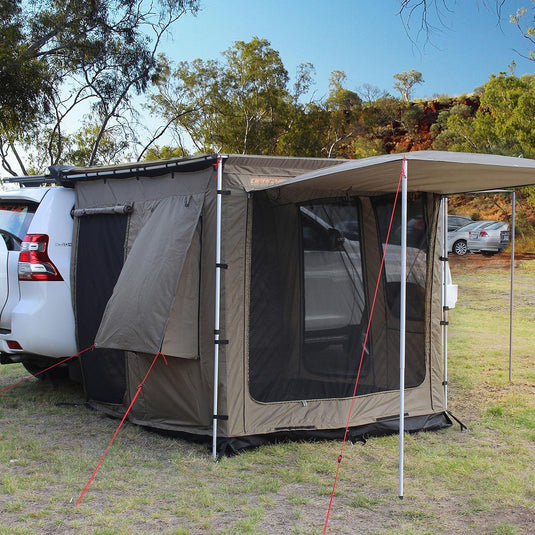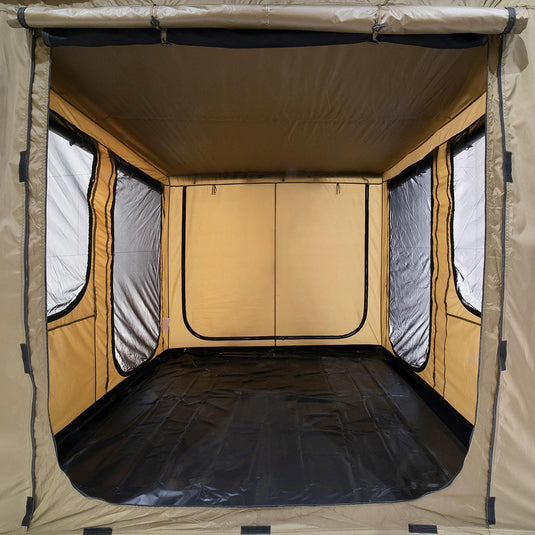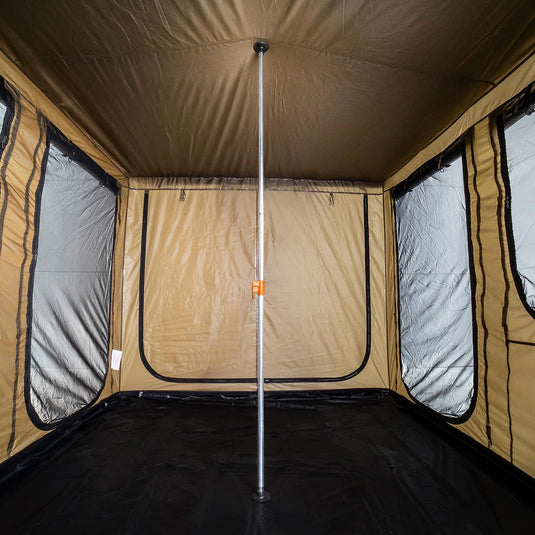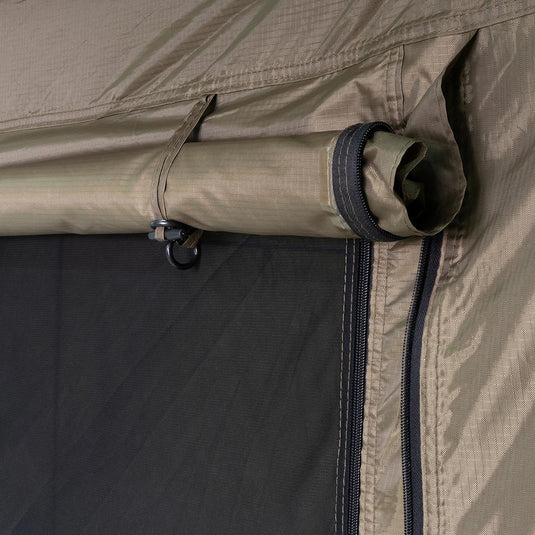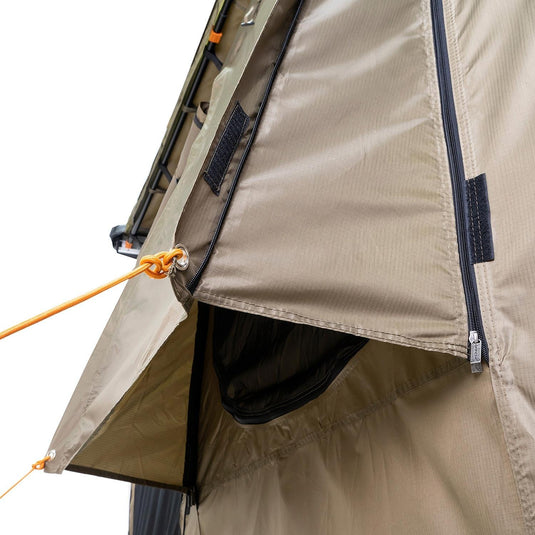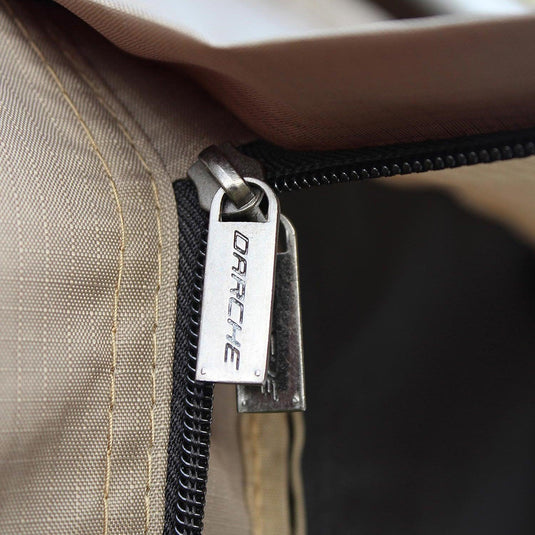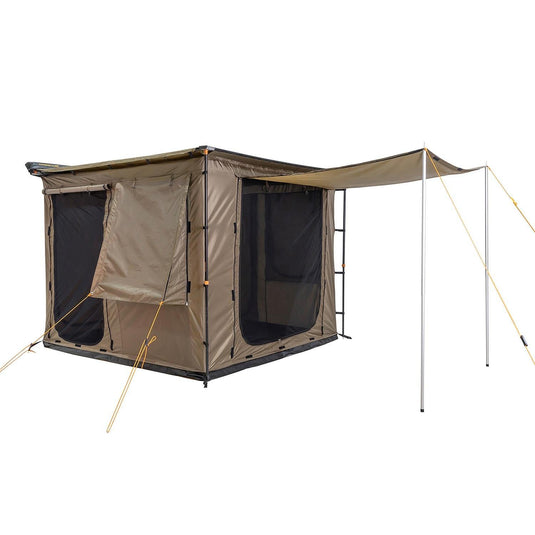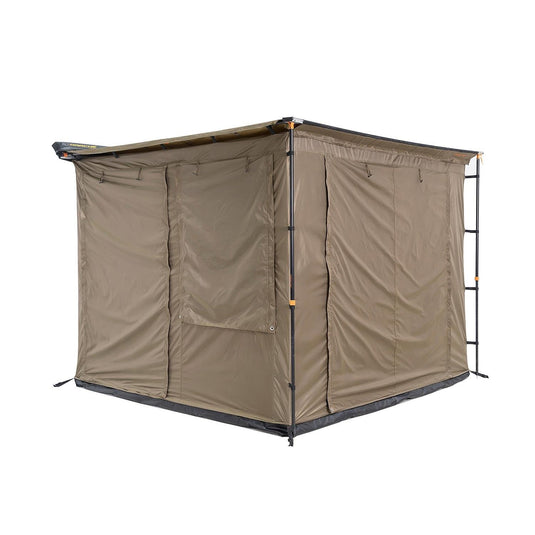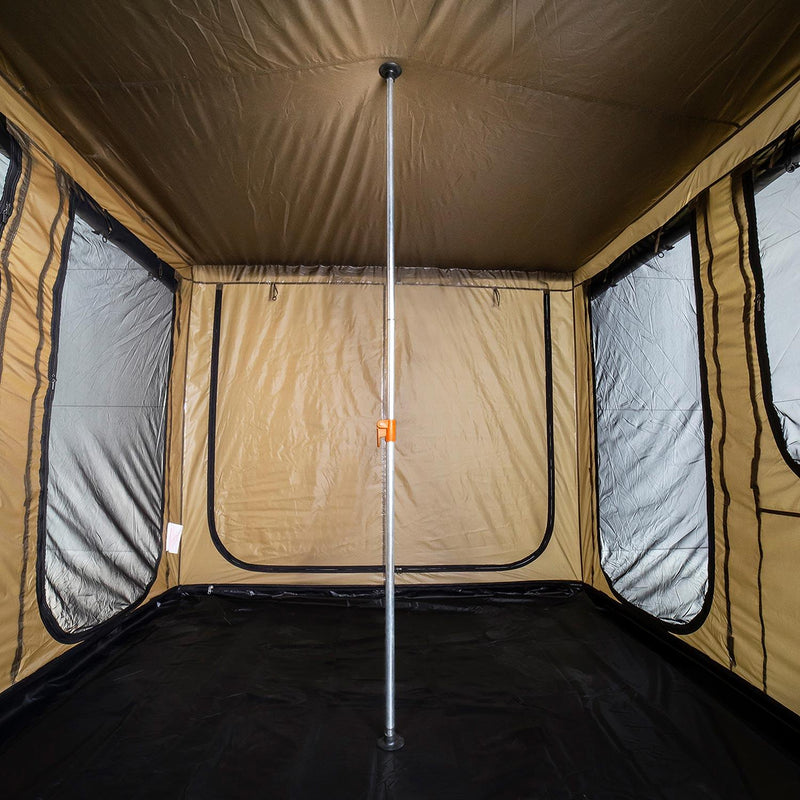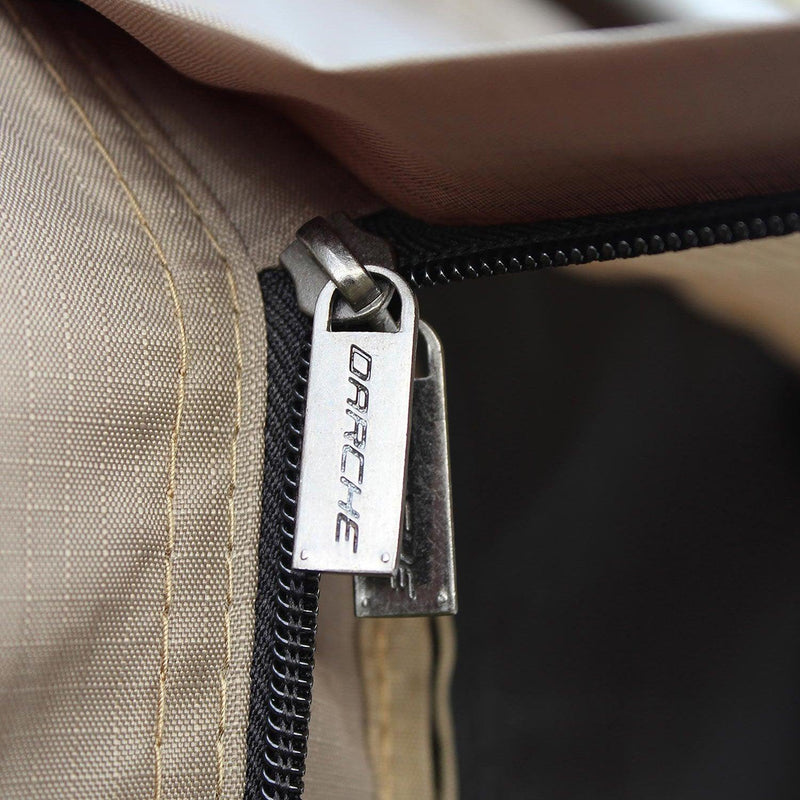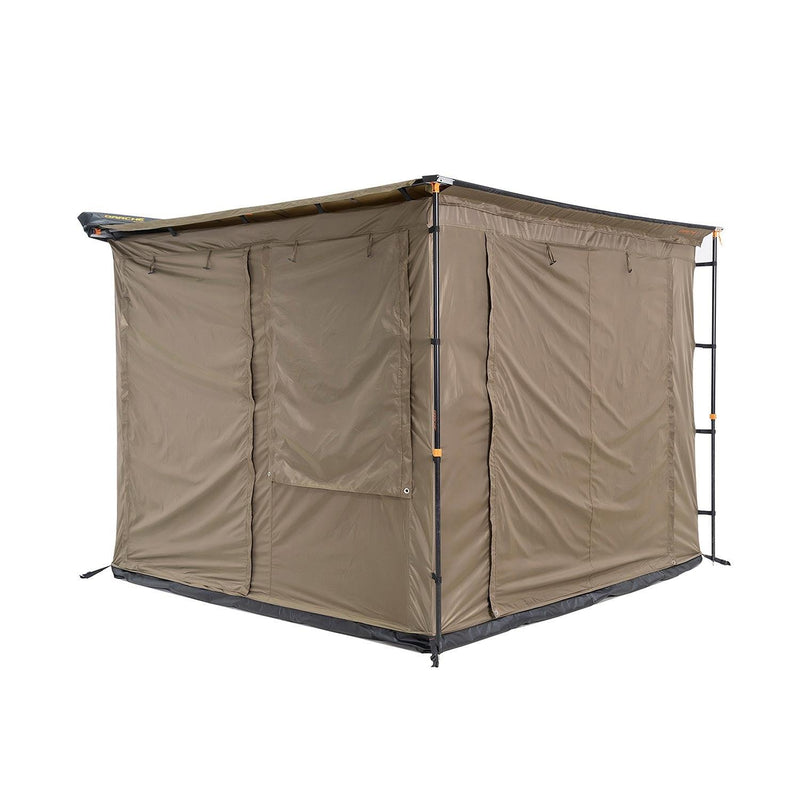 Enjoy some extra shelter on your next open road adventure with an Eclipse Tent Annex. Designed to suit your DARCHE Eclipse 2.5x2.5 Awning, you can create additional privacy, store your gear or use it to extend the sleeping quarters. Simply attach the annex with the sail track and hook and loop tabs and you're set for all conditions. You can also create a pitch in the ceiling of your annex to help with water run-off with Eclipse Annex Adjustable Poles (sold separately) 
There are three entries to this annex giving you unlimited access no matter where you pull up, plus it has a rear opening so you can get to your vehicle without stepping outside. The sides have both doors and gusset windows to allow for airflow, especially in rainy conditions. If you want some extra shade, you can convert the front and side roll up doors into awnings by adding telescopic alloy poles (sold separately). 
Like all Darche gear - it's built to last, made from durable 210D ripstop polyester oxford, it can hold its own in the harsh Aussie environment. This tent annex also has an impressive PU 2000mm water rating and all seams are heat sealed to keep you dry in rainy conditions. It features a 250gsm PVC removable bucket floor with adjustable corner points. All doorways are dual-zippered with privacy and superfine insect mesh doors that will give you plenty of ventilation while keeping the critters at bay.  
Creates additional shade, storage and shelter options for your awning setup
Compatible with the Eclipse 2.5x2.5 Awning sail track and hook and loop attachment
Exceptional ventilation and access with 3 entries plus rear opening for vehicle access
Dual-zippered privacy and super-fine insect doors
Privacy doors convert to awnings with telescopic, alloy poles (sold separately)
Removable floor with adjustable corner anchoring points allow for height adjustment to suit your vehicle
Includes storage bag and thick gauge pegs
Compatible with

Eclipse Slimline 2.5m x 2.5m Awnings

Max. Head Height

2300mm

Attachment Method

Sailtrack, hook and loop

Fabric Material:

210D Ripstop Polyester Oxford

Waterhead Rating

2000mm

Gender

Sleeping Bag Comfort

Maximum Volume

L

Fits

Sleeping Capacity

External Dimensions

mm

Sleeping Area

mm

Packed Dimensions

mm

Rated Capacity

kg

Coverage

Internal Storage and Bedding

Valve Quantity

Internal Dimensions

mm

Suits Product

Weight

kg

Warranty
DOWNLOADS
FEATURES
Creates additional shade, storage and shelter options for your awning setup
Compatible with the Eclipse 2.5x2.5 Awning sail track and hook and loop attachment
Exceptional ventilation and access with 3 entries plus rear opening for vehicle access
Dual-zippered privacy and super-fine insect doors
Privacy doors convert to awnings with telescopic, alloy poles (sold separately)
Removable floor with adjustable corner anchoring points allow for height adjustment to suit your vehicle
Includes storage bag and thick gauge pegs
SPECIFICATIONS
Compatible with

Eclipse Slimline 2.5m x 2.5m Awnings

Max. Head Height

2300mm

Attachment Method

Sailtrack, hook and loop

Fabric Material:

210D Ripstop Polyester Oxford

Waterhead Rating

2000mm

Gender

Sleeping Bag Comfort

Maximum Volume

L

Fits

Sleeping Capacity

External Dimensions

mm

Sleeping Area

mm

Packed Dimensions

mm

Rated Capacity

kg

Coverage

Internal Storage and Bedding

Valve Quantity

Internal Dimensions

mm

Suits Product

Weight

kg

Warranty
DOWNLOADS