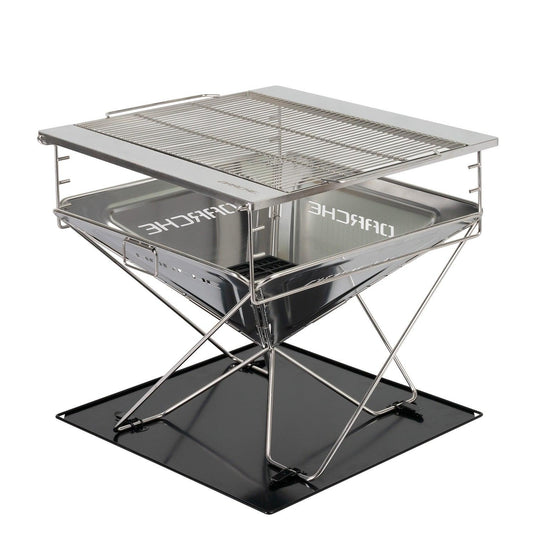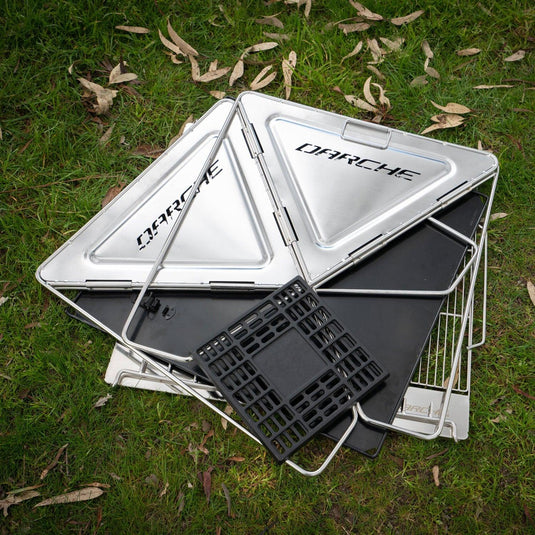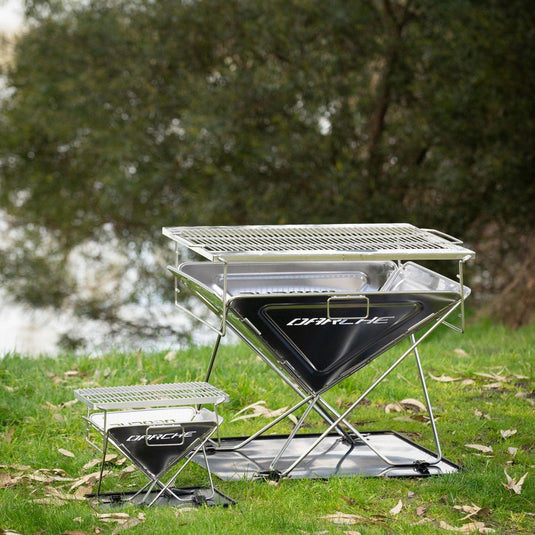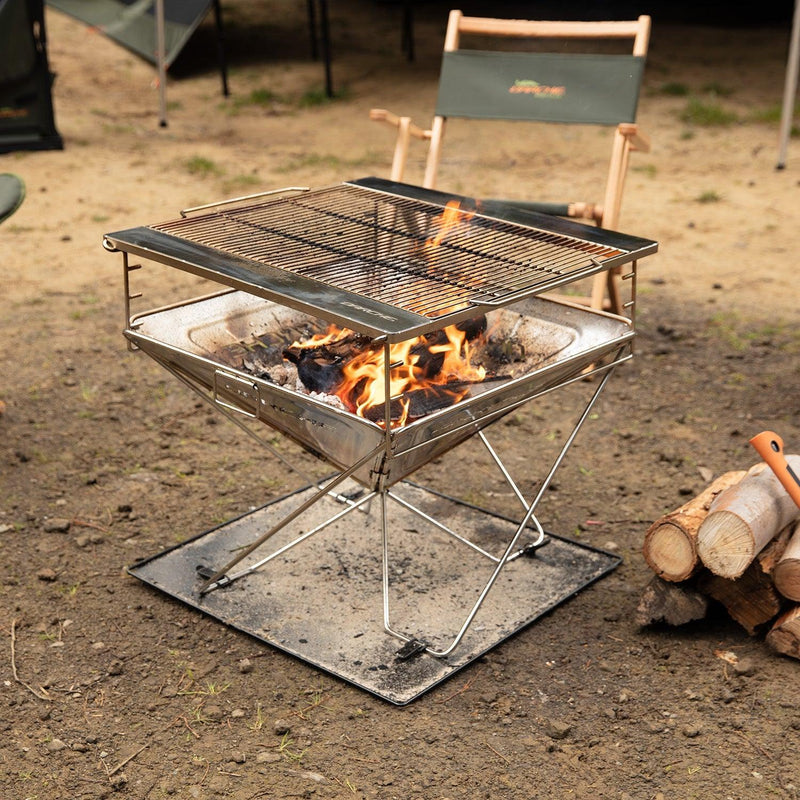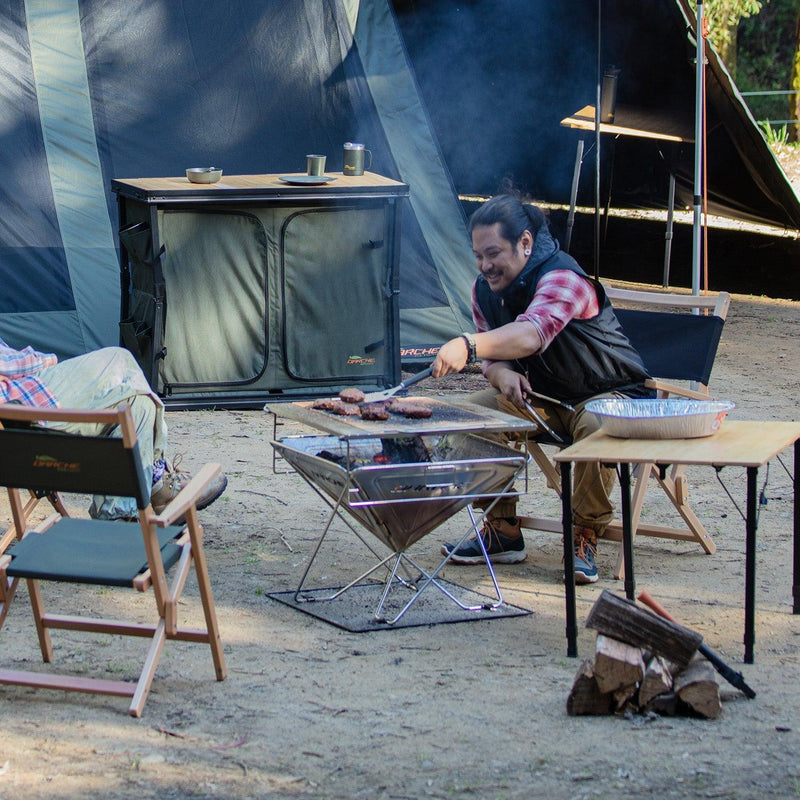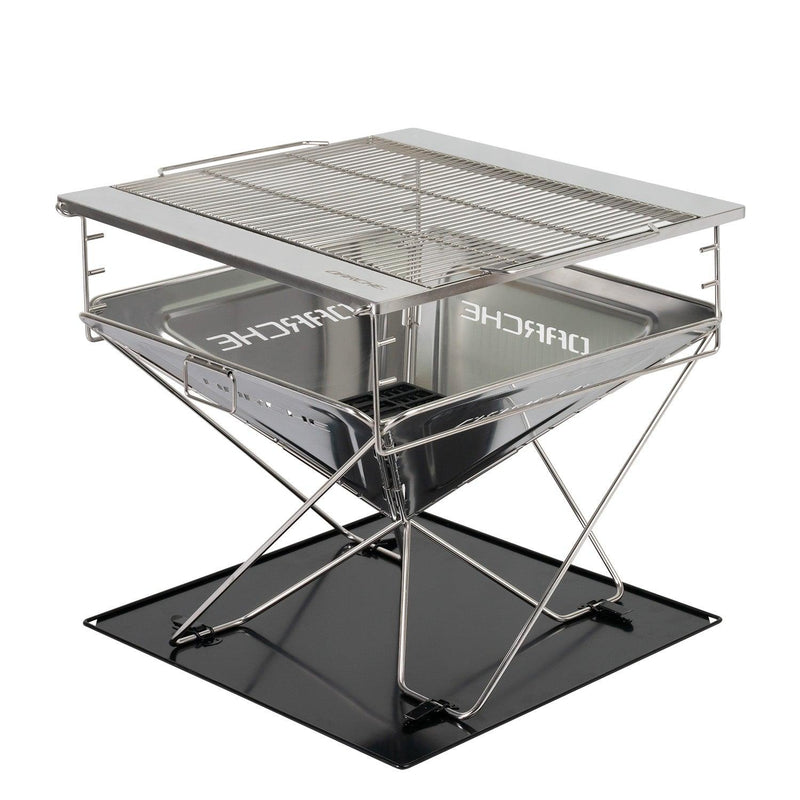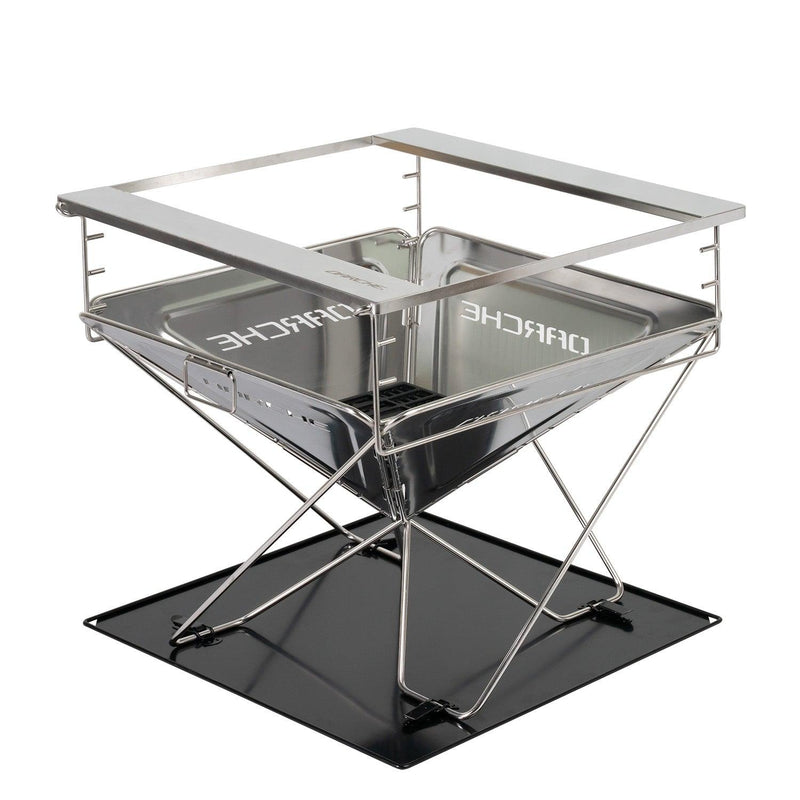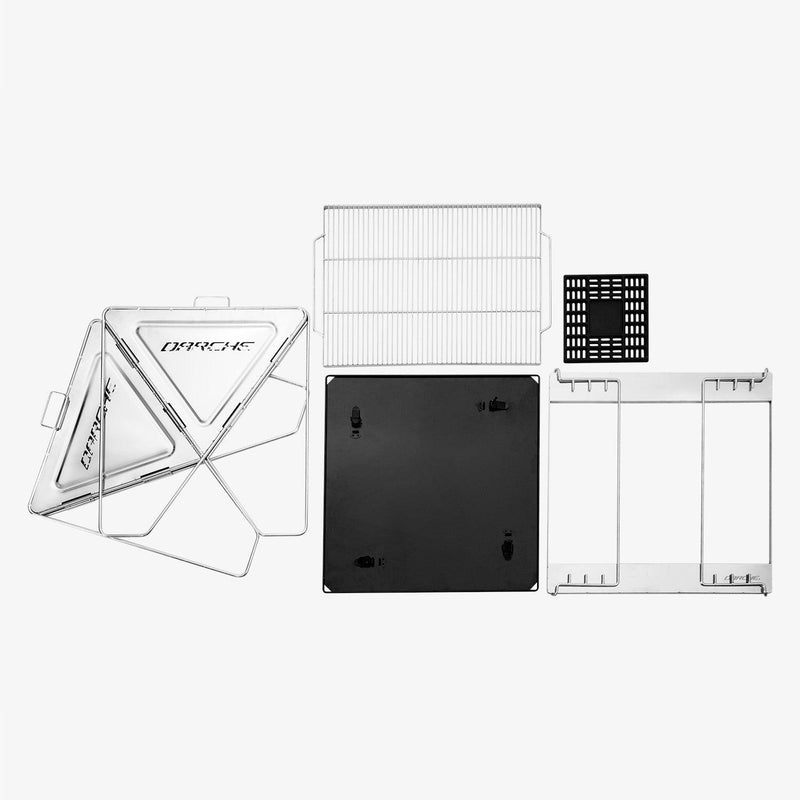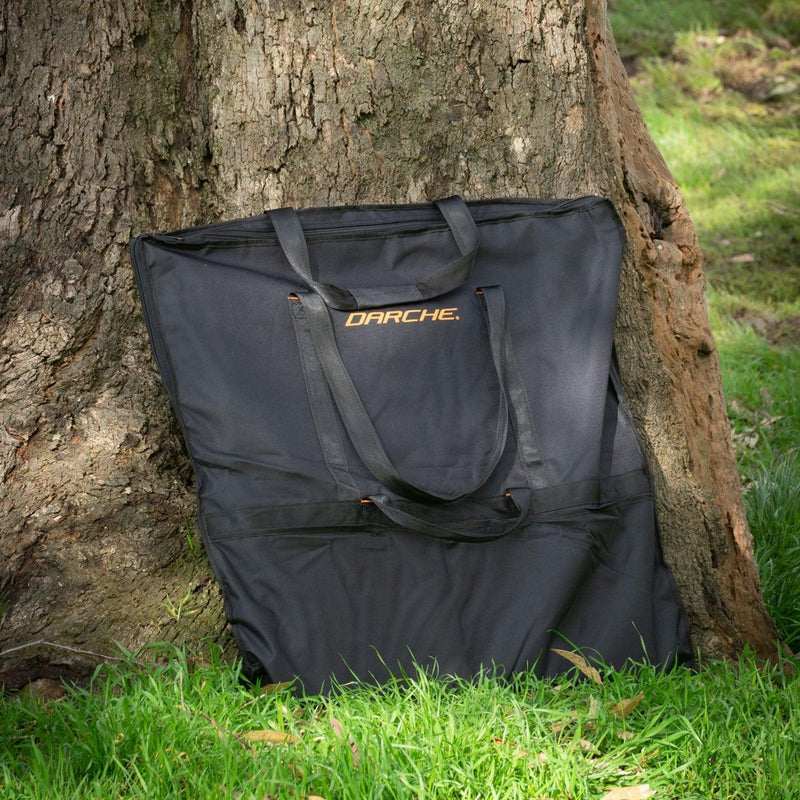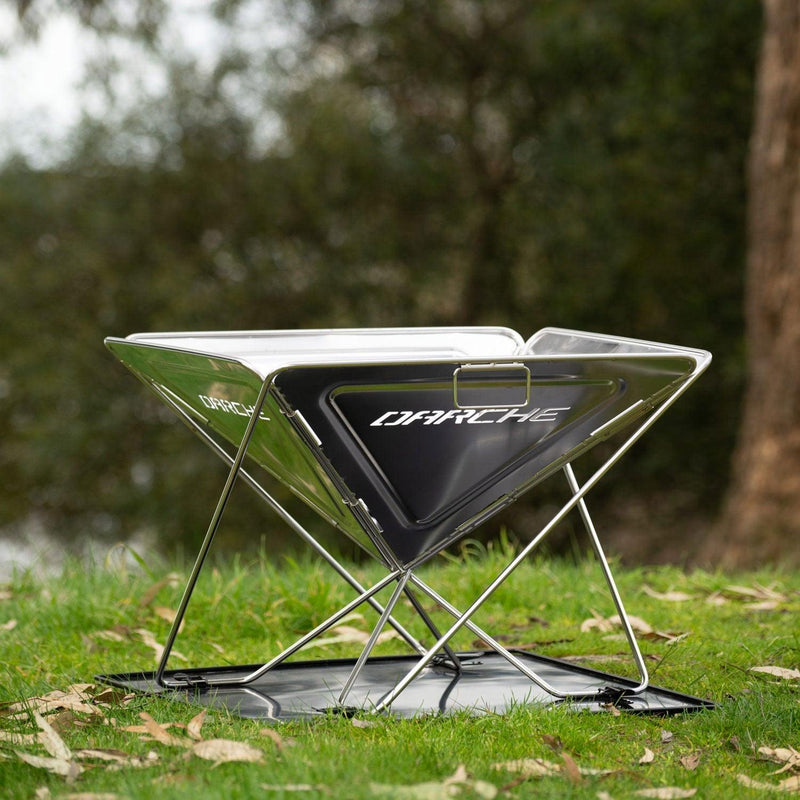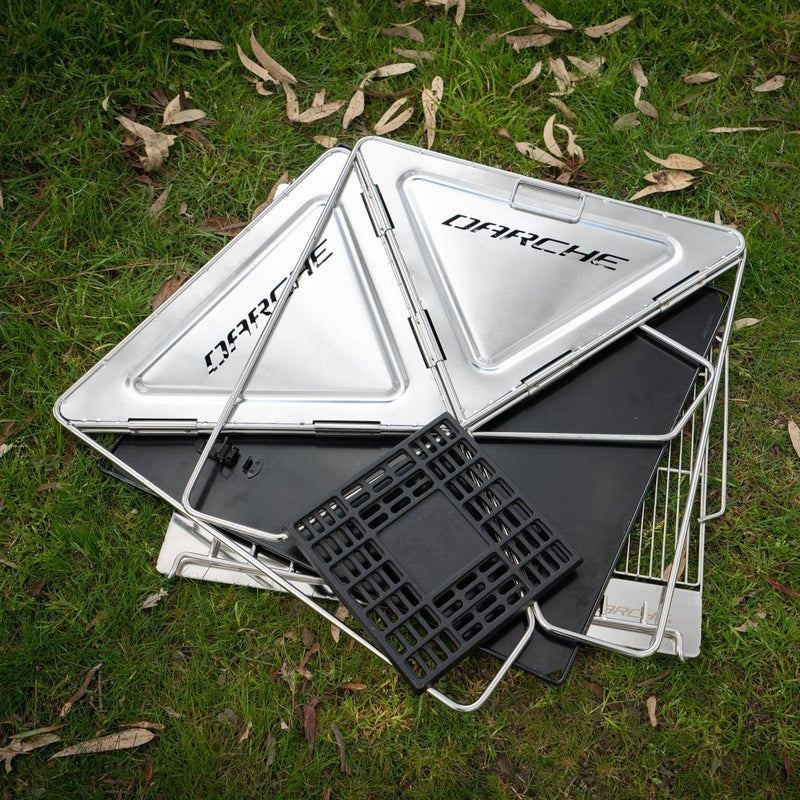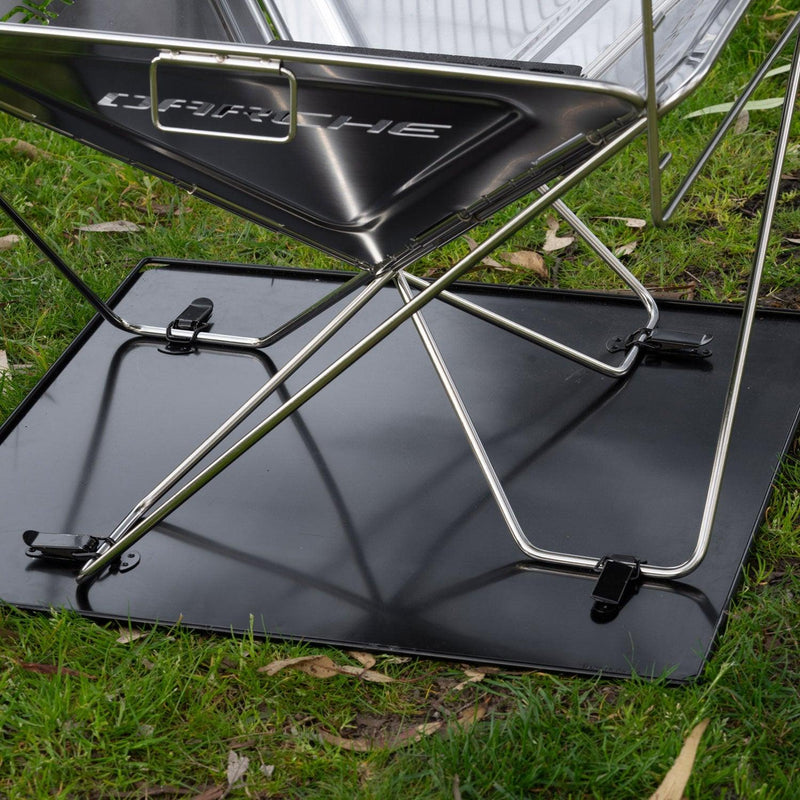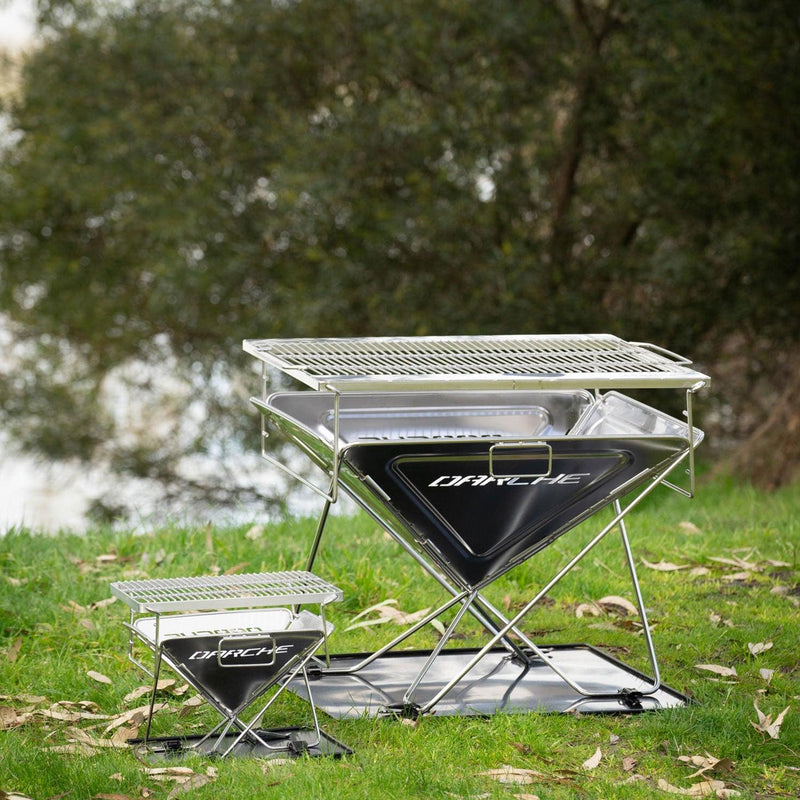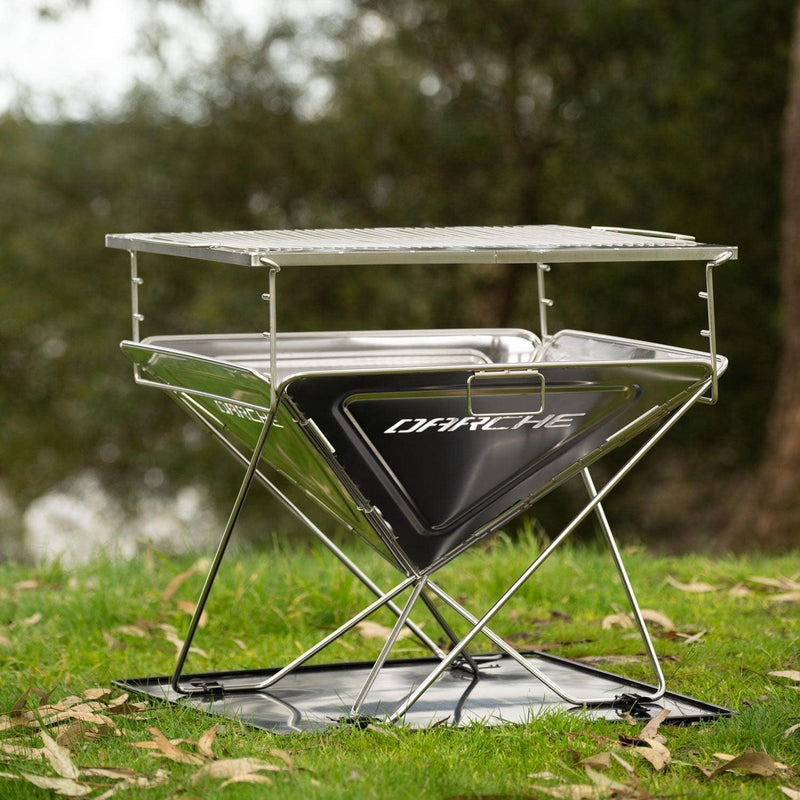 The Darche BBQ is a huge leap forward in camp cooking. The big brother of both the 450 and 310 BBQ's. The 630 features the same innovative design, just scaled up for big feeds. The clever design provides both a stand-alone heat source and a functional BBQ with a height-adjustable grill plate to suit your cooking style. Use it as a fire pit on cold nights and cook enough food for a family over hot coals - It's the biggest cooking accessory in your camp cooking arsenal.
Constructed using quality stainless steel this BBQ is suited to most commonly used heat sources. The BBQ performs best with charcoal or heat beads. We recommend the Darche BBQ Charcoal Starter to get your coals started. 
The cast iron trivet provides a flat base for the coals to sit as well as increasing airflow for your heat source while the steel base plate acts as a heat shield and will catch any falling embers and makes for an easy clean up. 
The foldable design allows for simple set up, pack down and space saving storage in the back of your vehicle or tucked away in your garage.  
From the campsite to the backyard this convenient BBQ will keep your tribe fed and warm on your next outdoor adventure.
Jumbo size – perfect for larger groups
Can be used as a BBQ or fire pit
Adjustable food grade 304 S/S grill plate gives you three different heights to suit your cooking
Quality food grade stainless steel construction
Fold flat design fits easily in the camp kit
Includes heavy duty carry bag
Material

Grill - 304 Stainless Steel | Body - 201 Stainless Steel

Gender

Sleeping Bag Comfort

Maximum Volume

L

Fits

Sleeping Capacity

External Dimensions

mm

Sleeping Area

mm

Packed Dimensions

mm

Rated Capacity

kg

Coverage

Internal Storage and Bedding

Valve Quantity

Internal Dimensions

mm

Suits Product

Weight

kg

Warranty
FEATURES
Jumbo size – perfect for larger groups
Can be used as a BBQ or fire pit
Adjustable food grade 304 S/S grill plate gives you three different heights to suit your cooking
Quality food grade stainless steel construction
Fold flat design fits easily in the camp kit
Includes heavy duty carry bag
SPECIFICATIONS
Material

Grill - 304 Stainless Steel | Body - 201 Stainless Steel

Gender

Sleeping Bag Comfort

Maximum Volume

L

Fits

Sleeping Capacity

External Dimensions

mm

Sleeping Area

mm

Packed Dimensions

mm

Rated Capacity

kg

Coverage

Internal Storage and Bedding

Valve Quantity

Internal Dimensions

mm

Suits Product

Weight

kg

Warranty