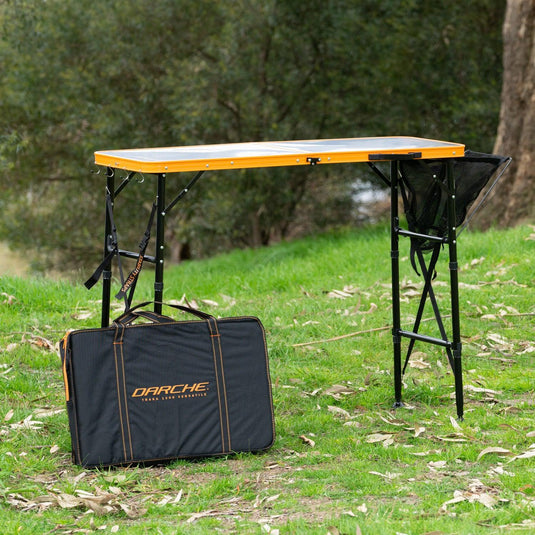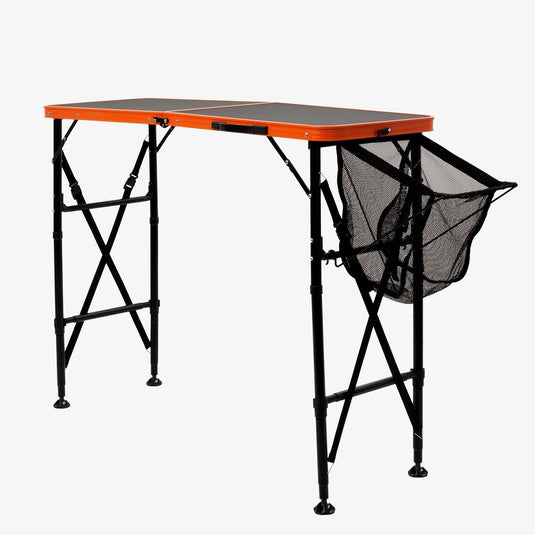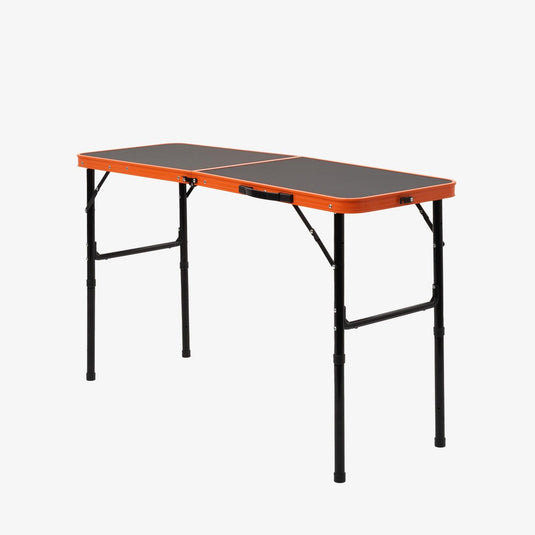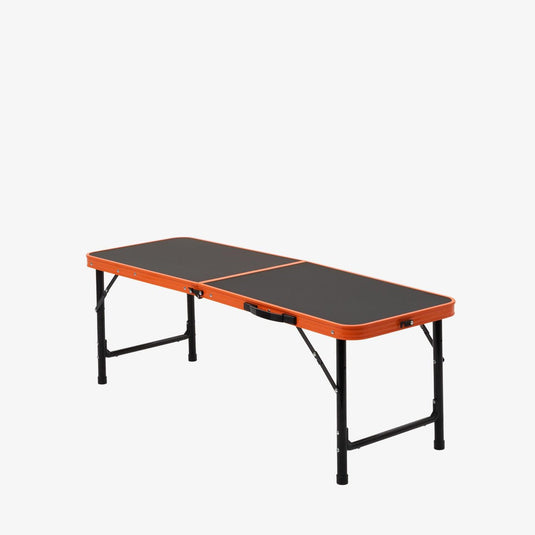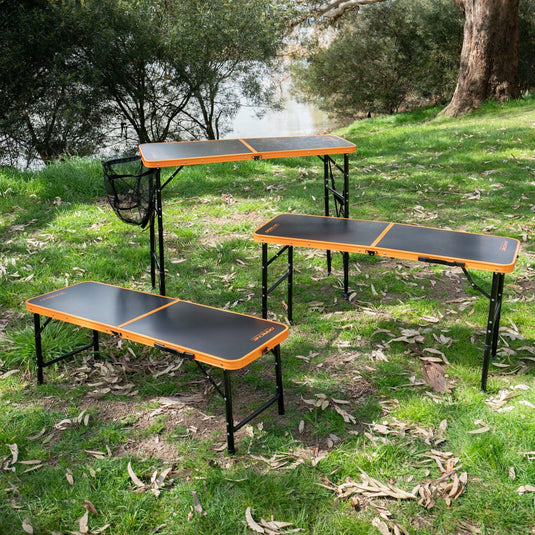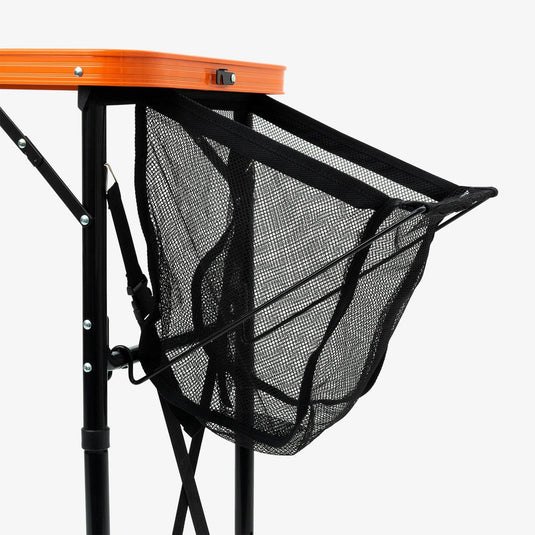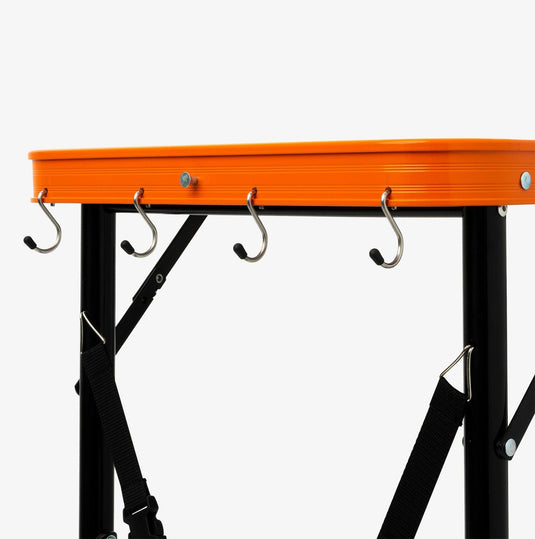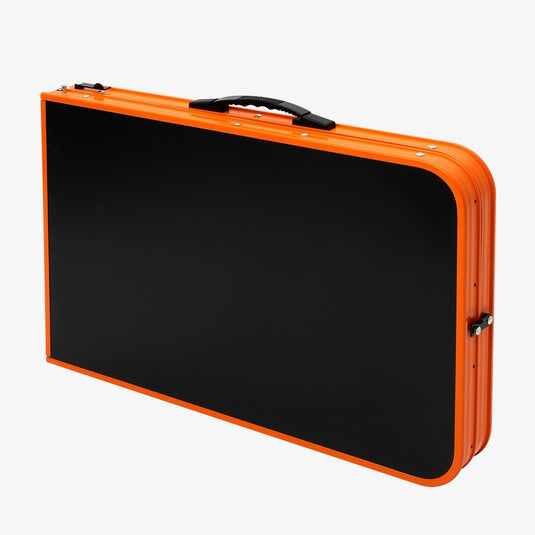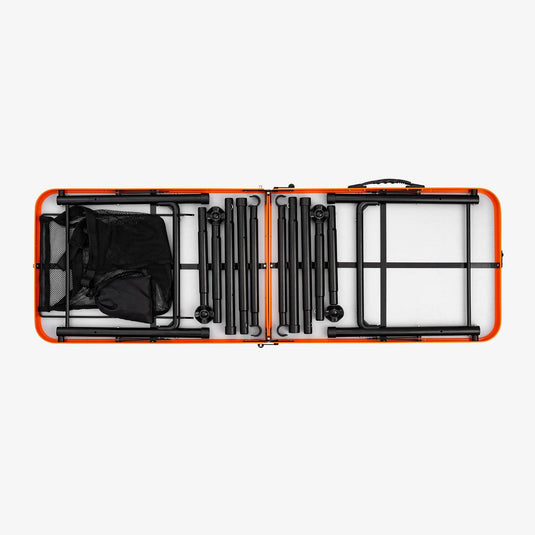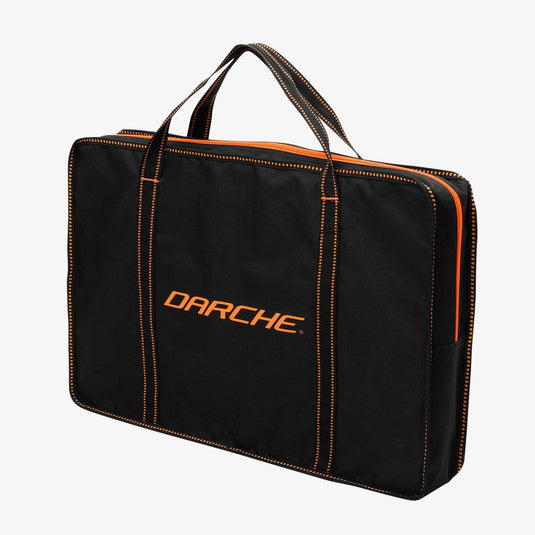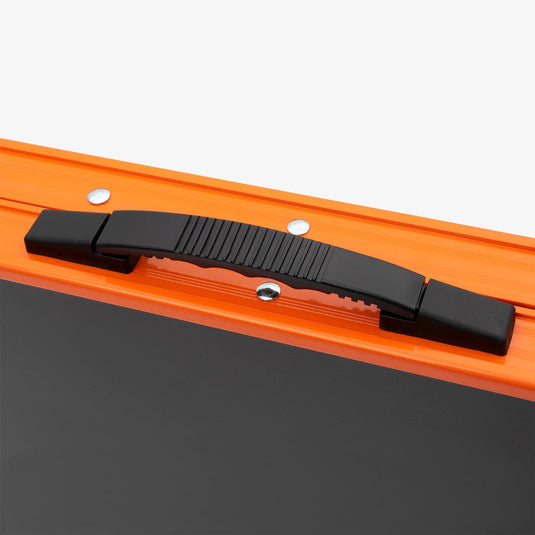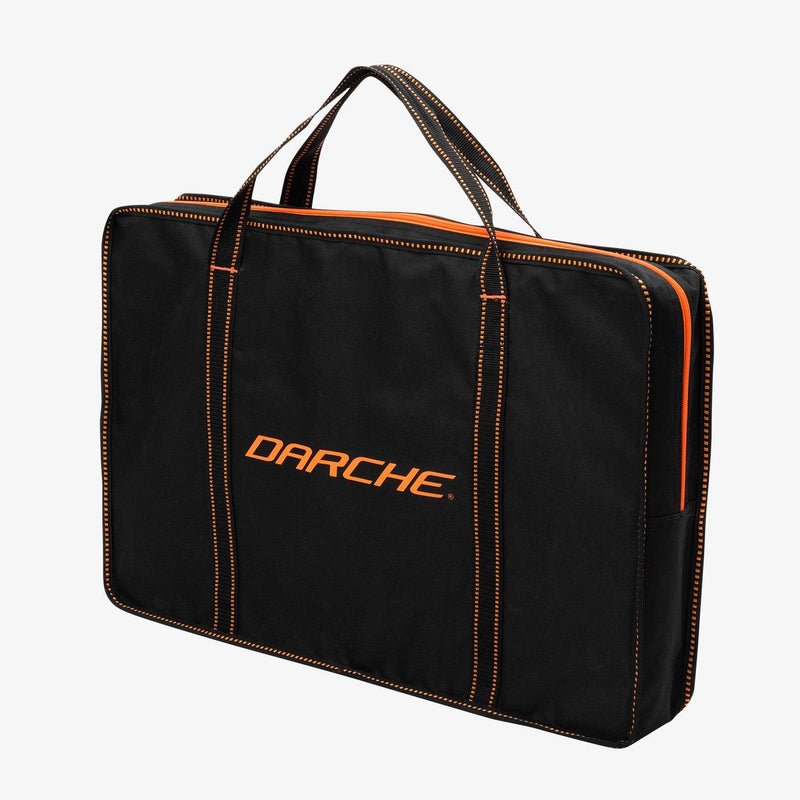 Stay organised wherever you go with the Traka Versatile table. This lightweight aluminium top folding table is perfect for preparing outdoor meals and will be sturdy and durable enough to support you through your quick fix and hands-on tasks. On your next adventure, why take one table when you can take three tables in one!
This multi-purpose table adjusts to 3 heights, so great to use as a small side table, a meal table or a food preparation table. At its highest setting, even perfect as a bar table for drinks with friends! We've also included a side mesh basket and hanging hooks for added storage.
This table is lightweight, so you can easily haul it to and from the campsite. It's also compact and easy to store as the legs fold up under themselves to minimise bulk. It's also a breeze to clean as the smooth surface means there are no grooves for food or dirt to get stuck in.
This table has impact-resistant edges that can take a beating, so it's perfect for serious outdoor enthusiasts and packs down into a convenient carry bag for transit and storage.
Versatile, sturdy and durable lightweight table
Multi-purpose table can be adjusted to 3 heights
Use as a small side table, meal table, food preparation or bar table
Heat-resistant aluminium top perfect to support gas cookers
Simple setup and pack down
Strong black foldable steel frame
Hanging hooks and side mesh basket for storage
Large stabilising feet
Cross brace straps for extra stability
Impact resistant edges
Easy to clean
Folds compact with a carry handle
Convenient zippered carry bag included
Table Top Material

Heat Resilient Aluminium

Frame Material

Powder Coated Steel

Gender

Sleeping Bag Comfort

Maximum Volume

L

Fits

Sleeping Capacity

External Dimensions

mm

Sleeping Area

mm

Packed Dimensions

mm

Rated Capacity

kg

Coverage

Internal Storage and Bedding

Valve Quantity

Internal Dimensions

mm

Suits Product

Weight

kg

Warranty
FEATURES
Versatile, sturdy and durable lightweight table
Multi-purpose table can be adjusted to 3 heights
Use as a small side table, meal table, food preparation or bar table
Heat-resistant aluminium top perfect to support gas cookers
Simple setup and pack down
Strong black foldable steel frame
Hanging hooks and side mesh basket for storage
Large stabilising feet
Cross brace straps for extra stability
Impact resistant edges
Easy to clean
Folds compact with a carry handle
Convenient zippered carry bag included
SPECIFICATIONS
Table Top Material

Heat Resilient Aluminium

Frame Material

Powder Coated Steel

Gender

Sleeping Bag Comfort

Maximum Volume

L

Fits

Sleeping Capacity

External Dimensions

mm

Sleeping Area

mm

Packed Dimensions

mm

Rated Capacity

kg

Coverage

Internal Storage and Bedding

Valve Quantity

Internal Dimensions

mm

Suits Product

Weight

kg

Warranty
TRAKA 1200 VERSATILE TABLE