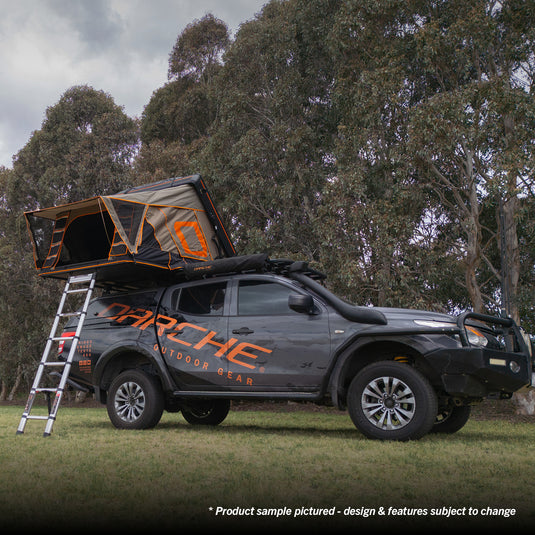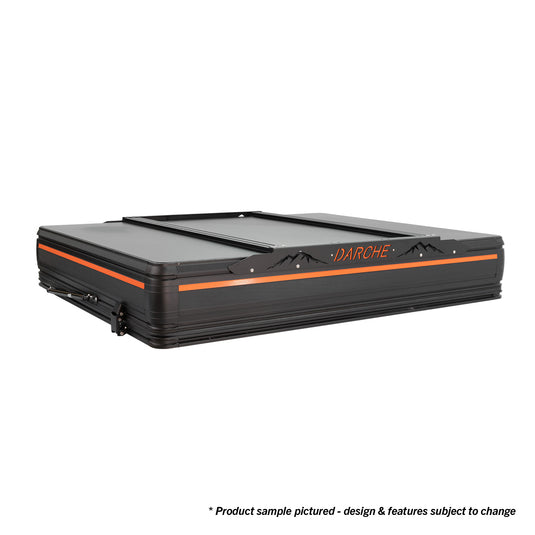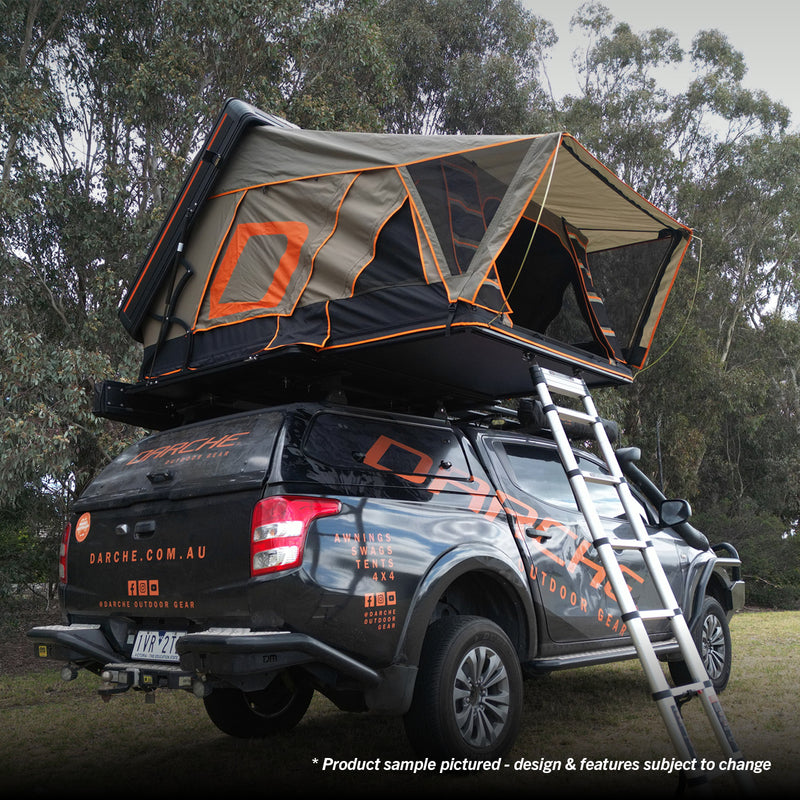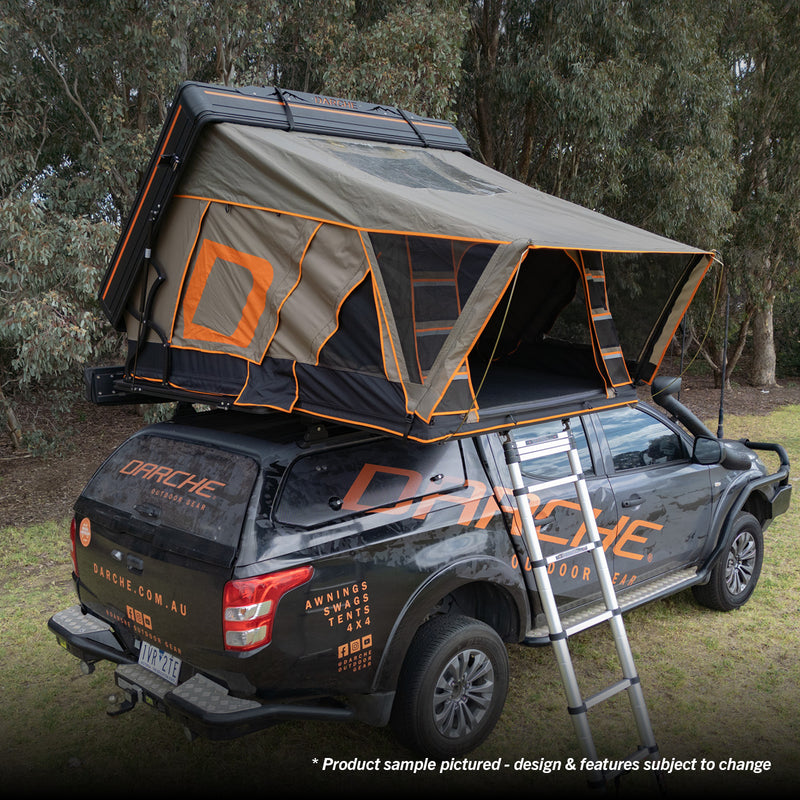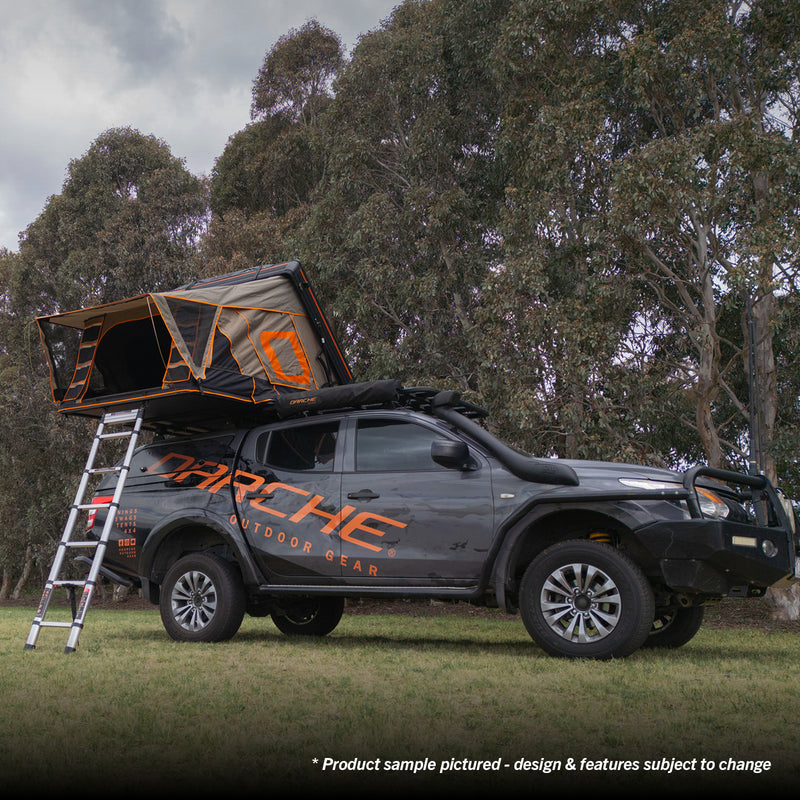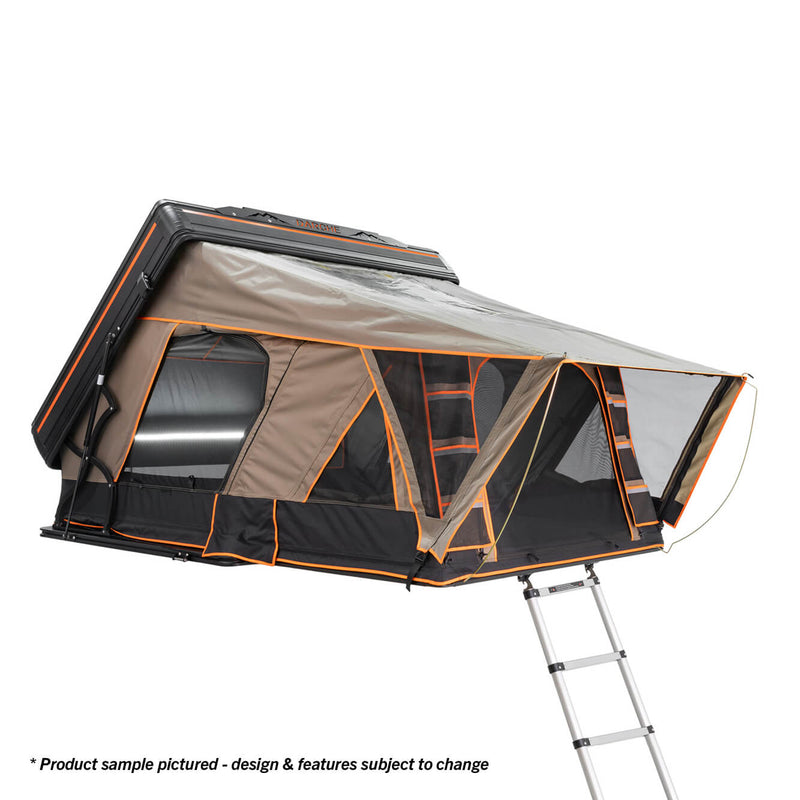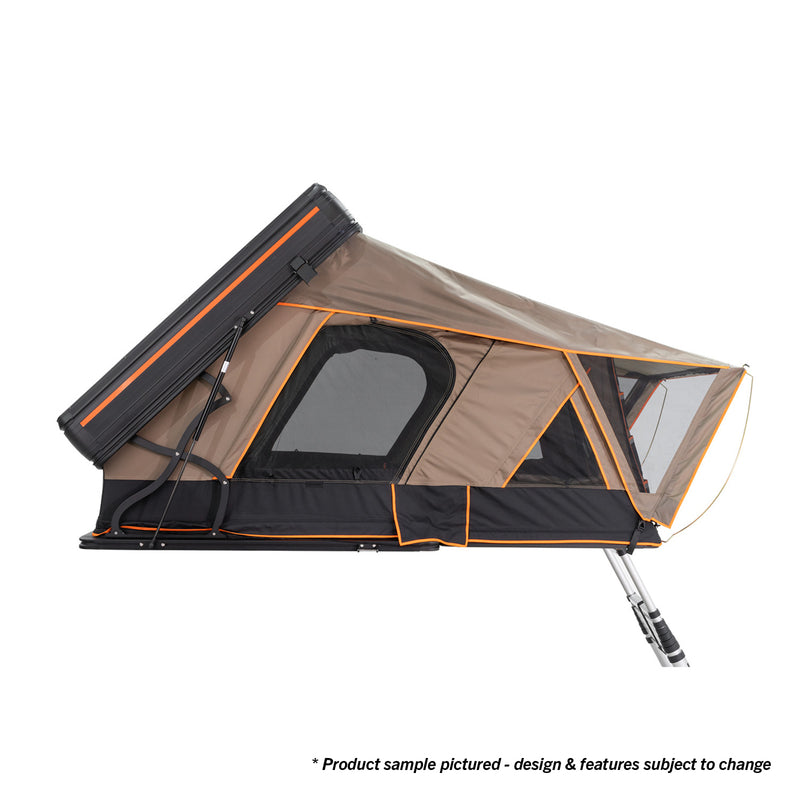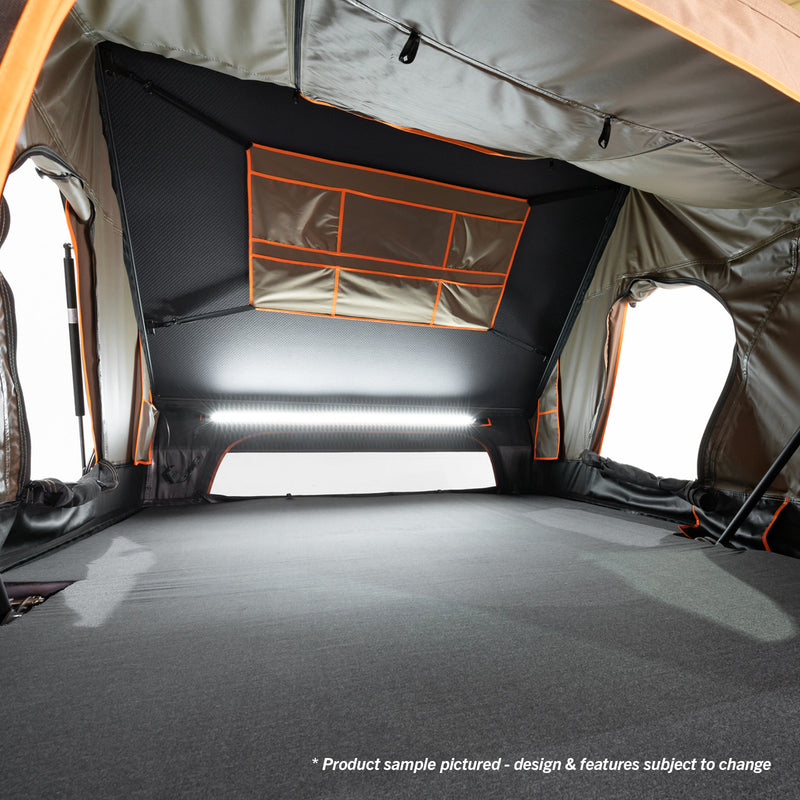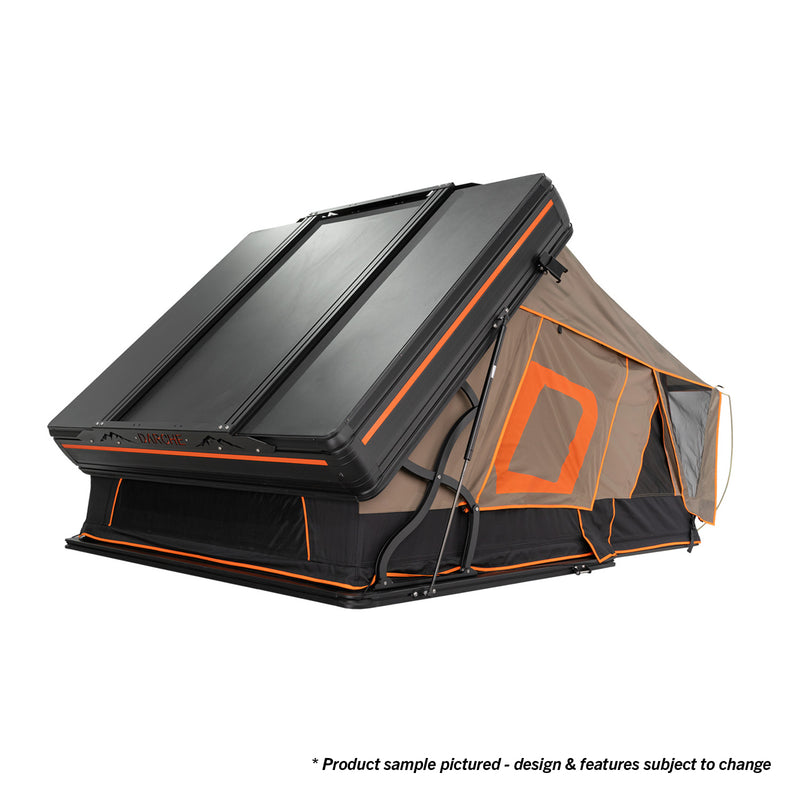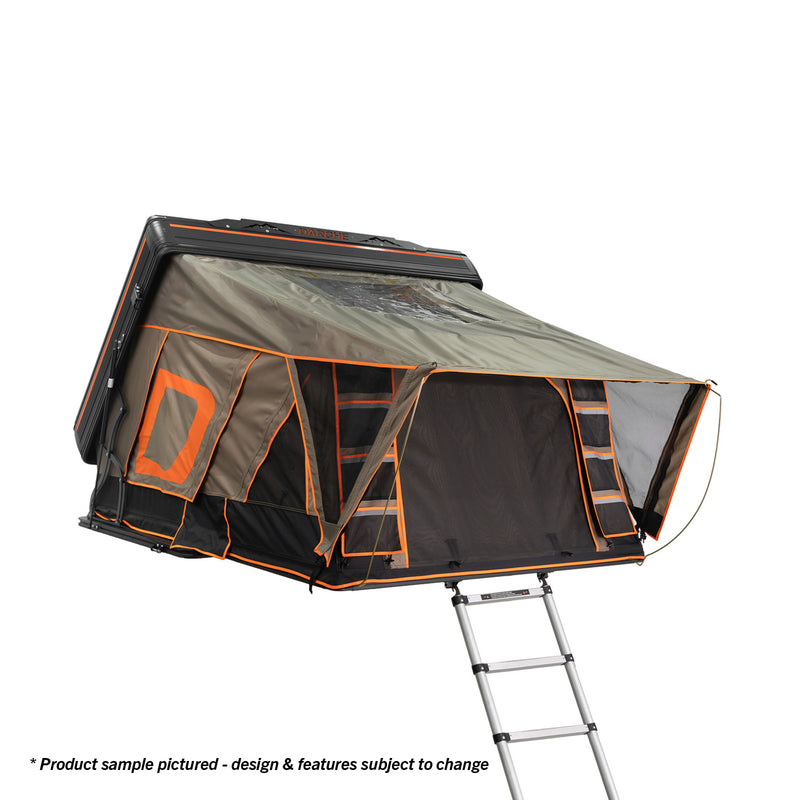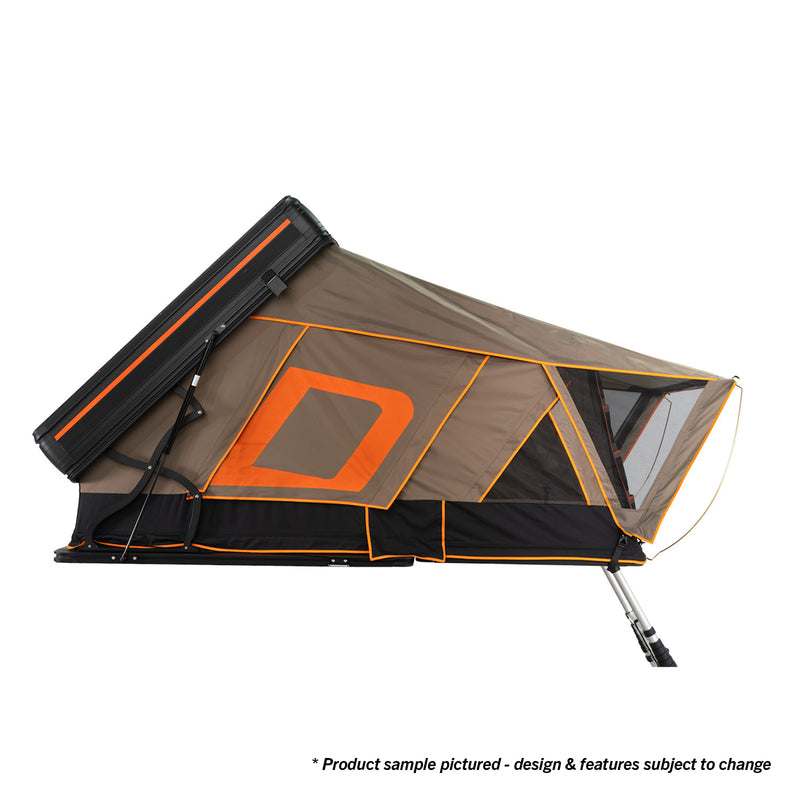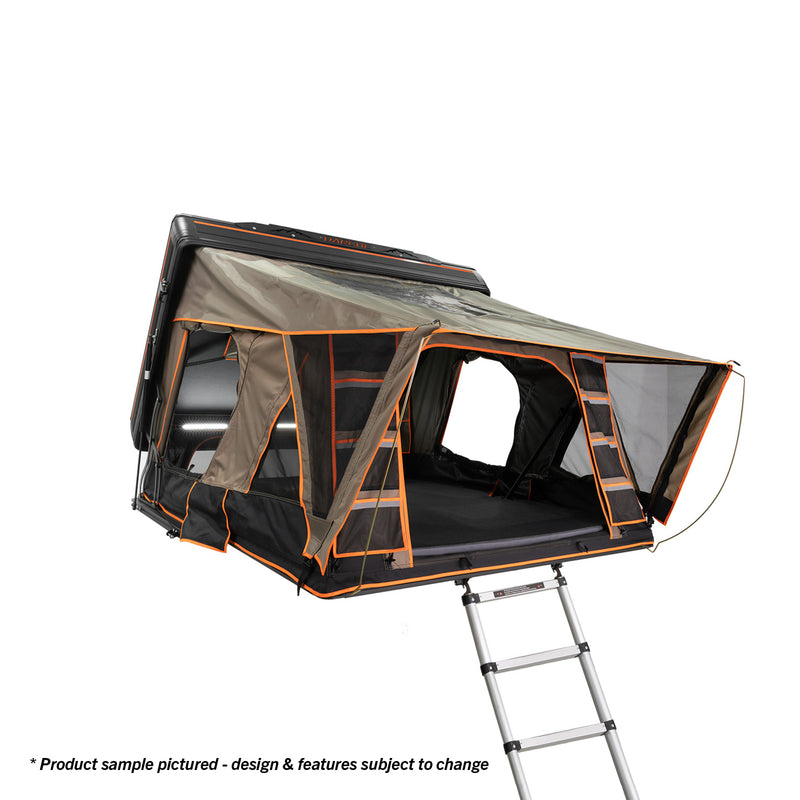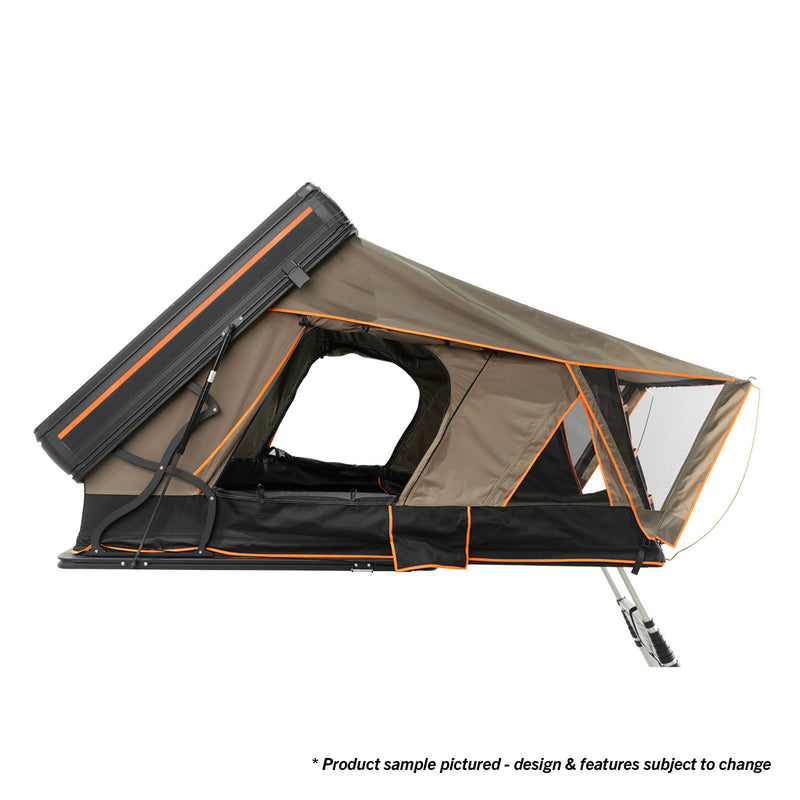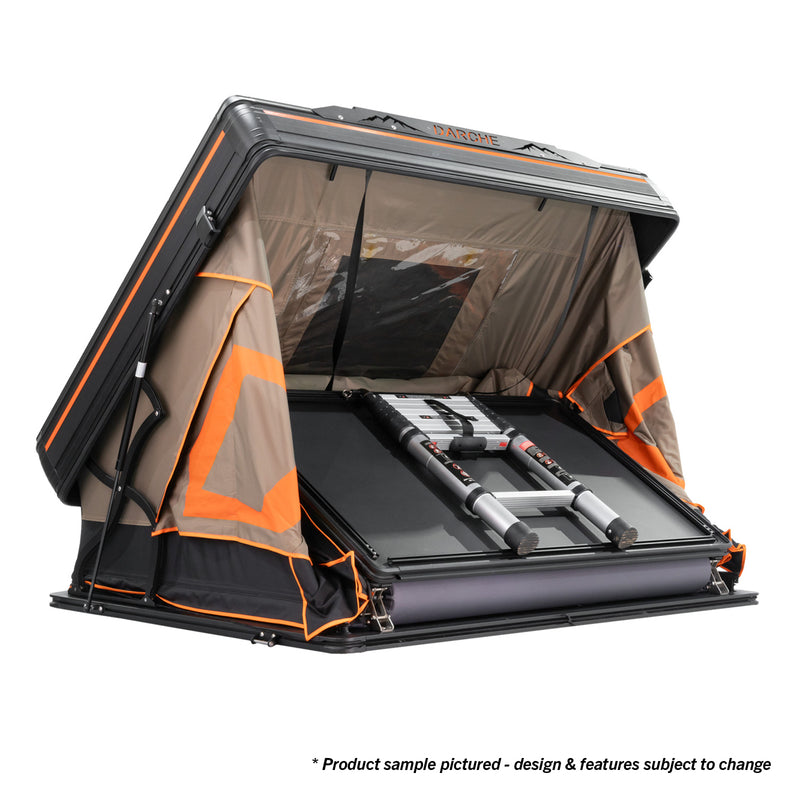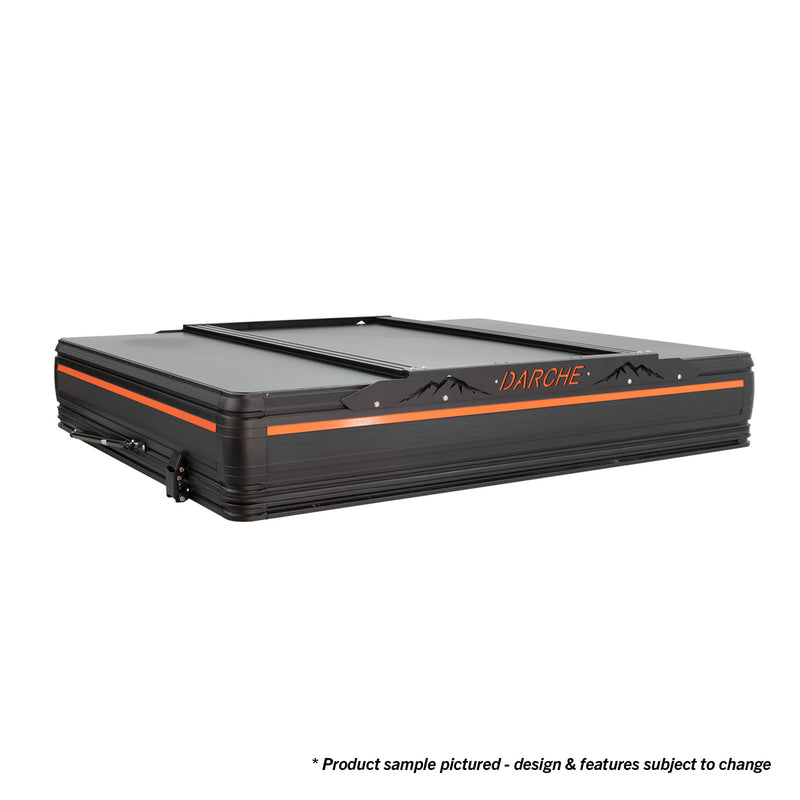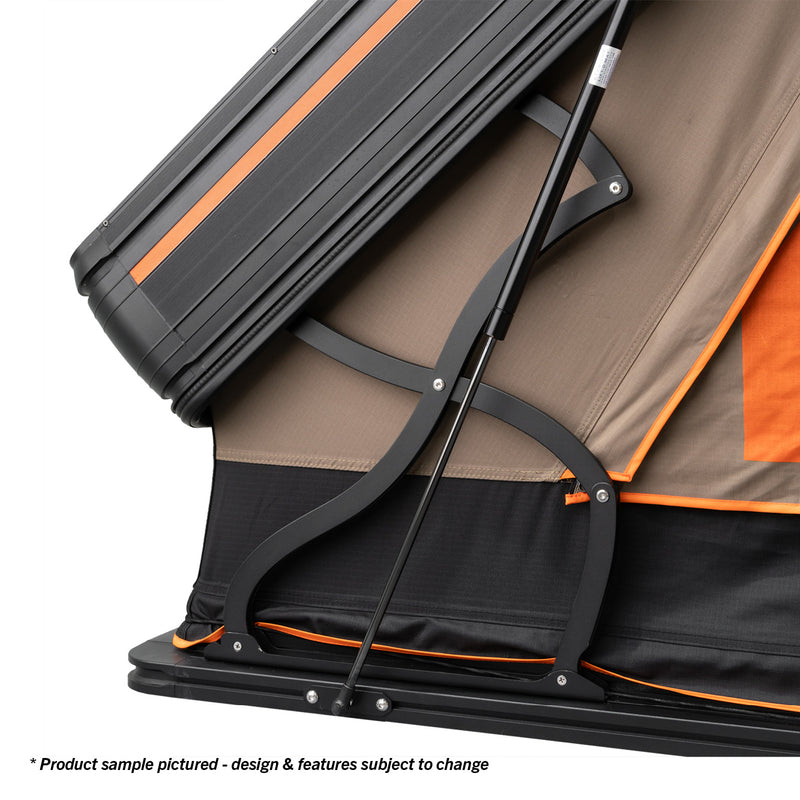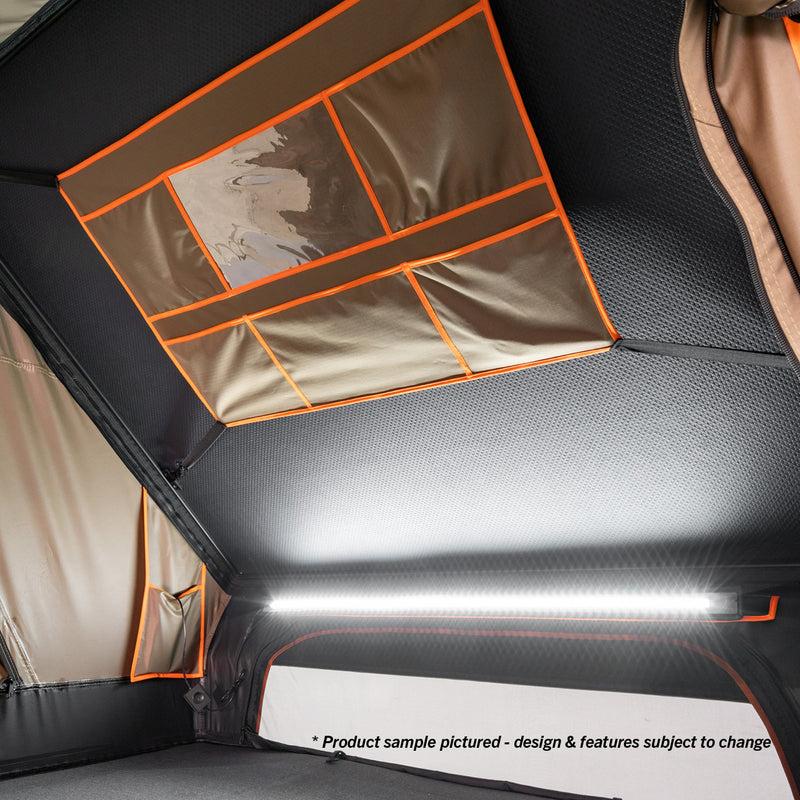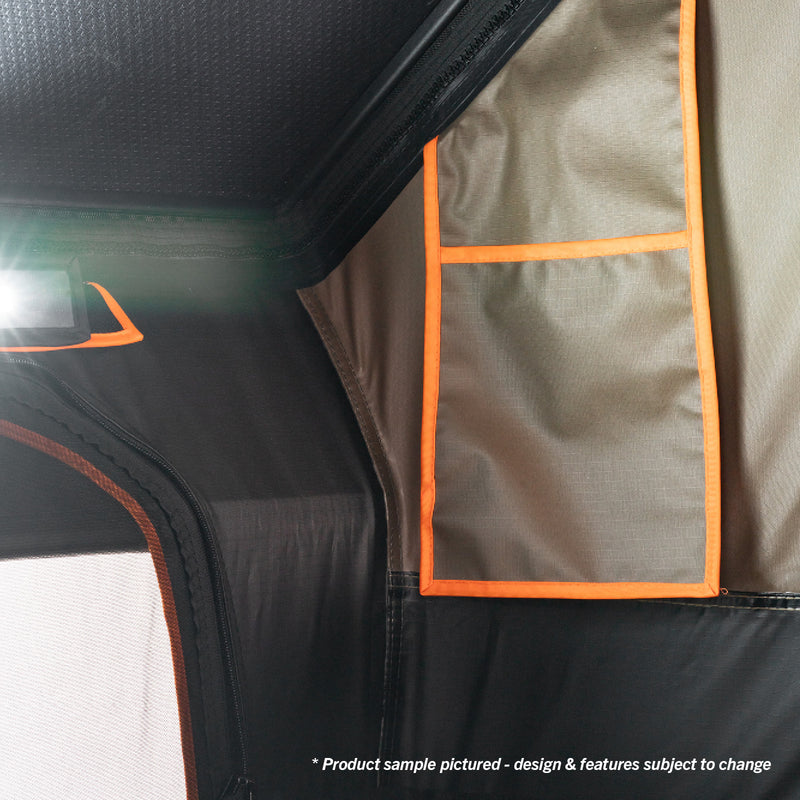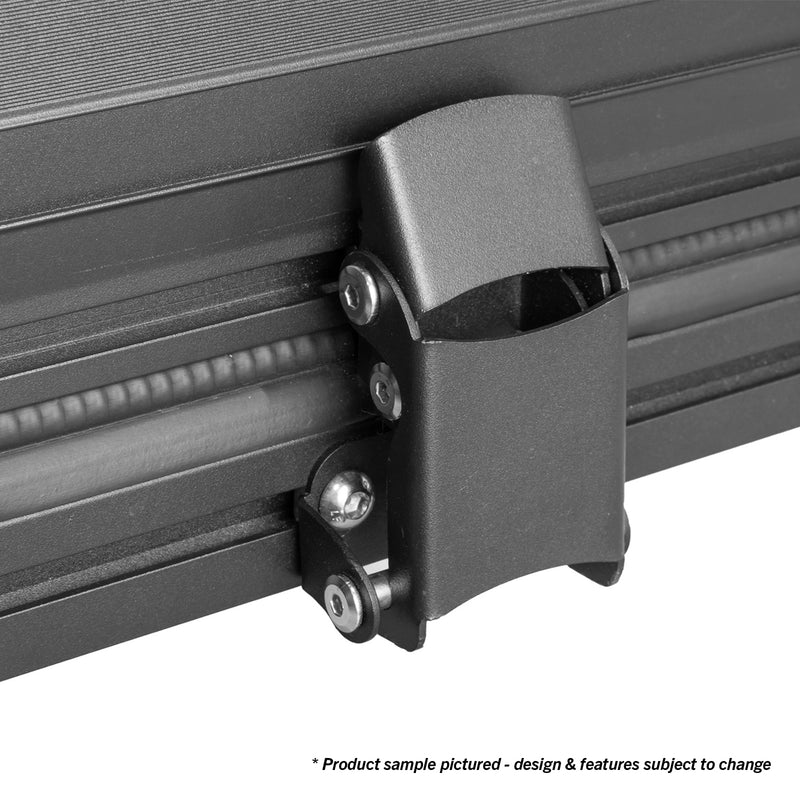 Looking for a hardshell roof top tent with a compact footprint but still want space to stretch out? You can now have the best of both worlds with the Double Dee double-fold roof top tent.
The double-fold design of the Double Dee means that it's perfect for tub-rack setups or those with limited roof space due to its small packed size while providing interior space rivaling soft shell tents when fully set up. The innovative X-hinges also raise the back of the tent to aid airflow, increase headroom, and let in more light.
Take a closer look and you will see even more thoughtful and creative features. This includes an incredibly supportive composite MDI memory-foam mattress, an integrated LED strip that can be mounted at different points in the tent as well as externally using the built-in sailtracks, moveable storage pockets, and much more.
The versatility of the Double Dee doesn't stop when it's packed up. With approximately 100L of useable storage space when closed, you can fit all of your bedding and little knick-knacks in the tent and reduce clutter inside your vehicle.
The tent body is made from premium 280gsm ripstop polycotton canvas and features an impressive 3000mm waterhead rating, high profile automotive rubber weather seals, internal seam sealing, and a removable fly that will keep you dry in extended rainy conditions.
The included mounting rails suit most commercially available flat roof racks or roof rail systems. Make sure to check the weight rating and suitability of your roof rack and vehicle with appropriate manufacturers prior to purchase. We recommend professional installation through your local 4WD centre or DARCHE retailer.
Innovative X-hinge design aids airflow and increases headroom
Compact footprint ideal for tub-rack setups and also suits a wide range of roof racks and platforms
LED strip with integrated sailtrack and hook-and-loop fasteners to allow for both internal and external mounting
Internal and external storage pockets
Approximately 100L of internal storage space with the tent closed
Tinted sky window
Windows on all sides of the tent
Fine insect mesh on all windows
Removable fly
50mm composite memory foam mattress
Heavy-duty rubber seals maximises weather and dust resistance
2.3m telescopic ladder
Optional roof rails (coming soon, sold separately)
Optional annex (coming soon, sold separately)
Shell Material:

6-Series Aluminium

Base Material

Heavy-Duty Aluminium Honeycomb Insulation Panel

Body Material:

280gsm Ripstop Polycotton Canvas

Fly Material:

420D Polyester Oxford Ripstop

Waterhead Rating Canvas:

3000mm

Waterhead Rating Fly:

3000mm

Mattress:

50mm MDI memory foam/hardened foam

Gender

Sleeping Bag Comfort

Maximum Volume

L

Fits

Sleeping Capacity

External Dimensions

mm

Sleeping Area

mm

Packed Dimensions

mm

Rated Capacity

kg

Coverage

Internal Storage and Bedding

Valve Quantity

Internal Dimensions

mm

Suits Product

Weight

kg

Warranty
FEATURES
Innovative X-hinge design aids airflow and increases headroom
Compact footprint ideal for tub-rack setups and also suits a wide range of roof racks and platforms
LED strip with integrated sailtrack and hook-and-loop fasteners to allow for both internal and external mounting
Internal and external storage pockets
Approximately 100L of internal storage space with the tent closed
Tinted sky window
Windows on all sides of the tent
Fine insect mesh on all windows
Removable fly
50mm composite memory foam mattress
Heavy-duty rubber seals maximises weather and dust resistance
2.3m telescopic ladder
Optional roof rails (coming soon, sold separately)
Optional annex (coming soon, sold separately)
SPECIFICATIONS
Shell Material:

6-Series Aluminium

Base Material

Heavy-Duty Aluminium Honeycomb Insulation Panel

Body Material:

280gsm Ripstop Polycotton Canvas

Fly Material:

420D Polyester Oxford Ripstop

Waterhead Rating Canvas:

3000mm

Waterhead Rating Fly:

3000mm

Mattress:

50mm MDI memory foam/hardened foam

Gender

Sleeping Bag Comfort

Maximum Volume

L

Fits

Sleeping Capacity

External Dimensions

mm

Sleeping Area

mm

Packed Dimensions

mm

Rated Capacity

kg

Coverage

Internal Storage and Bedding

Valve Quantity

Internal Dimensions

mm

Suits Product

Weight

kg

Warranty