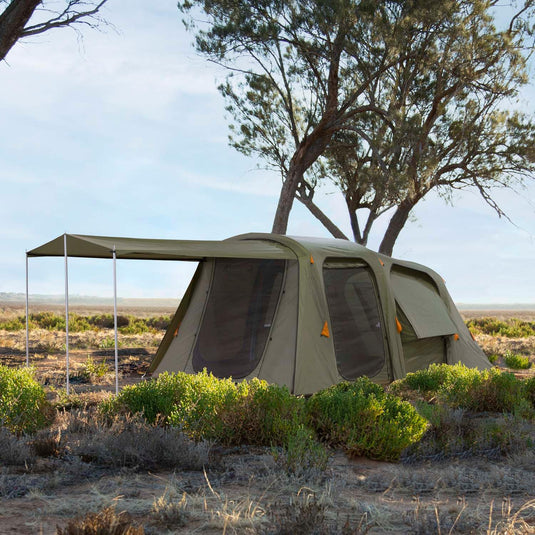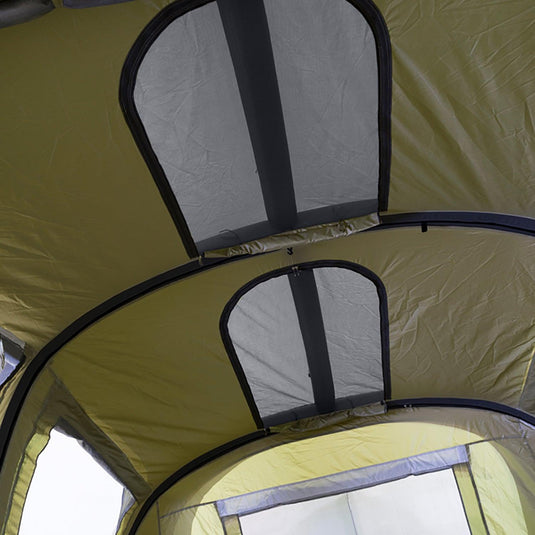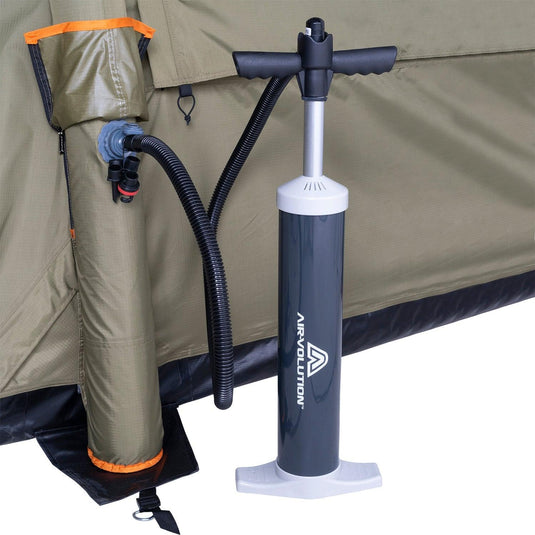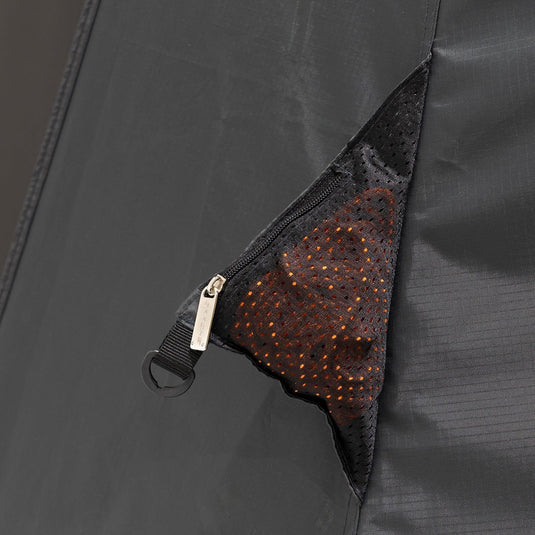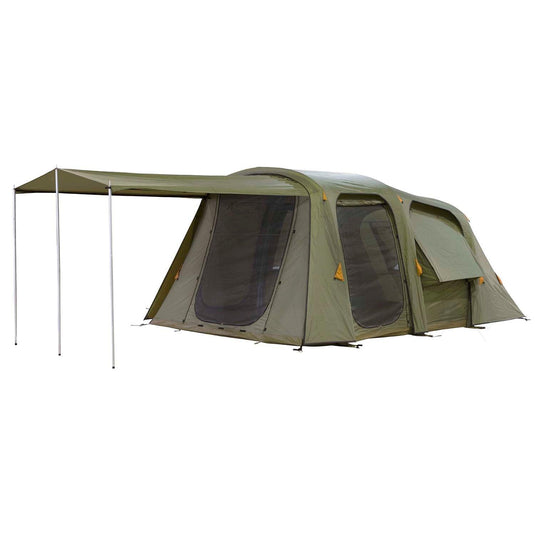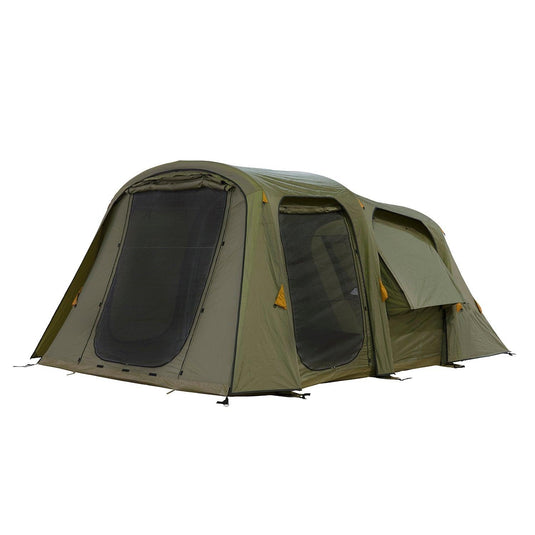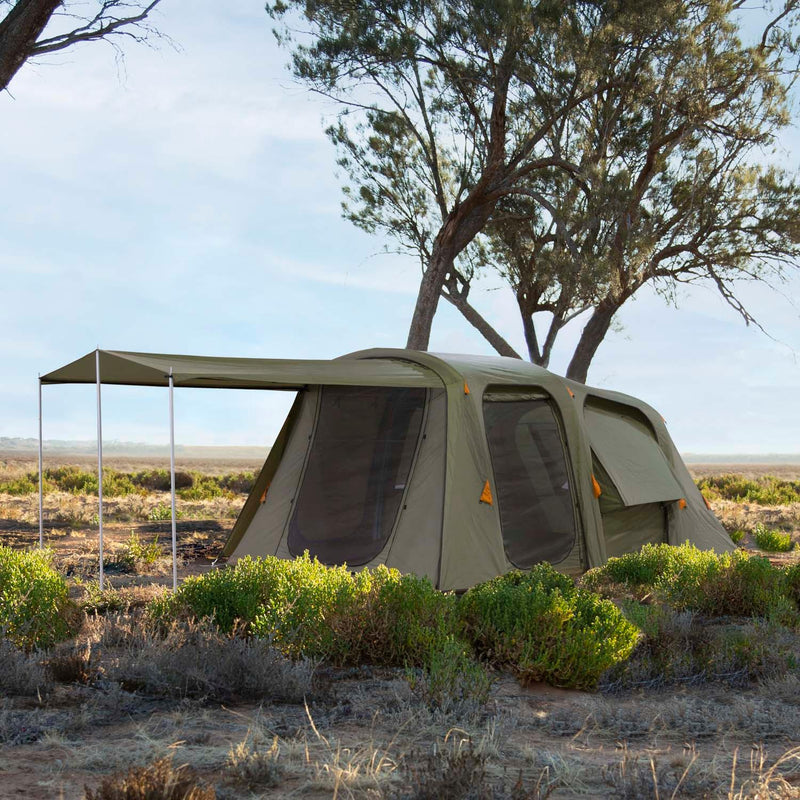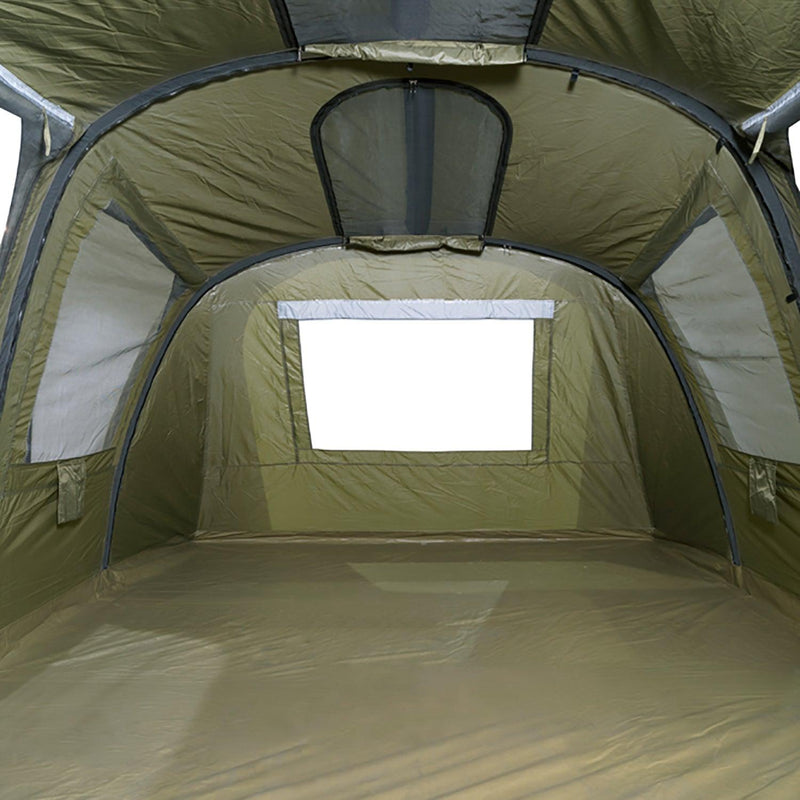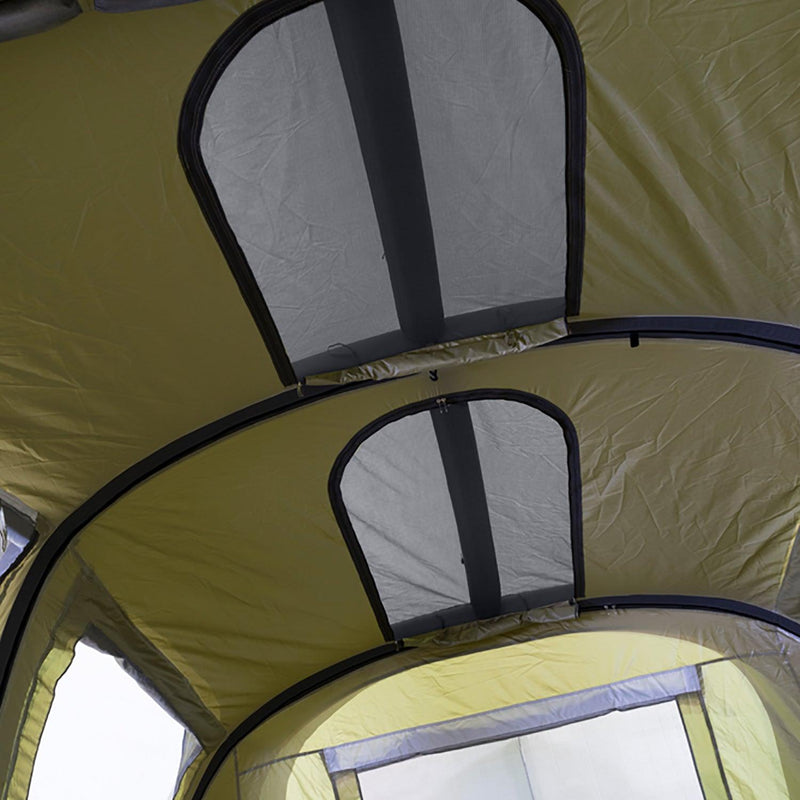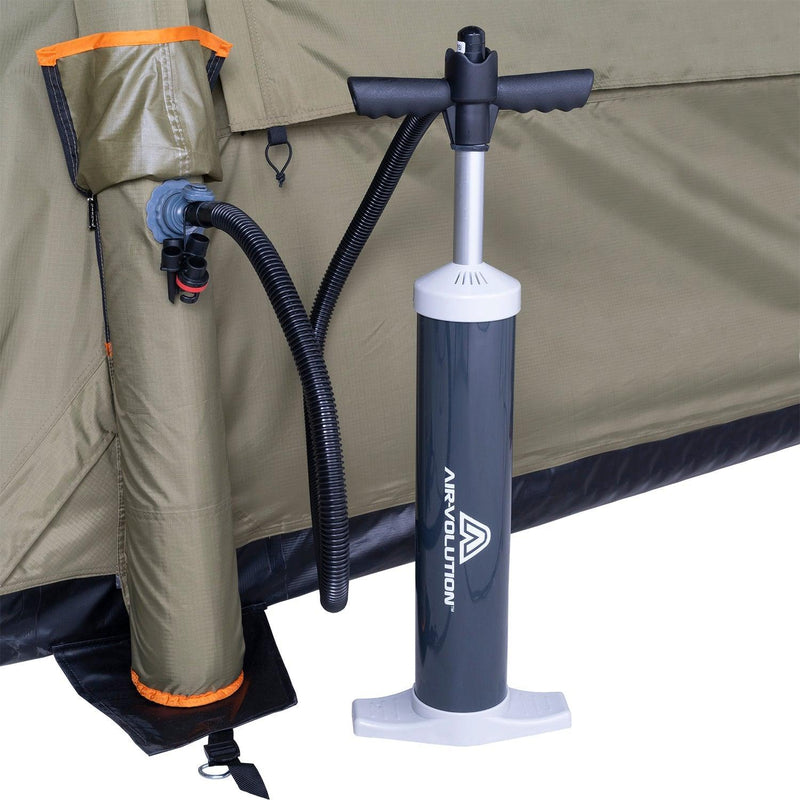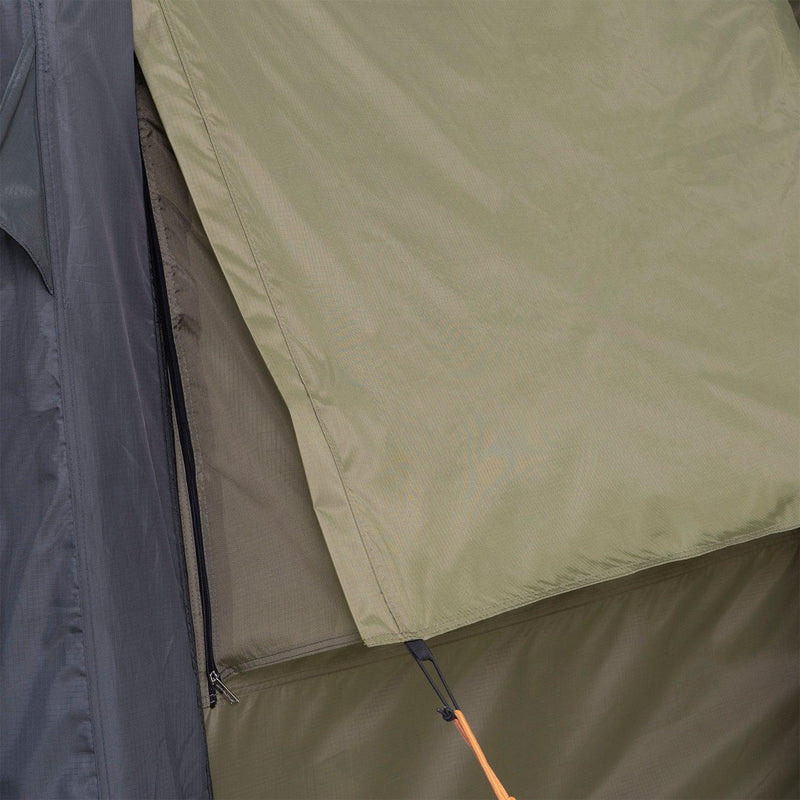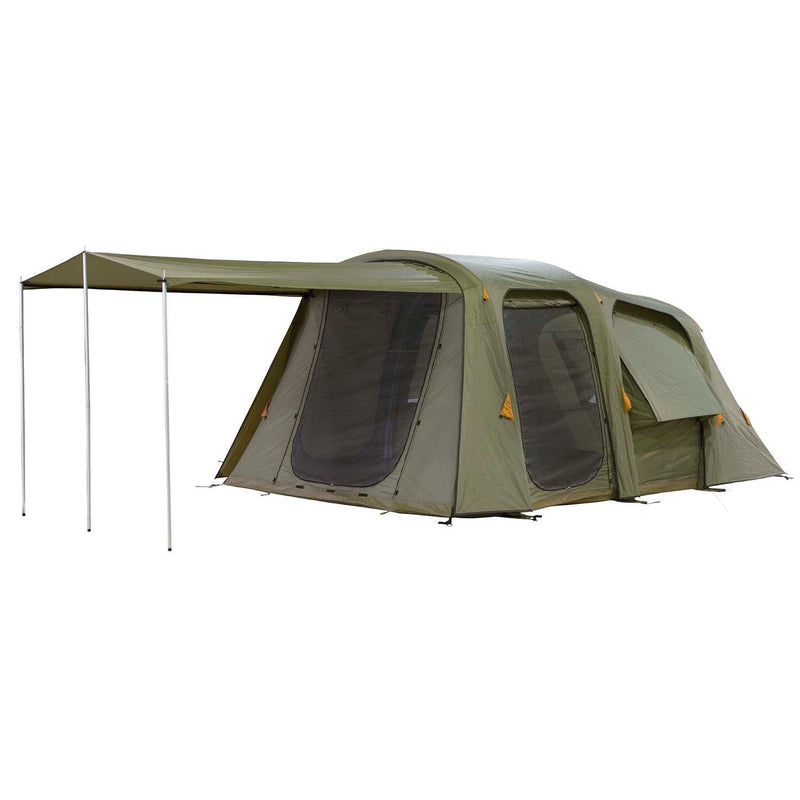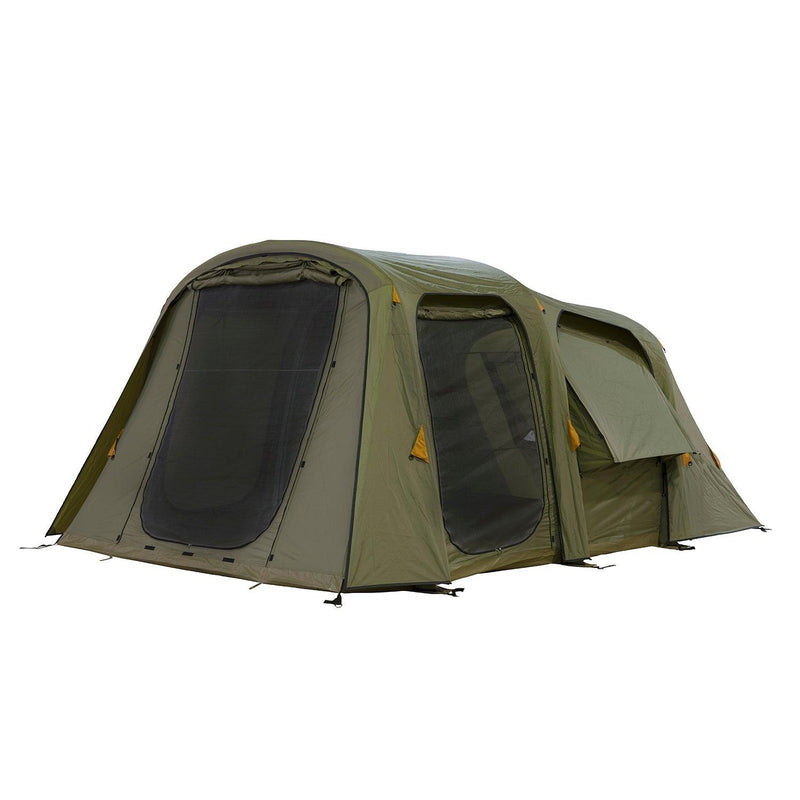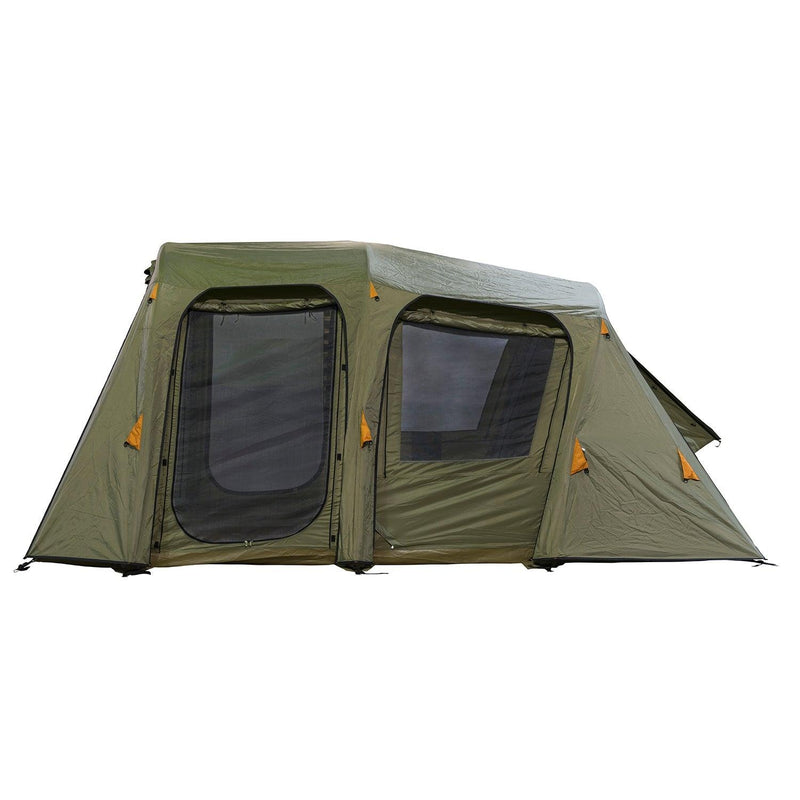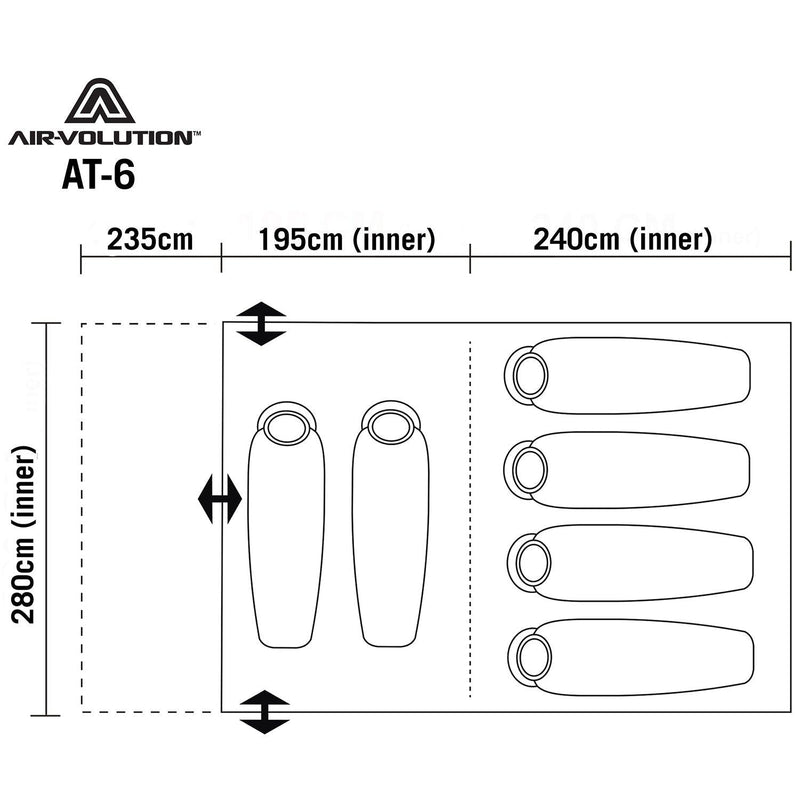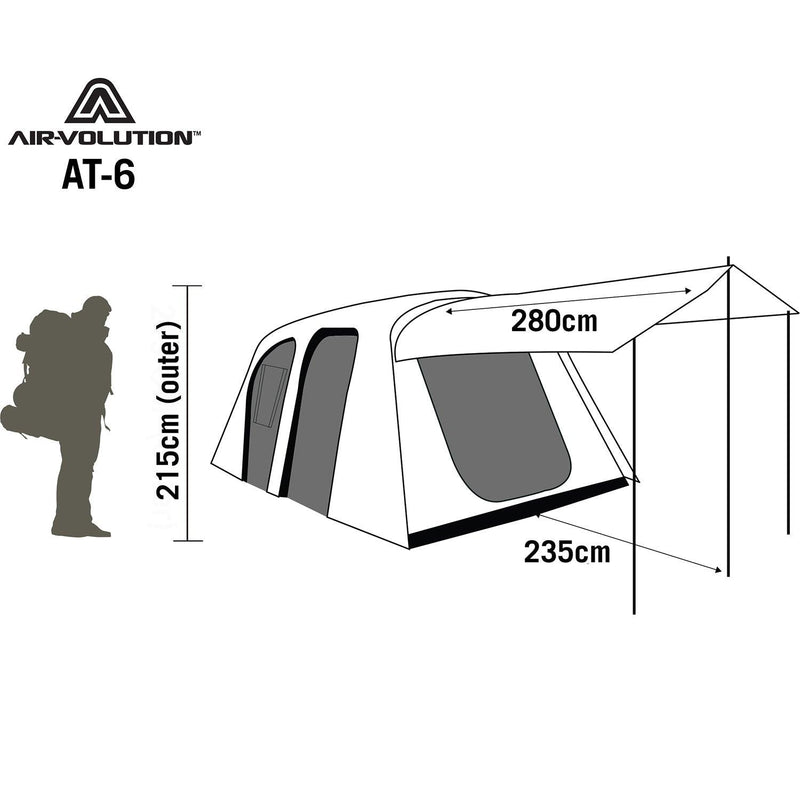 If you're looking for a heavy-duty tent that's a breeze to set up, look no further than the Air-Volution™.
With no pole assembly required, you'll be set up in just minutes with the patented Air-Volution™ technology. The puncture-resistant inflatable poles are made from heavy-duty TPU and covered with durable 300D PE pole sleeves for an extra level of protection, making them virtually indestructible. 
To set up, use the high-capacity hand pump to inflate the air poles housed in the body of the tent, then peg down the guy ropes and that's it!  No more lost, broken or poles left behind, you just roll out the AT-6, pump it up and you're camping! 
This roomy tent has space for six people so you can fit the whole family in. The zippered front entry and three large gusseted windows give you plenty of ventilation – keeping you cool on those hot summer nights, while the super-fine mesh on all doors and windows will keep the mozzies away. With an additional zippered mesh panel in the roof you will be drifting off under the starry night sky on your next outdoor adventure.
The massive zip-on front awning gives you plenty of shade or added shelter in rainy weather. There are also optional awning walls available (sold separately) for extended cover and can be easily zipped on as needed.
The Air-Volution™ tents have been wind tested by Monash University, so we know they're tough. The AT-6 body, fly and awning are made from tough 210D ripstop polyester oxford. This tent has an impressive PU 1500mm water rating and seam sealing that will keep you dry in extended rainy conditions, giving you great protection from the elements all year round.
Pack up is as simple as releasing the air valves and down she goes. Roll it up and pack away into the included carry bag for another day.
Quick setup and packdown with inflatable poles
Puncture-resistant air poles that require no assembly
Exceptional ventilation with zippered sky window, gusset windows and large entry
Extra large front entry that converts to awning
Protection from the mozzies and other bugs with fine insect mesh on all windows
All-season protection including seam sealing and fly
Wind tested to withstand a constant wind speed of 69kph
Includes high capacity hand pump with hose and pressure release valve to prevent overinflation
Includes awning poles, pegs and guy ropes
Includes carry bag
Awning wall kit available (sold separately)
Tent Material

210D Ripstop Polyester Oxford

Tent Waterhead Rating

PU 1500mm Water Rated

Floor Material

400gsm PVC

Frame Material

Ø100mm Thermoplastic Polyurethane Air Poles

Max Head Height

2000mm

Gender

Sleeping Bag Comfort

Maximum Volume

L

Fits

Sleeping Capacity

External Dimensions

mm

Sleeping Area

mm

Packed Dimensions

mm

Rated Capacity

kg

Coverage

Internal Storage and Bedding

Valve Quantity

Internal Dimensions

mm

Suits Product

Weight

kg

Warranty
DOWNLOADS
FEATURES
Quick setup and packdown with inflatable poles
Puncture-resistant air poles that require no assembly
Exceptional ventilation with zippered sky window, gusset windows and large entry
Extra large front entry that converts to awning
Protection from the mozzies and other bugs with fine insect mesh on all windows
All-season protection including seam sealing and fly
Wind tested to withstand a constant wind speed of 69kph
Includes high capacity hand pump with hose and pressure release valve to prevent overinflation
Includes awning poles, pegs and guy ropes
Includes carry bag
Awning wall kit available (sold separately)
SPECIFICATIONS
Tent Material

210D Ripstop Polyester Oxford

Tent Waterhead Rating

PU 1500mm Water Rated

Floor Material

400gsm PVC

Frame Material

Ø100mm Thermoplastic Polyurethane Air Poles

Max Head Height

2000mm

Gender

Sleeping Bag Comfort

Maximum Volume

L

Fits

Sleeping Capacity

External Dimensions

mm

Sleeping Area

mm

Packed Dimensions

mm

Rated Capacity

kg

Coverage

Internal Storage and Bedding

Valve Quantity

Internal Dimensions

mm

Suits Product

Weight

kg

Warranty
DOWNLOADS