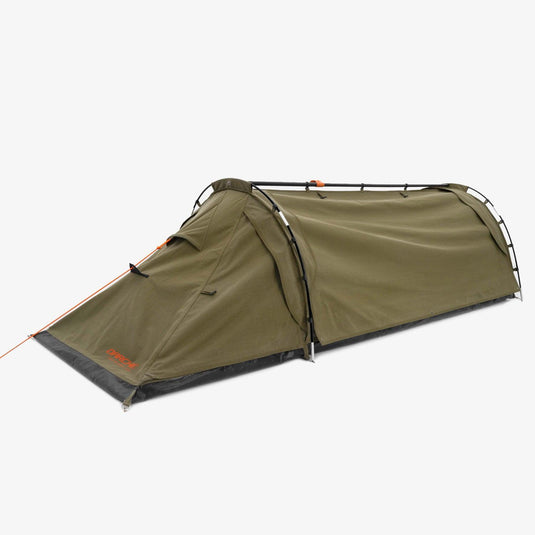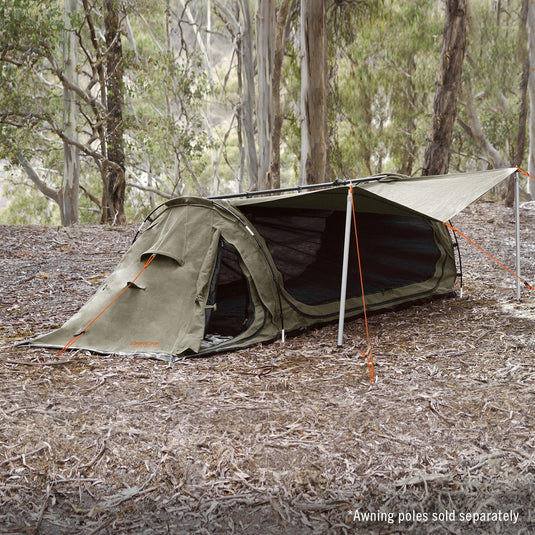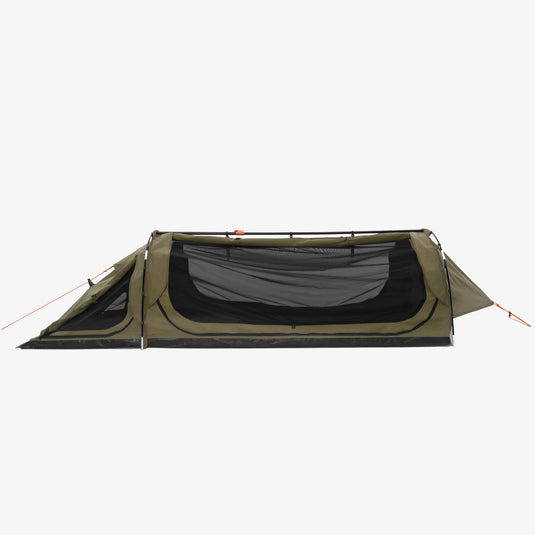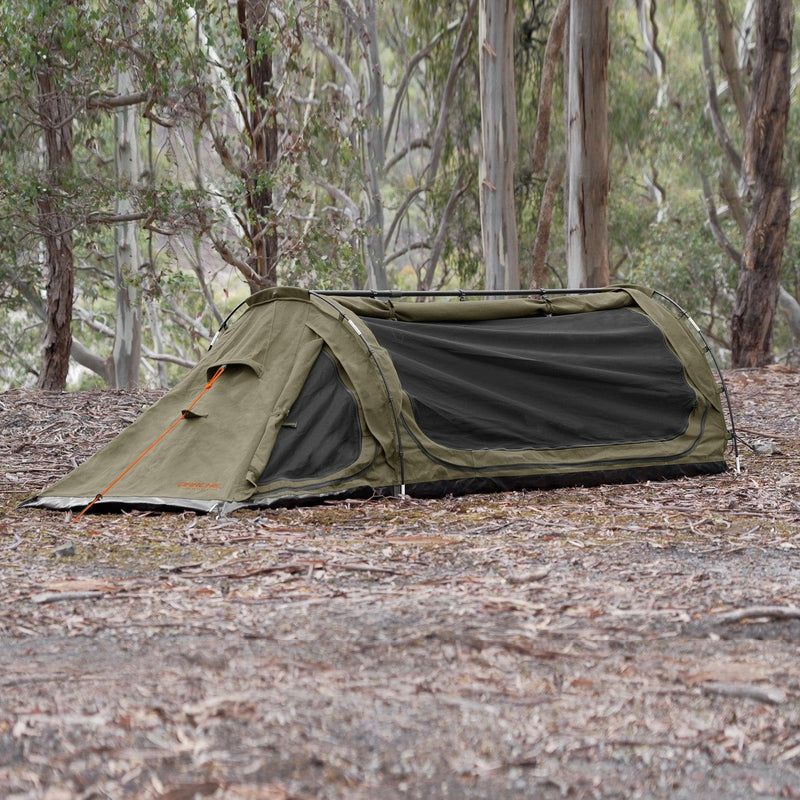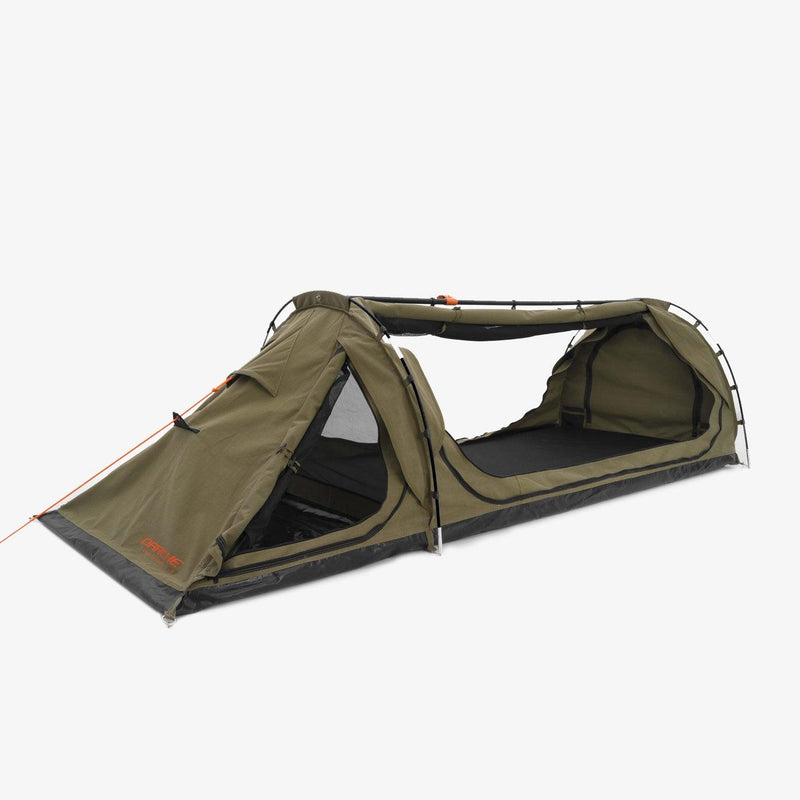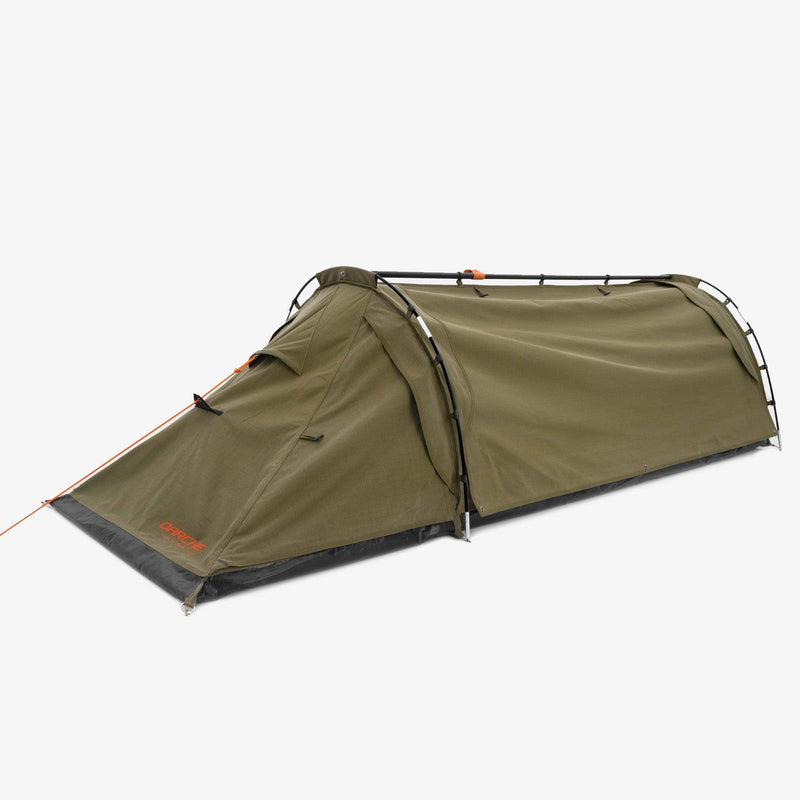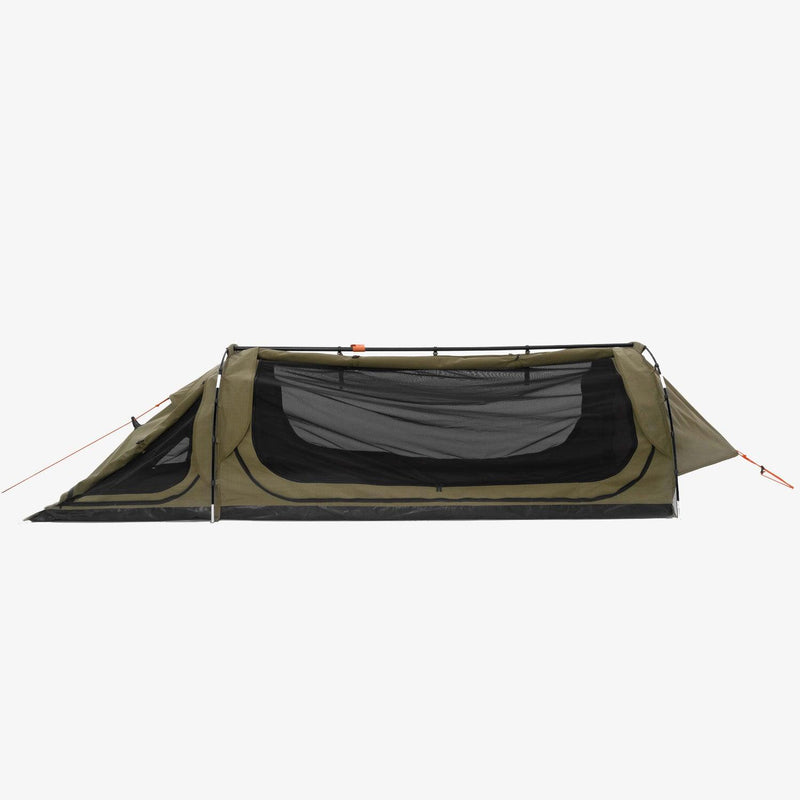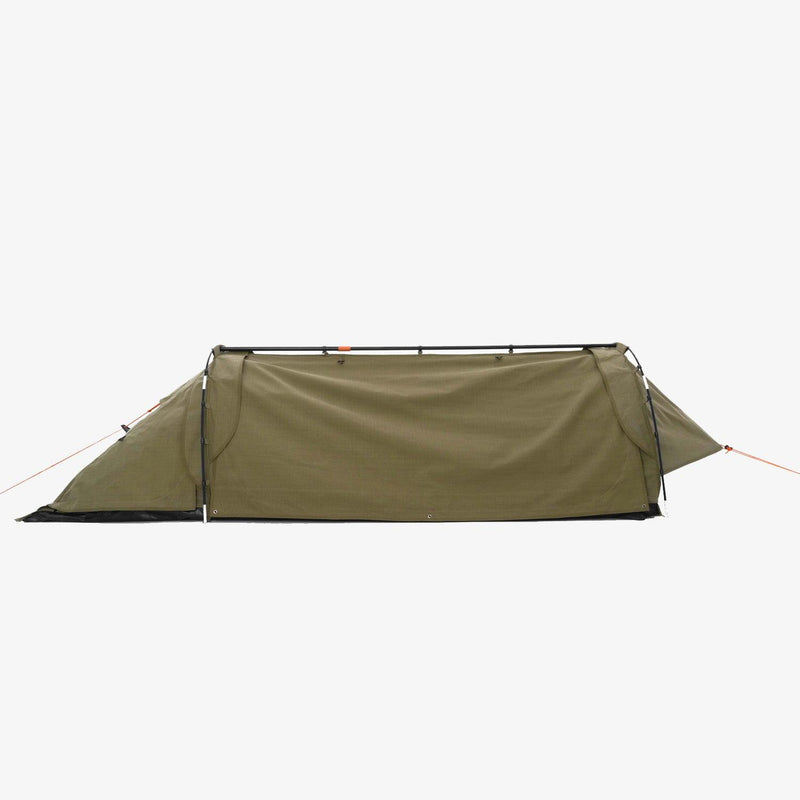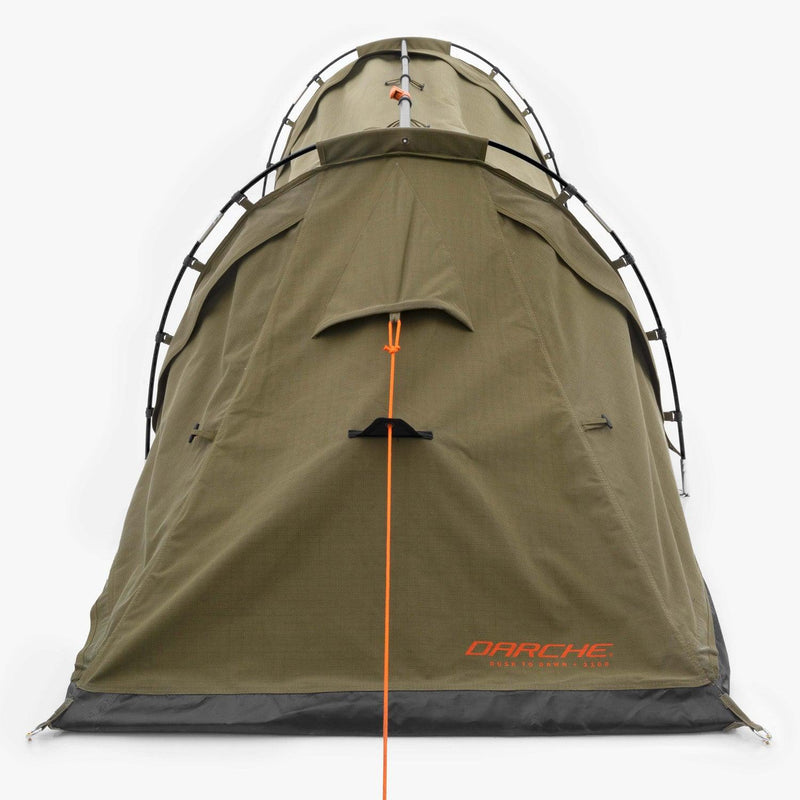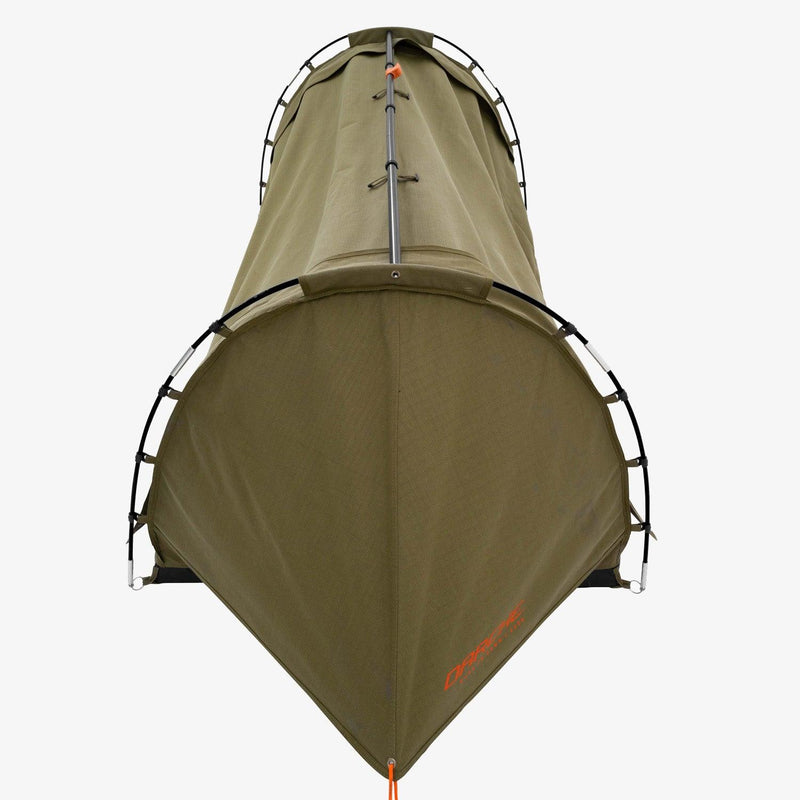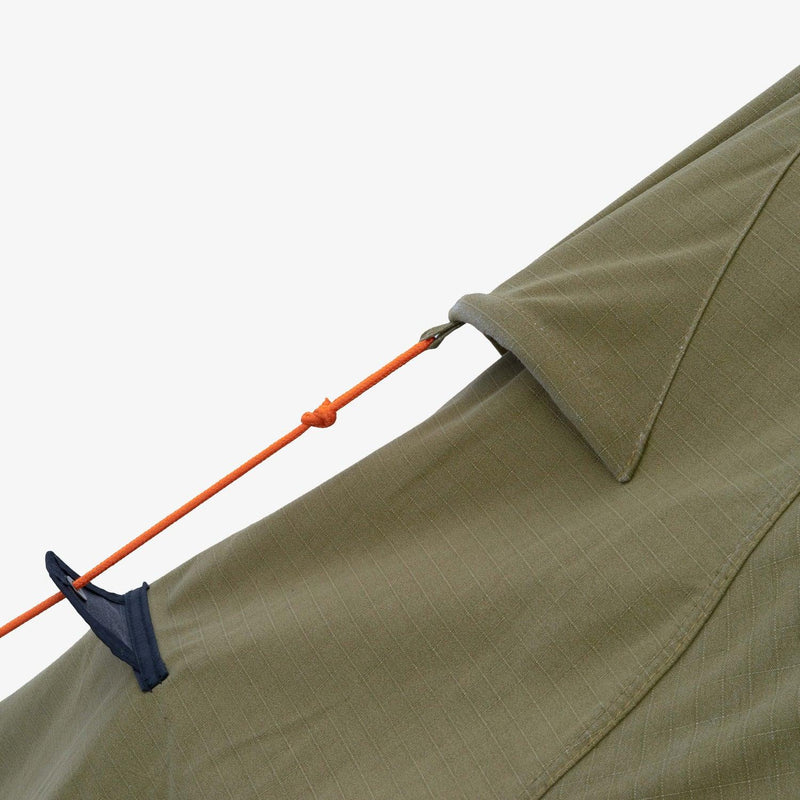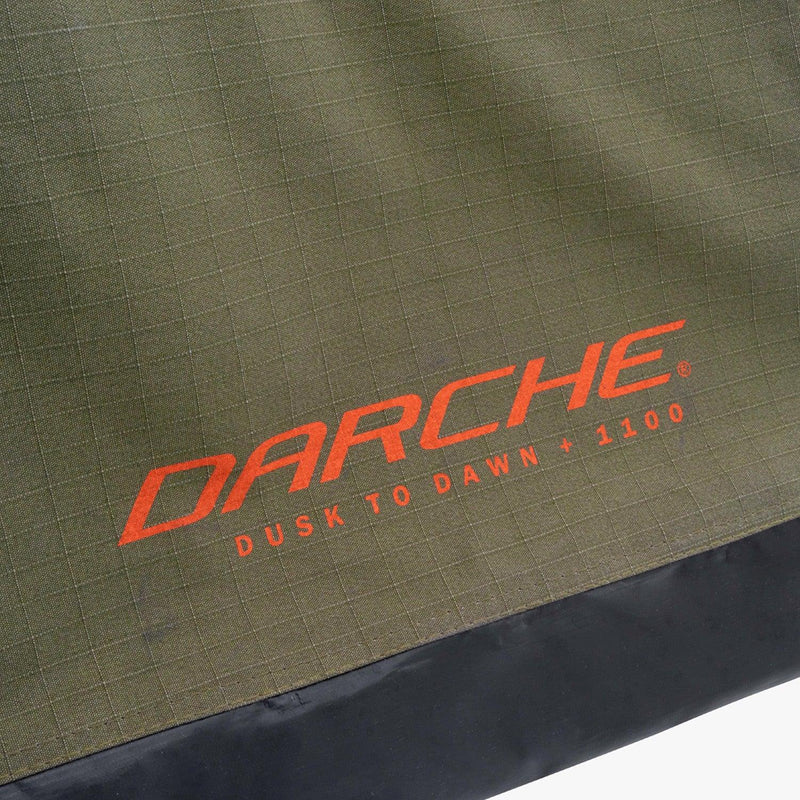 The DARCHE Dusk to Dawn Plus+ Swag including built in Hutch® is available in 3 sizes: 900, 1100 and 1400.
With all of your favourite Dusk to Dawn features, the Dusk to Dawn Plus + packs a punch in terms of space and storage with the inclusion of the Hutch® compartment to store your gear.  With two external access doors plus the convenient 'in swag' access panel through to the Hutch®,  you can keep your gear dry and access it from inside or outside of the swag. Store your gear bag or your muddy boots away from your sleeping quarters, keep the beer and fire wood dry or even let the dog bunk in!
For those who love the classic Dusk to Dawn design, this version features the same full length canvas storm flaps on both sides, giving you uninterrupted views from sunrise to sunset, perfect for those campers that want to drift off under starry night views.
Setup takes a couple of minutes with two composite poles, plus the unique trigger lock ridge pole. The freestanding design is spacious and gives you plenty of head room to move around.
With two massive super-fine mesh doors and a zip down ventilation window with storm flap, this swag has unparalleled ventilation, keeping you cool while ensuring you're well protected from the elements all year round. The canvas storm covers can either be rolled up or converted to awnings, giving you extra shade and protection in all weather conditions.
The Dusk To Dawn Plus  +  is made from premium 420gsm ripstop polycotton canvas with an impressive 800mm waterhead rating. There's also internal seam sealing and a reinforced, heavy-duty 600gsm PVC bucket floor to keep you dry in rainy conditions. 
This swag includes a premium quality, high-density 70mm foam mattress with a removable cover. The canvas swag bag is made from the same quality canvas as the swag and is great for storage and protects the swag when you're on the road. 
The perfect upgrade for loyal Dusk to Dawn fans.
Premium quality 420gsm ripstop polycotton canvas 
Incorporates DARCHE's unique storage Hutch® with in-swag access panel through to the Hutch® plus external doors to access your gear
Exceptional ventilation with two full length doors and a zip down ventilation window with storm flap
Storm covers convert to awnings for extra cover in all weather conditions (poles not included)
High-density foam mattress with removable cover
Protection from the mozzies and other bugs with fine insect mesh on all doors and windows
All-season protection including internal seam sealing and full length welded PVC bucket floor
Heavy-duty construction including no. 10 easy action zips on all windows and doors
Four internal storage pockets to stash your gear
Internal light hanging loops
Includes pegs and guy ropes
Includes canvas swag bag with side grab handles, tensioning straps and stainless steel D-rings
Mat Thickness

70mm High Density Foam

Material

420gsm / 12oz Ripstop Polycotton Canvas

Mesh

125gsm / 3.7oz Super-fine Polyester Insect Mesh

Floor Material

600gsm / 18oz PVC with Welded Corners

Frame

Ø10mm Composite Swag Poles | Ø22/25mm Telescopic Ridge Pole with Trigger Lock

Waterhead Rating

800mm Water Rated

Gender

Sleeping Bag Comfort

Maximum Volume

L

Fits

Sleeping Capacity

External Dimensions

mm

Sleeping Area

mm

Packed Dimensions

mm

Rated Capacity

kg

Coverage

Internal Storage and Bedding

Valve Quantity

Internal Dimensions

mm

Suits Product

Weight

kg

Warranty
DOWNLOADS
FEATURES
Premium quality 420gsm ripstop polycotton canvas 
Incorporates DARCHE's unique storage Hutch® with in-swag access panel through to the Hutch® plus external doors to access your gear
Exceptional ventilation with two full length doors and a zip down ventilation window with storm flap
Storm covers convert to awnings for extra cover in all weather conditions (poles not included)
High-density foam mattress with removable cover
Protection from the mozzies and other bugs with fine insect mesh on all doors and windows
All-season protection including internal seam sealing and full length welded PVC bucket floor
Heavy-duty construction including no. 10 easy action zips on all windows and doors
Four internal storage pockets to stash your gear
Internal light hanging loops
Includes pegs and guy ropes
Includes canvas swag bag with side grab handles, tensioning straps and stainless steel D-rings
SPECIFICATIONS
Mat Thickness

70mm High Density Foam

Material

420gsm / 12oz Ripstop Polycotton Canvas

Mesh

125gsm / 3.7oz Super-fine Polyester Insect Mesh

Floor Material

600gsm / 18oz PVC with Welded Corners

Frame

Ø10mm Composite Swag Poles | Ø22/25mm Telescopic Ridge Pole with Trigger Lock

Waterhead Rating

800mm Water Rated

Gender

Sleeping Bag Comfort

Maximum Volume

L

Fits

Sleeping Capacity

External Dimensions

mm

Sleeping Area

mm

Packed Dimensions

mm

Rated Capacity

kg

Coverage

Internal Storage and Bedding

Valve Quantity

Internal Dimensions

mm

Suits Product

Weight

kg

Warranty
DOWNLOADS
DIMENSIONS