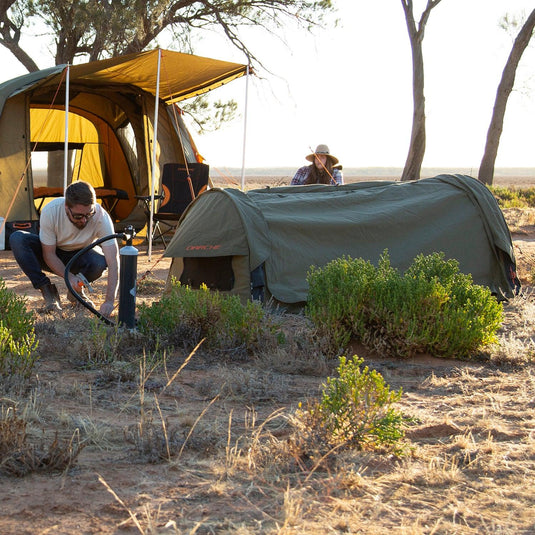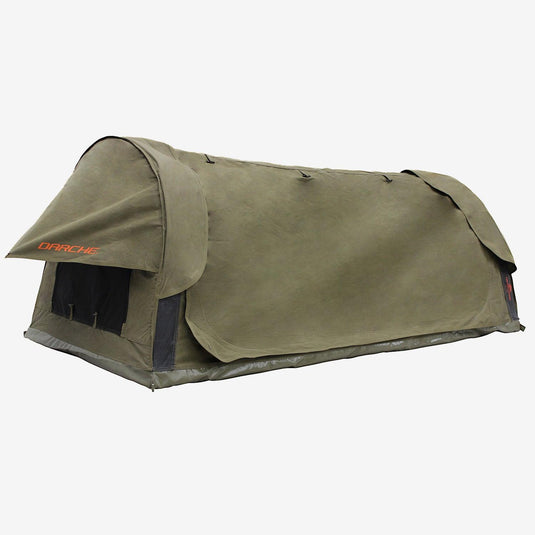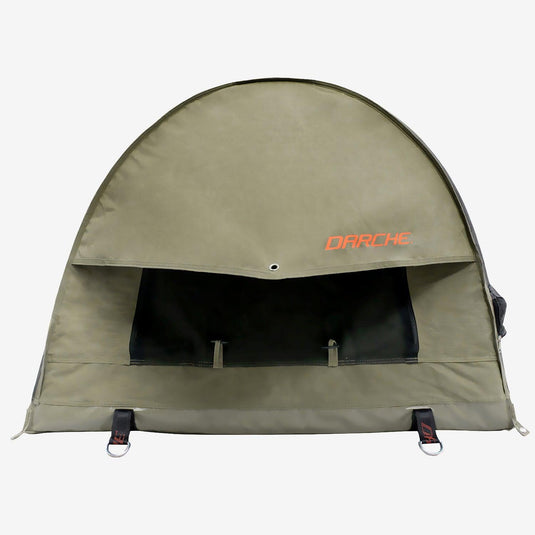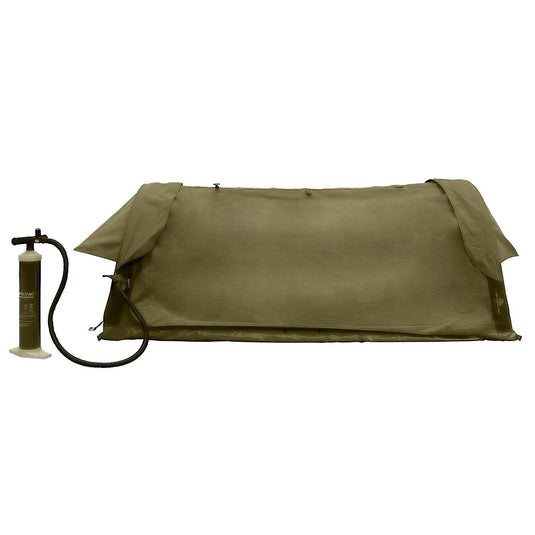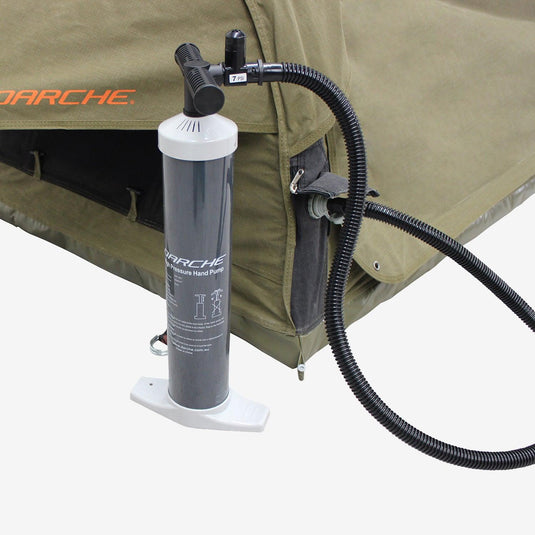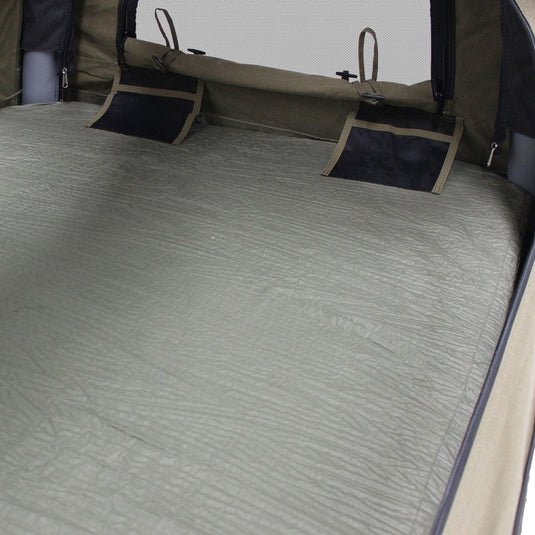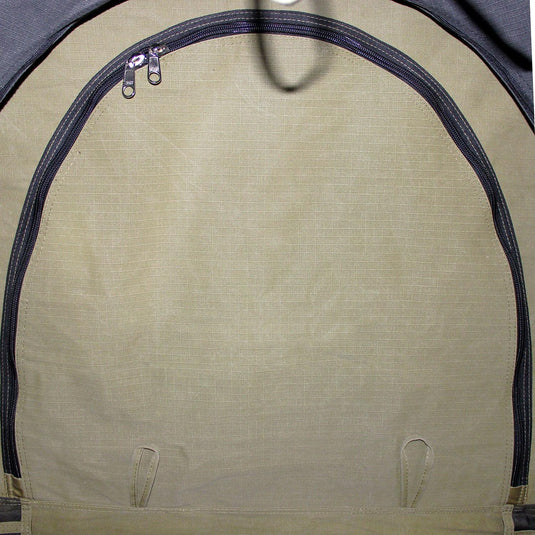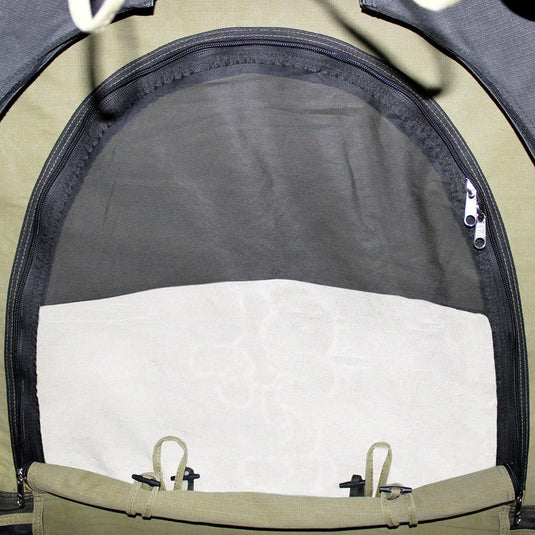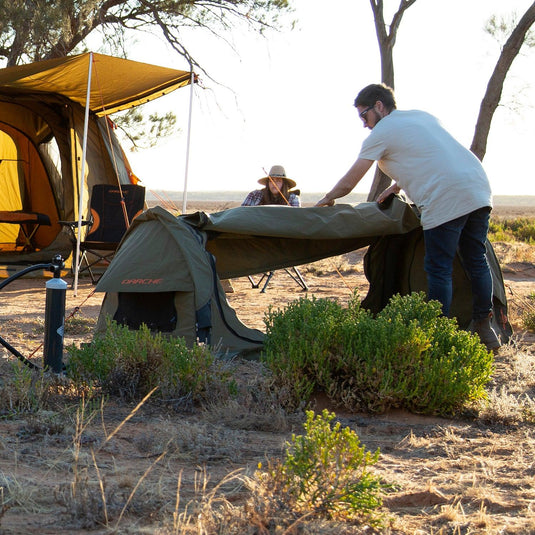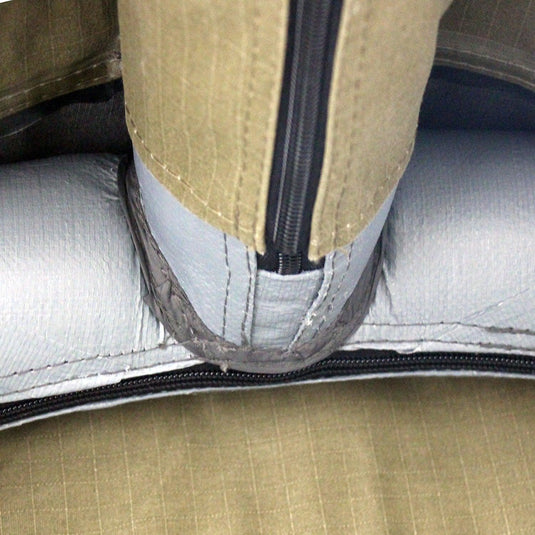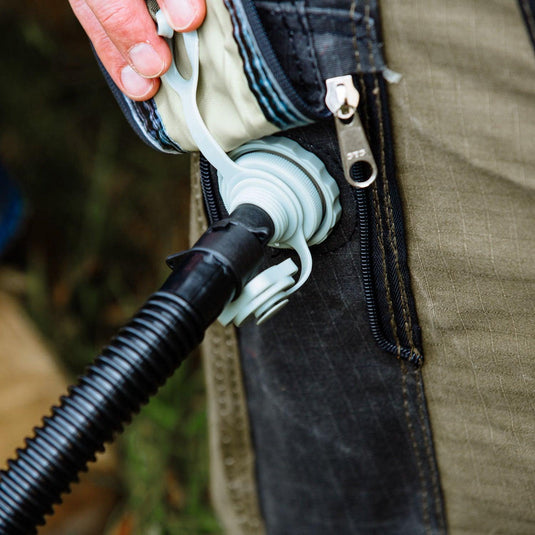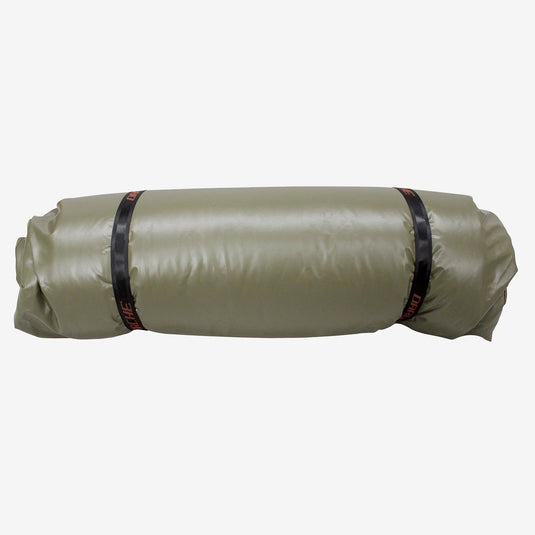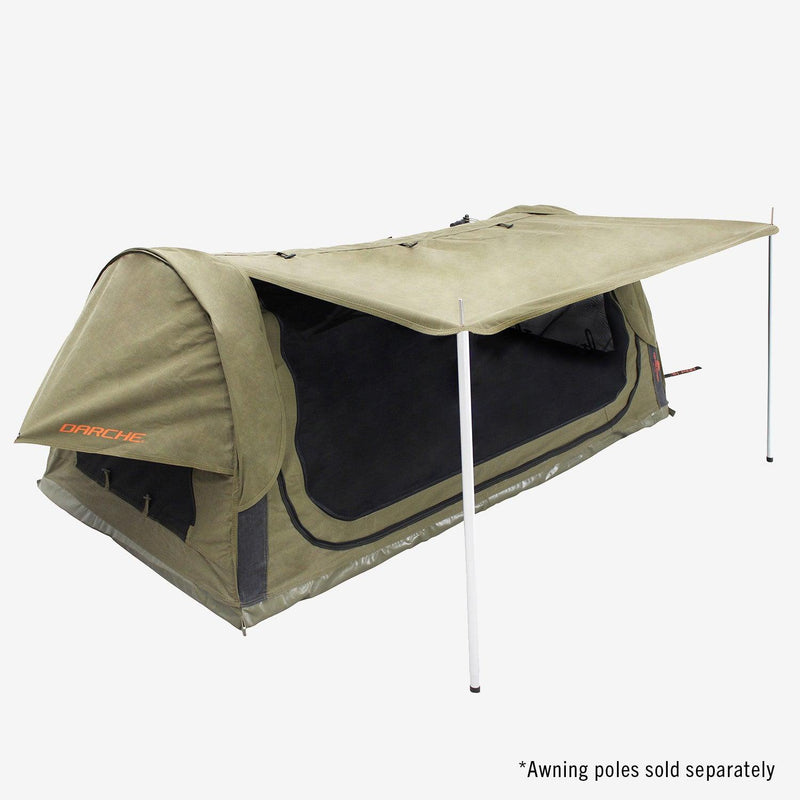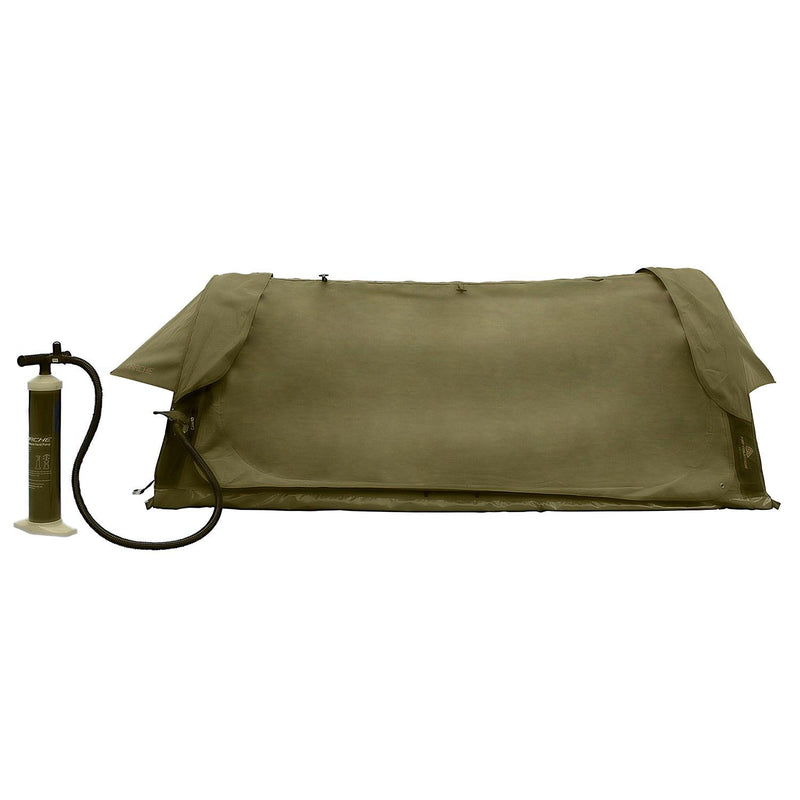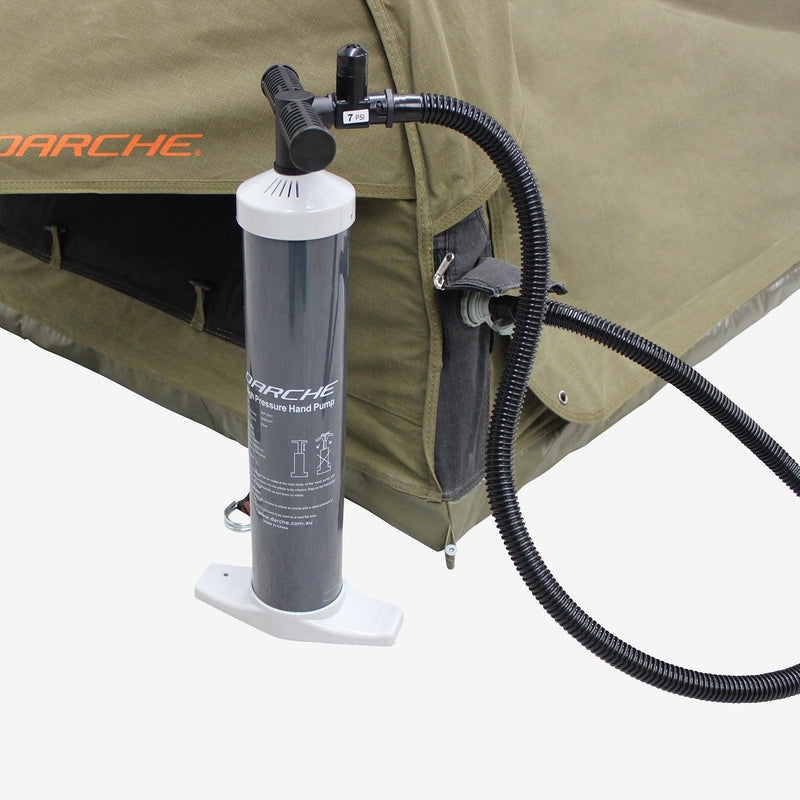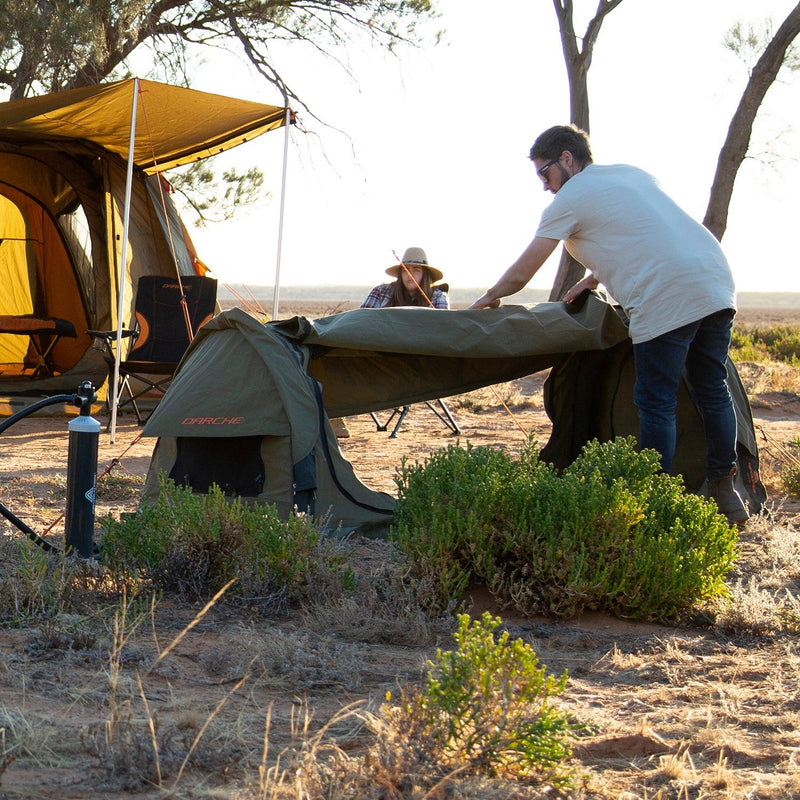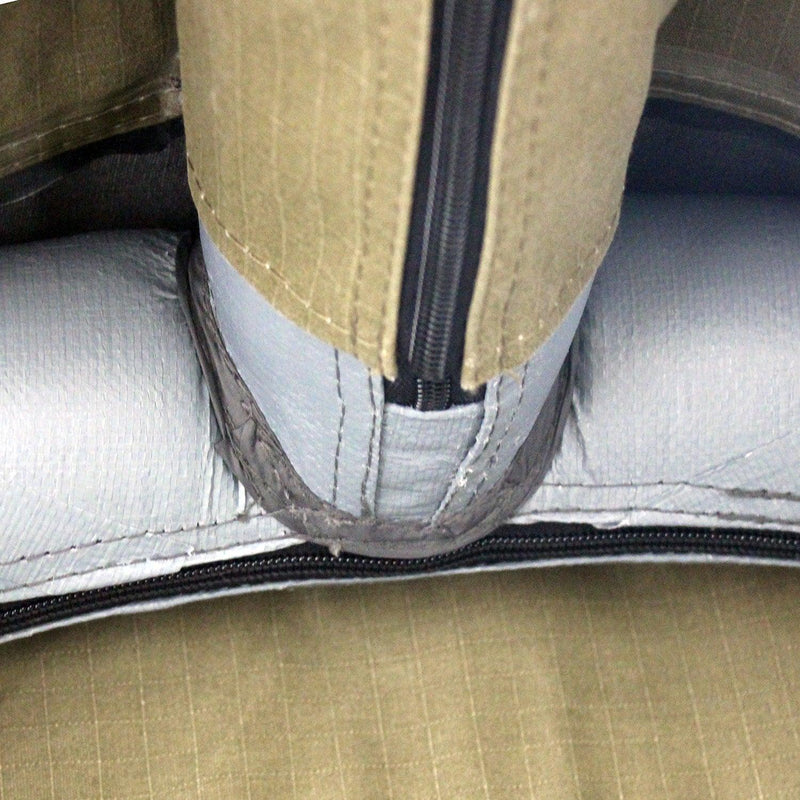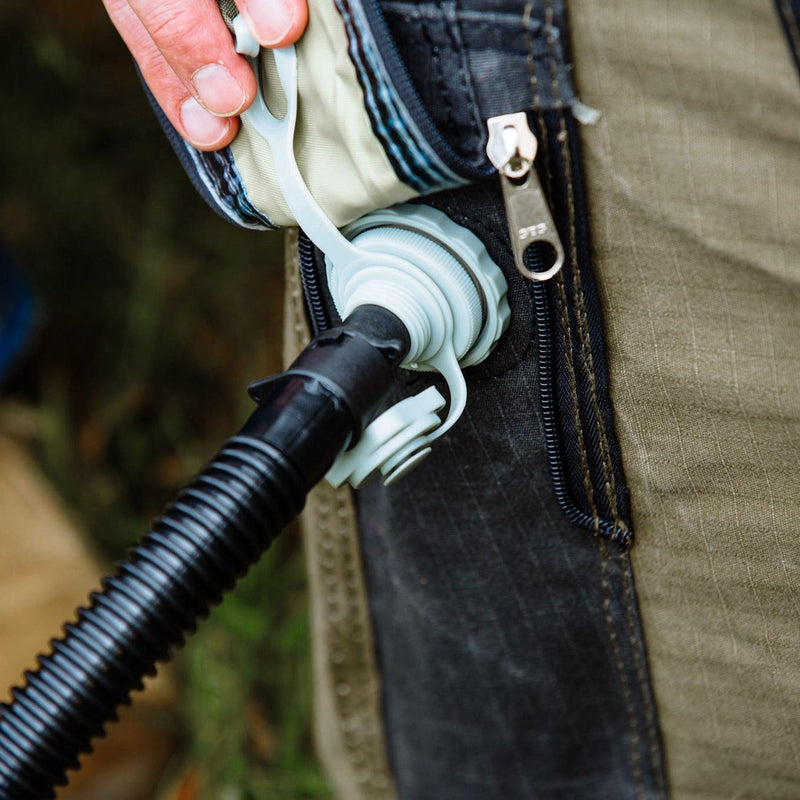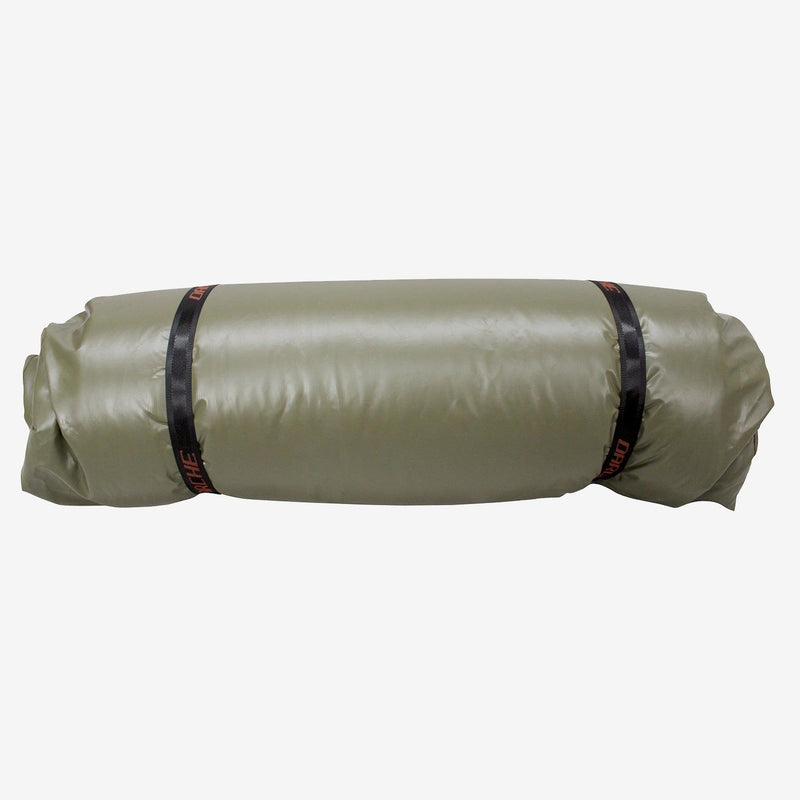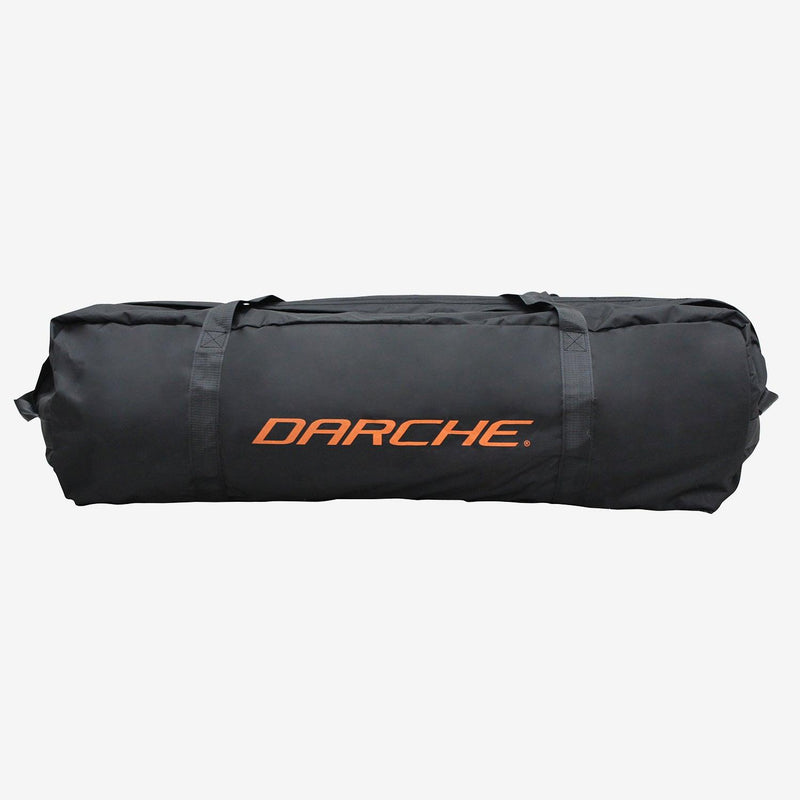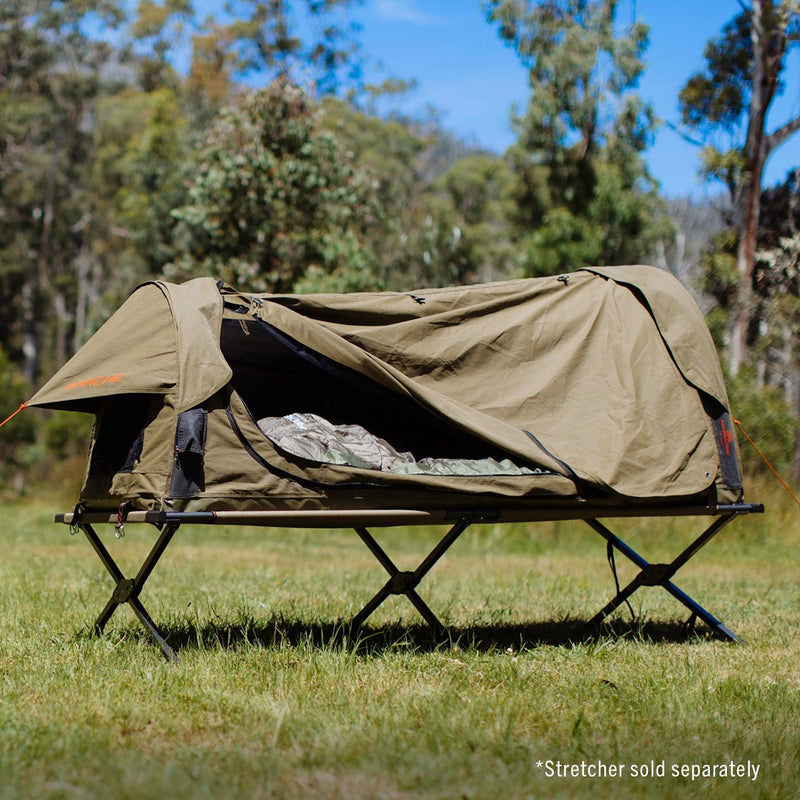 DARCHE Air-Volution™ Air Dome Series  is a top of the line swag that gives you an instant set up in all weather conditions, anywhere you want to take it. 
You'll be set up in just 20 seconds with the patented Air-Volution™ inflation system. The puncture-resistant poles are made from heavy-duty TPU and covered with durable PE pole sleeves for an extra level of protection, making them virtually indestructible. 
To set up, just hook up the high-capacity hand pump to the single inflation point and you'll be set to snooze in seconds. 
With no external poles required, it's completely freestanding – perfect for the stretcher, the back of the ute, the shed, the veranda – anywhere you want to lay your weary bones. 
The Air-Volution™ Swag is made from tough 320gsm ripstop polycotton canvas with a reinforced 600gsm PVC bucket floor. Durable and suitable for all weather conditions, this swag has a PU 800mm water rating  that will keep you dry in the rain and, as with all DARCHE swags, the seams are tape sealed giving you the greatest protection from the elements all year round. 
The swag includes a premium quality, high-density 50mm mattress for maximum comfort, plus it has a removable polycotton cover. Full zip down heads and foot ventilation windows give you plenty of air – keeping you cool on those hot summer nights, while the super-fine mesh will keep the mozzies away. 
With flexible two way entry, the two massive canvas storm flaps roll up for greater ventilation and also convert to double awnings, giving you plenty of shade or added shelter in rainy weather.
Single inflation point inflates in less than 20 seconds
Puncture-resistant air poles that require no assembly
Exceptional ventilation with two full length doors and two zip down ventilation window with storm flaps
Storm covers convert to awnings for extra cover in all weather conditions (awning poles not included)
High-density foam mattress with removable cover
Protection from the mozzies and other bugs with fine insect mesh on all doors and windows
All-season protection including internal seam sealing and full length welded PVC bucket floor
Heavy-duty construction including no. 10 easy action zips on all windows and doors
Four Internal storage pockets to stash your gear
Includes high capacity hand pump
Includes pegs and guy ropes
Includes swag bag

Mat Thickness

50mm High Density Foam

Material

320gsm / 9oz Ripstop Polycotton Canvas

Mesh

125gsm / 3.7oz Super-fine Polyester Insect Mesh

Floor Material

600gsm / 18oz PVC with Welded Corners

Frame Material

80mm Thermoplastic Polyurethane Air Pole

Waterhead Rating

800mm Water Rated

Gender

Sleeping Bag Comfort

Maximum Volume

L

Fits

Sleeping Capacity

External Dimensions

mm

Sleeping Area

mm

Packed Dimensions

mm

Rated Capacity

kg

Coverage

Internal Storage and Bedding

Valve Quantity

Internal Dimensions

mm

Suits Product

Weight

kg

Warranty
DOWNLOADS
FEATURES
Single inflation point inflates in less than 20 seconds
Puncture-resistant air poles that require no assembly
Exceptional ventilation with two full length doors and two zip down ventilation window with storm flaps
Storm covers convert to awnings for extra cover in all weather conditions (awning poles not included)
High-density foam mattress with removable cover
Protection from the mozzies and other bugs with fine insect mesh on all doors and windows
All-season protection including internal seam sealing and full length welded PVC bucket floor
Heavy-duty construction including no. 10 easy action zips on all windows and doors
Four Internal storage pockets to stash your gear
Includes high capacity hand pump
Includes pegs and guy ropes
Includes swag bag

SPECIFICATIONS
Mat Thickness

50mm High Density Foam

Material

320gsm / 9oz Ripstop Polycotton Canvas

Mesh

125gsm / 3.7oz Super-fine Polyester Insect Mesh

Floor Material

600gsm / 18oz PVC with Welded Corners

Frame Material

80mm Thermoplastic Polyurethane Air Pole

Waterhead Rating

800mm Water Rated

Gender

Sleeping Bag Comfort

Maximum Volume

L

Fits

Sleeping Capacity

External Dimensions

mm

Sleeping Area

mm

Packed Dimensions

mm

Rated Capacity

kg

Coverage

Internal Storage and Bedding

Valve Quantity

Internal Dimensions

mm

Suits Product

Weight

kg

Warranty
DOWNLOADS
DIMENSIONS