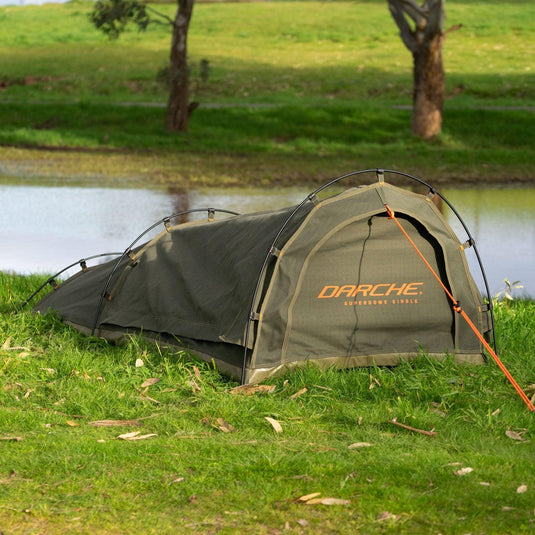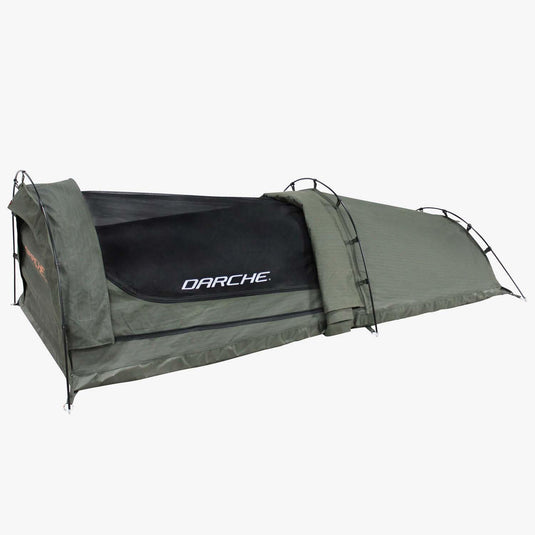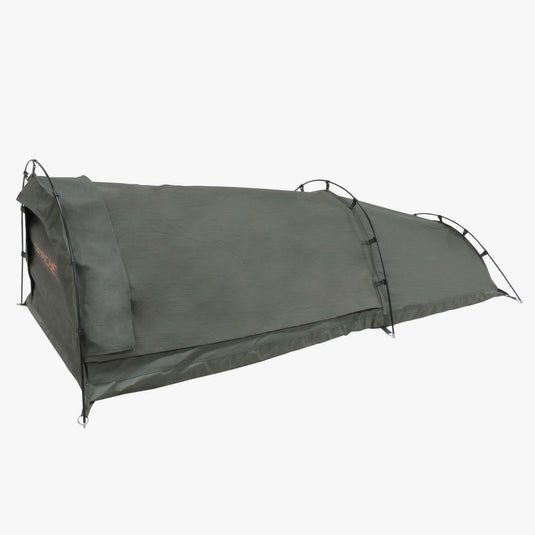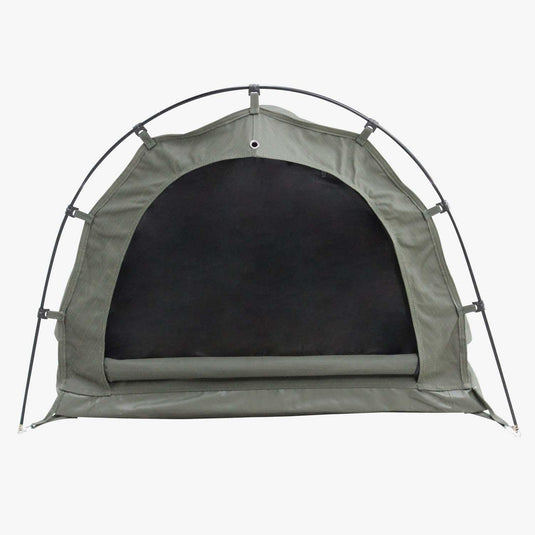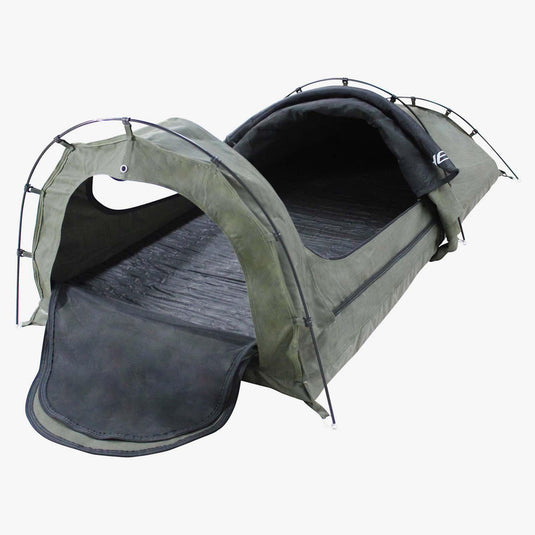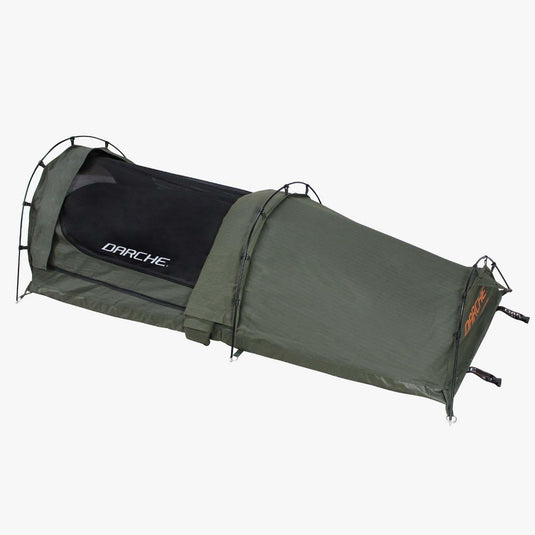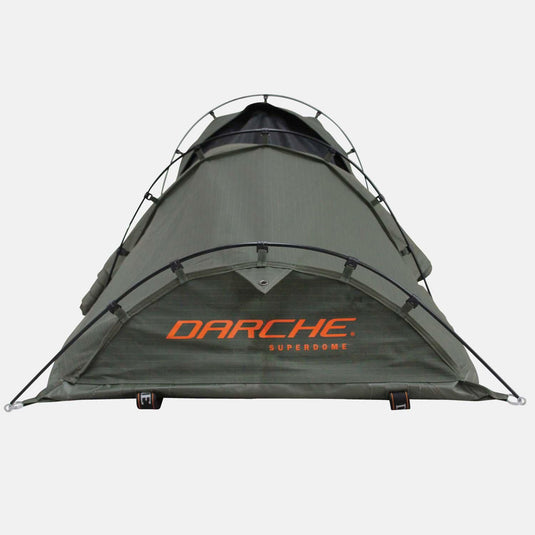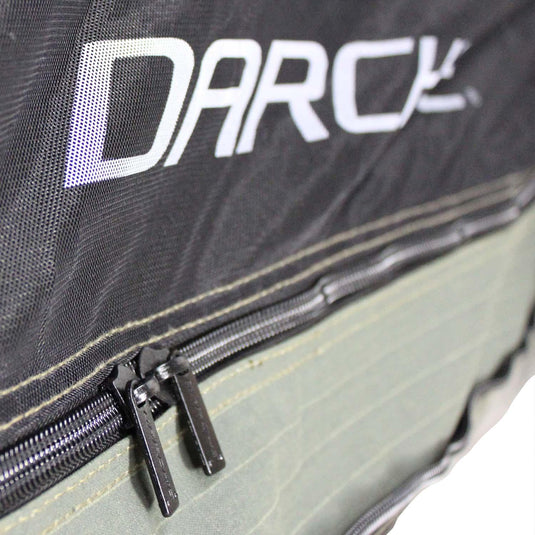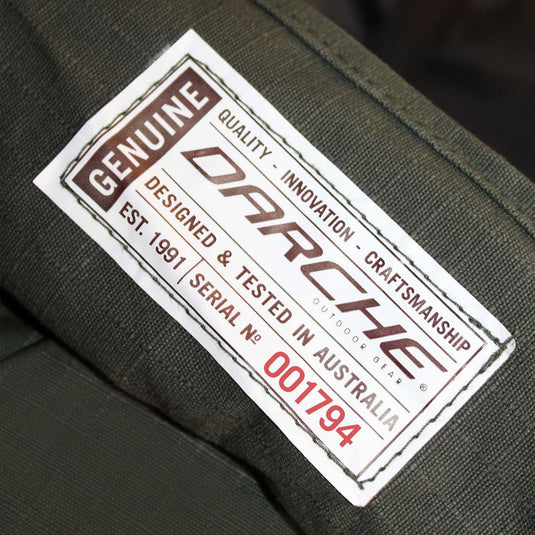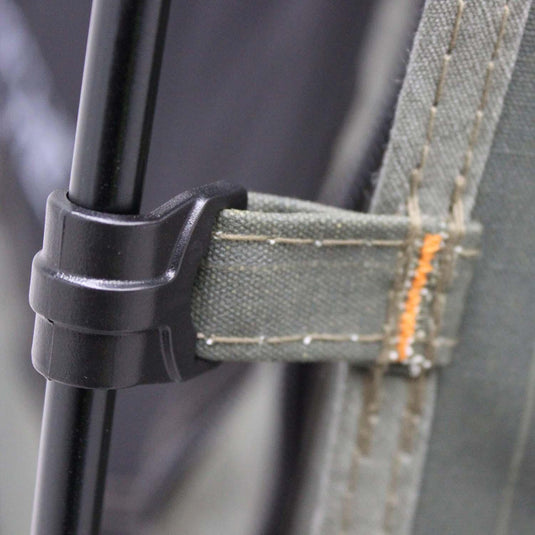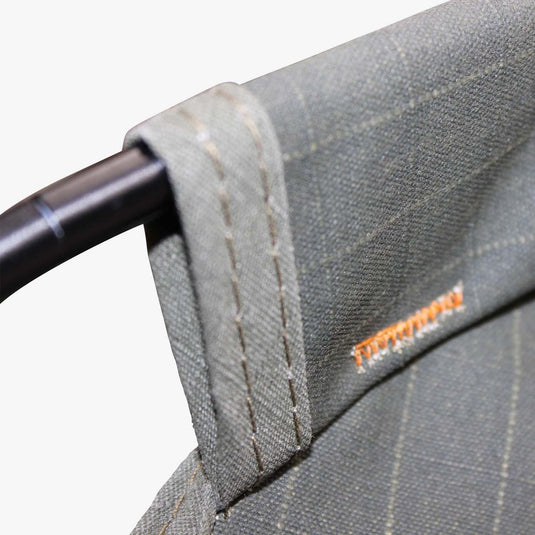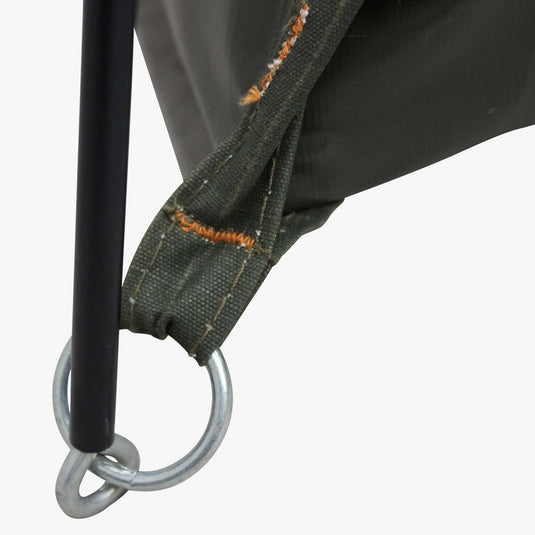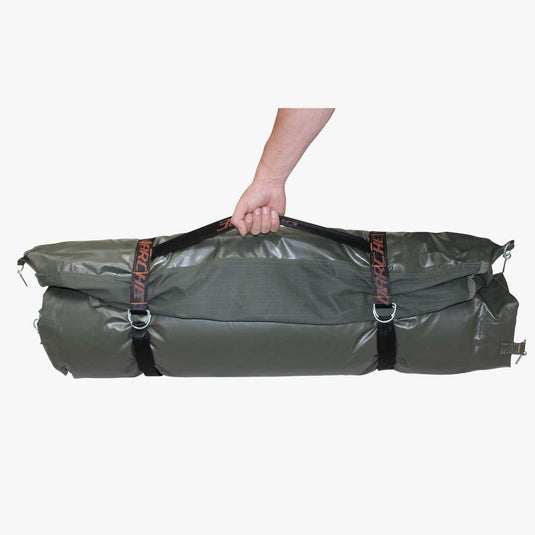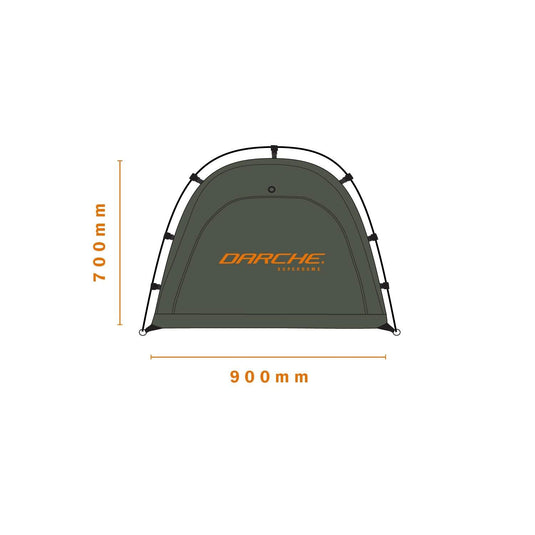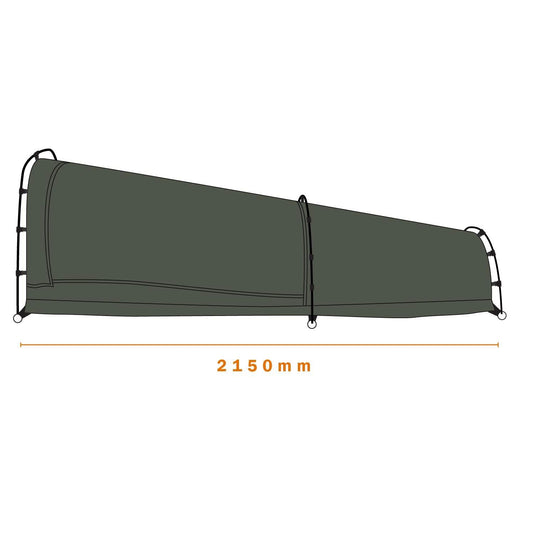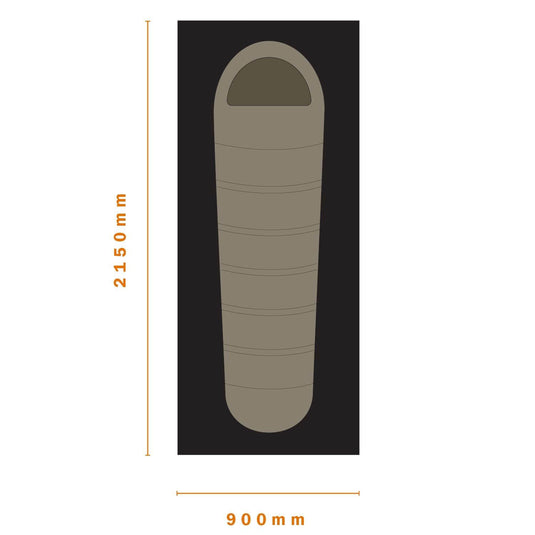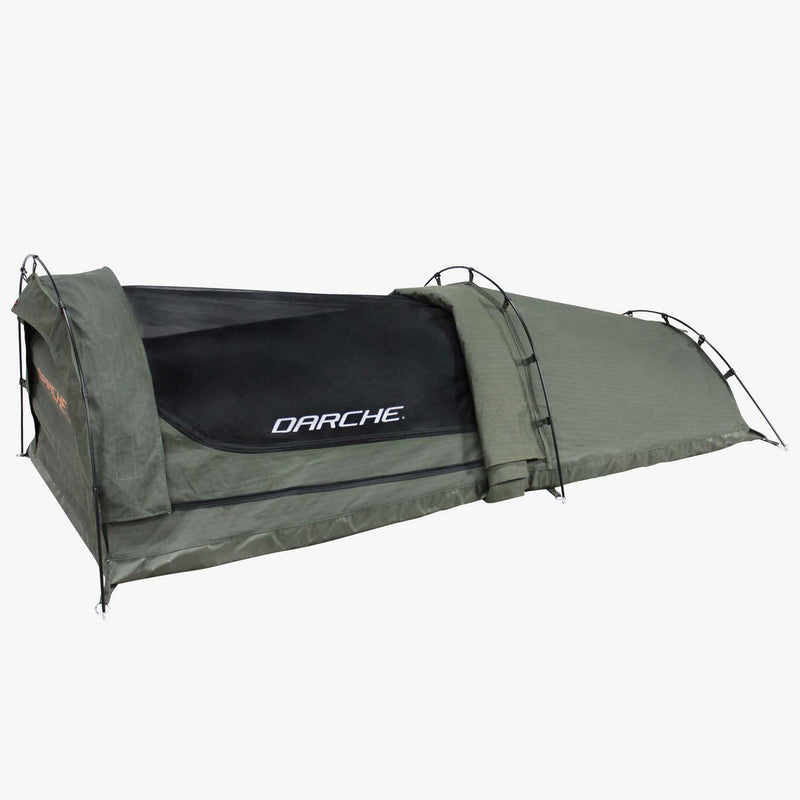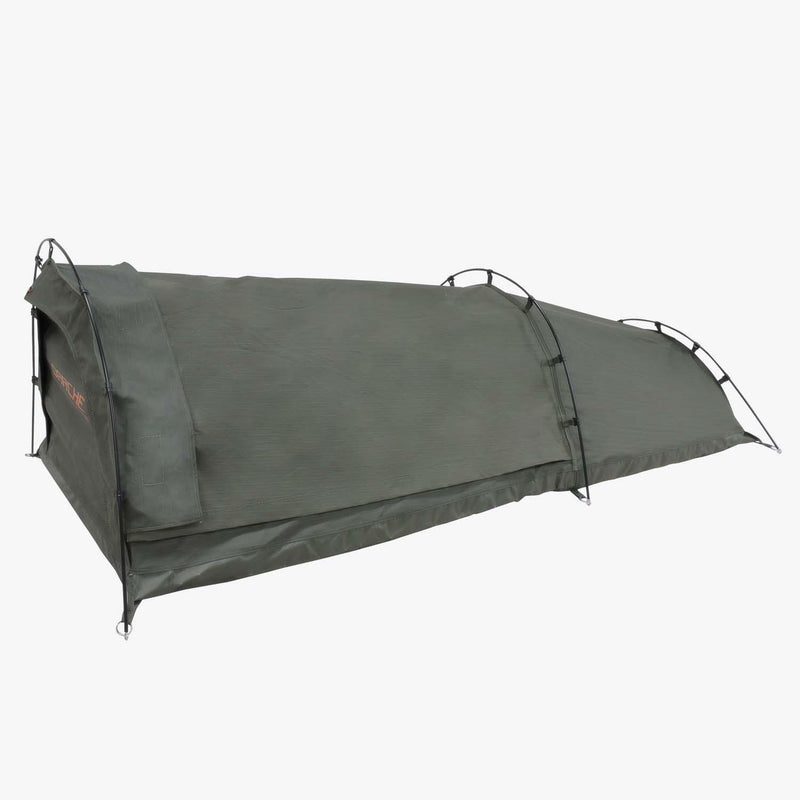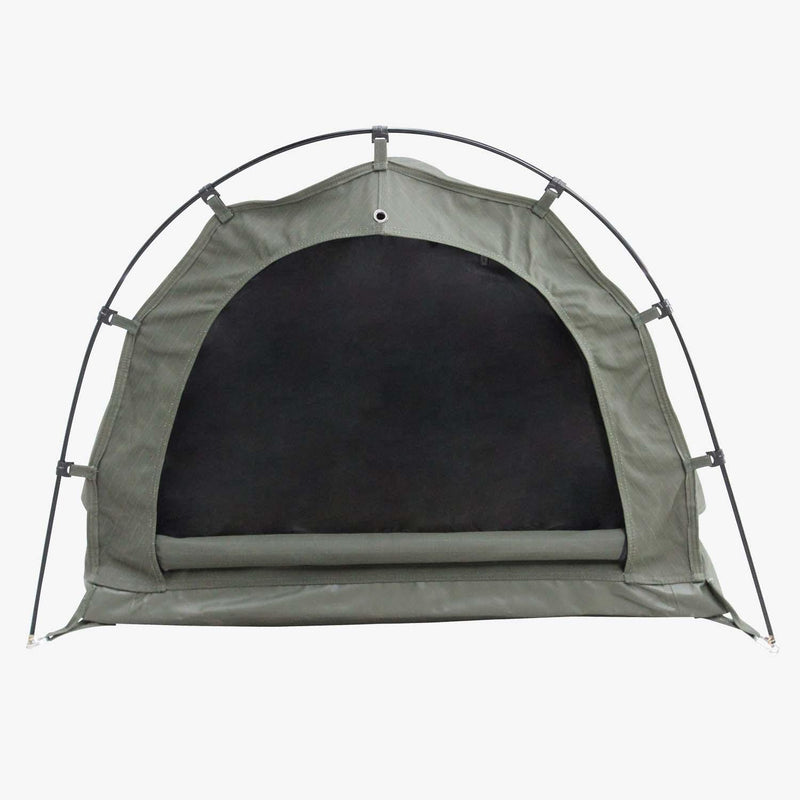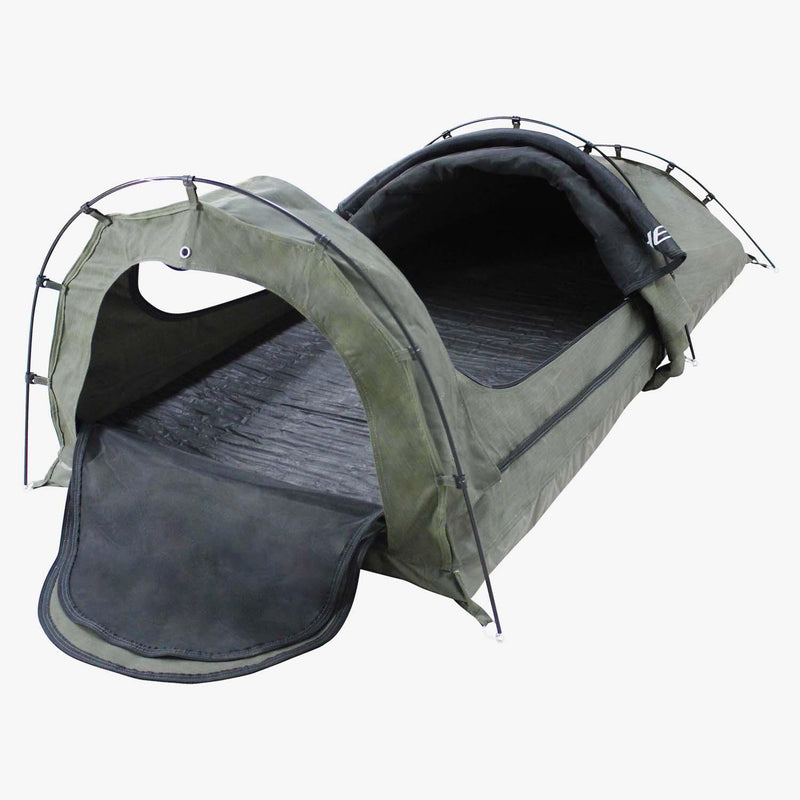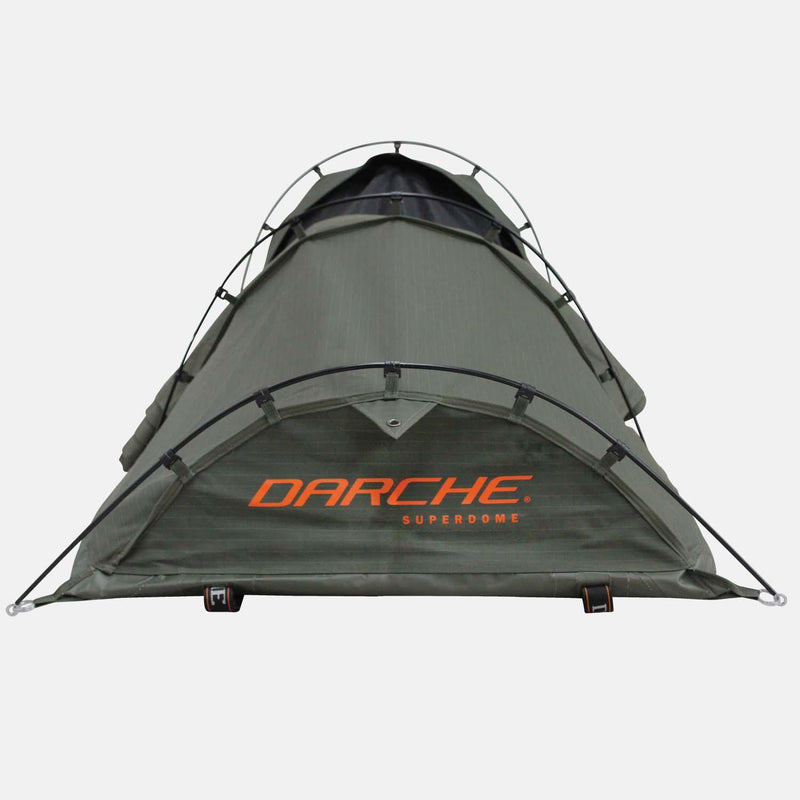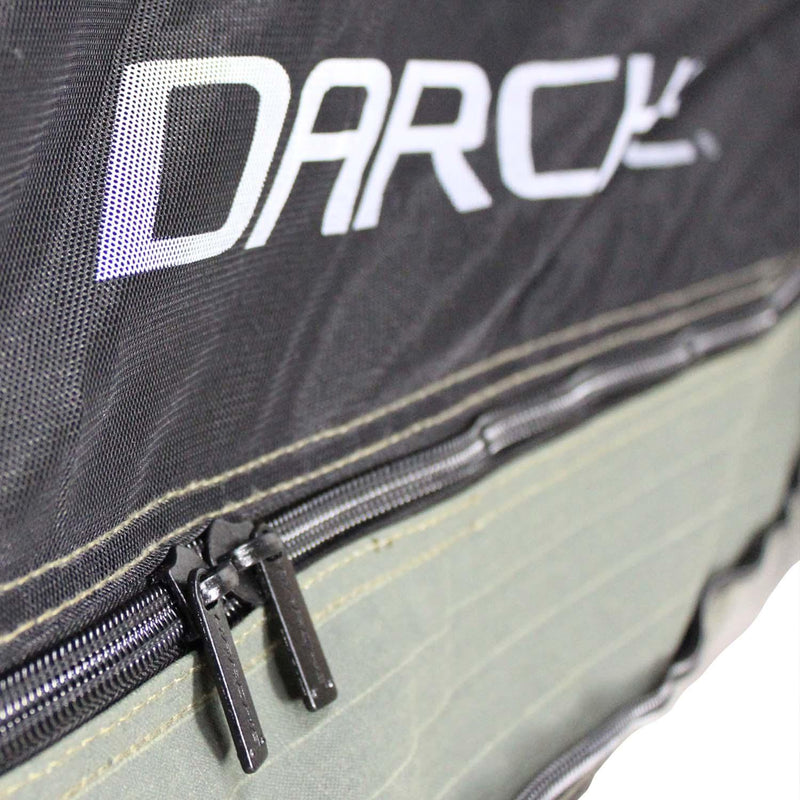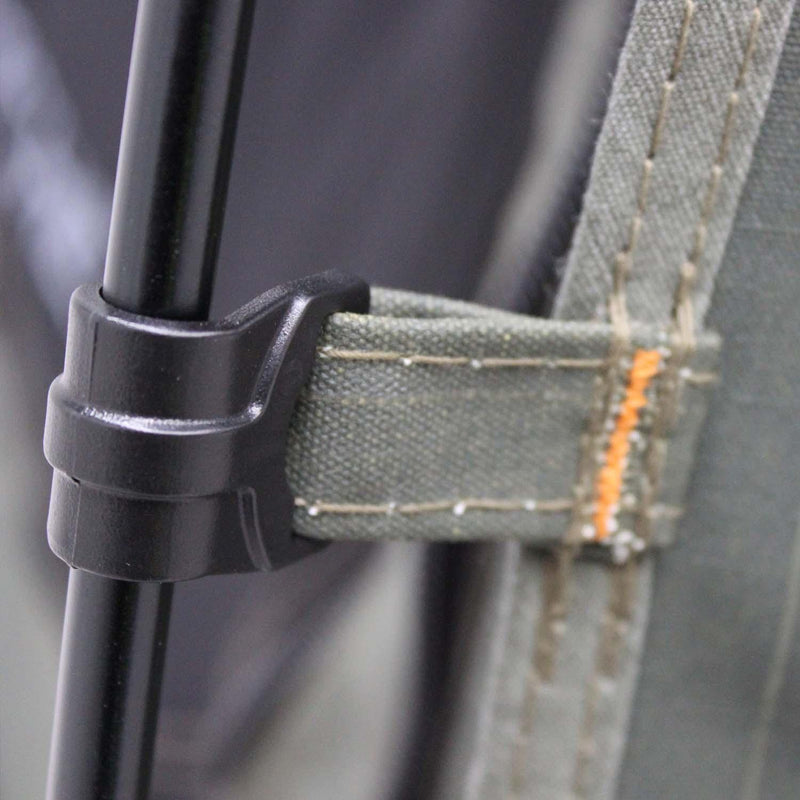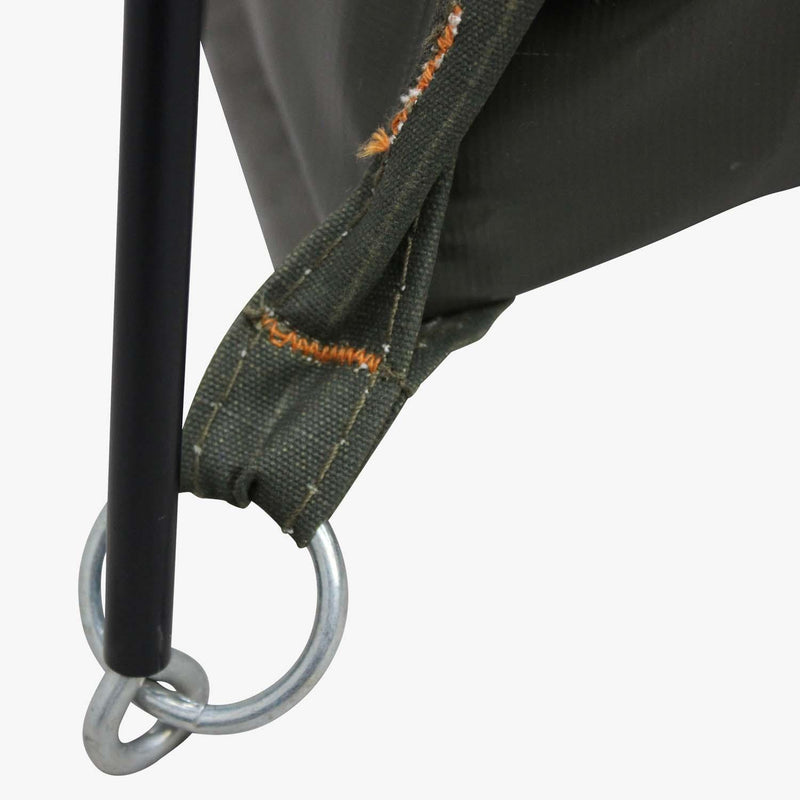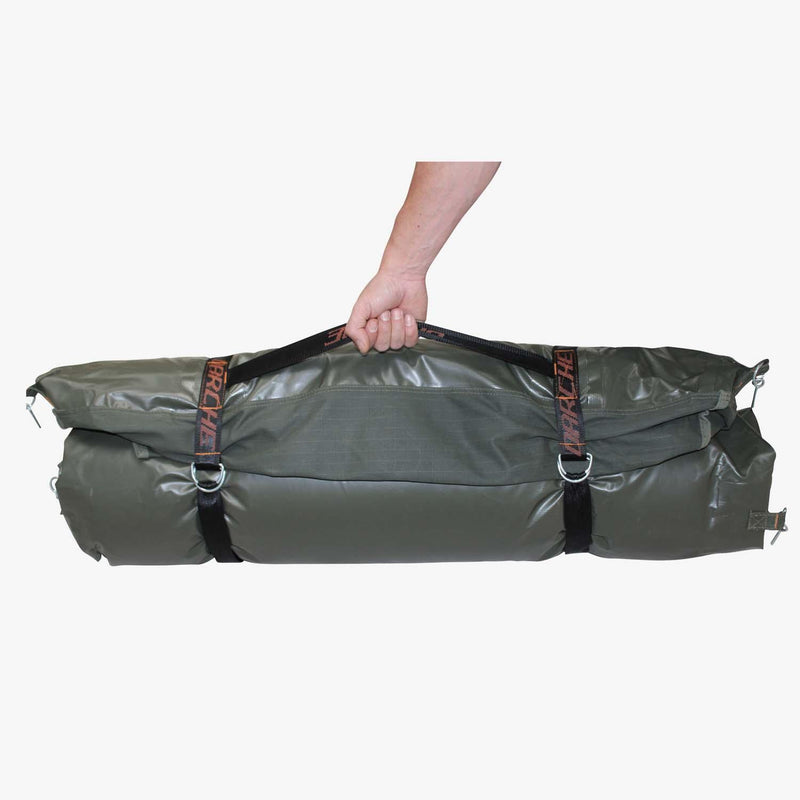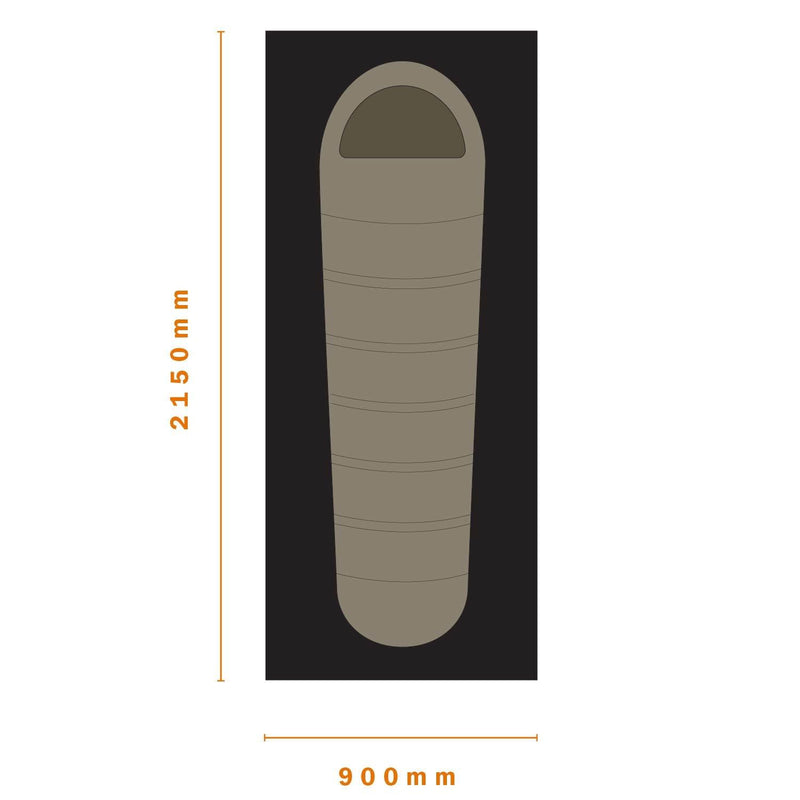 The Superdome is one of the original swag designs from DARCHE. Dating back to the early 1990s, this design has proven itself to be  a classic among DARCHE loyalists, originally designed with hunters  in mind. Re-engineered for today's modern campers in our Max-Treme® range, the Superdome is  made tough, using premium quality wax coated 550gsm polycotton ripstop Max-Treme® canvas - perfect for campers that want an elite piece of touring gear that will last a lifetime. It features an official label of authenticity and unique serial number so you know you're getting a genuine, hard core DARCHE product with a lifetime warranty* to back it up.  
With two entry points, including the zippered dome head and large roll-back top entry, you have great stargazing views as well as plenty of air flow to keep you cool on those hot nights with both doors featuring dual zippered canvas and super fine insect mesh doors. The 3-hoop style of this swag ensures that you have a good amount of room inside for a relatively compact 900mm swag. Its center pole keeps the canvas off your body while the head and foot design give you plenty of space inside the swag.  
With the toughest canvas on the market, and manufactured using premium sewing techniques
,
the Max-Treme® range is built to weather all conditions. The wax coated Max-Treme® canvas offers a 800mm waterhead rating. There's also
internal seam sealing and a reinforced, heavy-duty 600gsm PVC bucket floor to keep you dry in those rainy conditions.  This swag includes a premium quality, high-density 70mm foam mattress with a removable cover, making for a great night's sleep and an easy clean up at the end of a long trip.  The Superdome swag is a tough all-round swag that is built to last.  You can pair this swag with the DARCHE XL 100 or XL Ultra Stretcher for campers who prefer to be off the ground and away from any wandering critters.
Wax coated Max-Treme® canvas provides lifetime durability and the ultimate weather protection
Label of Authenticity with unique Serial No.
Lifetime Warranty (exclusions apply)
Compact yet spacious free-standing design
Two way entry including head dome and half length top entry 
High-density foam mattress with removable cover
Protection from the mozzies and other bugs with fine insect mesh on all doors and windows
All-season protection including internal seam sealing and full length welded PVC bucket floor
Heavy-duty construction including no. 10 easy action zips on all doors
Internal storage pockets to stash your gear
Includes pegs and guy ropes
Mat Thickness

70mm High Density Foam

Material

Max-Treme 550gsm / 16oz Ripstop Polycotton Canvas

Mesh

125gsm / 3.7oz Super-fine Polyester Insect Mesh

Floor Material

600gsm PVC with Welded Corners

Frame Material

ø9.5mm Anodized Hi-Tensile 7001 Alloy Swag Poles

Waterhead Rating

800mm Water Rated

Gender

Sleeping Bag Comfort

Maximum Volume

L

Fits

Sleeping Capacity

External Dimensions

mm

Sleeping Area

mm

Packed Dimensions

mm

Rated Capacity

kg

Coverage

Internal Storage and Bedding

Valve Quantity

Internal Dimensions

mm

Suits Product

Weight

kg

Warranty
FEATURES
Wax coated Max-Treme® canvas provides lifetime durability and the ultimate weather protection
Label of Authenticity with unique Serial No.
Lifetime Warranty (exclusions apply)
Compact yet spacious free-standing design
Two way entry including head dome and half length top entry 
High-density foam mattress with removable cover
Protection from the mozzies and other bugs with fine insect mesh on all doors and windows
All-season protection including internal seam sealing and full length welded PVC bucket floor
Heavy-duty construction including no. 10 easy action zips on all doors
Internal storage pockets to stash your gear
Includes pegs and guy ropes
SPECIFICATIONS
Mat Thickness

70mm High Density Foam

Material

Max-Treme 550gsm / 16oz Ripstop Polycotton Canvas

Mesh

125gsm / 3.7oz Super-fine Polyester Insect Mesh

Floor Material

600gsm PVC with Welded Corners

Frame Material

ø9.5mm Anodized Hi-Tensile 7001 Alloy Swag Poles

Waterhead Rating

800mm Water Rated

Gender

Sleeping Bag Comfort

Maximum Volume

L

Fits

Sleeping Capacity

External Dimensions

mm

Sleeping Area

mm

Packed Dimensions

mm

Rated Capacity

kg

Coverage

Internal Storage and Bedding

Valve Quantity

Internal Dimensions

mm

Suits Product

Weight

kg

Warranty
DIMENSIONS