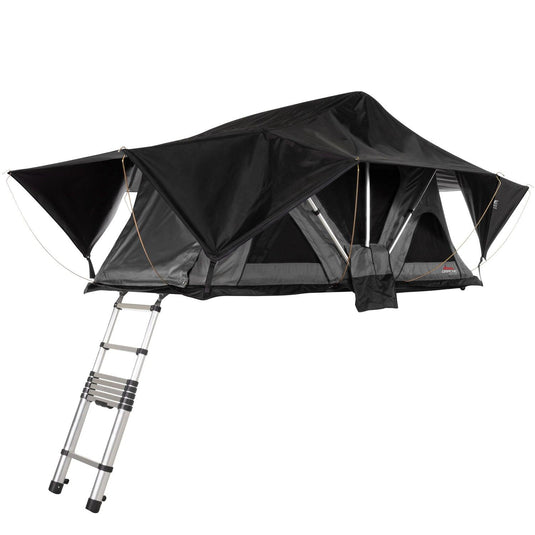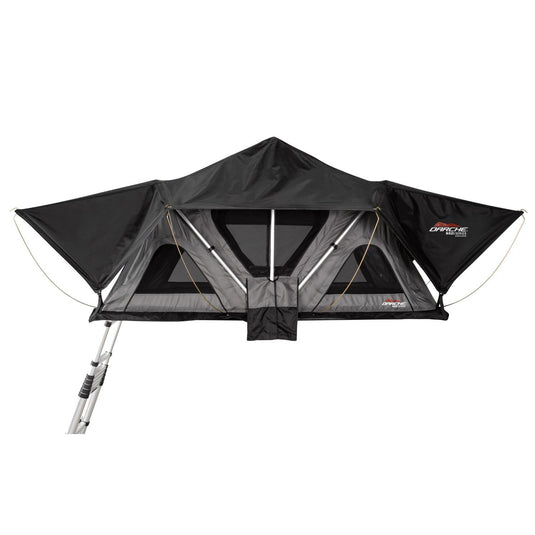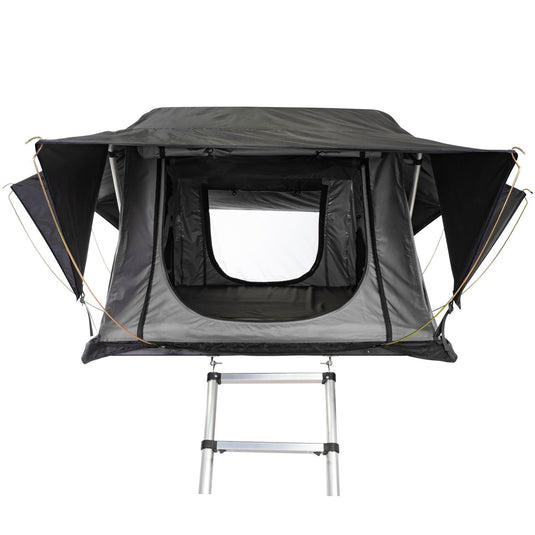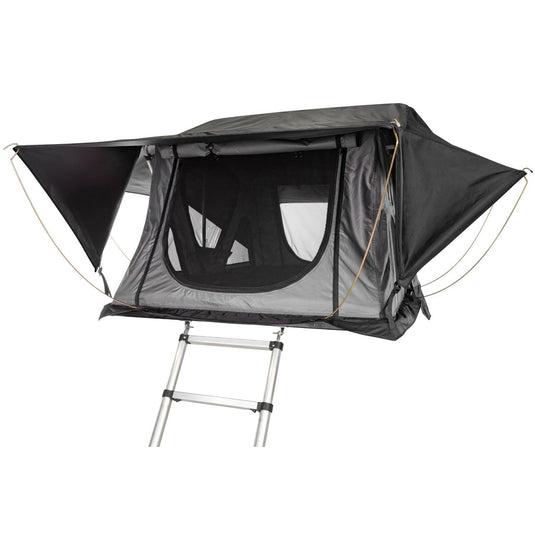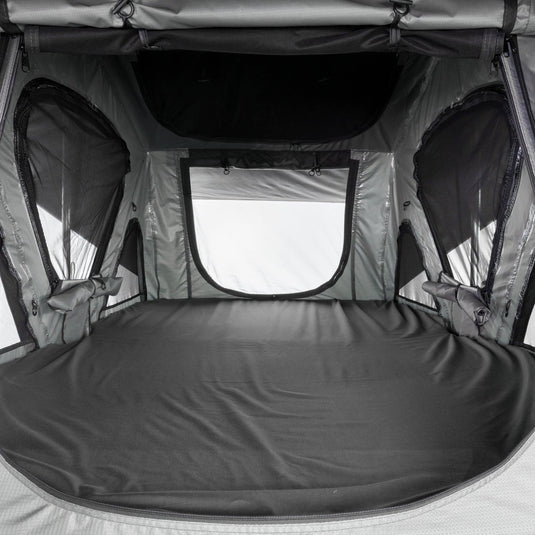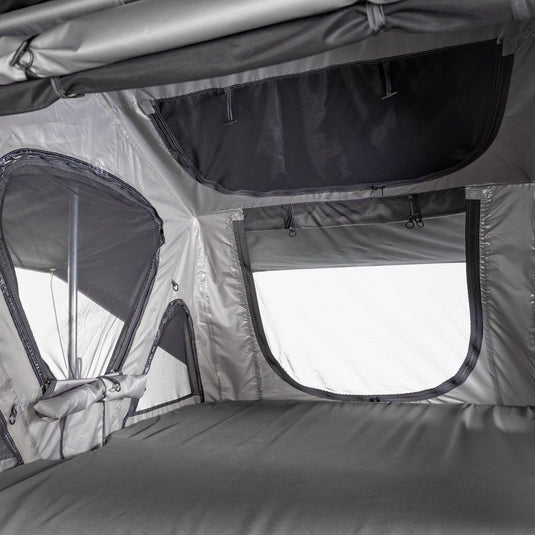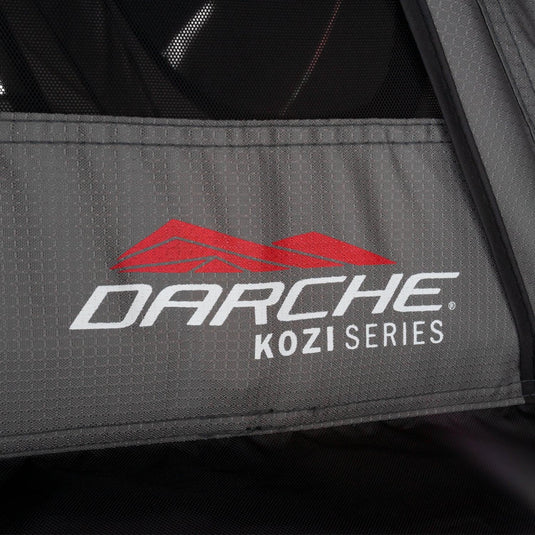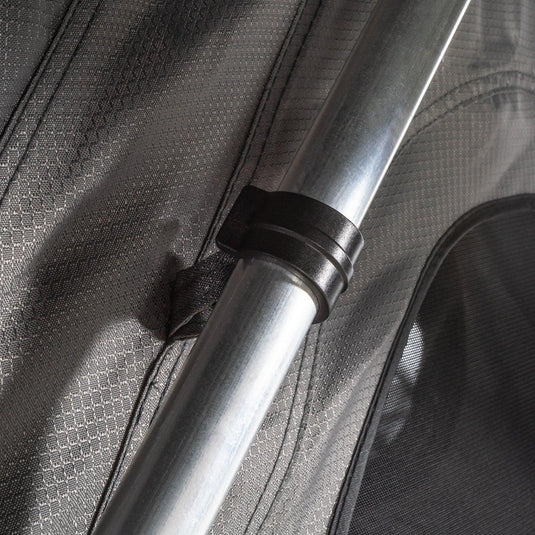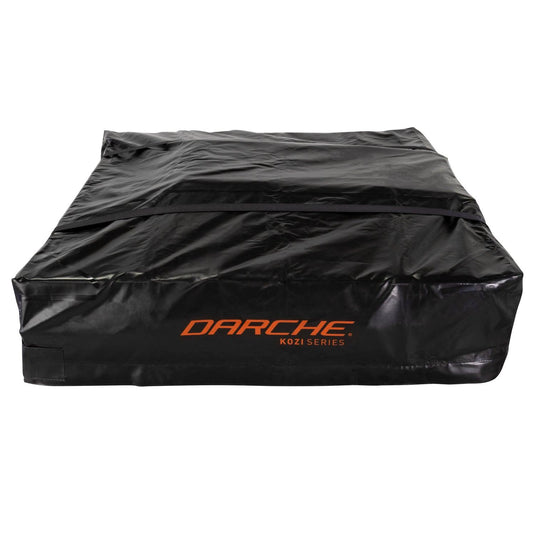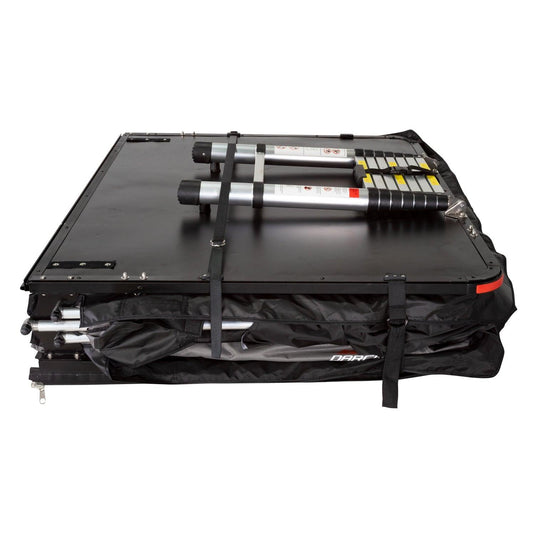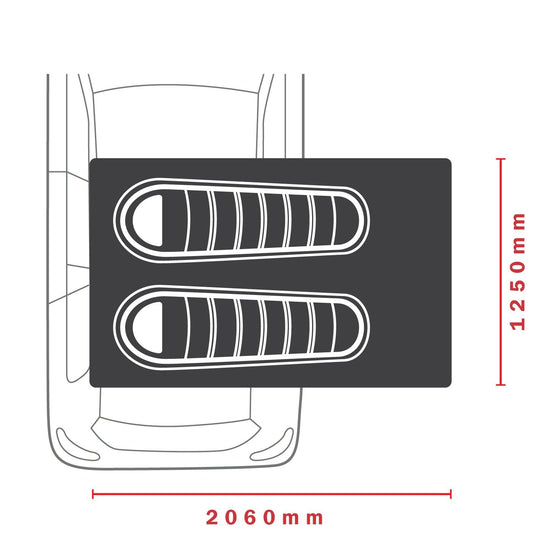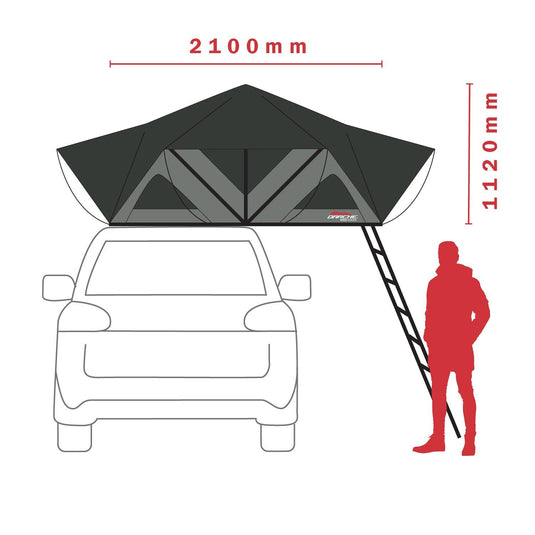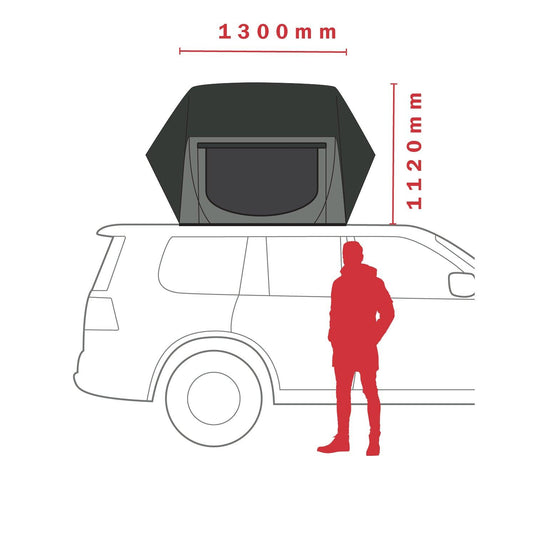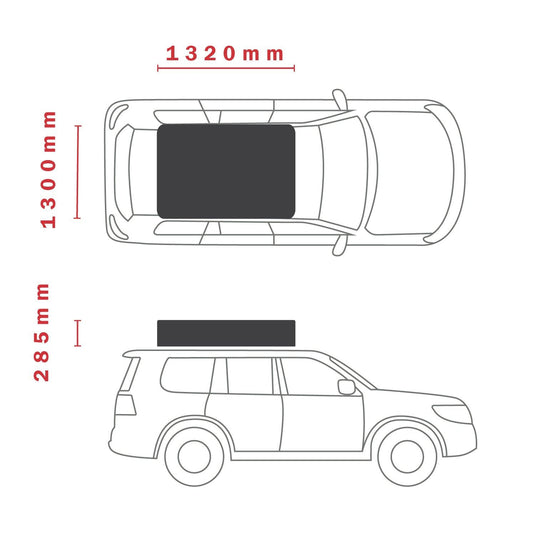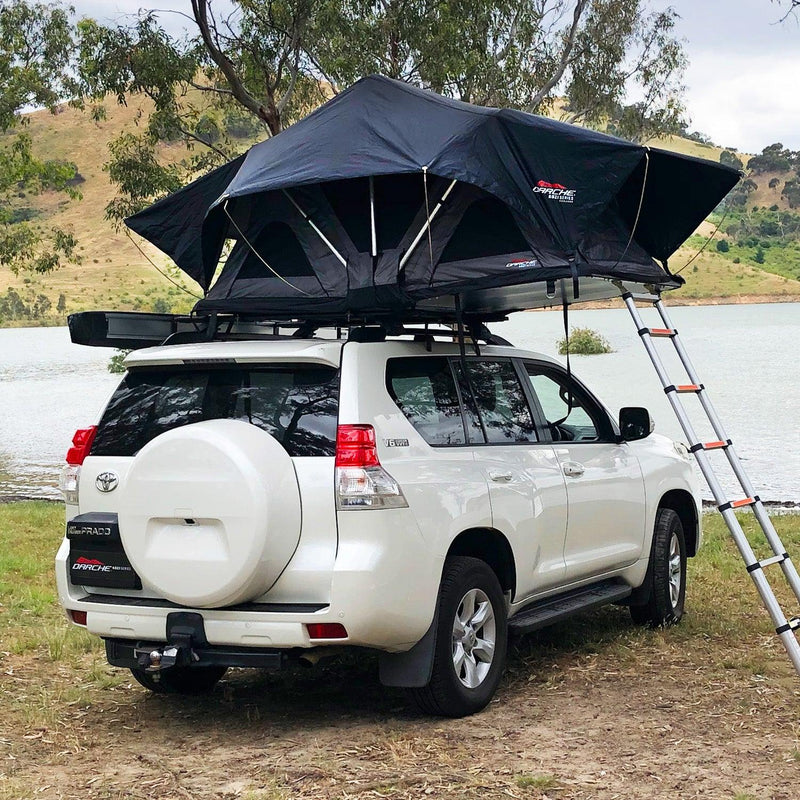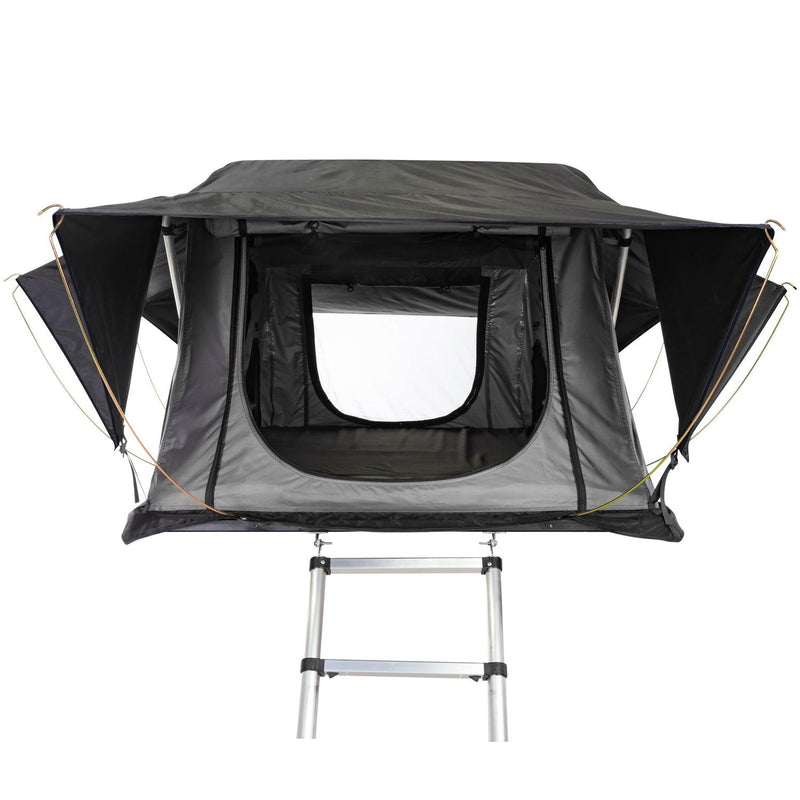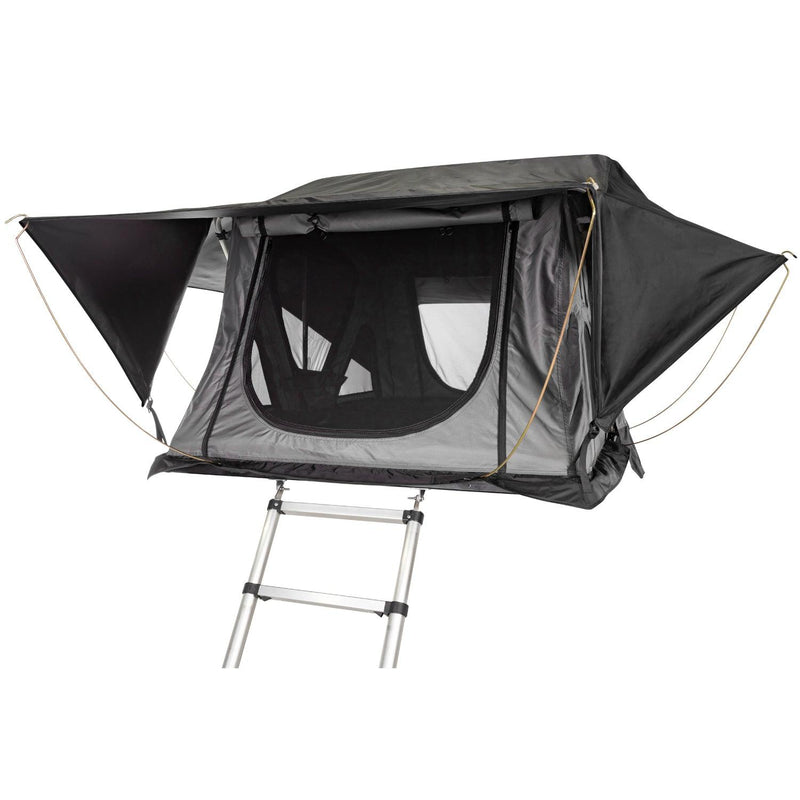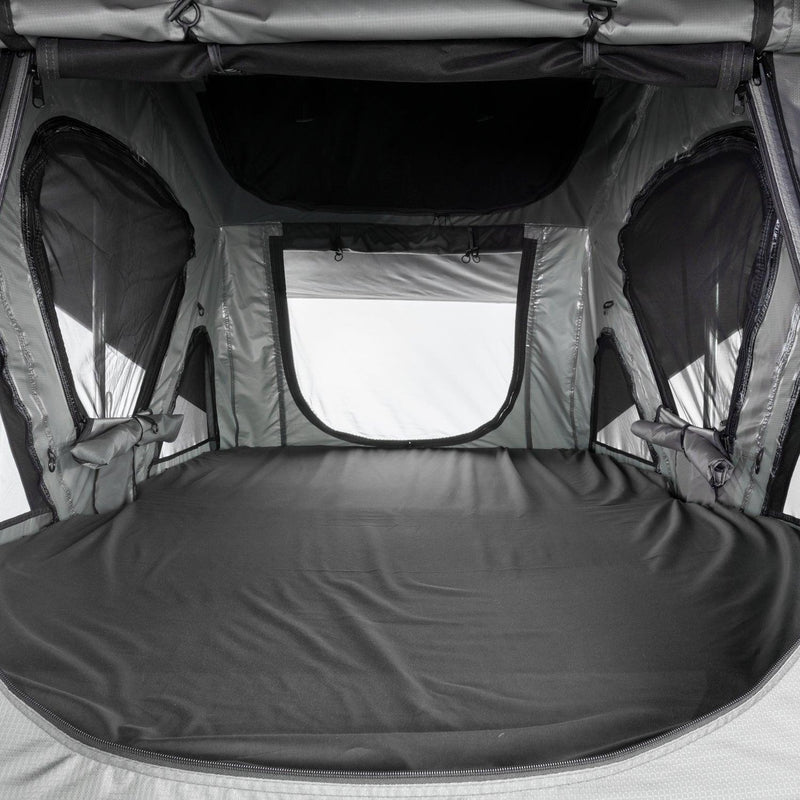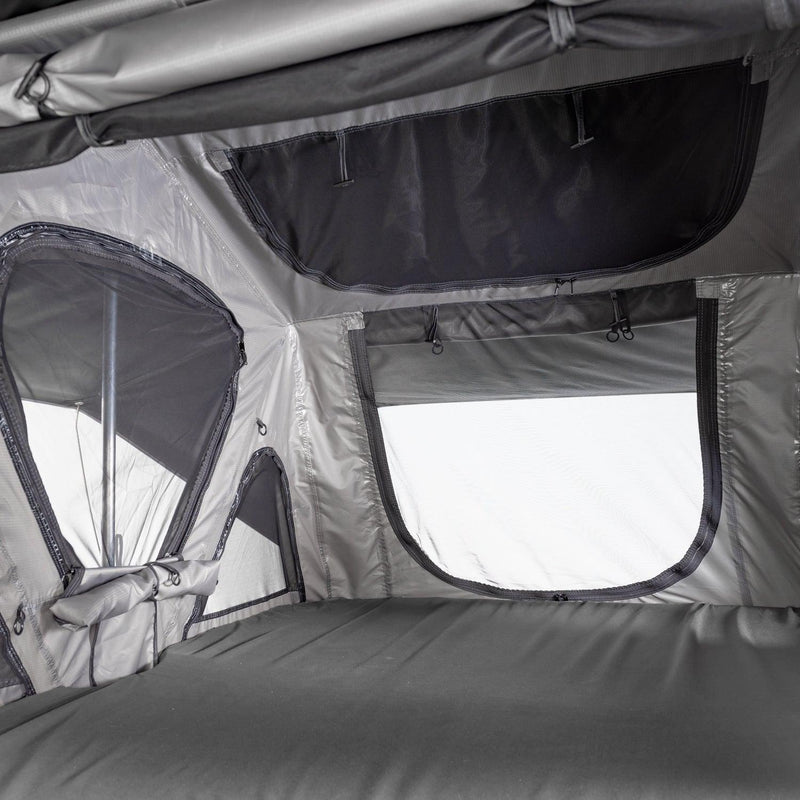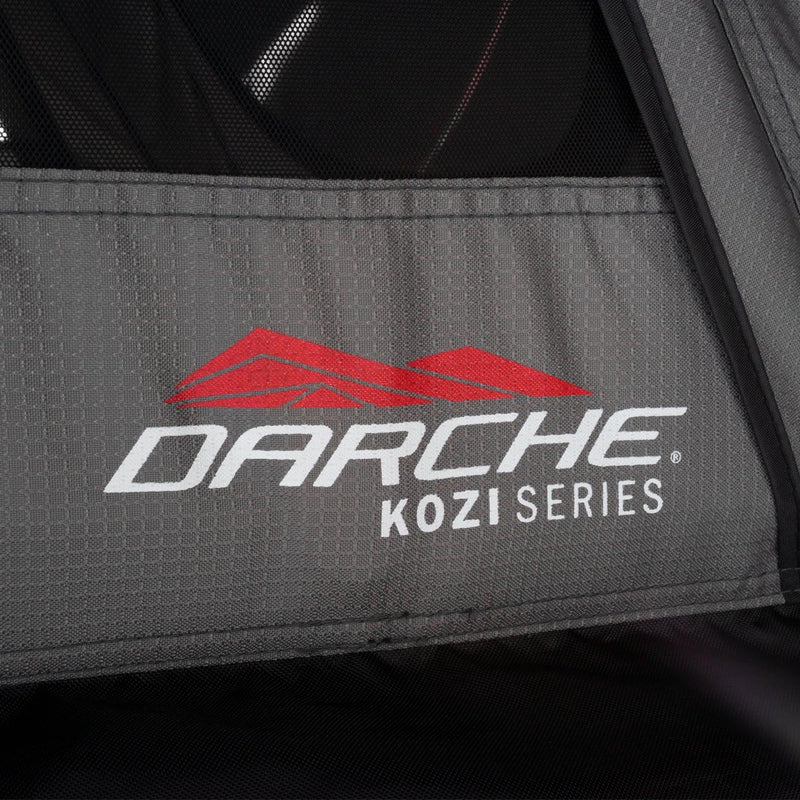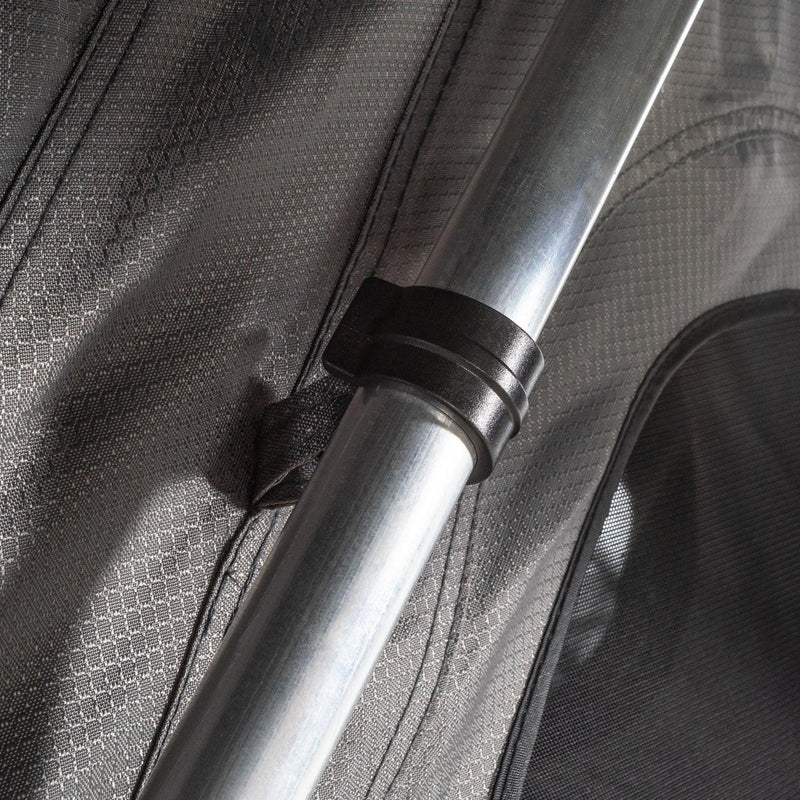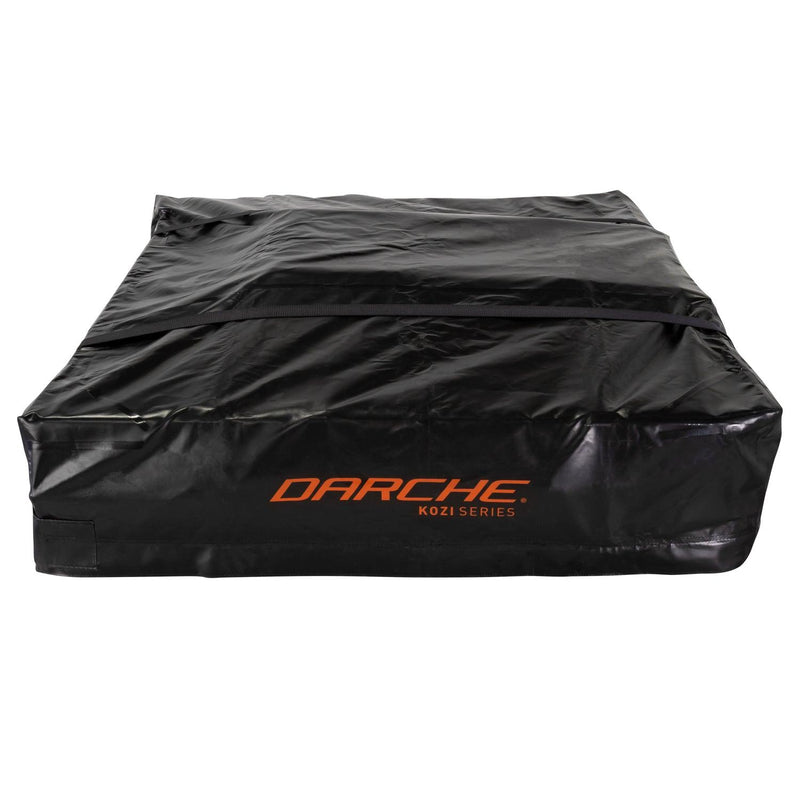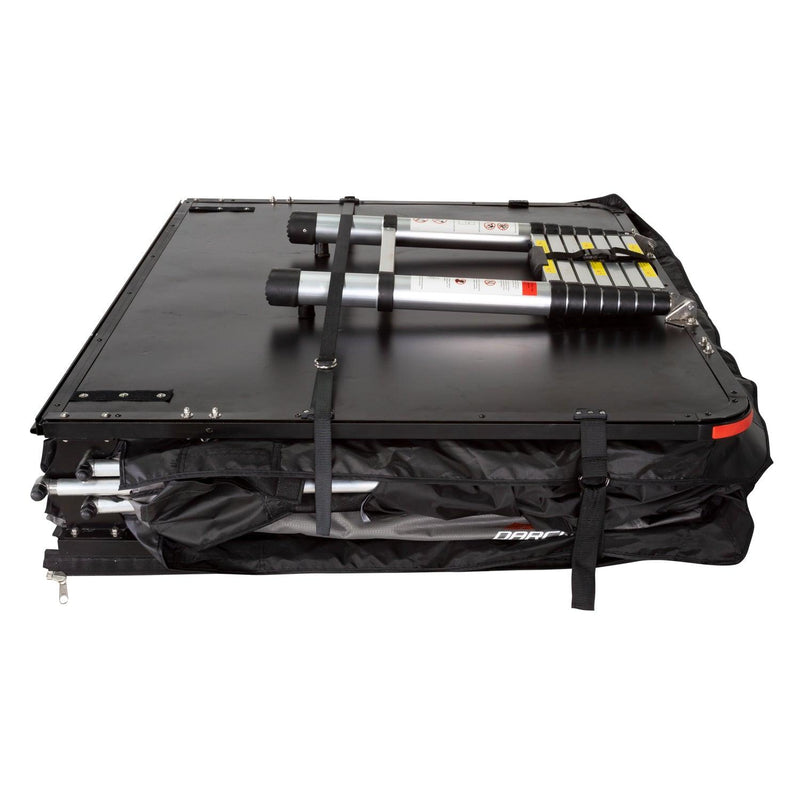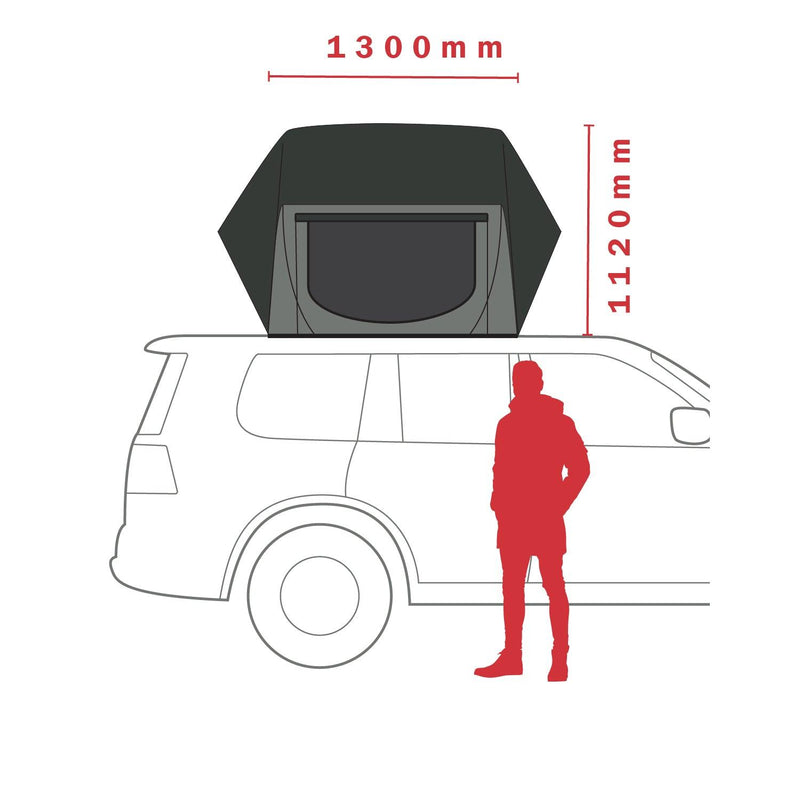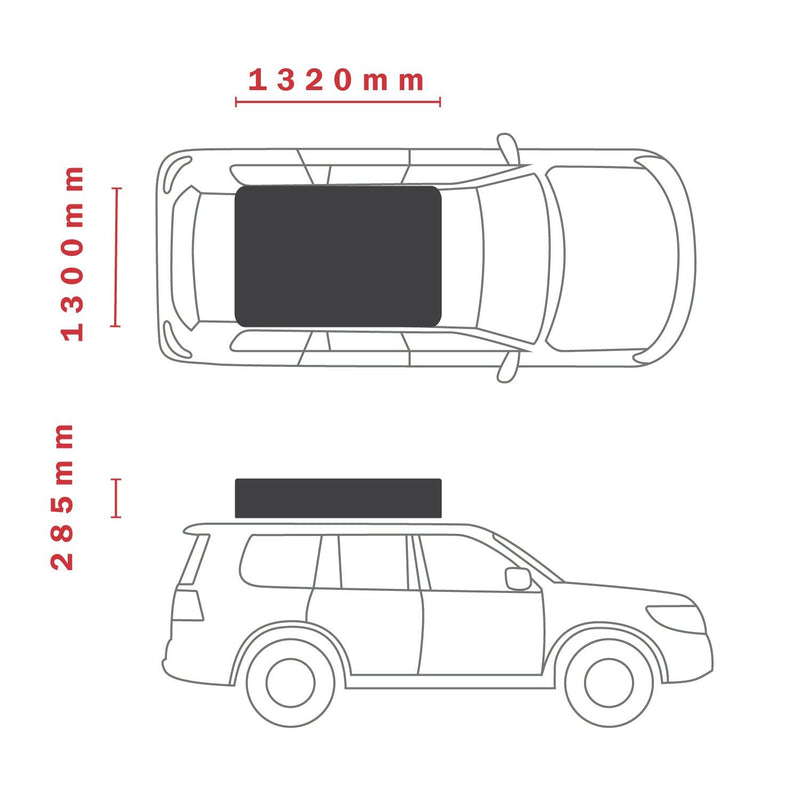 The DARCHE® Kozi Series 1300 RTT is the ideal Roof Top Tent for starting your outdoor and off-road adventures. This light-weight RTT is made with a aluminium baseboard, weighing only 45.3kg, this model is easy to set up and will suit a wide range of vehicles. 
With plenty of space for two, the sleeping quarters include a high density foam mattress with removable polycotton cover for a comfortable night's sleep and easy care. Stay cool and comfortable in the heat, while drifting off under the starry night views from the zippered sky window with multiple windows and air vents for great ventilation. 
Made from premium 300D Polyester Oxford material, This tent has an impressive PU 1500mm water rating, seam sealing and a removable polyester fly that will keep you dry in extended rainy conditions, giving you great protection from the elements all year round. The pre-mounted channel rails suit most commercially available flat roof rack or roof rail systems. 
Make sure to check the weight rating and suitability of your roof rack and vehicle with appropriate manufacturers prior to purchase. We recommend professional installation through your local 4WD centre or ask your DARCHE® dealer for advice about installation.
Easy set-up soft shell roof top tent
Light-weight design suits a wide range of vehicles
Baseboard with pre-mounted channel rails provides quick installation and set-up
Premium quality 300D Polyester Oxford material
High-density foam mattress with removable top and water-resistant base
Multiple access points with front and back zipped doorways
Exceptional ventilation with zippered sky window and 3 x zippered windows on both sides
Fine insect mesh on all windows
Easy-action 2.3m alloy telescopic ladder will suit most vehicle heights (max vehicle + RTT height 2.2m)
Durable water-repellent flysheet with UPF 50+ protection
Removable pack down elastic cords with 4 attachments points
Includes transit cover
Includes mounting kit and window poles
Mattress:

65m High Density Foam

Body Material:

300D PU-Coated Polyester Oxford

Fly Material:

420D PU-Coated Polyester Oxford

Transit Cover Material:

Heavy-duty 600gsm PVC with reinforced welded corners

Base Material:

Coated Heavy-Duty Compressed Alloy Base

Frame Material:

ø25mm Aluminium

Waterhead Rating Canvas:

1500mm

Waterhead Rating Fly:

1500mm

Gender

Sleeping Bag Comfort

Maximum Volume

L

Fits

Sleeping Capacity

External Dimensions

mm

Sleeping Area

mm

Packed Dimensions

mm

Rated Capacity

kg

Coverage

Internal Storage and Bedding

Valve Quantity

Internal Dimensions

mm

Suits Product

Weight

kg

Warranty
FEATURES
Easy set-up soft shell roof top tent
Light-weight design suits a wide range of vehicles
Baseboard with pre-mounted channel rails provides quick installation and set-up
Premium quality 300D Polyester Oxford material
High-density foam mattress with removable top and water-resistant base
Multiple access points with front and back zipped doorways
Exceptional ventilation with zippered sky window and 3 x zippered windows on both sides
Fine insect mesh on all windows
Easy-action 2.3m alloy telescopic ladder will suit most vehicle heights (max vehicle + RTT height 2.2m)
Durable water-repellent flysheet with UPF 50+ protection
Removable pack down elastic cords with 4 attachments points
Includes transit cover
Includes mounting kit and window poles
SPECIFICATIONS
Mattress:

65m High Density Foam

Body Material:

300D PU-Coated Polyester Oxford

Fly Material:

420D PU-Coated Polyester Oxford

Transit Cover Material:

Heavy-duty 600gsm PVC with reinforced welded corners

Base Material:

Coated Heavy-Duty Compressed Alloy Base

Frame Material:

ø25mm Aluminium

Waterhead Rating Canvas:

1500mm

Waterhead Rating Fly:

1500mm

Gender

Sleeping Bag Comfort

Maximum Volume

L

Fits

Sleeping Capacity

External Dimensions

mm

Sleeping Area

mm

Packed Dimensions

mm

Rated Capacity

kg

Coverage

Internal Storage and Bedding

Valve Quantity

Internal Dimensions

mm

Suits Product

Weight

kg

Warranty